The Ultimate Golden Retriever Homemade Dog Food Guide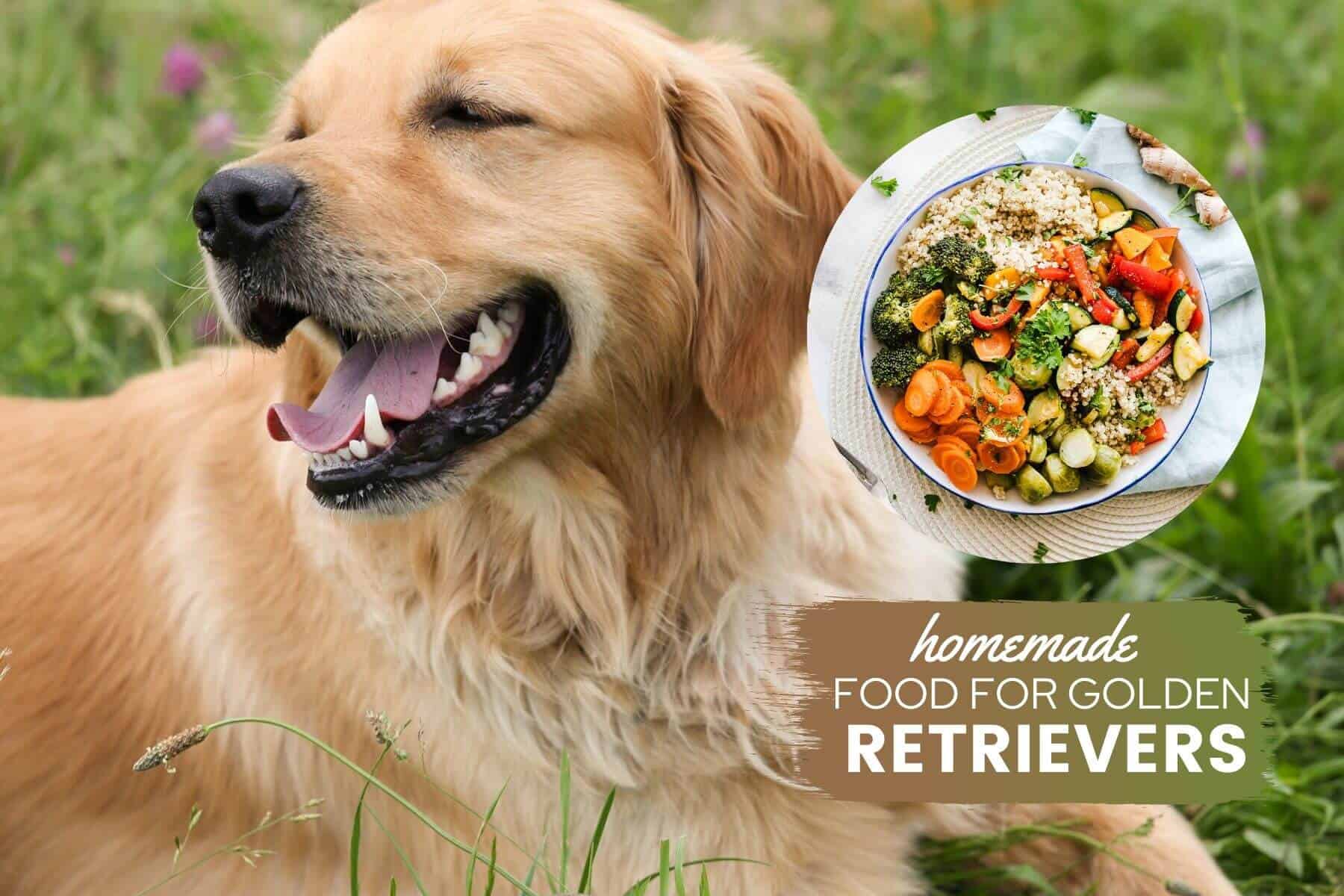 Canine Bible is reader-supported. We receive affiliate commissions via some of our links. This doesn't affect rankings. Learn more.
Homemade dog food for Golden Retrievers should be just as nutritious and tasty as any other dog food.
There is no reason why your golden should eat bland and boring dog food all the time. This guide will teach you everything about feeding your Golden Retriever homemade food.
Golden nutrition can be tricky. They have very different nutritional needs than other dog breeds, so cooking for them is not that simple.
Before you get out the apron, read these tips on how to make homemade food for Golden Retriever, nutritional guidelines to follow, our favorite home food recipes for Goldens, and more.
Chapter 1
Benefits, Nutrition & Diet
Benefits of Golden Retriever Homemade Dog Food
Can a wholesome diet for your Golden Retriever prepared right in your kitchen be the start of the journey to better health and nutrition?
According to Jennifer A. Larsen, DVM, MS, Ph.D., and Joe Bartges, DVM, Ph.D., board-certified veterinary nutritionists and diplomates of the American College of Veterinary Nutrition, there are a handful of the benefits you can expect when you start to add homemade food to your dog's diet including:
Diet management
Appeasing picky dog eaters
Combatting food intolerance issues
Avoid concern over food recalls
Bond-building
Other benefits of a homemade dog diet include no additives or preservatives, healthier digestion, and preventing many conditions associated with a poor diet, such as obesity, poor skin, and coat condition, pancreatitis, diabetes, and reduced immunity.
Food & Golden Retriever Health: Why Feed Homemade?
The NZ Veterinary Nursing Association reports that Goldens Retrievers are highly prone to developing food allergies among dog breeds.
Why is this important to know? Food allergies in Goldens tend to manifest themselves on their skin, most likely into a condition known as Atopic Dermatitis. This allergy skin disease is common in Golden Retrievers. It can cause mild to severe itching, which, as a result of scratching or rubbing, often leads to further skin damage, irritation, infection, and discomfort.
Reducing allergic reactions starts with a diet with vitamins, fatty acids, and minerals to decrease inflammatory responses, and homemade dog food has those critical components. What's more important is that home cooking for your dog allows you to pick only those ingredients you know won't cause an allergic reaction on your Golden Retriever. If you are unsure what ingredients may cause sensitivities or allergies in your pet, we advise doing an At-Home Food Dog Allergy Test before selecting the ingredients for their next meal.
Research shows that dogs that eat fresh food diets are linked to a 20% longer lifespan than those who don't. A year-long study of 522 dogs by Lippert and Sapy found that dogs fed high-quality, freshly made, real food had an average life expectancy of 13.1 years versus just 10.4 years for dogs fed commercially processed pet food.
Home-cooked meals for dogs also ensure that your pup always eats fresh, wholesome, and allergen-free foods as no chemicals, additives, or fillers are used when cooking at home.
Golden Retriever Homemade Food Risks
Here are the most common risks of cooking homemade meals for your dog.
Not understanding the nutritional needs of your Golden Retriever
Using inadequate or dangerous recipes
Not preparing a balanced meal
Using unsafe or harmful ingredients
Not understanding the impact of food and dietary changes
Not understanding your dog's life stages (puppies, adults & senior) nutritional needs
Neglecting your dog's health conditions
In fact, according to researchers at the University of California, Davis, School of Veterinary Medicine, most homemade dog food recipes lack essential nutrients while others contain dangerously high amounts of nutrients.
Furthermore, a study published in the Journal of Nutritional Science found that 48% of home-prepared diets for dogs had no precise determination of ingredients and quantities and that 71.3 % of pet owners lacked information on how much to feed the animal.
Even more alarming is that 30.4% of pet parents admitted to changing the recipe on purpose, 40% didn't measure the proportions of the ingredients properly, and 28.3% didn't use recommended vitamins, minerals, or amino acids. In a survey published in the journal Preventive Veterinary Medicine, veterinary professionals reported that 97% of obesity cases can be traced to how owners feed and care for their pets.
While most dog parents want the best for their dog's nutrition, evidence shows most dog owners don't have a proper understanding of cooking balanced meals. This is why it's important to get professional guidance to minimize the risk of exposing your Golden Retriever to nutritional deficiencies due to a bad diet.
Your vet should be able to provide you with trusted recipes, provide nutritional guidance, and/or recommend a dog food delivery service for your Golden.
Nutritional Guidelines to Follow
To ensure a homemade dog food diet will meet your Golden Retriever's dietary requirements, you need to consider your Golden's weight, health condition, size, and activity level.
The best homemade diet for Golden Retriever will always have the six essential nutrients any dog meal should always have.
| Nutrient | Food | Description |
| --- | --- | --- |
| Protein | Chicken, lamb, turkey, beef, fish, yogurt and cooked eggs | Builds and repairs muscles and other body tissues. Needed to make new skin cells, grow hair, hormones, enzymes and more. |
| Carbohydrates | Oats, brown rice, potatoes, and whole wheat | Source of energy for dogs and supplies glucose needed by the brain, nervous system and other critical organs for normal function. |
| Fat | From meats and oils such as olive or sunflower oil, fish oil, canola oils among others | Responsible for providing quality energy. Necessary for the normal development and function of body cells, nerves, muscles, and body tissues |
| Minerals | Calcium, potassium, sodium, magnesium, iron, zinc, etc. | Common functions include the formation of bone and cartilage, nerve and muscle function, fluid balance regulation, the transportation of oxygen in the bloodstream and hormone production. |
| Water | Water | Hydration is critical in dogs. A dog that loses too much water (10% to 15% of the water in his body) can get very sick and even die. Ensure they have water available throughout the day. |
| Vitamins | A, B, C, D, E, and K | Keeps skin and coat healthy, strengthens bones and teeth, and gives them the overall energy that they need to function. |
Even the best recipes often don't provide enough of certain nutrients, such as vitamins. Adding a multivitamin like Zesty Paws Multivitamin Chews will ensure your Golden Retriever is getting the recommended balance of vitamins and minerals.
Some dog parents may find it difficult to formulate a completely balanced diet without professional help. We suggest consulting a veterinary nutritionist to help create an individualized diet for your Golden.
If you need more help in making Golden Retriever food at home, an excellent resource is Home-Prepared Dog & Cat Diets: the Healthful Alternative by Donald R. Strombeck, DVM, Ph.D., a long-time expert in veterinary medicine. This book it's considered by many pet nutritionists to be the Bible of healthy homemade dog nutrition.
Health Dietary Changes In Goldens Retrievers
If your Golden Retriever is struggling with the following health conditions, a fresh homemade food diet coupled with the following recommendations can get them under control.
| Condition | Dietary Needs & Adjustments |
| --- | --- |
| Coat Color Changes | Increase amino acids which can be found in protein (>75 grams per 1000 calories) |
| Concurrent GI Signs | Avoid foods with tryptamine and histamine such as dairy or fermented vegetables and meats (yes, this includes bacon); try a simple ingredient food trial |
| Chronic Itching and Dermatitis | Fortify the diet with Vitamin E, B Vitamins, Zinc, omega-6 and the omega-3 fatty acids found in fish oil; add a dog probiotic; try a simple ingredient food trial |
| Dull Coat and Scaling | Adjust EPA and DHA levels in the diet (added fish oil being the most common way); try a food that has added zinc |
| Dandruff and Crustiness | Add Zinc and Vitamin A levels |
Chart Source: NomNomNow.com
Golden Retrievers tend to have coat and skin problems. If your Golden has dry skin, a dull shedding coat, hot spots, or itching and irritation, a good tip is to add a couple of squirts of fish oil to their meals. The oil will provide relief and nourishment to keep skin and coats in the best condition.
Golden Retriever Calorie Requirements
The caloric needs of dogs are based on their weight. An adult Golden Retriever usually weighs between 55 and 75 pounds, which means most Goldens need between 1248 and 1577 calories a day.
Make sure you follow the 10% rule when feeding treats to your dog. Food would equal 90% of the total calories and treats the remaining 10%.
For instance, if a Golden weighs 65 lbs, he would need 1418 calories per day. For those eating treats, that's 1276 calories in food (90%) and 142 in treats (10%). Usually, most full-grown dogs eat 2 meals per day. So, you need to split 1418 (or 1276 if feeding treats) into two meals of 709 (638) calories each.
You can use this calculator to find the exact caloric needs for your dog based on his weight.
Pregnant or lactating Goldens may need up to 2 to 4 times the amount of food they normally need as the mother's energy requirements increase after delivery and during lactation. Be sure to talk to your vet.
Homemade Food For Golden Retriever Puppies
A Golden Retriever puppy's diet varies from that of an adult Golden Retriever.
Puppies require more protein, fat, calcium, and phosphorus than adult dogs. If consumed in excess (or insufficient), these nutrients can cause deficiencies, stunted growth, or lifelong complications.
According to the American College of Veterinary Nutrition (ACVN), puppies need about twice as many calories per pound of body weight as an adult dog of the same breed.
Golden puppies should eat 3 to 4 times a day. When your puppy is a bit older (6 – 12 months), you can switch to 2 to 3 meals daily at scheduled intervals.
As explained in our nutritional guidelines above, a Golden Retriever puppy's homemade diet should contain a proper balance of proteins, carbohydrates, fat, minerals, water, and vitamins. Be sure to contact your veterinarian about your puppy's diet.
Homemade Dog Food Delivery Service
Consider a homemade dog food delivery service if you wish your Golden Retriever could eat whole, fresh homemade foods more often, but you don't have the time to cook.
The Farmer's Dog is one of our favorite options. They deliver vet-designed, fresh-prepared homemade dog food tailored to your pup's dietary needs straight to your door. Everything is made from real, human-grade, all-natural ingredients (meats, veggies, grains, etc.)
Meals are pre-made and pre-portioned to their calorie needs based on the profile you create. It complies with AAFCO's nutritional guidelines. The food is delivered to your doorstep within days of cooking and never deep-frozen or stored on a shelf for months. This ensures your Golden gets the most out of it.
Let the experts do the cooking for you, so you never have to worry about using the wrong ingredients, counting nutrients, portions sizes, and more.
It's worth the cost after you add up the prices of all the ingredients you'll need to cook a recipe. It's a huge time-saver and you can spend your time on more important things.
Our readers have access to save 50% off their first The Farmer's Dog order. No code is needed, just use this link and the discount will be applied!
Read Our Full Review of The Farmer's Dog
Golden Retriever Homemade Food Tips
Once you decide on a recipe for your Golden, it's time to make it. We recommend following these tips.
Set a consistent feeding schedule.
Feed your Golden twice a day (puppies under 5 months, 3 times a day. Check with your veterinarian).
Meal prep weekly or monthly.
Measure and control portion sizes depending on your dog's calorie needs.
Keep meals frozen for 2 to 3 months or refrigerated for about 5 days.
Make a new batch when the food supply is getting low.
If you want to feed different recipes, you can make multiple batches and color code by ingredients, rotating out the different meals.
Prepare the food in bulk and portion it into containers (one container per meal makes it extra-easy).
Increase portions appropriately as your puppy grows.
Monitor weight to make sure you are feeding the proper amount of calories.
Cooking Homemade Dog Food For Golden Retrievers
This video will get you started if you've never made food for your canine companion.
Golden Retriever Homemade Food Recipes
Here are our favorite homemade dog food recipes for Golden Retrievers. We also threw in a homemade yummy smoothie treat for your Golden because why not!
Additionally, we give you a special treat recipe for Goldens that is tasty and packed with impressive health benefits. This recipe can do a lot for your Golden Retriever's health and wellness. It has our favorite secret ingredient, dog CBD oil.
Note: Please consult with your pet's veterinarian and use personal judgment when applying this information to your dog's diet. The recipes below do not include serving size because portion sizes will vary depending on breed, weight, activity level, age, and dog's health. A common recommendation is to feed your dog a comparable amount of ounces/cups to what you would usually feed in kibble BUT check with your vet to be certain.
CBD-Infused Dog Treat
Surprise your Golden Retriever with these nutritious, therapeutic, and super tasty homemade CBD oil dog treats. They are made with Pumpkin and other essential vitamins and minerals (like iron, potassium, and vitamin A). Pumpkin also helps promote better digestion and hydration. Coconut is also added for skin and coat health and allergy reduction.
CBD oil for dogs can help with seizures, anxiety, arthritis, inflammation, pain, wellness, preventive care, and many other health issues in dogs. You can also purchase already made CBD dog treats.
Be sure to check with your veterinarian before giving your dog CBD to ensure it's safe and feeding portions are appropriate.
Ingredients
2 1/2 cups gluten-free flour
1/2 cup oats
1 cup pumpkin puree
1 Tbsp coconut sugar
1 apple, cored and grated
1/2 cup carrots, peeled and grated
1/2 cup peanut butter
1 egg, beaten
1/3 cup olive or coconut oil
1/2 cup water
dash of sea salt
120 mg CBD oil
Total: Makes 24 treats
Directions
Preheat the oven to 350ºF. Grease a dog cookie baking tray with coconut oil.
Core and grate the apples, then peel and grate the carrots.
In a medium-sized bowl, combine the gluten-free flour, oats, and coconut sugar together. In another medium-sized bowl, beat the egg. Then, add coconut oil, water, and grated apples and carrots.
Add wet ingredients to dry ingredients bowl; mix completely. Finally, add CBD oil and mix once more.
Using a Tbsp measuring spoon, portion out the dog biscuits and press into the dog treat baking pan. Bake 32-37 minutes or until the biscuits are firm and golden-brown on the outside.
Store in an air-tight container.
Notes
The number of dog treats will vary depending on the size of the mold you use. Try to make each dog treat have 2-5 mg of CBD.
Recipe from: Truth Theory
Doggie Beef Stew
Almost all dogs love beef stew! Your Golden will be delighted with this simple yet delicious mixture of vitamins and proteins. This recipe produces around four servings of beef stew that you can store in your fridge to use.
Ingredients
​1 lb. of beef cut fit for stewing
​1 sweet potato or normal potato
​½ cup of chopped green beans
​½ cup of chopped carrots
​½ cup of flour (preferably whole grain, but white flour can be used as well)
​½ cup of vegetable oil or water
​1 tablespoon of vegetable oil for frying
Preparation
​Cut meat into small, half-inch cubes and place them in a frying pan with 1 tablespoon of vegetable oil. Cook in medium heat for 15 minutes until the beef cubes are well-done
​Remove the cooked beef from the pan and set aside its drippings
​Microwave a sweet potato for around 8 minutes until it becomes tender. If you're using a regular potato, then boil it until it becomes completely tender
​Chop the sweet potato/regular potato into small cubes and set aside
​Now heat the beef drippings on medium to low heat. Add ½ cup of water to the drippings and ½ cup of flour to the mixture and gently stir it. Cook the mixture until it turns into a thick gravy
​Finally, add your beef, potato, beans, and carrots to the gravy. Cook the stew for around 10 minutes to make sure that the vegetables become tender
​Wait for the beef stew to cool down to room temperature before you serve it to your dog
Recipe from: Hachiko
Turkey & Vegetable Dinner
Turkey has less fat than beef, making this an ideal recipe for Goldens that wants to maintain a healthy weight or loss a few pounds. This basic dog food recipe includes turkey for protein and vegetables for added vitamins and minerals. It's the perfect veggie mix with lean protein for your pup.
Ingredients
4 cups of water
1 pound of ground turkey
2 cups of brown rice
1 cup of carrots, chopped
1 cup of green beans, chopped
1 tablespoon of fish oil (optional)
Directions
Cook the ground turkey in a non-stick skillet over medium heat until the meat is cooked through
Add the brown rice, turkey, and water to a large pot and bring to a boil
Reduce the heat to medium-low and cook for an additional 15 minutes or until the rice is soft and tender
Add the carrots and green beans and cook for an additional 5 to 10 minutes until the vegetables are tender
Allow cooling before serving
Store extra dinners in the fridge for up to five days
Pro tip: Avoid using heavy oil to brown the turkey. Its high-fat content may upset your dog's stomach.
Recipe from: Moneycrashers
Veggie Smoothie
Every now and then, it's fun to spice things up for our Goldens with a bit of flavor. This fun veggie smoothie is a great way to provide your dog with a burst of vitamins and beneficial minerals.
Remember, this is just an occasional treat, and it shouldn't act as a meal replacement.
Ingredients
​¼ cup of apples, bananas, peaches, and pears
​¼ cup of spinach, green beans, squash, carrots, and zucchini
​4 tablespoons of plain yogurt
​¼ cup of any fruit juice other than grape juice (which can cause kidney failure in dogs)
​1 tablespoon of cream cheese
Preparation
​Take everything and toss it into a blender
​Blend it all until a nice and consistent mixture is formed
​Serve the mixture to your dog while it's fresh
Fiber Filled Meal
Fiber is pretty awesome for your dog! If your Golden's stool has any irregularities or maybe Fido has digestive function issues, chances are fiber can help.
This recipe provides a burst of vitamins and beneficial minerals. You shouldn't give this to your dog more than twice a week as they need protein in their diet.
Beware: Too much fiber in your dog's diet will cause her to poop way too much.
Ingredients
1 lb. Ground Turkey
1 lb. Shredded Chicken
3 cups Water
1 medium Sweet Potato, peeled and diced
2 cups Brown Rice
1/2 cup Lentils
2 tbsp. Pumpkin Puree (not pumpkin pie filling)
1 cup Chopped Spinach
2 tsp. Olive Oil
Instructions
Boil turkey and chicken in 3 cups of water over medium heat for 20 minutes
Remove the meat from the water and set aside
Add rice, lentils, and sweet potato to the water and return to a boil – Cook for 15 minutes
Add remaining ingredients and cook until the liquid has been absorbed.
Mix in the cooked meat and serve warm
Freeze unused portions and feed as directed by your vet
Source: Withasplashofcolor
For even more Golden Retriever homemade food recipes and cooking options, check out Home Cooking for Your Dog: 75 Holistic Recipes for a Healthier Dog.
Best Homemade Dog Food Cooking Practices
Here are some general guidelines to follow when cooking homemade dog food for your Golden Retriever:
Never use unsafe or toxic ingredients for your dog
Cook all animal products thoroughly to kill harmful bacteria
Cook all grains, beans, and starchy vegetables to make them easier to digest
Research every ingredient before using it for safety
Follow the recipe as instructed
Add supplements to their diet as needed
Understand the impact of dietary changes
Run any questions by a veterinary nutritionist
What Foods Should Your Golden Retriever Never Eat?
The following is a list of foods you should never feed your Golden or any dog. The principal toxic foods include:
Chocolate
Xylitol
Onions and garlic
Avocados
Coffee, tea, and other caffeine
Grapes and raisins
Macadamia nuts
Raw bread dough
Alcohol
For a more extensive list, check out this handy list you should consider having on your refrigerator as a reminder.
Golden Retriever Raw Diet (BARF)
Like homemade diets, formulating a raw diet (aka BARF or biologically appropriate raw food) for Goldens requires lots of effort and planning. There is more risk of contamination and nutritional imbalance due to its raw nature.
Raw dog food usually consists of uncooked and unprocessed animal-based products. These include raw meat, bones, vegetables, fruits, eggs with shells (not hard-boiled), dairy products such as butter and cheese made from raw milk without pasteurization or homogenizing. A raw dog diet is supposed to resemble the diet of what dogs ate in the wild millions of years ago.
Raw dog food is a growing trend — These diets provide canines with more nutrients than cooked foods and help them protect their teeth, coat, digestive functions, among other health benefits. Read our Homemade Dog Raw Diet Guide to learn about raw feeding Goldens and their benefits. We also recommend visiting our best raw dog food article to find the best brands to feed your dog.
Monitor Weight And Health
As with any new diet regiment, you want to make sure it's positively impacting your dog. Be sure to monitor your Golden's health and weight for changes over time.
Not preparing a balanced meal individualized to your dog's needs can lead to certain conditions or diseases such as lack of energy, skin or coat disorders, malnutrition or obesity, and more.
Maintaining a healthy lifestyle can save you thousands on vet bills down the road.
Other Food Alternatives For Goldens
Yes, cooking and feeding your Golden Retriever homemade food is a great way to give him the nutrition levels your dog needs to live a healthy, allergy-free life.
As a Golden dog parent, your number one priority is to ensure that all the ingredients used are safe to eat and that your Golden's nutritional requirements are met with every meal.
Remember, switching your Golden's food to homemade from kibble is a slow process and should be done progressively. You need to consider factors like your Golden's eating history, weight, and overall health before giving homemade food to your pet.
Can golden retrievers be vegetarian? Yes. If your Golden Retriever has food allergies, digestive issues, or any other food/health-related issue, vegan dog food might be a great alternative to explore.
---
Sources & References: [1] NZ Veterinary Nurse, [2] Universities Federation for Animal Welfare
Image Credit: Flickr
Like It? Subscribe & Share!