The Farmer's Dog Food Reviews: My Positive & Negative Experience [2023]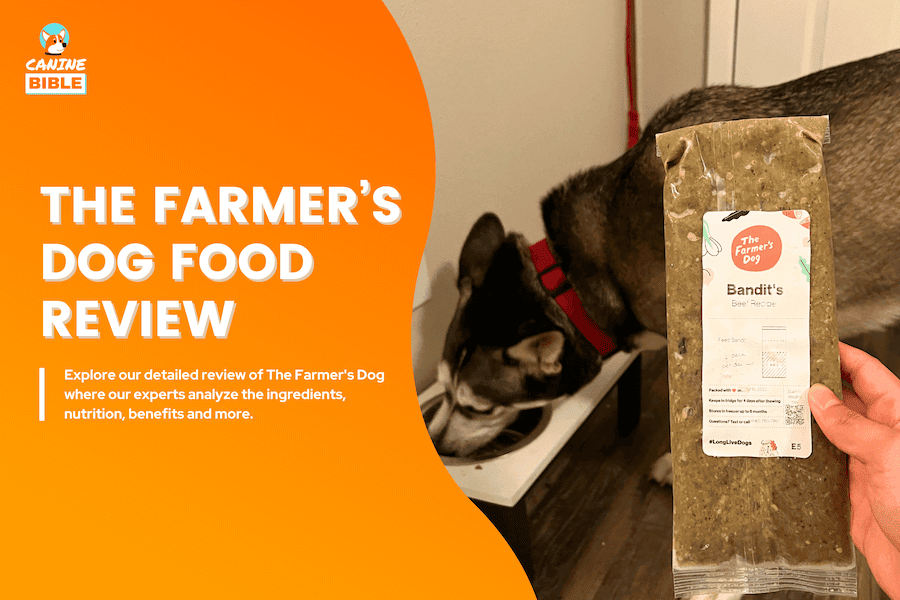 Canine Bible is reader-supported. We receive affiliate commissions via some of our links. This doesn't affect rankings. Learn more.
This is the most comprehensive The Farmer's Dog food review online.
The Farmer's Dog is a well-known custom dog food that we decided to test out with two of our canine companions. This review will help you better understand whether The Farmer's Dog's all-natural, fresh dog food is right for you and your dog.
Before you find yourself subscribing to The Farmer's Dog, here is our experience after feeding it to our dogs for a month, including price, ingredient quality, taste, and any other questions you may have about the experience. Let's get started!
📖
In This Review:
Chapter 1: Full Review
Chapter 2: Our Experience
Chapter 3: Tips, FAQs & More
Our Favorite The Farmer's Dog Food Reviewed
A glance at our favorite dog food from The Farmer's Dog.
The Farmer's Dog Food Review — At A Glance
Company Overview & History
The company was founded in 2014 by Brett Podolsky and Jonathan Regev.
The Farmer's Dog begins with the founder's beloved Rottweiler pup, Jada, a beautiful Rottweiler pup who suffered from severe digestive issues for two years. As a last resort, their vet recommended that they give Jada homemade food after trying almost every high-quality kibble available. Brett noticed almost immediately how homemade food began to work its magic. Jada was cured literally overnight, and Brett became a fresh food advocate. The rest, as they say, is history. Today, the company has grown to over 300 people and delivers millions of meals monthly.
Watch this video, hear their inspiring story, and see why The Farmer's Dog exits and how it compares to regular dry dog food.
Mission
The Farmer's Dog's founders were fed up with highly processed burnt brown balls being marketed as "natural" and "healthy," — so they decided to reimagine pet food from the ground up. As one of the founders puts it:
"Feeding [fresh dog food] isn't about spoiling your dog or being fancy; it's about recognizing that no natural digestive system — human, dog, or otherwise — is suited to highly processed food…" — Jonathan
Pet nutrition research backs up Jonathan's statement, as you will see below. The company's success perfectly aligns with the growing demand for fresh dog diets as more consumers become aware of processed dog food's downsizing and shift to more natural foods for their pets.[1][2]
They clearly also show that they are onto something. Let's find out.
What Is The Farmer's Dog Food?
The Farmer's Dog brands itself as dog food that is "a smarter, healthier pet food." They are a fresh dog food subscription service that offers personalized fresh home-cooked meals made using human-grade ingredients and breakthrough recipes formulated by leading board-certified veterinary nutritionists and carefully crafted in USDA-certified kitchens to exceed industry nutrition standards established by the Association of American Feed Control Officials (AAFCO).
Their food is custom-made and fresh to meet your dog's vet-recommended individual needs, including dietary recommendations, health conditions, size, gender, breed, and other characteristics or preferences. Your dog's meals are individually portioned and delivered directly to your door.
The Farmer's Dog recipes contain no fillers, artificial preservatives, or by-products.
Why Feed The Farmer's Dog To Your Dog? Benefits & Research
There are several benefits of feeding The Farmer's Dog to your pet.
Superior Nutritional Standards
A six-month feeding research trial proved that The Farmer's Dog food is complete, balanced, and bioavailable. While AFFCO only requires a minimum of 4 blood values to be tested in dog food feeding trials to deem a kibble up to standard, The Farmer's Dog measured 49 blood values for all participating dogs during its trial. Each dog also received a complete medical exam by Lisa Lippman, DVM, that showed they were all healthy. The Farmer's Dog test surpassed existing standards in terms of the number and variety of dogs tested, the blood values tested, and the trial duration.[3]
Third-Party Research-Backed Benefits
Here is what the research on feeding fresh food like The Farmer's Dog to canines says.
All those fillers, preservatives, and highly processed ingredients in commercial dog food can affect your dog's health over time, whereas a fresh, human-grade diet produces increased energy and improved long-term health. Sadly, studies have shown that feeding your dog processed foods like kibble throughout their life may increase their cancer risk due to the presence of toxic chemicals, mycotoxins, free radicals and carcinogenic chemicals. [8][9][10]
How Does The Farmer's Dog Work?
Ordering The Famer's Dog food is simple. The company shines at catering to every specific dog need you can think of. Here is a step-by-step on how it works.
Step 1: Start a Trial
To get started, you can click here to get their biggest discount—50% off your first order.
Step 2: The Farmer's Dog Profile Creation
Next, you need to fill out a quick questionnaire to help The Farmer's Dog make personalized recommendations for your dog,
You must fill out your dog's age, weight, existing health problems, weight, activity level, and nutrition goals, among other important information. Once this step is completed, The Farmer's Dog will create a personalized recipe with all these factors.
Below is everything they will ask you about your dog.
The Farmer's Dog Extra Customization
The Farmer's Dog will send a pop-up message to further customize your plan at checkout.
Step 3: Delivery
Once your order is placed, they will ship the food. Large dogs may get individually portioned packets, while small breeds may get as many as 4 to 8 meals out of a single pouch.
The Farmer's Dog perfectly times deliveries to ensure your pup never runs out of food. You can adjust deliveries, delay, pause, edit the food amount sent, or cancel at any time. If you are traveling, they can ship it to your destination or have it rush-ordered before your trip.
If your dog doesn't love their food, they can send you additional recipes to try, or you can opt for a refund if you donate the food to a shelter. The company will send you a different flavor at no cost to you.
The Farmer's Dog Food Key Features
Here are the most noteworthy aspects of The Farmer's Dog fresh dog food delivery company.
The Farmer's Dog For Puppies
Can puppies eat The Farmer's Dog? Yes, puppies 8 weeks old and older can safely enjoy The Farmer's Dog's fresh food. They will customize your puppy's food for all of his growing needs.
According to their website, puppies 7 weeks or younger should not eat The Farmer's Dog.
All recipes are AAFCO-certified for all life stages, including puppies. Personally, we like Beef because it has the highest protein, is beneficial for growing pups, and is recommended for puppies who want to start eating The Farmer's Dog.

The Farmer's Dog Sourcing & Manufacturing
The Farmer's Dog has two food manufacturing centers located in New York, NY. and Nashville, TN. A team of board-certified veterinary nutritionists cooks the meals in USDA kitchens. The company sources all meat, veggies and other ingredients from USDA-approved suppliers, local farms, and other human food purveyors. This guarantees that consumers get high-quality ingredients that pass safety regulations and humane-grade standards.
Each recipe is gently cooked at low temperatures according to USDA facility standards to ensure maximum nutrient retention and reduce the risk of harmful bacteria.
To ensure safe and convenient shipping, your dog's meals are quickly frozen (never deep frozen!) and never contain preservatives that allow kibble to sit on a shelf for years.
The Farmer's Dog Ingredients
The Farmer's Dog only uses ingredients approved for human consumption. The co-founders say they treat dog food the same way human food and test new recipes on humans first.[11] This means you could eat the food, too. But don't, it's for your dog! 😉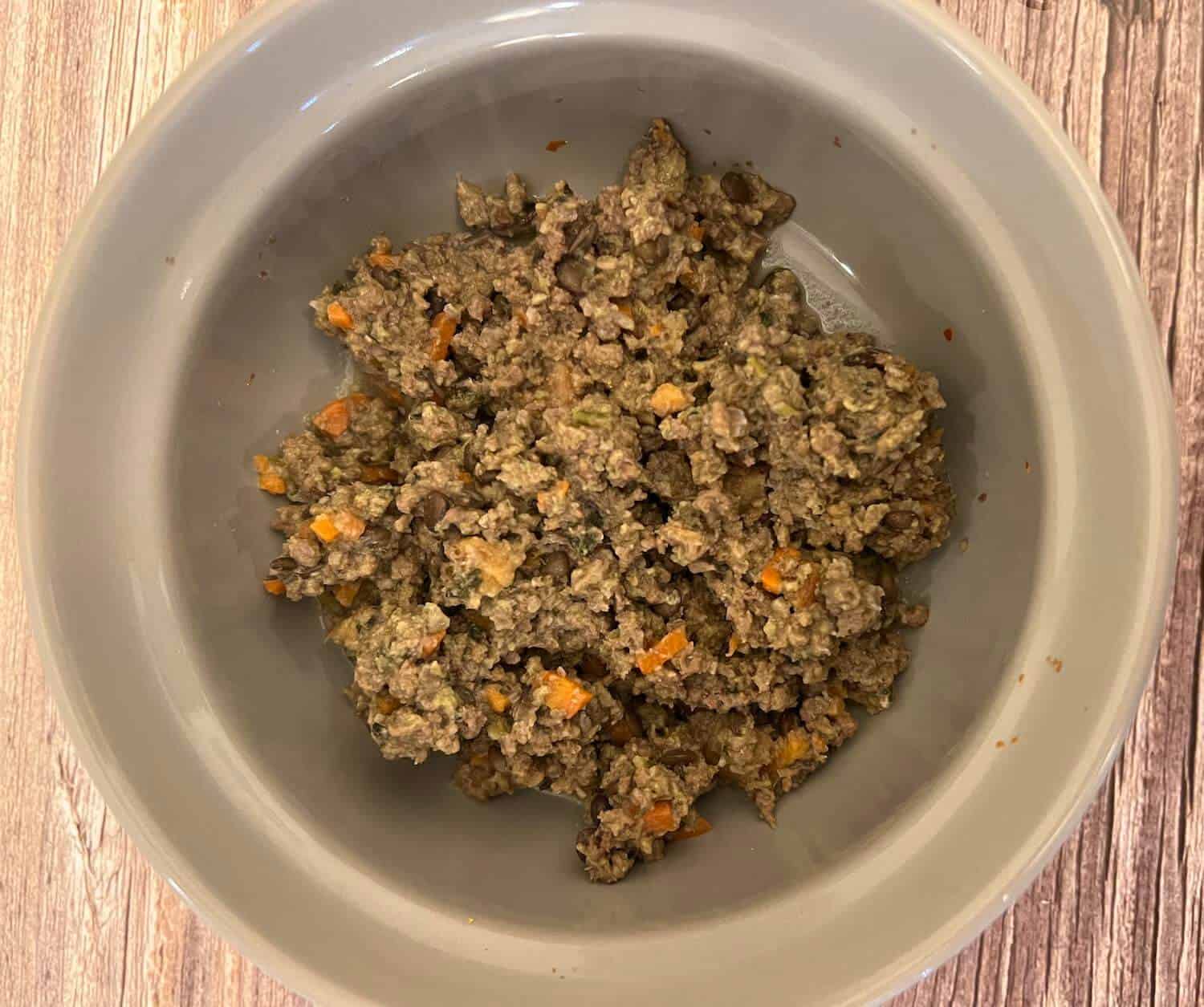 Recipes created by The Farmer's Dog are made using simple yet nutritious ingredients that are natural and easy to digest. The Farmer's Dog only uses USDA-sourced quality muscle meat protein, organ meat proteins, whole food ingredients, vegetables, vitamins, and minerals. Their 4 custom recipes exceed standards the AAFCO dog nutrient requirements for all life stages.
Additionally, they never use feed-grade ingredients or process their ingredients to be shelf-stable, ensuring your dog has the best and most natural nutrition available.
The Farmer's Dog Nutrient Blend (Proprietary Mix)
Besides clean and fresh ingredients, all their formulas include a proprietary blend of balanced vitamins and minerals to ensure maximum nutritional value. This mixture includes tricalcium phosphate, sea salt, vitamin B12 supplement, taurine, zinc amino acid chelate, iron amino acid chelate, vitamin E supplement, copper amino acid chelate, thiamine mononitrate, riboflavin, potassium iodide, pyridoxine hydrochloride, vitamin D3 supplement, and folic acid.
The Farmer's Dog Food Reviews
The Farmer's Dog recipes come in 4 different formulas.
We analyzed and reviewed each recipe to tell you what they are best for based on their nutritional analysis and ingredients.
We hear they may be launching a lamb recipe version..
Chicken
Ingredients: USDA chicken, brussels sprout, USDA chicken liver, bok choy, broccoli, fish oil, TFD Nutrient Pack

Protein: 46% (dry matter)
Fat: 34% (dry matter)
Carbs: 12% (est)
Fat-to-protein ratio: 74%

Why & When Should You Consider This Recipe?

Perfect for dogs that need a high protein diet but lean. This recipe has the highest protein content out of all recipes. It also includes nutrient-rich vegetable sources like brussels sprouts and contains an organic zinc compound and two other chelated minerals for improved absorption.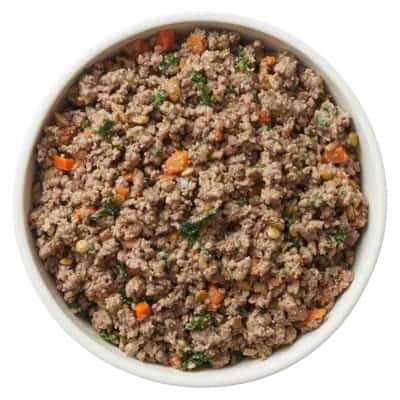 Beef
Ingredients: USDA beef, sweet potato, lentils, carrot, USDA beef liver, kale, sunflower seeds, fish oil, TFD Nutrient Blend

Protein: 39% (dry matter)
Fat: 29% (dry matter)
Carbs: 24% (est)
Fat-to-protein ratio: 73%

Why & When Should You Consider This Recipe?

Beef Recipe contains the second highest protein level in their recipe line. A great choice to aid with digestion as it packs a punch of prebiotic fiber thanks to ingredients like sweet potatoes and cooked lentils. Perfect blend of healthy cabrs and the ground chunks of meat and veggies make it irresistible for dogs.



Turkey
Ingredients: USDA turkey, chickpeas, carrot, broccoli, parsnip, spinach, fish oil, TFD Nutrient Blend

Protein: 33% (dry matter)
Fat: 19% (dry matter)
Carbs: 40% (est)
Fat-to-protein ratio: 56%

Why & When Should You Consider This Recipe?

This turkey recie is an ideal protein source for dogs that are prone to allergies or sensitivities that can result from other proteins like beef or chicken. It has the lowest amount of meat protein but offers the most balanced fat-to-protein ratio, meaning an exceptional nutrient balance.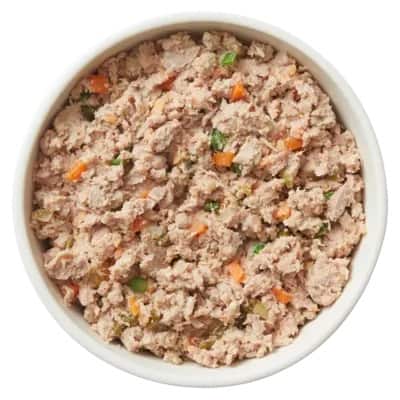 Pork
Ingredients: USDA pork, sweet potato, potato, green beans, cauliflower, USDA pork liver, fish oil, TFD Nutrient Blend.

Protein: 36% (dry matter)
Fat: 28% (dry matter)
Carbs: 28% (est)
Fat-to-protein ratio: 78%

Why & When Should You Consider This Recipe?

It contains 100% animal protein from fresh pork and pork liver. The formula is rich in omega-3 fish oil for optimal heart health and silky coat. This is another excellent pick. Pork is often recommended as a healthy alternative as it causes fewer allergic reactions than other protein sources.
The Farmer's Dog Food Price — How Much Is The Farmer's Dog?
How much does The Farmer's Dog cost?
Plans start at $2 per day and include free shipping. But because each dog has unique requirements, The Farmer's Dog price depends on factors such as your pet's age, size, health, activity level, and more.
What We Paid For The Farmer's Dog
The Farmer's Dog Price Daily, Weekly & Monthly
To help you determine how much you can expect to pay for your order we ran some quotes for four different dog sizes small, medium, large, and extra-large dogs.
| Weight | Breed | Day | Weekly | Month |
| --- | --- | --- | --- | --- |
| 8 pounds | Maltese | $2.45/day | $18.38/weekly | $73.50/month |
| 15 pounds | Miniature Schnauzer | $3.34/day | $25.05/weekly | $100.20/month |
| 40 pounds | Siberian Husky | $4.93/day | $36.98/weekly | $147.90/month |
| 70 pounds | Golden Retriever | $8.09/day | $60.68/weekly | $242.70/month |
| 115 pounds | Great Danes | $14.37/day | $107.78/weekly | $431.10/month |
Your meal prices will vary slightly (up or down) depending on how personalized your meals are, but the table above is a good point of reference.
Remember, you are simultaneously enrolling in an ongoing meal plan subscription when you place your first order. Subsequent orders typically will be charged every two weeks before your next scheduled delivery. You'll be notified via email about each order before billing and shipment. You can cancel at any time.
How Much Is The Farmer's Dog Monthly?
On average, the monthly price for The Farmer's Dog ranges between $73 and $431 depending largely on your dog's size.
How Much Is The Farmer's Dog Per Week?
On average, the weekly price for The Farmer's Dog ranges between $18 and $107 depending mainly on your dog's size.
The Farmer's Dog Price Vs Kibble Price
According to Statista, for a decent mass-market kibble brand, you can expect to pay an average of $1.97 per pound of dog kibble. If you choose a High-end kibble, your daily cost is around $3.45 per pound.[12] Bandit's plan ended up costing $3.06 a day, which is less than the average price of high-end kibble. We were surprised by this!
Whether you buy Kibble or The Farmer's Dog, the daily cost of dog food will increase or decrease depending on your dog's size. Bigger dogs typically eat more and require bigger meals, hence the more you spend on food.
Keep in mind we are not comparing apples to apples. The Farmer's Dog offers freshly-made human-grade dog food without additives, colorants, by-products, and other harmful chemicals traditional dog food has. The extra cost is justified by the convenience and health benefits of feeding fresh food to your dog. When you go with highly processed kibble, you could end up paying more in veterinary bills.
The Farmer's Dog Food Trial
The first box you receive is a 2-week taste trial consisting of 14 daily meals. The Farmer's Dog selects three fresh, balanced recipes (but you're welcome to mix it up!) and sends them precisely pre-portioned for your dog. After checkout, you can further customize your order. To get the best deal on The Farmer's Dog trial, use this link to get 50% off on your first order. The discount will be applied automatically.
The Farmer's Dog Coupon Code
Our readers can access 50% off their first The Farmer's Dog order. Just use this link to get started!
The Judges
We picked one Canine Bible dog to give us their paw-honest opinion and verdict.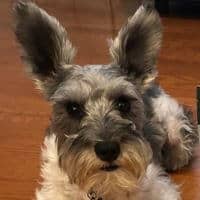 Bandit
Age: 3 ┊ Gender: Male ┊ Breed: Miniature Schnauzer┊Weight: 14 lbs ┊ Health Concerns: None ┊ Lifestyle: Active ┊ Personality: Sweetie pie

"I mean, Bandit always loves food, but he went nuts and start drooling when I whip out the The Farmer's Dog packets" — her person, Anna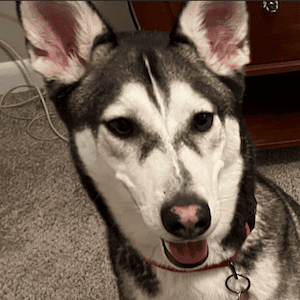 Koda
Age: 5 ┊ Gender: Male ┊ Breed: Husky┊Weight: 56 lbs ┊ Health Concerns: None ┊ Lifestyle: Active ┊ Personality: Playful

"Koda had always had dry kibble. Feeding him TFD fresh dog food is one of the healthiest decisions we made for him and we are happy with the results." — her person, Anna
The Farmer's Dog Unboxing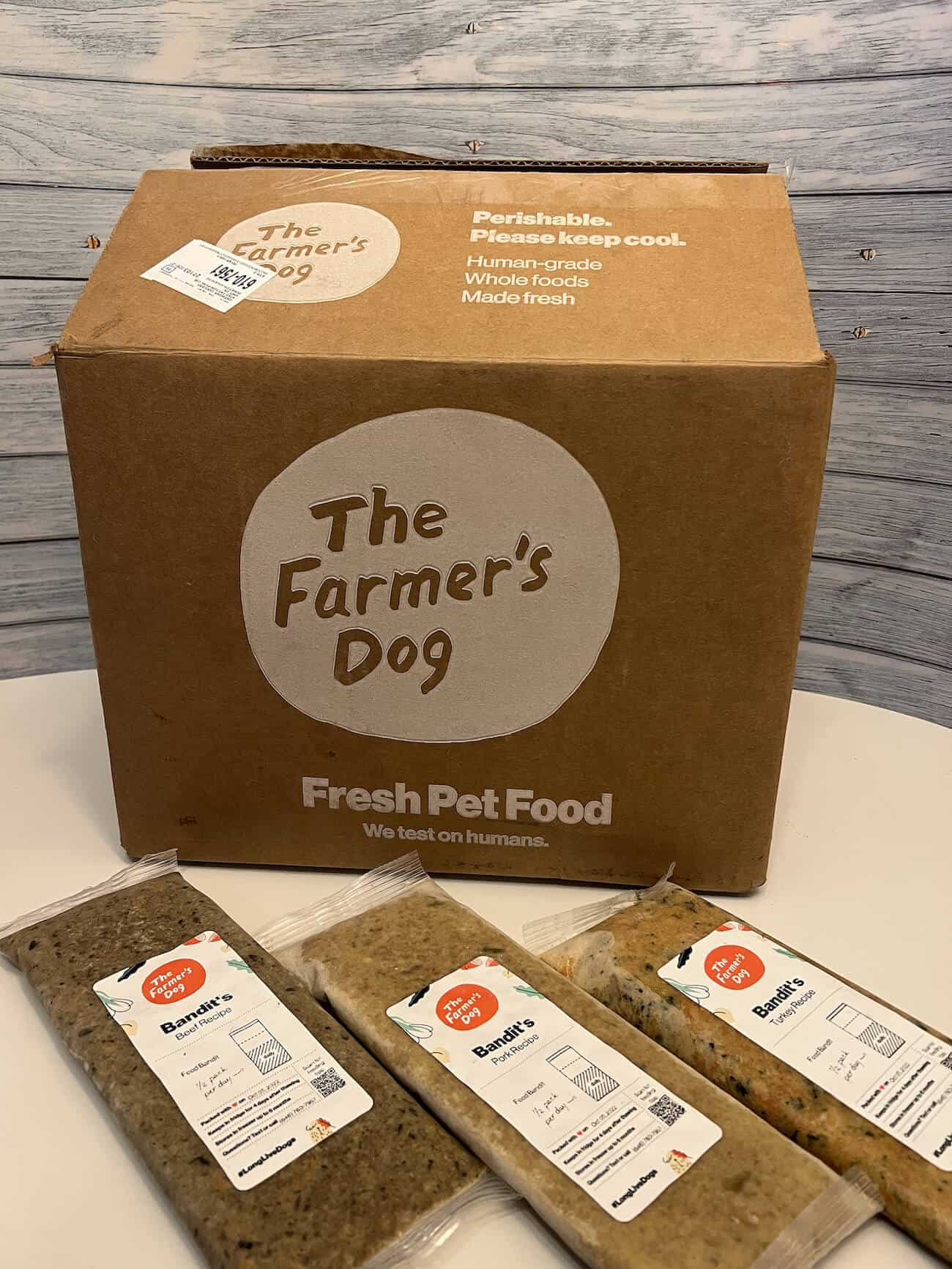 The cardboard box arrived sealed with dry ice and biodegradable insulation (that melts under hot water in the sink) to keep the food cold.
Inside are the frozen pouches of food, a reusable cardboard container, and feeding instructions according to your dog's size and weight. We also received an insulated reusable bag for keeping frozen dog food cold while traveling.
We love that the bags are frozen flat, so they take up minimal space in our jam-packed freezers.
When we opened our box, we were delighted. The dog food was fresh, cold, labeled, and well-organized. It even had our pup's name on it.
Here is everything that came in the box:
I like that the main ingredients are clearly labeled on each package. The food looked super tasty, and we could see actual real ingredients through the pouch. Bandit kept staring at the food, wondering how good it would taste, and would probably get mad if we took a bite out of her food!
My The Farmer's Dog Video Review
My Personal The Farmer's Dog Testimonial
My Dog's Experience With The Farmer's Dog
Thawing, Serving & Storing
Remember that The Farmer's Dog recipes are fresh, so they have a much shorter life than kibble. The food should be consumed in 4 days once it has been thawed in the refrigerator. If you keep them frozen, the packaged meals will stay fresh for 4 months.
We let the bag thaw in the freezer the day before or sometimes we zap it in the microwave for 10-20 seconds to bring it to room temperature.
Once the product thawed, we began incorporating it into Bandit's diet. We gradually introduced The Farmer's dog food to her diet as they recommended. Over the next few days, we phased out the kibble entirely and began feeding her The Farmer's Dog food only.
The bags took up minimal space in our jam-packed freezer.
Ordering & Delivery
After placing our order, we got a follow-up email with order confirmation and another email when your food shipped out, including the tracking information and estimated delivery date. The box reached us in 3 days once our order was processed. Our food was delivered in a cardboard box sealed with dry ice and biodegradable insulation that ensures meals are 100% frozen upon delivery.
If you are not home during delivery, don't worry, the ice is meant to keep your food safe and cold until at least 11 pm the day of the delivery.
The Farmer's Dog box is huge and light to carry and has an attractive design. What's best is that the cardboard box is recyclable, and all insulating materials are biodegradable. Even meal packages are made from BPA-free and non-toxic materials.
Our Customer Service Experience
Being one of the busiest and most popular dogs food delivery services doesn't stop The Farmer's Dog from offering good customer service.
We had a few fellow dog parents test The Farmer's Dog customer service by having them inquire about The Farmer's Dog service through email, phone, and chat. Overall, we received timely responses that were helpful and professional.
Sometimes it took them a while to respond, but most of the time, we got an answer. They have an email and phone number on their website for quick customer service. They also leverage social media to help current customers and people inquiring about their services.
The Farmer's Dog offers a Vet Portal that provides your veterinarian with more information about their food and how it can be used to improve the health of a particular dog.
What We Like & What We'd Change
Is The Farmer's Dog Worth It?
After testing The Farmer's Dog and throughout research, we happily recommend this brand to any dog parent looking to improve their dog's nutrition and overall health. If you have a dog who needs a customized diet due to health concerns, food allergies, is a picky eater, hates shopping, hates making homemade dog food for your dog, or you want to provide them with a better, healthier, and fresher food, The Farmer's Dog is a fantastic option. While the price for The Farmer's Dog subscription may be slightly higher than buying traditional kibble, keeping a dog healthy should be a priority, and proper nutrition is where it all starts. A better diet translates into fewer vet bills.
Not convinced? See what other parents alike are saying about The Farmer's Dog.
What Customers Think About The Farmer's Dog
Are there any The Farmer's Dog complaints? Here are some positive and negative The Farmer's Dog reviews from verified customers.
The Farmer's Dog Positive Reviews
The company is the best most understanding business towards its customers. They know how to treat each family and pet as an individual. They allow you to feel that you matter. The product itself has been amazing for my dogs. My one dog has extreme health issues, and this product has helped him to recovery from 5 different surgeries and be removed from 3 different medications. This product really has been life-changing for our special pet. They take the time to listen to your concerns and make adjusts that are needed according to the needs of your pet. They have been amazing through our difficult times by sending flowers and making sure he was recovering okay. This company is extraordinary. I would recommend that everyone used this company for their dogs. This was the best choice I have ever made for my pets.

– Michelle L, Better Business Bureau (BBB), 12/16/2020
Our 13yo schnauzer was getting thin and not wanting to eat. Since switching to this food he has regained weight through his hips and chest looking and feeling much better. He now taps dances when he sees the feeding bowls come out. Not that we were not using quality food before, it just that he did not want to eat it."

– Keith N, Trust Pilot 5/12/2021
Excellent quality food, great customer service, my dog LOVES her fresh food from The Farmer's Dog. The delivery has always been on time, well worth the money. This healthier diet may cost a little more than the dried or canned food, but it has saved me hundreds of dollars on vet bills since we rarely need to go anymore. My dog is so much healthier & happier since we started her on the fresh food diet (almost 1 year now)! Couldn't have picked a better company.

– Marina Kinross, Google Reviews, 04/05/2020
The Farmer's Dog Negative Reviews
We had a negative experience with The Farmer's Dog. To start, we received food that was mislabeled – not a huge deal, but we'd intended to start our dog on turkey as we'd read it was more digestible & thus easier to transition with. Instead, chicken was labeled as turkey and vice versa. The bigger issue is the bait & switch on pricing. What was not clear in the sign-up process is that the first two shipments are 14 days worth of food, but the price quoted is for shipments of 28 days worth of food. We don't have a ton of freezer space, so when I noticed that our plan shifted to 28 days for the 3rd shipment, I moved it back to 14 days and saw the price increase by 20%.

I called customer service and they explained this is a new process they're trying out, where they ship smaller "transition shipments" of 14 days for your first two orders, and then send you monthly shipments after that... I will say that our dog liked the food, but for the high cost I never expected to get mislabeled food, or for the company to intentionally hide the fact that the rate only applies to an entire month's worth of food AFTER you've signed up.

Trust is highly important for any company that's providing for our dog, and I found that severely lacking with The Farmer's Dog given the mislabeled food and intentional games with pricing. That's why we canceled our subscription and will give one of the competitor's with cheaper rates a shot.

– Brain Kazian, TrustPilot, 02/25/2021
"The food is great for dogs with digestive problems like my dog has and dogs just love the taste. It is fresh and looks pretty good. BUT, their customer service is awful. This month, they told me my food would be here 4/13-4/17. Then, it was 4/15-4/17 and my dog was running out of food. So, I contacted them and they told me to "cook my own". The food is still not here and they claim it will be here tomorrow 4/18 but it won't and we had to buy more food for our dog after shelling out a bundle for this. BAD!!!!!"

– Bobbi B, Better Business Bureau (BBB), 4/17/2021
Not a great experience, my dogs received the trial order and seemed to like it, we then got another shipment but with everything going on with Covid it took 2.5 – 3 days to get to us via *****, the dry ice was melted and the food mostly defrosted. I emailed them regarding this and they said that as long as it was still cold (which it was) then it was fine. But it's not fine. My dogs refuse to eat it. The turkey smells spoiled, sorta vinegary. I emailed twice asking for the next order to be held because of everything going on with Covid right now and because ***** is taking so long to get to us, but they were not able to. I now have a ton of food that my dogs refuse to eat. It's a lot of money to waste on spoiled food, and unfortunately, I feel dismissed every time I mentioned this they sent me the same exact response that was clearly copied and pasted "It is okay for the packs to arrive defrosted, just as long as they are cold with at least 1 pack still partially frozen. Let me know if this is ever not the case." I'm not going to respond and say that's not the case because the packs were still cold when I received them and saying otherwise would be untrue, that being said I am still 100% confident this food is no good based on the smell of it and the fact my dogs won't eat it, even my dog who will eat absolutely anything. It's unfortunate that I have so much food now that my 4 dogs refuse to eat and it's unfortunate that I feel like my concerns are consistently responded to with the same copied and pasted answer which I feel is dismissive of my concerns.

– Kelly B, Better Business Bureau (BBB), 6/12/2020
The Farmer's Dog Reddit Reviews
The Farmer's Dog Reddit reviews expressed skepticism over the term 'human-grade dog food' and what seems to be common question dog parents have when they hear that term. On the positive side, customers say they rarely face resistance from their pets when fed The Farmer's Dog. According to one customer on Reddit, the evidence lies in their pets' poop: "Her poop is so much better now." Customers also praised the brand for its smart packaging and timely delivery, ensuring your pup is never out of chow.
Check out these The Farmer's Dog Reddit reviews for more.
Overall, upon a visual survey of customer satisfaction for The Farmer's Dog, the positive reviews far outweigh the negative. Out of the 2807 reviews submitted by real The Farmer's Dog customers (on Trustpilot, BBB & Google Reviews combined), more than 83% are positive reviews. We also noticed that The Farmer's Dog is highly active in responding and offering solutions to dissatisfied customers.
Transitioning From Kibble To The Farmer's Dog
Vets and experts alike always recommend that when you put your dog on a new diet – do it gradually and thoughtfully. The Farmer's Dog makes this process easy. They include a Transition Guide in every box.
It's a 6 days transition program that goes as follows: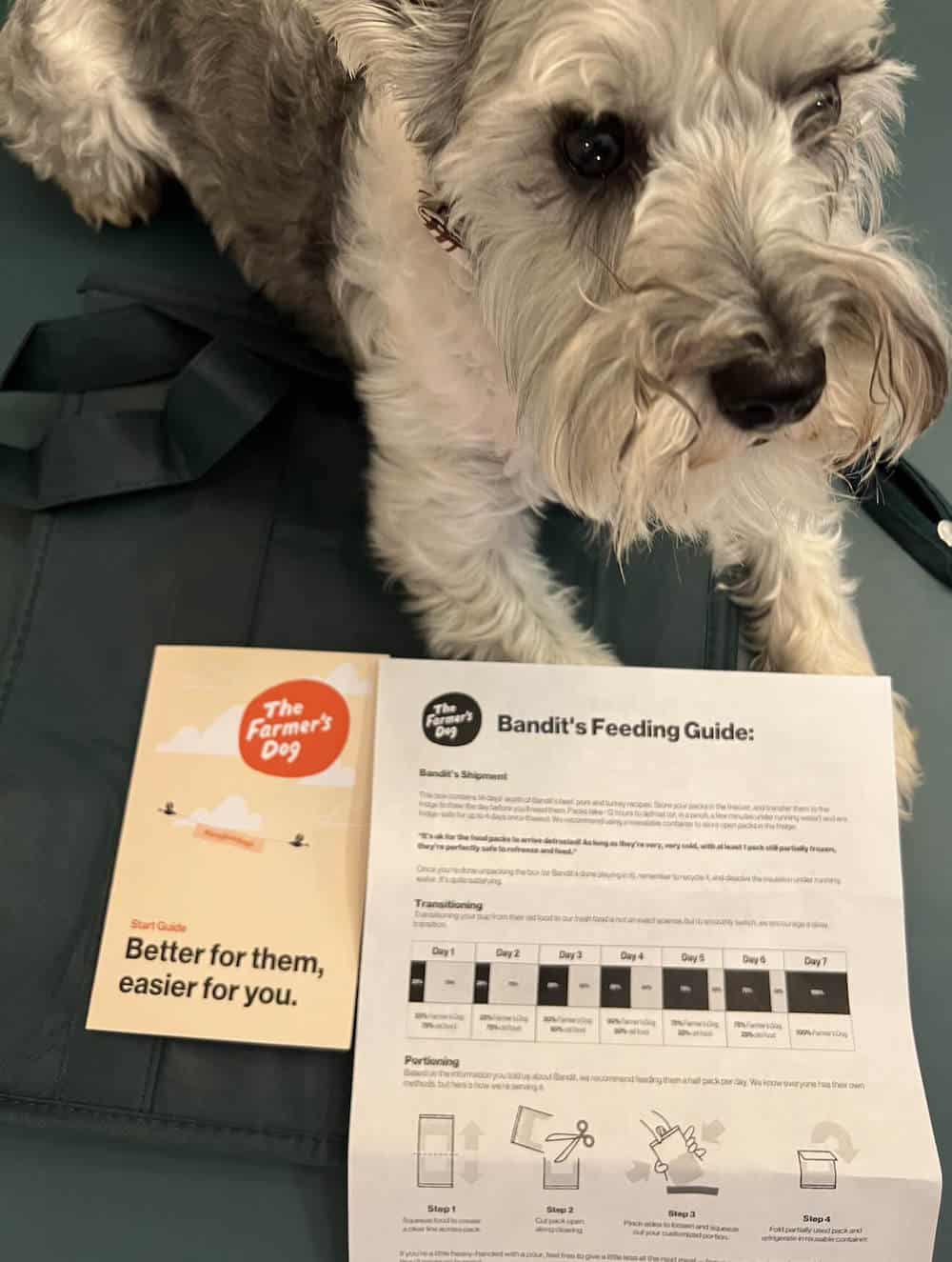 Where to Buy The Farmer's Dog Food
The Farmer's Dog is not sold in stores. It's only available directly from the company.
The Farmer's Dog Homemade DIY
Can I make Farmer's dog food myself? Yes!
You can check out our homemade dog food guide for vet-approved recipes and learn all about cooking food like The Farmer's Dog for your pet. Or, you can also opt for The Farmer's Dog DIY program. The program is simple:
Sign up
Get personalized homemade recipes from The Farmer's Dog veterinarians
You buy the food ingredients at your store of choice
Follow their easy cooking instructions and add their DIY Nutrient Mix to make meals complete and balanced.
This is a great way to put your dog on a fresh diet if you have the time to cook and buy all the ingredients. It's certainly cheaper but time-consuming. We like sticking with their meal delivery plan for convenience.
Is The Farmer's Dog Raw?
The Farmer's Dog food is not raw; it's gently cooked at lower temperatures to preserve more of the nutritional value. The food is ready to serve upon delivery; thaw it in the fridge or with warm water and serve.
The Farmer's Dog Recall
Since posting this review, Sep 2023, no recalls for The Farmer's Dog have been issued.
The Farmer's Dog TV Commercial
Here is a quick glimpse of what happens when dogs see/smell The Farmer's Fog food.
The Farmer's Dog Phone Number
The Farmer's Dog customer service line is (646) 780-7957. Or, you can email them at [email protected] should you have any issues. Fortunately, we did not.
The Farmer's Dog Vs Nom Nom, Ollie, Spot & Tango & Others
Here is how The Farmer's Dog stacks up to other fresh dog food companies.
The Farmer's Dog vs Ollie
Despite having a similar way to create a custom dog's meal, there are a few differences between these two subscription-based dog food delivery services. The Farmer's Dog offers 4 meal plans, while Ollie offers 4 but with the option of treats. Ollie also focuses mainly on the portion of the meat that will be the most nutrient-dense part of the animal (i.e., beef kidneys for their beef recipe.) Ollie also offers a fun food scoop and a box to make serving easier, while The Farmer's Dog offers better eco-friendly options and rush orders. Costs for both brands are relatively the same, but Ollie seems to have slightly lower prices. On the other hand, The Farmer's Dog uses USDA-approved meat, while Ollie uses fresh farm meat.
The Farmer's Dog vs Nom Nom
The Farmer's Dog and NomNom are long-time competitors. The two have very similar recipes and are equally excited to help better your pet's nutrition. They use quality, human-grade ingredients but differ in a few key areas. Nom Nom excels at portioning and has various other products to supplement your dog's diet. The Farmer's Dog is much more affordable and has better customizable choices to meet your dog's needs.
The Farmer's Dog vs Spot & Tango
Spot and Tango is not as popular a subscription dog food service as The Farmer's Dog. Spot and Tango offer three different recipes, each using 12 ingredients. New customers of Spot and Tango can get 20% off their first purchase, while The Farmer's Dog customers will receive 50% off theirs.
The Farmer's Dog Frequently Asked Questions
Here are the answers to some of the most commonly asked questions about The Farmer's Dog.
The Farmer's Dog Food Review — Conclusion
It's worth trying The Farmer's Dog. It helped our dog's digestion, and I can see more vitality and energy in him.
After using it, several owners have even reported that The Farmer's Dog improved their pup's fur, skin, and demeanor. There are a couple of alternatives to The Farmer's Dog. One of which is a subscription service we already did a review on, Nom Nom dog food. They are similar in style and experience but can be a better choice depending on your needs. Ollie and Spot & Tango are also excellent services that may suit your pup better.
In partnership with your vet, you will be best positioned to decide if it suits your dog.
---
Like It? Subscribe & Share!
Canine Bible authorship represents the unified voice of our entire editorial team rather than a single author. Each article, blog post, and review published under the Canine Bible name undergoes a rigorous review process, involving all team members to guarantee accuracy and up-to-date in accordance with the latest veterinarian research. This collaborative effort is an integral part of our editorial process and aligns with our four pillars of content creation. This approach ensures our content is backed by expert knowledge and factual information, offering our readers reliable, actionable, and trustworthy content.