Ollie Dog Food Reviews: Fresh & Baked Recipes Tested By Our Dogs [2023]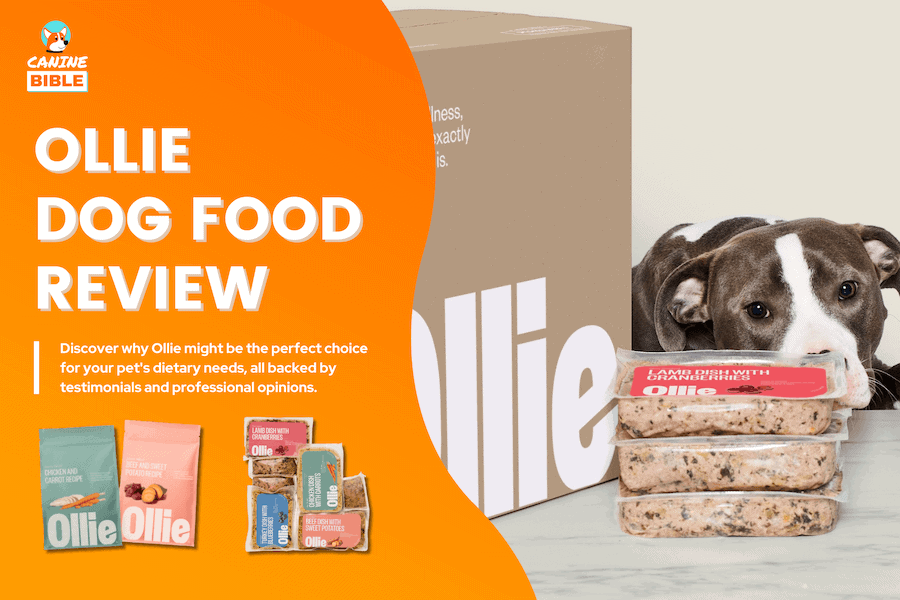 Canine Bible is reader-supported. We receive affiliate commissions via some of our links. This doesn't affect rankings. Learn more.
This is the most comprehensive Ollie dog food review.
Whether your tail-wagging friend is a picky eater or a voracious canine, finding the right dog food can be quite the saga. Enter Ollie, a brand with a compelling promise – fresh and baked human-grade recipes that get tails wagging and boost dogs' health. But is Ollie's promise legit? Is it worth the price? Is it healthier than kibble?
Our team put their offerings to the ultimate test. We had our dogs try them out for a month. Paws were licked, bowls were emptied (or not), and canine opinions were formed. So, sit, stay, and get ready to dig into our Ollie dog food review. This article will help you decide whether or not this brand is for you. Let's get started!
📖 In This Review: Chapter 1: Full Review Chapter 2: Our Experience Chapter 3: Tips, FAQs & More
Our Favorite Ollie Dog Food Products Reviewed
A glance at our favorite products from Ollie.
Ollie Dog Food Review — At A Glance
What Is Ollie Dog Food?
Ollie is a dog food delivery service that delivers fresh, personalized meals made with fresh, human-grade ingredients directly to customers' doors. The meals are tailored to each dog's breed, age, size, activity level, and allergies, ensuring that every pet gets the right nutrients at every stage of life.
Ollie prioritizes quality and freshness in their recipes. Their recipes have no by-products or funky fillers and are rich in real animal protein and organ meats. Additionally, they incorporate fruits and vegetables to promote optimal digestion and overall health of canines.
History
Ollie dog food is a New York-based, and it was co-founded by Gabby Slome, Alex Douzet, and Randy Jimenez in 2016. Ollie started when co-founder Gabby Slome noticed that her rescue dog, Pancho, was gaining weight and lacking energy despite being fed premium commercial pet food. This led her to research the pet food industry, and she was dismayed by the low-quality ingredients and processing methods used in many commercial products. Gabby's co-founders had similar experiences, so together, they founded Ollie to create freshly cooked, high-quality food for dogs.
Mission
Ollie is a company committed to cultivating a healthy ecosystem for our dogs to thrive in by creating a real difference at scale. "We believe a dog's health, happiness, and longevity begins with their food — and superior ingredients and cooking techniques lead to the best nutrition…"
How Does Ollie Dog Food Work?
Ordering Ollie dog food is simple. You can pick between three subscription options:
Here is a step-by-step on how Ollie works.
Step 1: Start a Trial
To get started, you can click here to get their biggest discount—50% off your first order.
Step 2: Oliie's Dog Profile Creation
Next, you need to fill out a quick questionnaire to help Oliie make personalized recommendations for your dog.
The questionnaire involves answering questions such as your dog's age, weight, existing health problems, weight, activity level, and nutrition goals, among other important information. Once this step is completed, Ollie will create a personalized recipe with all of these factors in consideration.
Below is everything they will ask you about your dog.
Step 3: Delivery
Once your order is placed, Ollie ships your dog's meals directly to your home based on your chosen delivery schedule during the signup process. The meals are shipped in insulated boxes to stay fresh during transit. You can expect to get it on the same day each week. However, that date may change due to a major holiday or inclement weather. They will contact you if your shipment schedule changes.
Ollie's fresh recipes will stay fresh in the box until midnight on the day it arrives. But try to get the trays into your fridge as soon as possible when you get home so they stay cold. If you order their Baked formulas, you don't have to worry about it putting them in the fridge. These are shelf-stable.
You can adjust, pause, or cancel your subscription from your account page on the Ollie website.
Ollie Dog Food Key Features
A look at the most notable features of Ollie dog food features.
Why Feed Ollie To Your Dog? Ollie Benefits
Ollie claims the following health benefits are associated with their food
It's worth noting that these are the same benefits we typically see in dogs eating a fresh diet, so we deem their claims appropriate.
Ollie Dog Food Digestability Benefits
The following graphic illustrates how Ollie's Fresh and Baked recipes compare to the minimum recommended digestibility levels for dog foods. Ollie's recipes are significantly more digestible than traditional, processed kibble, which means your dog can absorb more nutrients when eating Ollie.
More digestible dog food is generally better for your pet. Digestibility refers to the amount of food absorbed into the bloodstream during digestion. When dog food is highly digestible, it means that a high percentage of the food's nutrients are absorbed by the dog's body more efficiently and rapidly and used for energy, growth, repair and to carry out various functions such as reducing inflammatory responses, which can help prevent allergies, and boost overall health.
Other benefits of highly digestible dog food include: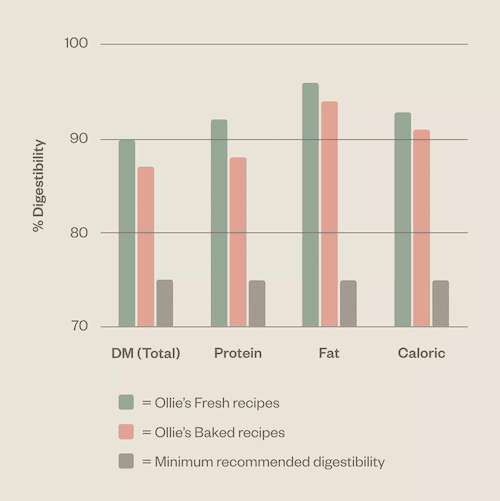 Third-Party Research-Backed Benefits
Here is what the research says about feeding dogs fresh food, such as Ollie.
The nasty fillers, preservatives, and additives in commercially processed dog foods can drastically affect your dog's health, liveliness, coat, and more. Switching your dog to a fresh food option like Ollie can help promote better health.
Ollie Digestability Scan
For a limited time, Ollie is offering new members 50% off their first box of Ollie meals and a free digestion scan. This service is available to new members for the first three weeks of their membership, with plans to extend it to all members. Ollie Transition Specialists, a dedicated team of veterinarians and veterinary technicians, review the digestion scans. They analyze your dog's stool photos to provide expert advice and support, ensuring a smooth transition to Ollie's diet. The test also helps you understand firsthand how Ollie enhances your dog's gut health. Read our gut health test kit guide for more on the importance of gut health.
Ollie Dog Food Sourcing & Manufacturing
Ollie Dog Food sources its ingredients according to high-quality standards. The company's human-grade beef, chicken, and turkey are sourced from reputable family-run farms in the United States. The lamb used in their products comes from the U.S., New Zealand, and Australia.
Meats sourced from family-run farms in the U.S. and Australia
The food is cooked in human-grade kitchens per guidance from a veterinary nutritionist at low temperatures in small batches and hand-packed at the company's facility in Minnesota, U.S. This ensures the preservation of nutrients and quality of the food. Every batch of Ollie's food is tested for safety and to ensure it meets the AAFCO feeding standards for all life stages, including large-breed dogs.
Sustainability
Ollie has set sustainable dog food practices in place, and they are doing their part to ensure the survival of our planet. Ollie relies heavily on recyclable packaging; its food is shipped in recyclable boxes, and the insulating liner is curbside recyclable. Ollie actively seeks less emissions-intensive options for food production, manufacturing, and delivery and collaborates with partners who share their commitment to sustainability. They also work closely with distributors and suppliers to reduce energy, water, and waste during food production. Ollie plants a tree for every new customer to offset their carbon footprint. Additionally, they are exploring the development of vegetarian and vegan products, demonstrating their ongoing commitment to sustainability and animal welfare.
Ollie Dog Food Ingredients
The specific ingredients vary depending on the recipe, but these are the foundational ingredients in all of Ollie's recipes.
Ollie doesn't use fillers, artificial colors or flavors, preservatives, or animal by-products. Instead, Ollie uses natural antimicrobials like rosemary to keep their food fresh.
Key Aspects of Ollie Dog Food Ingredients
Important things to know about the ingredients Ollie uses to cook their recipes.
Ollie Nutrient Blend Mix
Besides clean and fresh ingredients, all their formulas include a blend of balanced vitamins and minerals to ensure maximum nutritional value. This mixture includes dicalcium phosphate, calcium carbonate, chia seeds, iodized salt, fish oil, cod liver oil, zinc gluconate, copper gluconate, manganese gluconate, manganese sulfate, iron sulfate, ferrous sulphate, manganese amino acid chelate, copper amino acid chelate, choline bitartrate, rosemary, taurine, vitamin E supplement, pyridoxine hydrochloride (vitamin B6), cholecalciferol (vitamin D3) supplement, riboflavin (vitamin B2), potassium iodide, thiamine hydrochloride (vitamin B1)
These ingredients contribute to the overall nutritional profile of the food, providing essential vitamins, minerals, and fatty acids. The majority of nutrients listed above are present in Ollie formulas. However, the list varies slightly per recipe.
Ollie Dog Food Reviews
These are the products that Ollie offers for your dog.
Ollie Fresh Recipes
Ollie's fresh recipes are the pinnacle of optimal nutrition. Their fresh recipes are the closest thing to feeding your dog human food. They are carefully crafted with human-grade foods and slow-cooked for maximum nutrition and flavor.
Why & When Should You Consider These Recipes?
The primary reason to consider fresh food is its health benefits. As we stated above, research shows feeding fresh food can significantly impact your dog's health and even increase its lifespan. From better gut health to shiner coats, these formulas can improve the quality of your dog's life. These recipes are also great for dogs with allergies or sensitivities to certain ingredients commonly found in commercial dog food.
Depending on their ingredient composition, some recipes are more appropriate for different needs so that you can choose the best option for your dog's tastes and dietary needs.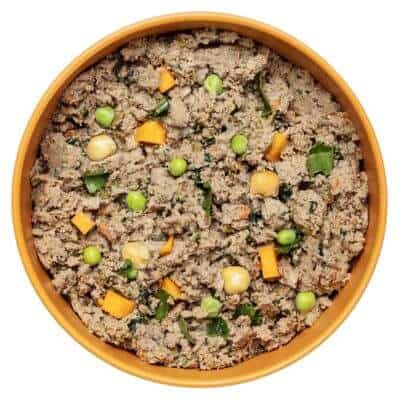 Beef
Ingredients: Beef, peas, sweet potato, potato, carrot, beef kidney, beef liver, spinach, blueberries & nutrient mix.

Why & When Should You Consider This Recipe?

The beef recipe is one of the most nutrient-rich formulas. The beef, beef liver, beef kidney and chickpeas make this recipe extremely nutrient-dense and protein-packed. The perfect pick for the right balance of proteins and essential vitamins and minerals dogs need to hit the ground running.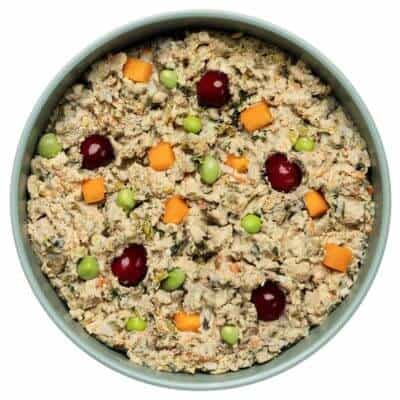 Chicken
Ingredients: Chicken, carrots, peas, rice, chicken liver, potatoes, spinach, whole dried eggs, cranberries, & nutrient mix.

Why & When Should You Consider This Recipe?

Chicken, carrots, and rice are gentle, making this formula a satisfying combination for dogs with sensitive stomachs or picky palates. This recipe contains the lowest number of calories of all the Ollie dog food recipes, making it ideal for dogs needing to lose weight. Because it contains a healthy dose of rice, this recipe is Ollie's only grain-inclusive option.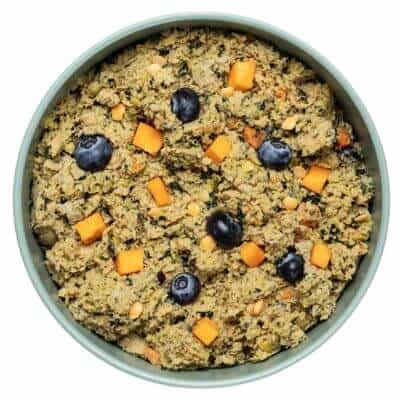 Turkey
Ingredients: Turkey breast, kale, lentils, carrots, coconut oil, turkey liver, blueberries, pumpkin, & nutrient mix.

Why & When Should You Consider This Recipe?

This is an ideal recipe for lean and clean muscle building. Turkey teams up with superfoods like blueberries and kale to provide dogs with antioxidant-rich nutrients that support a healthy immune system. Ingredients like pumpkin support better digestion, while carrots are a great source of potassium, fiber, and Vitamin A.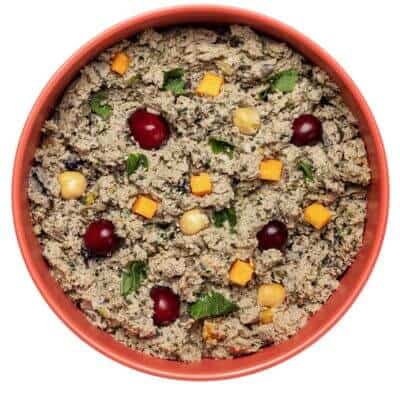 Lamb
Ingredients: Lamb, butternut squash, lamb liver, kale, rice, chickpeas, chickpea flour, cranberries, green beans, potatoes & nutrient mix.

Why & When Should You Consider This Recipe?

Nutrient-dense for active or allergy-prone dogs. Real lamb, cranberries, and butternut squash keep mealtime fresh and flavorful and give dogs the fuel they need to stay happy and healthy in the long run. Similar to the beef recipe, this lamb recipe is nutrient-dense and contains lamb liver. Keep in mind that this dish has the highest number of calories. So, it's important to make sure that you feed your dog the correct proportions to prevent weight gain.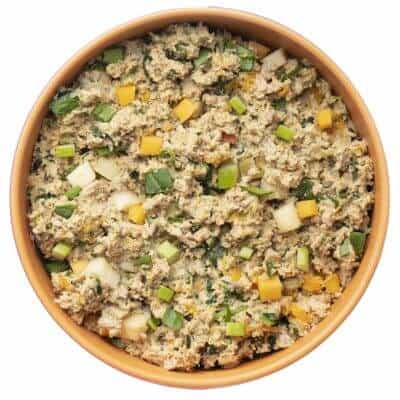 Pork
Ingredients: Pork, pork livers, butternut squash, rice, sweet potatoes, oats, peas, carrots, spinach, apples & nutrient mix.

Why & When Should You Consider This Recipe?

Unique, lean protein for pups prone to sensitivities. This lean, white meat recipe is a perfect choice for picky eaters and pups prone to allergies to other common proteins like chicken or beef. It also contains apples, which are tasty, fiber-filled fruits that promote healthy digestion in dogs, leading to better poops and happier mealtimes.
Ollie Baked Recipes
Although not as nutritious as Ollie's fresh recipes, Ollie Baked dog food offers the convenience of feeding fresh dog food in kibble. Ollie baked recipes are more nutritious than most premium kibble brands. They are made with real meat and veggies, you can see.
How Much Does Ollie Dog Food Cost?
The cost of Ollie dog food varies depending on your dog's size, activity level, formula, size, etc.
You can expect to pay between $60-$360 per month. These costs are for twice-daily feeding and are based on your dog eating Ollie exclusively. Ollie estimates that most owners pay $6 per day on average. Here's a breakdown of the costs:
| Dog Size | Cost Per Meal | Cost Per Day | Cost Per Month |
| --- | --- | --- | --- |
| Small dogs (10 - 20 lbs) | $1.00 - $2.00 | $2.00 - $4.00 | $60 - $120 |
| Small - medium dogs (20 - 40 lbs) | $2.50 - $3.00 | $5.00 - $6.00 | $150 - $180 |
| Mediom - large dogs (40 - 65 lbs) | $3.50 - $4.00 | $7.00 - $8.00 | $210 - $240 |
| Large and giant dogs (65 lbs +) | $4.50 - 6.00 | $8.00 - $12.00 | $240 - $360 |
Ollie price breakdown by plan type:
Shipping is free, so you pay for your subscription on your chosen meal plan. If your dog doesn't love it, or the subscription doesn't satisfy your needs, you can receive a full refund of your starter box.
Ollie Dog Food Coupon
Our readers can get 50% off their first order. Use this link to take advantage of this offer (no discount code needed).
The Judges
We picked one of Canine Bible's dogs to give us their paw-honest opinion and verdict.
Max
Age: 7 ┊ Gender: Male ┊ Breed: Beagle ┊Weight: 65 lbs ┊ Health Concerns: None ┊ Personality: Friendly and outgoing

"As Max's dog parent, I was initially skeptical about trying a new brand. But I noticed a tremendous change once we switched to Ollie Dog Food. Max, who used to be a bit picky about his meals, now eagerly waits for feeding time." Jennifer Reeve
Ollie Dog Food Unboxing
Everything arrived as described. The food was fresh and frozen; everything was labeled and well organized. It was packaged in insulated packaging to ensure the food stayed fresh during transportation.
Here is everything that came in the box:
My Ollie Dog Food Video Review
[Our team is working on it. Coming soon]
My Personal Ollie Dog Food Testimonial
My Dog's Experience With Ollie
Ordering, Shipping & Delivery
Generally, most orders are delivered within 2-4 days of purchase. We received ours in 2 days. After placing the order, we immediately received an email confirmation. We also received email notifications with a tracking number when our package was shipped.
If you're not home during the delivery, there is no need to worry. The fresh recipes are packaged in an insulated box with dry ice, ensuring they stay fresh until midnight on the day it arrives. However, getting them into the freezer upon delivery is ideal. When our package arrived, the food packets were neatly organized.
We love that the fresh recipes looked fresh and remained frozen thanks to the environmentally friendly insulated packaging, which is mostly recyclable. The design and overall packaging were excellent.
Our Ollie Customer Service Experience
Overall, Ollie offers great customer service. We had a few fellow dog parents test Ollie's customer service by having them inquire about Ollie's service through email, phone, and chat. Overall, we received helpful responses that were helpful and professional. Sometimes it took them a while to respond, but we usually got an answer. They have an email and phone number on their website for quick customer service. They also leverage social media to help current customers and people inquiring about their services.
What We Like & What We'd Change
What Customers Think About Ollie Dog Food
Here is what real-verified customers had to say about this Ollie dog food.
Ollie Dog Food Positive Review
"I have two dogs – one a very picky eater. I've tried several dog food delivery services, and while some of the others might look visually more appealing, Ollie is the only food my picky eater will eat!! He used to leave a lot of food in his bowl all day which drove the other dog crazy – but now he scarfs up his Oliie in minutes!! Couldn't be happier!!"

Kelly, TrustPilot 12/03/2021.
"Ollie's quality food has done wonders for our little pup. He gobbles it down like it was made of his favorite treats — which is probably because it's such a treat!. One of my favorite things about Ollie's subscription service is how they offer the option to send more meals at a time, or less, depending on your storage space. We live in a NYC apartment with a slimmer fridge/freezer, so space is at a premium. This option allows us to use part of the freezer for our own human food, rather than letting our pup take it all over."

Jenn, TrustPilot 08/24/2021.
"I did my research about human grade dog food for my 2 dogs, Rusty & Cosmo, a few months ago and there is one company that stood out every time, Ollie. Selecting Ollie was the best decision I could have made! The food is delivered every 3 weeks and every pack of food is totally frozen when it arrives on the day I selected. Rusty & Cosmo wait in the kitchen when I prepare their food & each of them do a dance when I come toward them with their bowls of food & each of them lick their bowls clean! What more could you want? This shows the quality & how delicious their food is if your dog's lick their bowls clean! I made the right decision when selecting Ollie and they are a quality company that prepare nutritious food because they absolutely care about your dogs. If I ever have a question, there is someone I can talk to, and their website is very people friendly. Please give Ollie a try and you will be extremely happy with your decision and so will your dogs! Thank you!!!"

Jean Clark, TrustPilot 01/01/2022.
Ollie Dog Food Negative Reviews
"I've been using Ollie for about 2 years now. The newest shipment 2 weeks ago (same Chicken and Beef recipes) had new labels/packaging. When I thawed out the beef recipe it was literally like soup. I talked to customer service and they offered to send replacement, but I said I would open a few more to see the quality. The next beef was also soupy, although not as much as the first one. I haven't gotten to the chicken yet. They say the recipes are the same, but something is obviously different. Unless the next 2 I open are of normal appearance, I will be cancelling my subscription. Really disappointed since I have been using it for so long and it was so good."

Bugsy, TrustPilot 10/23/2021.
"I think it's a wonderful idea to help maintain a healthy diet but I didn't like the packaging or the shipping/delivery process. I have three dogs; 12, 35 (only 8 months), and 90 lbs – creating the plans was easy but they should adjust the puppy's plan automatically as he grows, I feel like he was being underfed. I didn't like how much space all the meals took up in the freezer and fridge, we barely had room for our own groceries and delivery arrivals were all over the place!! TWICE, my delivery was late (I know it wasn't Ollie's fault) but how was I supposed to feed my dogs? I think an extra meal or two should be provided (free of charge) as a buffer in case delivery is delayed- THIS IS WHY I CANCELED. I didn't like the beef recipe, it was always a bit watery and the packages never seemed full. I did switch to Turkey and pork which worked better."

Mónica, TrustPilot 08/25/2021.
Other Ollie Dog Products
Ollie also offers supplements and treats as add-ons to other meal subscription plans.
Ollie Dog Treats
Ollie dog treats are a hearty and healthy way to reward and treat your dog with stuff they'll love. Just like their food, these treats are made with human-grade ingredients.
Treat flavors include:
Ollie Dog Supplements
Ollie supplements are scientifically formulated with all-natural ingredients, these supplements add that little extra to keep your dog happy, healthy, and well-behaved.
Ollie Dog Food Vs Other Dog Food Companies
Learn how Ollie compares to other brands.
Ollie Dog Food Frequently Asked Questions
Here are the most frequently asked questions about Ollie and dogs.
Ollie Dog Food Review — Conclusion & Alternatives
Our dogs loved their fresh food experience with Ollie. While Ollie is an excellent option for any dog, owners who are picky eaters, have gut problems, have dog food allergies, sensitive stomachs, or question have able poops will significantly benefit from trying Ollie out.
If you are considering feeding resh dog food, consider giving Ollie a try, especially if you want your dog to live a longer and healthier life and improve their overall health. With all of our research, we can confidently recommend Ollie Dog Food to most pet parents. Their well-balanced recipes provide plenty of nutrition to keep your pup healthy and happy.
So, is Ollie the right food for your pup? The decision is ultimately yours, but be sure to get your vet's approval when changing your dog's diet.
---
Like It? Subscribe & Share!
Canine Bible authorship represents the unified voice of our entire editorial team rather than a single author. Each article, blog post, and review published under the Canine Bible name undergoes a rigorous review process, involving all team members to guarantee accuracy and up-to-date in accordance with the latest veterinarian research. This collaborative effort is an integral part of our editorial process and aligns with our four pillars of content creation. This approach ensures our content is backed by expert knowledge and factual information, offering our readers reliable, actionable, and trustworthy content.