Open Farm Dog Food Reviews 2023: My Dogs Tried All Recipes
This is the ultimate Open Farm dog food review.
Pet parents are becoming more aware of the food system's impact on the planet, animals, and nutrient density loss resulting from unsustainable farming and production practices in dog food. In response to this problem, Open Farm, a high-end dog food manufacturer, is re-inventing dog food as we know it by only using ethically sourced ingredients and sustainable practices to provide the best nutrition for pets while protecting the environment.
But is Open Farm devoted to eco-friendly and cruelty-free practices? Are their recipes truly made with human-grade and traceable ingredients? If so, are their products worth the higher price for their ingredients?
We decided to try out ALL their products to answer these and all your questions about Open Farm dog food. Let's dive right in!
The Best Open Farm Dog Foods Reviewed
Scroll to the right to see our favorite Open Farm products.
Open Farm Dog Food Review — At A Glance
Product & Recipes
Ten dog food product categories: dry, wet, fresh, treats, freeze-dried, senior, puppy, vegan, bone broth & supplements. With over 50 + recipes combined
Price
From $9.99 to $149.99, it varies depending on the product you pick
Customization
You can customize your dog's meal plan based on your dog's preferences
Ingredients Source & Quality
Made with sustainably, ethically sourced and human-grade ingredients
Manufacturing Facility & Location
Their manufacturing facility, Barrett Ag Service, is located in Minnesota, USA.
Nutrition
All recipes meet the AAFCO Dog Food Nutrient Profile standards for all life stages (except one recipe – more on that later)
Open Farm Dog Food Company Overview
Open Farm Inc. is a Canadian dog food company headquartered in Toronto, Ontario. It was founded in 2013 by Jacqueline Prehogan, her husband Isaac Langleben, and her brother Derek Beiglemen.
Open Farm was born when Jacqueline rescued her first dog, Bella. Jacqueline soon discovered that finding food aligned with her values was difficult. She wanted to provide her dog Bella with the highest quality food and ensure the food didn't compromise animal welfare, sustainability, and transparency standards. After years of research and hard work, the three started Open Farm.
Due to the high demand and success of the brand, it quickly rolled out across U.S. markets. Today, 80% of Open Farm's business is in the U.S. You can find Open Farm products in more than 5000 pet stores in the USA and Canada.
Mission
The brand's mission is to produce ultra-premium pet food ethically sourced and made from start to finish with sustainable ingredients — or from farm to bowl.[1] The company states, "everything in every Open Farm bag is carefully sourced from the most humane and ethical farms, fisheries, and producers."
How Does Open Farm Work?
Open Farm offers an extensive line of pet food products, including traditional dry dog food, wet dog food, freeze-dried dog food, gently-cooked dog food, vegan dog food, dog treats, puppy essentials, dog supplements, cat dog food, etc.
Once you've determined which recipes are best suited for your pet, you have two options:
However, the quiz recommends recipes in the same food type as your pet currently eats. If you want to try out something new like "fresh dog food" or "freeze-dried," select either of those options when it asks what type of food your dog currently eats.
Open Farm's dog food subscription works similarly to other pet food delivery services. If your pet doesn't not like their food, you can cancel your subscription at any time. Open Farm accepts returns within 15 days of your purchase.
Here is a look at all the questions you'll be asked.
Upon submitting this information, your dog's personalized meal plan, like the one below will be generated and emailed to you.
Why Feed Open Farm Dog Food? Benefits
Open Farm pet food benefits are rooted in how they source their ingredients and manufacturing standards. Some of the benefits include:
Open Farm Key Features
Here are the most notable features and aspects of Open Farm dog food.
Open Farm Dog Food Sustainability
In fact, we've given Open Farm the number one spot for the best sustainable dog food brand. Click the link on the left to learn more about Open Farm's sustainability efforts compared to other brands and why they are the best.
Open Farm Dog Food Sourcing & Manufacturing
Open Farm dog food journey—from sourcing ingredients to your dog's bowl.
Where Is Open Farm Dog Food Made?
Open Farm's manufacturing facility, Barrett Ag Service, is located in Minnesota and has 30 years in the pet industry. To ensure that strict food safety standards are constantly maintained, this facility is regularly audited by the U.S. Department of Agriculture (USDA), the U.S. Food & Drug Administration (FDA), AIB International and Certified Humane.
Who Makes Open Farm Dog Food?
Recipes are formulated at their head office in Toronto with a team of nutrition, animal science and food manufacturing experts. Core to this team is an Animal Nutritionist who holds a Master's Degree in Animal Science, Formulation, and Animal Nutrition and a Ph.D. Food Scientist.
Open Farm Sourcing Standards
To ensure consistency and quality of their recipes, Open Farm relies on the following sourcing standards.
Open Farm Dog Food Ingredients
All Open Farm recipes are formulated to meet the nutritional levels established by the AAFCO Dog Food Nutrient Profiles for all life stages.
Open Farm diets are meat-first recipes and their dry foods are no different, with the vast majority of protein in these recipes coming from animal ingredients. These ingredients are a rich source of natural and bioavailable vitamins, minerals and amino acids. They supply dogs with an abundant source of cysteine and methionine, the two precursors to taurine synthesis, at levels that significantly exceed AAFCO requirements. These meat ingredients are also strong sources of naturally occurring taurine, which, together with taurine supplementation, all Open Farm dry food recipes achieve taurine levels of ~0.25%.
Open Farm dog food formulas contain low glycemic complex carbohydrates like garbanzo beans, lentils and sweet potatoes instead of grains, rice, or potatoes. Low glycemic foods slow down digestion and provide a slower release of nutrients into the bloodstream, resulting in longer-lasting energy and an increased feeling of satiety.
The company uses a natural antioxidant formulated with a proprietary blend of mixed tocopherols (Vitamin E) that also provides antioxidants. Also, the "natural flavoring" displayed on the label refers to dehydrated whitefish in powder form, mixed with tocopherols (vitamin E) and salt.*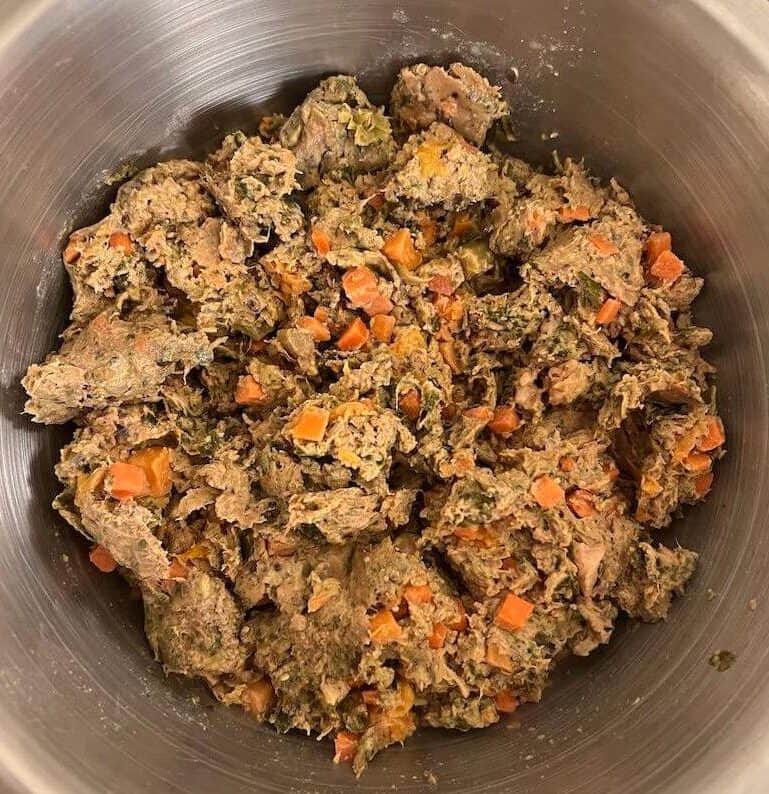 Open Farm offers various products, so it is difficult to list all its ingredients.
However, generally, all their recipes adhere to the following:
If your pet has a dietary sensitivity, Open Farm has a handy chart to easily see which products are single protein or free of certain ingredients, such as poultry, potato, peas, lentils, and beans.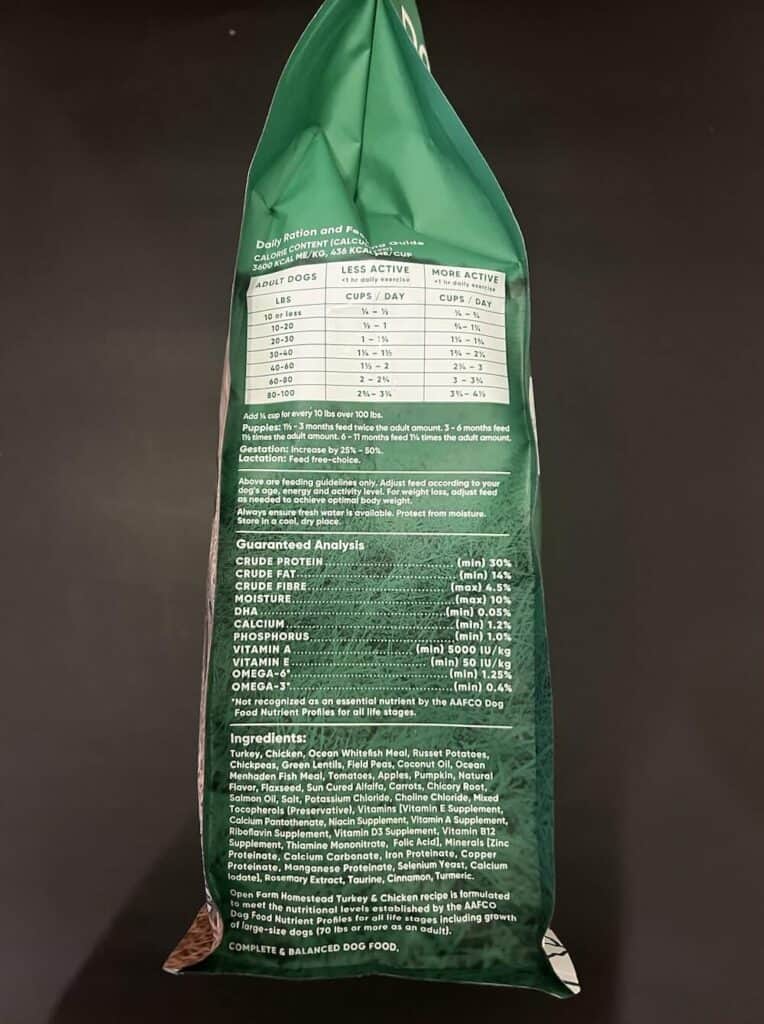 Open Farm Ingredient Transparency, Traceability & Nutrient Profile
Open Farm is extremely transparent about the ingredients they use.
Open Farm Dog Food Reviews
Open Farm carries ten product lines with more than 50 recipes.
Our team decided to try the top products of each category of Open Farm dog food to provide you with an insight review and help you determine which recipes are the best fit for you.
The following products are for dogs, but Open Farm also carries wet and dry cat food and cat supplements.
Open Farm Gently Cooked
Why & When Should You Consider This Recipe?
We recommend getting this recipe if you want your dog to enjoy the benefits of fresh dog food, get the highest quality nutrition and avoid the adverse effects of traditional dog food like kibble. Open Farm's gently cooked is the company's least processed recipe. It does not contain nasty chemicals found in kibble, antibiotics, preservatives, added growth hormones, or more. It's made with human-grade ingredients, so even humans can eat it. This food goes through a gradual cooking process that removes bacteria while retaining more flavor, nutrients and ingredients.
Here are the main reasons you should consider feeding gently cooked dog food to your dog.
Open Farm Ancient Grains (Dry Dog Food)
This recipe is excellent if you want to provide your dog with high-quality carbs and important digestible nutrients which give your dog energy and supply fiber to promote digestion. Grains include essential nutrients like protein and linoleic acid, an essential fatty acid for dogs. This science-backed blend is designed for nutrient-rich wellness using omega-3 fatty acids, iron, vitamins, and fiber.
When May You Avoid This Recipe?
Unless your dog has a grain allergy, this recipe is not harmful. Less than 1% of dogs are sensitive to grains and need to avoid consuming them in their food, while 99% of dogs can reap the nutritional benefits of dog food with grain. If you are unsure about your dog's grain allergies, consider doing a dog food allergy test.
Open Farm Grain-Free Kibble Reviews
Even when you consider the protein-boosting effect of the legumes and flaxseed, this looks like the profile of a kibble containing a significant amount of meat.
Open Farm Freeze Dried Raw
The freeze-drying process better preserves the taste and gives the food an airier and crunchier texture that dogs love while rendering the food shelf-stable.
Freeze-dried kibble is nutritionally and beneficially equal to raw dog food, except for the lack of moisture and messy or complicated preparation of raw food. The food can rehydrates in minutes and does not need to be registered. With these recipes, you can expect to get all the components of a raw diet, like whole meat, organs, and bone, plus an incredible mixture of superfood and wholesome ingredients.
Open Farm Wet Dog Food – Rustic Stew
Why & When Should You Consider This Recipe?
Aside from excellent nutrition, feeding wet dog food is great for pets with sensitive teeth. It's also highly palatable and tends to be lower in carbohydrates and higher in protein and fat than dry food. In addition, wet dog food helps keep your dog hydrated because it has a higher moisture content than dry food making it more digestible and less stressful on other organs. This stew is a much more substantial wet dog food than others.
Open Farm Senior Dog Food
Open Farm Dog Food Puppy
Whether you pick Open Farm puppy ancient grains or the grain-free recipe, both are great alternatives.
How Much Does Open Farm Dog Food Cost?
Answering this question is not easy. Open Farm's dog food costs vary according to the product you select and its size.
Below is a table with the prices for all recipes and different sizes.
| Recipe Name | Price |
| --- | --- |
| Gently Cooked | $79.99 (8 lb), $149.99 (18 lb) |
| Dry Food (Ancient Grains) | $19.99 (4 lb), $43.99 (11 lb), $69.99 (22 lb), |
| Dry Food (Grain-Free) | $25.99 (4.5 lb), $49.99 (12 lb), $87.99 (24 lb), |
| Freeze-Dried Raw | $9.99 (3.5 oz), $32.99 (13.5 oz), $49.99 (22 oz) |
| Wet Dog Food | $47.99 (12.5 oz) case of 12 |
| Bine Broth | $6.99 (12.5 FL oz), $14.99 (32 FL oz) |
| Treats | $11.99 (2.25 oz) |
Our team did some calculations and determined the average price per pound for Open Farm's dry dog food. On average, you can expect to pay $4.3 per pound when you purchase their dry kibble.
To put this number into perspective, let's do some comparisons. According to Statista, for a decent mass-market kibble brand, you can expect to pay $1.97 per pound for traditional dog kibble. If you choose a high-end kibble, your cost is around $3.45 per pound.
Open Farm dog food price is a tad more expensive than the average high-end kibble. However, the price is justified. Open Farm's ingredient quality and sustainable practices are far better than your traditional premium dog food brands.
Their Gently Cooked and Freeze-Dried formulas average a price of $9 and $43 per pound, respectively. This can add up if you have multiple dogs or large dogs.
Pro Tip: You can save 5% on every product by subscribing to regular deliveries ranging from weekly to every eight weeks.
Coupon
Readers get 20% off subscription orders with code CANINE20 + an extra 5% off for subscribing. Cancel anytime. this link to get started!
What We Like & What We'd Change
Take a look at the key positive aspects of buying Open Farm products and possible drawbacks.
The Judges
We picked two Canine Bible dogs to give us their paw-honest opinion and verdict.
Open Farm Unboxing
When we opened our box, we were delighted. The food seemed fresh, premium, properly labeled and smelled good.
Here is what we found inside our two delivery boxes:
My Open Farm Dog Food Review Video
Watch our canine judges Jessie and Ronie test Open Farm chicken gently cooked recipe.
My Personal Open Farm Testimonial
My Dog's Experience With Open Farm Dog Food
My Open Farm Dog Food Review Video
Watch our canine judge Lilo test Open Farm beef gently cooked recipe.
My Personal Open Farm Testimonial
My Dog's Experience With Open Farm Dog Food
Ordering & Delivery
Ordering is easy. Their website is user-friendly and provides very detailed information about the recipes. Once you know what you want, just add it to your cart and enter your shipping and payment information. The whole process took us less than 3 minutes.
After placing our order, we got an order confirmation follow-up email. They emailed us the tracking information and estimated delivery date when our food shipped out. Note that you can sign up for SMS at checkout to get alerts on your purchase and future exclusive promotions. They will give an extra 10% off on your next order if you do.
Our delivery box reached us three days after ordering. Because we ordered almost every single product, the fresh food came in a separate insulated box with dry ice to keep the food fresh and frozen. If you are not home during delivery, don't worry, the ice is meant to keep your food safe and cold until you arrive that same day. Our dry food, freeze-dried, and treat goodies came in one big box.
Open Farm box is huge and has an attractive design. What's best is that the cardboard box is recyclable, and all insulating materials are biodegradable. Even meal packages are made from BPA-free and non-toxic materials.
Open Farm Customer Service
Open Farm doesn't stop at offering good food, but customer service is another strength.
To determine if their customer service was good, we tested it. We had a few fellow dog parents reach out to Open Farm's customer service with some inquiries through email, phone, and chat. Overall, we received timely responses that were helpful and professional. Sometimes it took them a while to respond, but most of the time, we got an answer.
If you need assistance finding the pet food that's right for you or has website accessibility issues, they have a dedicated line (+1 833-540-8602), email ([email protected]), or live chat you can use. Hours of operation are from 9 AM and 5 PM Eastern Standard Time, seven days a week. They will assist you via email or live chat if you have auditory issues or cannot call in.
They also leverage social media to help current customers and people inquiring about their services.
What Customers Think About Open Farm Dog Food
Here is what real customers are saying about Open Farms
Open Farn Dog Food Positive Review
Open Farn Dog Food Negative Reviews
Open Farm Dog Food Reddit Reviews
There are different questions and concerns people raise about this brand on Reddit. Here are some of the top threads.
"I was just looking into their freeze-dried raw. It's almost $40 a bag. My dog is 80lbs, so I imagine he would need any 5 cups a day, according to the back of the bag. Unless I'm missing something, that seems ridiculously expensive, considering a bag is only 13.5oz. I guess for small dogs, it might be a good option 🤷" One user replies, "Yeah, it's pretty expensive! My dog is under 10 pounds, so that it wouldn't be too bad for my wallet" Another dog parent states, "I feed it, I love it, and so does my pup! I feed a combo of the freeze-dried raw and the ancient grains kibble. I make my own bone broth that I pour over it too." 3
Their freeze-dried is very expensive, and its price is something you should consider before purchasing it. If you aim to feed this to your dog, we advise you use it as a topper or for small breeds. If you have a large dog, it can get rather expensive.
There is also a thread where the debate about grain-free recipes and DMC is raised since Open Farm offers grain-free formulas. It's important to note that Open Farm has not been included in any FDA reports. Open Farm continues to monitor the FDA's investigation and keep you updated with any important information for your pets' health.
Other Open Farm Dog Products Reviewed
Here are other Open Farm products.
Open Farm Bone Broth
Open Farm Dog Treats
Open Farm Supplements
Open Farm Dog Food Bundles
Open Farms also offer bundles specially formulated to meet specific needs, keep costs down, mix things up and provide an overall better feeding experience.
We Answer Open Farm Dog Food Most Frequently Asked Questions
Still have a lingering question or two about Open Farm Foods? We got you!
We answer the most popular questions about this manufacturer and their recipes below.
Availability
Although shipping is available to the United States and Canada, several areas still await Open Farm's availability. In the United States, they don't ship to Hawaii, Alaska, Puerto Rico, and the U.S. Virgin Islands. They don't ship to Nunavut, Yukon, or the Northwest Territories in Canada.
Additionally, Open Farm cannot be shipped to P.O. boxes because their ingredients must be temperature controlled.
Open Farm Dog Food Near Me: Open Farm Retailers
Open Farm can also be found on popular online retailers such as Amazon, Walmart, or brick-and-mortar stores. Here is the complete list.
Open Farm Dog Food Review — Conclusion & Alternatives
We were impressed with Open Farm's sourcing, transparency, and food quality. All their ingredients are ethically and sustainably sourced, which we think more dog food brands need to focus on.
For dog owners who want the best possible food for their pet — without the hassle of having to make it themselves — Open Farm's Gently Cooked line is the best option. Although the price is high, it's worth trying if you can afford to feed your dog a fresh diet. Providing fresh dog food could significantly impact their overall health, especially if your dog struggles with dietary sensitivities and other ailments.
Your next alternative is trying their dry dog food options. They have a variety of grain and grain-free options you can pick from. The quality of their kibble is above average from your traditional kibble brands.
Be sure to consult with your veterinarian before changing your dog's diet/food. And don't forget to take advantage of the discounts Open Farm offers, such as subscribing, and using our discount code above can help make that upgraded diet a little more affordable.
---
Like It? Subscribe & Share!
References & Resources