Nom Nom Dog Food Reviews: My Dogs' Verdict [Cost, Puppies, Cons, Price & More]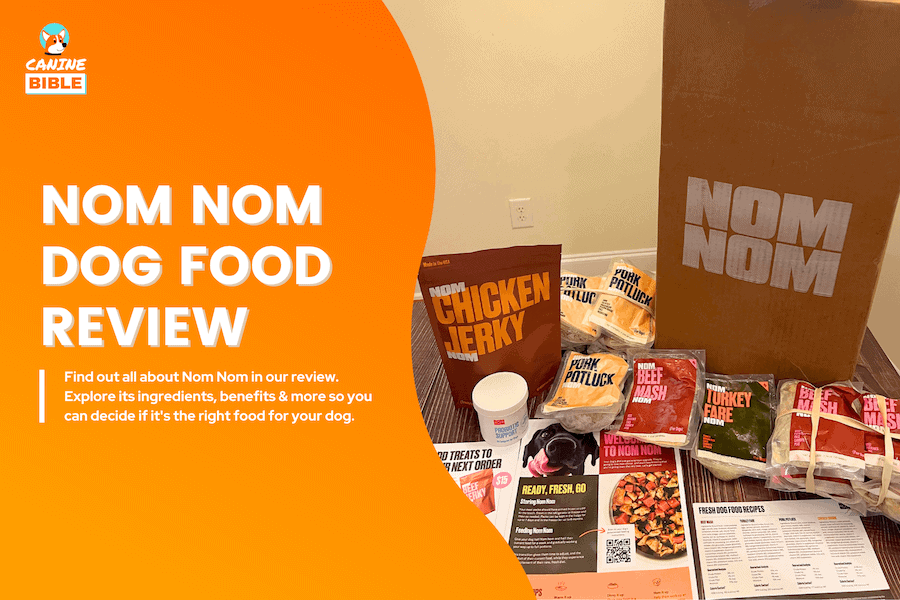 Canine Bible is reader-supported. We receive affiliate commissions via some of our links. This doesn't affect rankings. Learn more.
This is the most comprehensive Nom Nom dog food review.
I tested Nom Nom dog food on two dogs to help you decide if this all-natural, fresh dog food is right for you. Here is our experience after feeding it to our dogs for a month, including price, ingredient quality, taste, and other determinants you should know before subscribing to Nom Nom. Let's get started!
📖 In This Review: Chapter 1: Full Review Chapter 2: Our Experience Chapter 3: Tips, FAQs & More
Nom Nom Dog Food Review — At A Glance
A glance at our favorite recipes and products from Nom Nom.
Nom Nom Dog Food Review — At A Glance
Nom Nom Dog Food Overview & History
Nom Nom was founded in 2014 and is one of the country's top fresh dog food delivery companies. It was dreamed up in a 5×10 San Francisco apartment kitchen by one special dog and two devoted pet parents. Nate Phillips is the company's CEO, and Zach Phillips is its president. With an incredible team, Nom Nom has transformed how we view dog food.
The company values include doggedness, stamina, innovation, balance, integrity and collaboration.
They've delivered over 3 million boxes of fresh dog food and growing.
What Is Nom Nom Dog Food?
Nom Nom (formerly NomNomNow) is a pet food subscription service that offers personalized fresh food for dogs and cats. Nom Nom individually cooks, portions, and formulates your dog's meals to meet your dog's caloric needs, health, and preferences, and they are delivered directly to your door. The recipes contain no fillers, artificial preservatives, or by-products. All meals are prepared using human-grade ingredients.
You can order meals as you go or sign up for a recurring subscription. All their meals are personalized to meet your dog's dietary, caloric and health needs. Recipes are formulated to contain no fillers, artificial preservatives, or by-products.
How Does Nom Nom Dog Food Work
Nom Nom is a meal delivery service for your dog that delivers weekly, bi-weekly, or monthly food deliveries.
Getting started is super easy. Here is a step-by-step guide.
Step 1: Start a trial
To get started, click here for their biggest discount—60% off your first order.
Step 2: Nom Nom Profile Creation
To help Nom Nom make personalized recommendations for your pet, it will guide you through a few questions. You must create a profile for your pup and answer a few questions about Fido, including age, weight, health problems, and activity level. Nom Nom matches you with a recommended recipe and serving size for your pet.
Below is everything they will ask you about your dog.
Step 3: Delivery
Once you've paid for your first order, they will ship the food regularly so your pup never runs out. You can choose between convenient deliveries every week, every 2 weeks, or every 4 weeks. You can also pause or cancel your subscription at any time.
They are not able to accept returns since their fresh meals are perishable. However, if you don't notice the benefits of a fresh diet within 30 days of feeding Nom Nom to your pet, they will give you a full refund of your first 30 days of food.
Nom Nom Dog Food Key Features
Here are some other important aspects of this fresh dog food delivery company.
Nom Nom For Puppies
Is Nom Nom good for puppies? Yes, Nom Nom puppy food is carefully balanced to provide the optimal nutrition puppies need during this stage in their development.
From well-balanced calcium content and essential nutrients (like amino acids, omega fatty acids, etc.) to the addition of DHA, enhancing brain development and learning during the crucial growth phase, Nom Nom recipes have optimal levels of nutrients to provide everything they need to support proper organ development and bone development.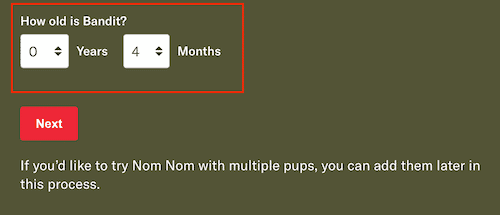 Additionally, the meals are perfectly portioned, so you don't have to worry about feeding over (or under). And don't worry; they know a puppy's caloric needs change as often as every week so they will adjust that for your pet. Nom Nom makes food for all life stages, from puppies to seniors and all the years between.
Why Feed Nom Nom Dog Food To Your Dog? Benefits
Feeding fresh dog food to your dog may come with health benefits.
Nom Nom customers and research report the following benefits associated with this type of food.
Third-Party Research-Backed Benefits Include
Here's what the research on feeding fresh food like Nom Nom to canines reveals.
Nom Nom Research
A Nom Nom study on dogs that ate their recipes every day for a month found that:
Nom Nom Dog Food Sourcing & Manufacturing
Here is what you need to know about Nom Nom ingredient sourcing and food production.
Sourcing
The publicly available information does not detail the specific sources or locations from which they source their ingredients.
Production
Think of Nom Nom as fresh homemade dog food made with breakthrough recipes formulated by a leading board-certified veterinary nutritionist, geneticists, microbiologist, and PhDs. The food is made fresh weekly in the Nom Nom USA kitchen in Nashville, Tennessee, and the San Francisco Bay Area.
Nom Nom Dog Food Ingredients
At Nom Nom, all the ingredients are approved for human consumption, meaning you can eat the food. Their recipes exceed the standards of the Association of American Feed Control Officials (AAFCO) dog nutrient requirements for all life stages. They only use restaurant-quality proteins, whole food ingredients, and vegetables from trusted and reliable U.S. growers and suppliers. Their ingredients are gently and separately cooked to ensure maximum nutrient retention and reduce the risk of harmful bacteria (particularly for puppies, kittens, seniors, or pets with a compromised immune system) associated with raw ingredients.
Here is a close-up of some of the fresh ingredients they use.
Nom Nom Nutrient Mix
To ensure meals are completely balanced, Nom Nom developed a proprietary blend of ingredients called "NomNomNutrient Mix." — NomNomNutrient Mix helps provide your dog with the best nutrition and what differentiates them from your average home-cooked dog food.
Every Nom Nom recipe includes this Nutrient Mix, a custom mixture of the following vitamins and minerals:
These carefully selected nutrients are the same nutrients found naturally within food, so no artificial forms of vitamins and minerals are added to this mix.
Nom Nom Dog Food Reviews
Nom Nom offers four products.
Beef Mash
Chicken Cuisine
Pork Potluck
Turkey Fare
Nom Nom Fresh Dog Food Recipes
Nom Nom offers four fresh dog food recipes.
Here is a detailed analysis of Nom Nom recipes to help you determine which formula might be best for your dog.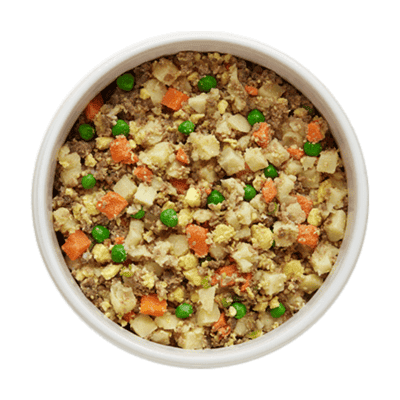 Beef Mash
Ingredients: Ground beef, potatoes, carrots, peas, egg, fish oil, and NomNom Nutrient Mix.

Guaranteed Analysis:
Crude Protein 8% min
Crude Fat 4% min
Crude Fiber 1% max
Moisture 77% max 

Why & When Should You Consider This Recipe?

Consider feeding this recipe to your dog if you want a high-quality source of protein, like ground beef and eggs, which are essential for muscle maintenance and overall health. The inclusion of russet potatoes, carrots, and peas offers a variety of vitamins, minerals, and dietary fiber, promoting digestive health and providing energy. It also comes with aurine and fish oil contribute to heart health and a shiny coat.
Chicken Cuisine
Ingredients: Chicken thigh, breast and liver, asparagus, carrots, spinach, cantaloupe, and NomNom Nutrient Mix

Guaranteed Analysis:
Crude Protein 8.5% min
Crude Fat 6% min
Crude Fiber 1% max
Moisture 77% max 

Why & When Should You Consider This Recipe?

Consider feeding this recipe if you want to provide a lean protein source. The inclusion of sweet potatoes and squash provides complex carbohydrates for sustained energy, while spinach offers essential vitamins and minerals.

Pork Potluck
Ingredients: Pork, potatoes, kale, green beans, mushrooms, fish oil, and NomNom Nutrient Mix

Guaranteed Analysis:
Crude Protein 7% min
Crude Fat 5% min
Crude Fiber 2% max
Moisture 75% max 

Why & When Should You Consider This Recipe?

Consider this recipe if you want a flavorful and varied nutritional option. The blend of ground pork, green beans, squash, kale, and cremini mushrooms offers a well-rounded mix of proteins, vitamins, and minerals. However, take note of the prominent presence of russet potatoes, which contribute significant simple carbohydrates. The inclusion of a range of vegetables ensures a generous dietary fiber content, benefiting your dog's digestive health.
Turkey Fare
Ingredients: Ground turkey, brown rice, carrots, spinach, egg, fish oil, and NomNom Nutrient Mix

Guaranteed Analysis:
Crude Protein 10% min
Crude Fat 5% min
Crude Fiber 1% max
Moisture 72% max 

Why & When Should You Consider This Recipe?

Consider introducing this recipe to provide the highest lean protein count per serving. Comprising wholesome ingredients like turkey, brown rice, eggs, carrots, and spinach, this recipe combines high-quality protein, essential vitamins, and dietary fiber.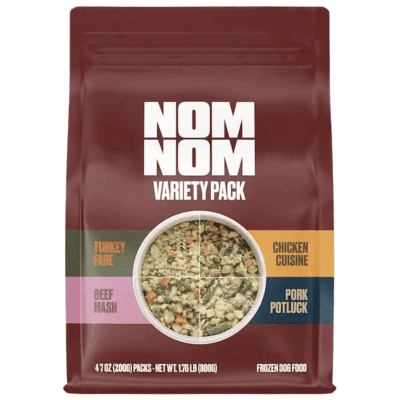 Sample Pack
Ingredients: 150g samples of each of Nom Nom's 4 dog recipes: Beef Mash, Chicken Cuisine, Pork Potluck, and Turkey Fare

Why & When Should You Consider This Recipe?

This Variety Pack is available for a one-time purchase, limited to one per household. Its purpose is to introduce you and your dog to Nom Nom's diverse range of recipes.

Nom Nom Dog Food Cost
How much is Nom Nom dog food? Here is a breakdown of how much you can expect to pay.
Nom Nom Price
Nom Nom's dog food monthly cost will depend on factors such as your pet's age, weight, health, and activity level.
Here is the cost of Nom Nom dog food:
| Dog Size | Dog Weight (lbs) | Fresh Food Daily Cost | Fresh Food Weekly Cost (7days/week) |
| --- | --- | --- | --- |
| Tiny | Less than 10 lbs | $3 per day | $21 per week |
| Small | 10 – 20 lbs | $4 per day | $28 per week |
| Small/Medium | 20 – 30 lbs | $5 – $6 per day | $35 – $42 per week |
| Medium | 30 – 40 lbs | $7 per day | $49 per week |
| Medium/Large | 40 – 50 lbs | $8 per day | $56 per week |
| Large | 50 – 70 lbs | $10 per day | $70 per week |
Nom Nom Cost — Our Experience
Here is the price according to our experience. For this review, we ordered two months' worth of Nom Nom for our dogs Khaleesi and Bailey (you will meet them later in this article). Khaleesi weighs 65 lbs and is six years of age, while Bailey weighs 17 lbs and is three years old.
What I paid for my dogs is within the ranges on the pricing table above. You can reference it to estimate how much you'll spend monthly or weekly when buying Nom Nom for your dogs.
Nom Nom Cost Per Month
Here is the monthly cost of Nom Nom.
| Dog Size | Dog Weight (lbs) | Fresh Food Monthly Cost |
| --- | --- | --- |
| Tiny | Less than 10 lbs | $90 per month |
| Small | 10 - 20 lbs | $120 per month |
| Small / Medium | 20 - 30 lbs | $150 per month |
| Medium | 30 - 40 lbs | $210 per month |
| Medium / Large | 40 - 50 lbs | $240 per month |
| Large | 50 - 70 lbs | $300 per month |
Other Important Things to Know Related to Pricing
Nom Nom Dog Food Coupon
Our readers have access to 60% off the first order. Just use this link to get this offer.
The Judges
We picked two Canine Bible dogs for their paw-honest opinion and verdict.
We also looked for signs of health improvements, adverse effects, and overall well-being. Here is our experience.
Khaleesi
Age: 6 ┊ Gender: Male ┊ Breed: German Shepherd ┊Weight: 65 lbs ┊ Health Concerns: None ┊ Personality: Sweetie pie

"Khaleesi loves to eat while listening to her mom sign around the house. Although he is weary about new smells and foods, once he grabs a bit and he likes it, he can't have enough of it." — his person, Kassie Reid
Charlie
Age: 3 ┊ Gender: Male ┊ Breed: Maltipoo ┊ Weight: 17 lbs ┊ Health Concerns: Itchy skin ┊ Personality: Playful

"Charlie tends to love just about any food. When she saw Nom Nom on her bowl, she twirled around out of happiness and excitement." — his person, Sophia McLean
Nom Nom Dog Food Unboxing
Everything arrived as described. The food was fresh and cold; everything was labeled and well organized. The box was full of individually sealed meals kept fresh with two huge, reusable cooling packs.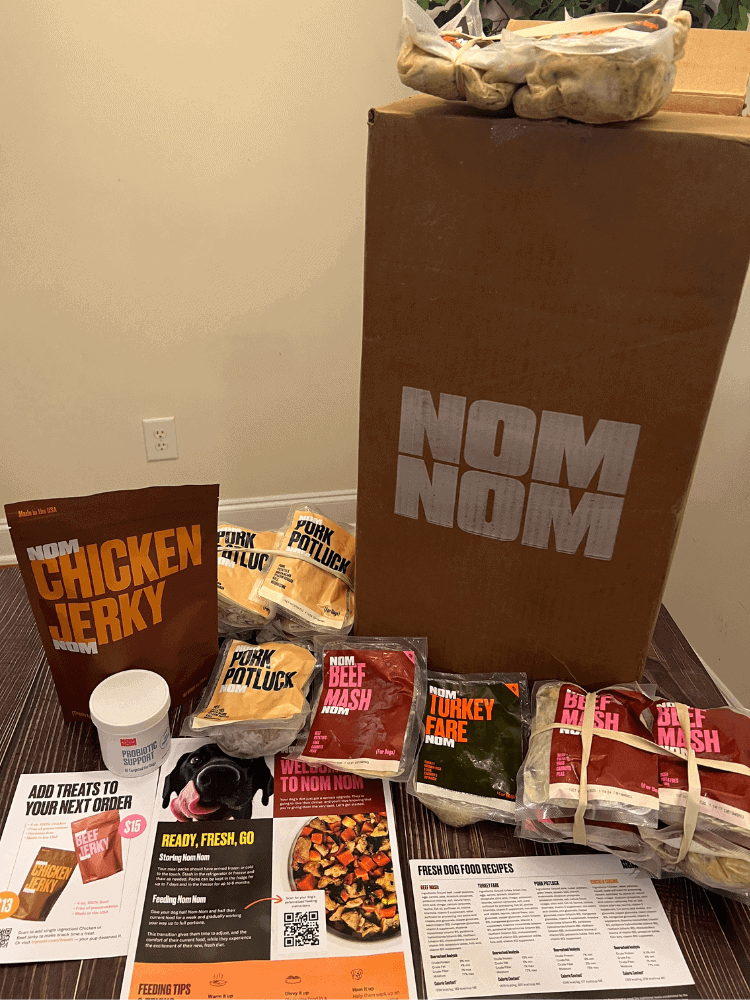 Here is what we found in the box:
I like that the main ingredients are clearly labeled in every pouch. For instance, the Pork Potluck recipes list the 6 main ingredients: potatoes, green beans, yellow squash, mushroom, kale, and fish oil in big, bold letters.
My Nom Nom Dog Food Turkey Fare Recipe Video Review
Watch our canine judge Khaleesi taste test Nom Nom's Turkey Fare recipe.
My Personal Nom Nom Testimonial
My Dog's Experience With Nom Nom
My Nom Nom Dog Food Pork Potluck Recipe Video Review
Watch our canine judge, Charlie, test Nom Nom's Pork Potluck recipe.
My Personal Nom Nom Testimonial
My Dog's Experience With Nom Nom
Ordering, Shipping & Delivery
As you saw above, the ordering process is quite simple. After placing our order, Nom Nom sent us a same-day, follow-up email order confirmation. Once the food had been shipped out, we received another email with the tracking information and delivery date. The food took about 4 days to arrive.
On delivery day, we got a third email reminding us that we were supposed to get our food that day. Once delivered, we noticed the food is designed to remain fresh for multiple hours after delivery, thanks to its insulated box. Sometimes, they may place dry ice to ensure temperature control in transit. The package was pretty big!
Our Nom Nom Customer Service Experience
Nom Nom's customer service is on point. We received a timely response every time we contacted them regarding their service. We also tested Nom Nom's customer service by having a few of our dog owner friends inquire about Nom Nom's service through email, phone, and chat to gauge their responsiveness and attentiveness. Overall, our pet parents were more than satisfied with the attention. As a customer, you get free access to pet nutritionists who can answer your concerns or questions.
What We Like & What We'd Change
What Do Customers Think About Nom Nom Dog Food?
What do customers think of Nom Nom? Here is what other customers had to say about this service!
Nom Nom Dog Food Positive Reviews
My french bulldog could eat anything and was perfectly healthy until he got pancreatitis at 10 years old. Then he couldn't eat anything without the runs. After thousands in vet bills and 10 different foods and antibiotics, we found he could only eat homemade food by me. I cooked for him for 4 months: organic sweet potatoes, steamed broccoli, and ground turkey. All was well, but I leave for 2 months every Winter and knew I would not be able to freeze 2 months of food for my sister and ship her a freezer to store it in. I started researching all the fresh mail-order dog foods and [Nom Nom] had a recipe similar to what I was making him with their Chicken [Cuisine] Wow. Well, after a 2-week transition, the clouds parted and life is back to normal. He loves his Nom Nom and stalks me in the AM and PM for his food, licking the bowl and the floor around it multiple times. He's acting like an 11-year-old puppy. Customer service has been spot on. I'm so grateful for Nom Nom, and the price was less than I was spending making his food. Win-win!"

– Shannon, Consumer Affairs 1/27/2020
I must admit that I was unsure if these foods would help my dogs; one of which had chronic gastrointestinal problems that we could not resolve until she began eating Nom Nom. We had tried even a prescription diet and nothing helped. Since she started Nom Nom, she has not had one episode! They both have lost some needed weight because of the proportioned meals and they are not bored with mealtime.

– Sue, TrustPilot 11/12/2020
Nom Nom Dog Food Negative Reviews
Looks like a great product, but my pup was allergic to the recipe. I was told that to receive a refund, I would need to have my pup eat the food for a full 30-days. This doesn't make any sense at all, given I would waste more food in the process and put my pup at risk. If you have a dog with food allergies, be mindful that you may not be able to qualify for the 30-day money-back guarantee.

– Chris, Trustpilot 11/4/2020
When I began buying NomNomNow for my dog, customer service was personal and accommodating. The food arrived with frozen packages of equivalent size. They were tightly banded together with plastic bands by category of food. I've just received my third order. It was sloppily packaged with the felt interior cooler scrunched down with food on top. The packages were not frozen and barely cool to the touch. The bands had slid off the package groupings and were in among the mess. I was able to salvage about half of the order – the rest will be waste because my dog won't be able to eat it all before it spoils.

– Marilyn, Consumer Affairs 2/8/2020
Overall, upon a visual survey of customer satisfaction for Nom Nom, the positive reviews far outweigh the negative. Out of the 1147 reviews submitted by real Nom Nom customers (on Trustpilot & Consumer Affairs combined), more than 85% are positive reviews. We also noticed that Nom Nom was highly active in responding and offering solutions to dissatisfied customers.
Nom Nom Dog Food Customer Review Average
Here's a summary of Nom Nom's performance across popular review sites, including ours.
On average, Nom Nom gets a 4.5 out of 5 across the board.
Nom Nom Dog Food Reddit Reviews
Other Nom Nom Products Reviewed
Nom Nom offers additional products such as single-ingredient treats, probiotic supplements, and a microbiome test.
Nom Nom Dog Food Sample Box
Don't want to commit just yet? Or, not sure which recipe your dog will like? Nom Nom offers a sample of all four recipes in 150-gram meal bags. No subscription is necessary. Each pack is $15—free shipping on orders $30 or more.
Nom Nom Dog Treats
Nom Nom's treats are as healthy and fresh as their food because a balanced diet can't be complete without a deliciously wholesome treat. They come in two flavors.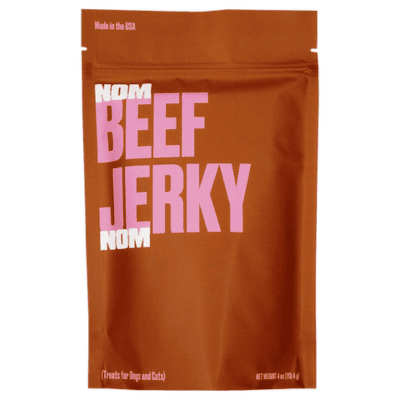 Probiotic Supplements
Dog probiotics are a fantastic way to enhance gut health and treat digestive issues in dogs, such as vomiting, IBD, and diarrhea, among other tummy problems. Nom Nom's Probiotic Support contains 20 billion CFUs per scoop and 7 full-spectrum probiotic strains of good live bacteria (and a prebiotic). You can use this probiotic to improve an imbalance of good bacteria in your dog's gut, which you could discover from a microbiome at-home test. It's easy to administer; sprinkle the powder on your dog's food daily.
Full Spectrum for Dogs
GI-Targeted for Dogs
Full Spectrum for Cats
Read our best probiotics for dogs review guide if you want more probiotics options.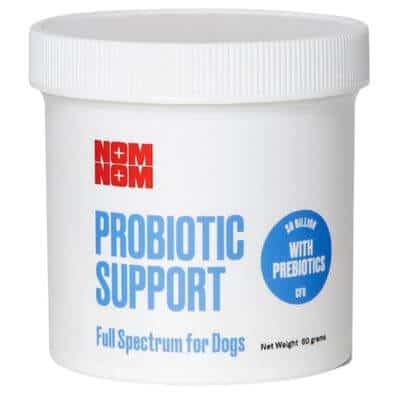 Nom Nom Gut Microbiome Test
Nom Nom's microbiome at-home testing kit allows you to gauge your dog's microbiome and helps you make better nutrition and health choices for your dogs. If your dog suffers from digestive and skin problems, including diarrhea, gas, vomiting, inflammatory bowel disease, constipation, food sensitivities, or itchy skin, this test can help you determine what's causing it and how to address it.
If you want more options, read our article on the best dog gut health tests.
Nom Nom Dog Food Recall
Nom Nom dog food has never been recalled. However, there was one voluntary recall by a Nom Nom supplier, Tyson Foods Inc, due to a contamination issue. Nonetheless, it only affected the brand's cat food line. The brand continues to receive excellent reviews from both veterinarians and pet owners. As as responsible dog parent, it's important to stay up to date on dog food recalls. Read and bookmark our dog food recall tracker pager to stay in the loop of the latest recalls.
Nom Nom Dog Food Phone Number
Nom Nom phone number: (415) 991-0669
Phone hours:
Nom Nom Dog Food Frequently Asked Questions
Here are the most commonly asked questions about Nom Nom dog food.
Nom Nom Vs Other Fresh Dog Food Subscription Companies
How does Nom Nom compare to other popular fresh dog food delivery services?
Nom Nom Dog Food Review — Conclusion
So, after reading our Nom Nom review, you are probably asking yourself, is this food worth it?
We think so! If you have a dog who needs a customized diet due to health concerns (food allergies), is a picky eater, hates shopping, hates making homemade dog food for your dog, or you want to provide them with a better, healthier, and fresher option, Nom Nom is a great option. While a subscription may be a little more than you would spend on traditional kibble, the health benefits and convenience outweigh the extra cost. Keeping your dog healthy should be a priority; proper nutrition is where it all starts. Plus, a better diet means fewer health problems down the road.
Always be sure to consult your vet before switching to Nom Nom. And remember to transition between foods gradually to help prevent stomach upset.
Like It? Subscribe & Share!
Canine Bible authorship represents the unified voice of our entire editorial team rather than a single author. Each article, blog post, and review published under the Canine Bible name undergoes a rigorous review process, involving all team members to guarantee accuracy and up-to-date in accordance with the latest veterinarian research. This collaborative effort is an integral part of our editorial process and aligns with our four pillars of content creation. This approach ensures our content is backed by expert knowledge and factual information, offering our readers reliable, actionable, and trustworthy content.