Best CBD Oil For Dogs: Top Brands 2022 (Reviews & Guide)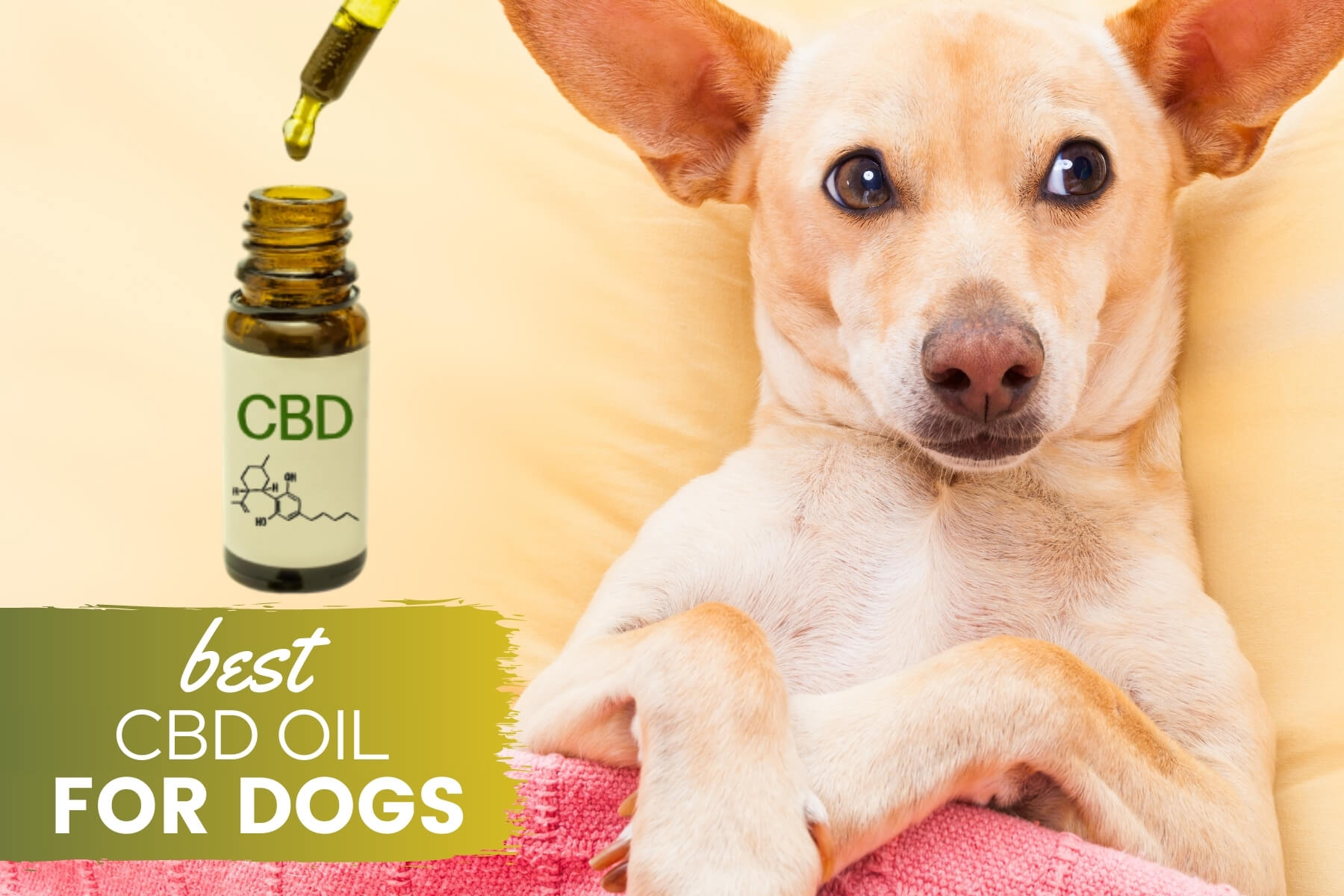 This is the most comprehensive guide to finding the best CBD oil for dogs and learning all about dog CBD oil.
It can be hard to see your dog suffer from pain, anxiety, chronic pain, or other ailments. But what if we told you CBD oil (Cannabidiol) could help relieve your dog's ongoing health issues.
Today, we show our top picks for the best CBD for dogs and help you learn about the benefits, risks, dosages, and everything in between so you can decide whether or not it is a good option for your pup. Let's dive right in!
If you are new to dog CBD oils or looking to learn more, we highly encourage you to read Chapter 1. Already familiar with CBD for dogs? Jump straight to Chapters 2 & Chapter 3, where we've reviewed the best-rated CBD oil for dogs by category and different health needs. Read Chapter 4 for other types of CBD products.
Top CBD Oil For Dogs
Here is a glance at Canine Bible's top 5 picks for the best CBD oil for dogs.
You can click this link to go straight to the reviews (Chapter 2), but we encourage you to keep reading to make a more informed decision about dog CBD oils.
Chapter 1
CBD oil for dogs 101
What Is CBD Oil For Dogs?
CBD oil is a natural and effective treatment for various conditions in dogs.
CBD or Cannabidiol is one of over 100 natural compounds found in cannabis (marijuana or hemp plants).
Note that CBD does not contain delta-9-tetrahydrocannabinol (THC), the chemical that gives marijuana its psychoactive properties. In simpler words, CBD will not get you or your dog "high."
Know that marijuana and hemp are simply terms to classify varieties of Cannabis depending on their THC content. Legally, the key difference between marijuana-derived CBD and hemp-derived CBD is the tetrahydrocannabinol (THC) content. Marijuana is a term used to classify varieties of Cannabis that contain more than 0.3% THC and as much as 30% THC, while "Hemp" is a term that classifies varieties of cannabis that have a max of only 0.3% or less THC.
Dog CBD oil is derived from the hemp plant and it does not contain THC. CBD oils are not toxic, and they may provide several health benefits for your dog without inducing psychotropic or euphoric effects on your pet.
Marijuana is still illegal in most states. However, hemp-derived oil is legal in all 50 U.S. states.
CBD Oil vs Hemp Oil For Dogs: What's The Difference?
CBD Oil and Hemp Oil are not the same!
CBD Oil
CBD oil production uses the leaves, flowers, and sometimes stalks from mature cannabis plants. Why? Because that's where the highest concentrations of this active cannabinoid compound (CBD) are found. This provides the medical and therapeutic benefits you get from CBD oil for dogs.
Hemp Oil
On the other hand, hemp oils are made specifically from the seeds of the Cannabis plant. It contains no tetrahydrocannabinol and little to no CBD. Hemp oil does not offer the same therapeutic benefits as CBD oil. Some dog owners still use it because it provides health benefits such as nutrients, fatty acids, and valuable bioactive compounds.
How Is CBD Oil For Dogs Made?
CBD oil for dogs is made by extracting CBD from the cannabis plant (marijuana or hemp) and then diluting it with a carrier oil like coconut or hemp seed oil.
The highest quality CBD oils are typically extracted using safe methods (solvents) such as carbon dioxide, ethanol, or cold press extraction. These solvents separate and collect the CBD, essential oils, lipids, and beneficial compounds from the stalks, flowers, and leaves of the cannabis plant. The solvent is then removed from the final product, leaving a concentrated oil called CBD oil.
Beware! Some companies may use cheap and potentially toxic solvents, like propane, hexane, and butane, to extract THC from the cannabis plant.
Is CBD Oil Safe For Dogs?
Can you give CBD oil to dogs? Is it safe for our canine friends and other pets?
According to a 2017 World Health Organization report, CBD appears to be safe and well-tolerated by animals.1
Also, most vets agree that CBD oil is safe as long as your dog is not given an intoxicating amount of THC (the psychoactive ingredient in marijuana).
A 2018 study led by Dr. Joe Wakshlag and a group of researchers from Cornell University's College of Veterinary Medicine treated a group of dogs that suffered from osteoarthritis with different doses of CBD oil. The study found a significant decrease in pain and a substantial increase in activity level in dogs treated with CBD than in the placebo group that experienced a slight increase in pain.2
The following year, another research study led by Dr. Stephanie McGrath, a neurologist at Colorado State University's James L. Voss Veterinary Teaching Hospital, found a reduction of up to 89% in the frequency of epileptic seizures in dogs treated with CBD oil.3, 4
There is also considerable undeniable anecdotal evidence from pet parents about CBD's positive benefits to their dogs.
While we haven't found any alarming reports of CBD's negative side effects, you still need to talk to your vet.
Benefits of CBD Oil For Dogs
Is CBD oil good for dogs? Yes. But how can CBD oil help my dog?
If your dog suffers from the following conditions (occasionally or chronically), CBD drops for dogs or CBD dog treats can improve your dog's quality and ease several conditions, including:
Wellness & preventive care
Seizures and epilepsy
Nausea
Stress
Anxiety
Arthritis
Chronic inflammation
Joint pain
Symptoms of cancer
Gastrointestinal issues ( Digestion problems)
Protects the nervous system
Increases appetite
Cancer
How Can CBD Oil Help My Dog? (Infographic)
Veterinary scientists and research have demonstrated that CBD oil may help relieve many symptoms. While CBD is very commonly recommended (or inquired about) for anxiety, arthritis, pain, and seizures, its benefits go beyond that.
For a more in-depth, research-backed explanation of how CBD helps with each of these canine health conditions, read Chapter III.
How Does CBD Work In Dogs? The Endocannabinoid System
You are probably asking yourself, "why and how does CDB oil work on dogs?"
The answer lies in your dog's Endocannabinoid system.
Humans, dogs, and all vertebrate animals (i.e., mammals, birds, amphibians, fish, and reptiles) have an endocannabinoid system (or ECS).
The ECS is part of all 11 major physiological systems of the body, and its primary role is balancing all of the other systems promoting homeostasis. It's responsible for building and maintaining human health and regulating various functions, including mood, appetite, memory, metabolism, sleep, pleasure, movement and coordination, immune response, and more.
What Is The ECS' Relationship With CBD?
The ECS is programmed to respond to endogenous cannabinoids produced by our bodies. But scientists have learned that the system also recognizes and reacts to cannabinoids from external sources such as cannabidiol (CBD oil), allowing the active ingredients in hemp to help relieve many dogs' symptoms.
What Does CBD Oil Do For Dogs?
CBD oil acts as a key that activates the endocannabinoid system to start its homeostatic and therapeutic functions, including modulation of pain, inflammation, movement, and all the health benefits mentioned above.
According to the National Institute of Health, manipulating the endocannabinoid system with an external cannabinoid like CBD oil could be beneficial in treating several medical ailments.5
A properly functioning endocannabinoid system is crucial for maintaining the health and wellness of your dog.
Risks & Side Effects of CBD Oil In Dogs
Dr. Gary Richter, owner and medical director of Montclair Veterinary Hospital in Oakland, California, and author of "The Ultimate Pet Health Guide," says that it is rare to see pets show adverse side effects when given the correct dosage.
CBD is not for every pet. Side effects potentially due to CBD treatment have been reported.6
Dr. McGrath says:
"I would definitely be a little concerned about giving CBD to a dog with known liver issues because CBD appears to be metabolized by the liver. You also need to be wary about giving CBD to a dog who already takes a medication that's metabolized by the liver. We don't really know these things interact right now."
PetMD's veterinary advisor, Dr. Jennifer Coates, points out that the ingestion of large amounts of marijuana has been fatal in several dogs, so preventing overdoses with any cannabis-derived product such as CBD oil is important.7
Another big concern dog parents should keep in mind is quality control. The CBD market isn't well regulated yet. CBD products could contain ingredients that aren't listed on their labels, including THC, which is toxic to dogs.
The American Kennel Club states that there aren't many scientific studies on the side effects of CBD oil on dogs and that it is important to consider how CBD oil affects people since the human and canine Endocannabinoid systems are essentially the same.
Side effects of CBD oil for dogs and humans include:
Dry mouth (Increased thirst)
Drowsiness
Lowered blood pressure
Vomiting
Diarrhea
Itching
Dizziness
Some canine studies also noted an increase in the liver enzyme alkaline phosphatase (ALP) during CBD treatment.
Can My Dog Overdose On CBD?
Dr. Richter warns that THC toxicity due to overdosing is the worst-case scenario that could endanger your pup. Essentially, your dog would get high, she says.
Overdosing will depend on the type of CBD product your pet is using. An overdose is unlikely if the product contains 0% or 0.3% or less THC. If your dog ingests a large amount of a CBD product or the CBD product has a higher percentage of THC higher than normal, an overdose could occur.
CBD Oil Overdose Dog Symptoms
Lethargy
Impaired balance or coordination
Urinary incontinence
Vomiting
Increased sensitivity to the senses
While some mild cases can be managed at home, other cases may require IV fluids and medical care.
If you suspect an overdose, contact your veterinarian immediately.
Pros And Cons of CBD Oil For Dogs
Let's look at the pros and cons of CBD oil for dogs.
| PROS | CONS |
| --- | --- |
| Most dog parents report beneficial effects after administering CBD to their dogs | May cause them to become lethargic and depressed |
| Helps with an array of dog health issues | The U.S. Food & Drug Administration (FDA) has not approved CBD for use in dogs (or humans) |
| It may even help fight cancer in dogs | The industry is not as regulated as others |
| Super easy to administer | Overdosing could happen if your dog drinks copious amounts of CBD |
| Works fast as far as benefits | Any medication or supplement carries the risk of a reaction |
| Substantial evidence that CBD works | Need more longitudinal studies on its effects |
| Human and animal studies have proven CBD can be beneficial to dogs | Accidental ingestion can cause adverse effects |
| Hemp-derived CBD oil is legal in many countries | CBD is categorized by the (DEA) as a controlled substance |
| As of March 2020, the U.S. Food & Drug Administration (FDA) has not received reports of adverse events connected to animals given cannabis products | Potential side effects include dry mouth, low blood pressure, and drowsiness |
Dog CBD Oil Types: Full-Spectrum vs Broad-Spectrum vs Isolate
These are the main types of CBD oil for dog consumption you will encounter:
CBD Isolate. 99.99% pure CBD, no THC, and terpenes.
Broad-spectrum CBD oil. CBD and terpenes, no THC.
Full-spectrum CBD oil. CBD, terpenes, and less than 0.3% THC. This type contains THC but in minimal amounts, which is unlikely to affect your dog.
Full Spectrum CBD Oil For Dogs
What is full-spectrum CBD oil for dogs? And, how is it different from broad-spectrum and isolate CBD oil?
Full-spectrum CBD means your dog's CBD oil contains CBD and other important cannabinoids that occur naturally in the cannabis plant, including CBC, CBN, CBD, CBG, and CBA. A full-spectrum CBD also contains terpenes (i.e., limonene, alpha-pinene). It is the most recommended and effective kind of CBD oil for dogs on the market.
This mixture of CBD, other cannabinoids, and terpenes work synergistically to boost the medicinal benefit your dog receives from CBD oils and is known as the "entourage effect."
Broad-Spectrum CBD Oil For Dogs
It's pretty much the same as full-spectrum oil but with no HTC.
Isolate CBD Oil For Dogs
It's purely CBD. This means the oil has no THC and lacks other cannabinoids and terpenes. It's generally cheaper and has no flavor or odor.
So, which one should you pick? Is one better than the other?
While CBD oil isolate for dogs can be effective, full-spectrum or broad-spectrum CBD oil is usually preferred by veterinarians because of the added benefits from the "entourage effect" and terpenes. CBD overall works better when other cannabinoids are present. Next time you are buying CBD oil for your pup, check the label of your CBD product to make sure it's full-spectrum or broad-spectrum.
Dog CBD Oil Types Infographic
Here is a graphic representation of the different cannabis compounds and the benefits of each.
Dog CBD Oil Dosage
The amount of CBD oil you administer to your dog will vary by manufacturer. Remember, each bottle of CBD comes in different concentrations expressed in milligrams (mg).
How much CBD oil should I give my dog?
Underdosing is preferred at first. Monitor your dog's response. If everything seems to be going well, shift to the manufacturer's dosing guidelines for your specific CBD oil. Most CBD oil companies for dogs will provide detailed dosing guidelines for their products.
However, not all do, so it's important to know how to calculate the right CBD dosage amount for dogs. A good rule of thumb is to start with 0.25mg to 0.50mg for every 10 pounds of body weight. It's always best to start with a smaller dose and work your way up.
CBD Dosing Tips For Dogs
Here are the best dosage tips from holistic veterinarians, who are experts on holistic pet medicine:
Talk to your veterinarian before administering CBD oil to your dog.
Know the concentrations of THC (if any)
It's generally recommended 0.25 mg (a regular dose) once a day.
The dosage level will vary depending on your dog's weight, size, and activity level.
Underdosing is preferred. Check for adverse reactions. If none, you may move on to a regular dose.
If you plan to increase the dosage, do it gradually. Observe your dog's behavior and response closely.
Call your veterinarian if your dog has health conditions that could affect CBD properly digest or metabolizing CBD (e.g., liver, kidney problems, etc.).
If your dog is taking any medications, talk to your vet.
CBD oil should be administered directly into your pet's mouth, ideally under their tongue. CBD is more effective if administered orally than through your dog's food.
This industry isn't regulated, so make sure you avoid sketchy CBD oil brands that may have ingredients that could hurt your pup.
Most CBD oil products come with a handy dosage chart you can reference.
Mild vs Regular vs Strong Dosage
Keep in mind these three dosing procedures to better use CBD oil drops on Fido.
Mild Dosage: Used for health and wellness purposes, to boost immune function, and prevent potential health issues.
Regular Dosage: Usually done for health and wellness purposes (boost immune function). These include allergies, appetite loss, mild inflammation, minor aches, pet stress, anxiety, and other mild ailments.
Strong Dosage: Usually administered to treat more severe pet health issues such as cancer-related symptoms, tumors, extreme anxiety, epileptic seizures, chronic pain, and more.
Know that a clear and safe dosage level standard hasn't been set by research, but you can learn more in our CBD dosage guide.
How Long Does It Take For CBD To Work On Dogs?
The reaction times of dogs to CBD oil vary depending on the condition you are treating.
When taken orally, you can start seeing CBD oil results for dogs as quickly as 5 to 30 minutes for things like situational anxiety. If you're using it to treat arthritis or immune system issues, it can take as long as 2 weeks to see consistent improvement.
The brand and dosage amount you're using will also impact how long it takes to work on your dog. If you don't see a change or it's taking longer than usual, you may need to tweak up slightly the CBD oil dosage.
For more information, read this article.
CBD Oil For Dogs Evidence & Testimonials
Want more real evidence about the efficacy of CBD in treating different conditions in dogs?
Watch this short video on researchers studying the effectiveness of CBD for treating arthritis and epilepsy in dogs and how a dog named Tucker, suffering from right elbow arthritis, got cured thanks to Cannabidiol dogs.
Dog CBD Oil Testimonials
We scoured the internet and came across hundreds of dog parents praising CBD and how it's done wonders for their dogs. Here are a couple of real testimonials we found.
Dog CBD Oil Evidence: CBD Oil Cures Dogs Seizures
Watch this quick video of CBD oil in action!
The benefits of CBD oil are amazing. You can use these products regularly to maintain the health of your pet dog. Using CBD oils correctly can make a huge difference in the life of an ill pup.
How Do I Find High-Quality CBD Oil?
When looking for a high-quality CBD oil for your furry friend, there are a few factors to keep in mind.
Not all CBD oil products are equal! Here is what to look for to find the best CBD oil for dogs.
1. THC levels. Look for products with less than 0.3% THC. A CBD product derived from hemp should always fall below this level as the plant itself has a max of only 0.3% THC. Higher levels of THC can be harmful.
2. CO2 extraction. The best CBD oils are processed naturally using carbon dioxide and cold press extraction, avoiding chemical-based solvents such as butane, propane, hexane, and others.
3. Free of additives or preservatives. You don't want a product that could have toxic substances such as pesticides, herbicides, or heavy metals. Look for CBD from organically grown hemp that is free of toxins.
4. Color. Generally, the fewer ingredients, the purer the CBD. In some cases, you may see a darker green substance, which means that the product contains additional plant material such as chlorophyll. The purest extracts and of the highest quality will have a golden color.
5. Test Certification. Always ask the manufacturer for a Certificate of Analysis (COA). The most trustworthy companies will provide a COA given by an independent 3rd party. Testing can include CBD percentage, THC %, pesticide usage, residual solvent, and more.
6. Tincture. The best way to administer CBD oil is via tincture. Other forms of CDB oil for dogs are available (e.g., CBD dog treats); However, tincture lets you adjust dosages more precisely.
Vet Recommended CBD Oil For Dogs
Many veterinarians are now recommending CBD oil for dogs. The growing veterinary scientific research and amounting evidence of CBD benefits on dogs have shown cannabinoids have anti-inflammatory effects and can help with anxiety, aggression, pain, seizures, muscle spasms, and neurological disorders.
In the next Chapter, Canine Bible's research team gives their favorite vet recommended CBD oil for dogs.
Chapter 2
Best dog CBD oil brands reviewed.
Best CBD Oil For Dog Reviews
What is the best CBD oil for dogs?
Our top picks for the best CBD oil for dogs are based on different factors, including veterinarian-formulated, quality, customer reviews, price, ingredients, and more.
This CBD oil for dogs review will help you find the best oils for your pup by category and specific needs.
Best Overall (HolistaPet Dog CBD Oil Review)
HolistaPet CBD takes the spot for best CBD for dogs overall.
They're among the most affordable, and the level of quality and safety of their products are amazing. HolistaPet brings the best full-spectrum CBD oil for dogs with the added benefits of being THC-Free.
This company is a stand-out because its CBD oils are combined with organic superfoods like hemp seeds, L-Theanine, chamomile, turmeric root, Boswellia, flaxseed, and more. They believe this combination of key superfood ingredients and CBD is the secret to your pet's health and wellness.
They use pure CO2 extracted full-spectrum CBD oil and hemp seed oil to create an even more powerful concentration that can be easily administered for fast results.
All their products are made from 100% organic and vegan ingredients, and every single CBD batch is lab tested by a third party to ensure the safety, quality, and potency of their oils. No wheat, animal by-products, cornmeal, artificial flavors, or colors are ever used.
HolistaPet is one of the most transparent CBD brands about their products, ingredients, and what they do (COAs available on their website). Your furry friend should receive his good within 3 to 5 business days when you order from them.
They also offer CBD dog treats in 3 unique formulas: Heart & Immune Care, Joint & Mobility Care, and Stress & Anxiety Relief. CBD capsules, shampoo, CBD calming chews, and catnip spray are also available.
Looking for a HolistaPet coupon code? Click here to take advantage of the best offer available. You can save 25% – 30% if you sign up for auto shipping with HolistaPet. You can cancel anytime.
Read Our Full HolistaPet Review
Best Health Specialized Line (Honest Paws Review)
Honest Paws takes the crown in our CBD for dogs reviews for the best-specialized line.
If you are looking to treat a specific health concern in your dog, Honest Paws CBD oil for dogs offers CBD drops for three specific needs.
Each line is uniquely formulated to target those problems.
This company's CBD tinctures offer the full benefits of full-spectrum hemp oil. All of their ingredients are sourced, produced, and shipped, all under human-grade regulations.
Honest Paws uses a proprietary subcritical CO2 extractions process to retain more CBD, essential oils, terpenes, and other sensitive chemicals within "premium-grade" hemp plants. Then, it emulsifies it in all-natural MCT oil extracted and refined from coconut farms. Customers are super happy with this brand! One user reports it's helping her 13-year-old shepherd live when she was told her dog only had a couple of months to live.
Honest Paws also offers a wide range of other CBD-infused products, including treats, soft chews, topical balm, and even creamy peanut butter. They also have CBD oil for cats and horses.
Looking for an Honest Paws coupon code? Our readers have access to 15% off at Honest Paws with coupon code CANINEBIBLE. Just use this link to get started.
You can also save an extra 15% if you sign up for monthly auto shipments on all products. You can cancel anytime.
Read Our Full Honest Paws Review
Best Value (Green Roads Review)
If you are looking for the most affordable CBD oil for dog dogs, Green Roads CBD oil for dogs offers the best value for your money without sacrificing quality.
While there are slightly cheaper CBD dog oils out there, their quality didn't measure up to the standards for safety and efficacy. So they weren't considered.
Green Roads is a trusted U.S. CBD oil manufacturer for humans and pets. Its broad-spectrum CBD oil formula is a blend of hemp-derived cannabinoids that includes crystalline isolate CBD suspended in MCT (medium-chain triglycerides) coconut oil. This mixture produces a natural flavor, making it easier to administer to your dog, and it also digests more easily.
It supports calmness and well-being for your dog, perfect for thunderstorms, trips to the vet, daily aging-related challenges, and when other sources of stress emerge. Users' testimonials report overall satisfaction, with one dog owner saying how this product helped his 10-year-old dog regain his mobility.
All Green Roads products are sent out to third-party labs for testing, and you can easily access the COA results via a QR code on their packaging.
Green Roads CBD oil drops currently come in three varieties:
Pet CBD Drops for Small Dogs
Pet CBD Drops for Medium Dogs
Pet CBD Drops for Large Dogs

They don't carry treats or other CBD dog products.
Looking for a Green Roads Pet coupon code? Use this link to take advantage of the best offer available. Green Roads is offering free shipping on orders over $50.
Read Our Full Green Roads Review
Best For Potency (Canna-Pet Review)
Canna-Pet manufactures CBD oils and capsules for dogs. They have two lines of CBD products, Advanced Formula and Advanced MaxCBD.
If you are looking for the highest levels of activated hemp CBDs possible in a safe, palatable, readily absorbed form, Canna Pet's Advanced MaxCBD products provide: (i) Much higher levels of CBD, (ii) much higher levels of eight other cannabinoids, (iii) much higher levels of two dozen terpenes (iv) improved absorption and bioavailability.
Any pet may use this product safely. According to the company, it contains a broad spectrum of cannabinoids, terpenes, and flavonoids from hemp. The only difference is that it is enriched with 24 compounds and is 15x more effective than other CBD products.
Developed in a collaboration of scientists, medical researchers, and veterinarians using organic hemp grown in the USA. No alcohol or carrier oils are added for direct absorption in the mouth. This company repeatedly tests its products for phytochemicals to ensure there are no impurities or contaminants.
If you have pet insurance, Canna Pets are covered by major insurers like Petplan and Trupanion (with proper vet recommendation and policy riders)
MaxCBD liquid products are highly concentrated yet still palatable and safe. Only a few drops are required.
Canna-Pet customer reviews praise their oils for their positive effects on cancer, joint pain, anxiety, and other dog health problems.
In a survey, 98% of respondents find Canna-Pet® more effective than chondroitin, glucosamine, lysine, SAM-e, fish oil, milk thistle, Coenzyme Q10, Azodyl, calming products, or probiotics.
Use this link to take advantage of the best offer available at Canna-Pet.
Best Organic (NuLeaf Naturals Review)
Are you looking for the best source of organic CBD oil for dogs?
NuLeaf Naturals' full-spectrum dog CBD oil contains no additives, and the only ingredient is organic hemp that produces naturally occurring synergistic cannabinoids and terpenes.
Their organic hemp plants are grown in Colorado with pristine rocky mountain water and harvested at peak perfection.
Nuleaf controls the entire farming and production process from seed to shelf to guarantee its safety and quality. Furthermore, to back every batch's quality and safety, they use independent labs to confirm their CBD is free of pesticides, herbicides, mold, fungi, heavy metals, and mycotoxins.
Its CBD is extracted using subcritical and supercritical CO2 instead of toxic solvents. This yields a more potent formula, and users don't need to worry about toxic ingredients seeping into the oil.
It has excellent positive reviews, and dog owners report Nuleaf dog CBD oil has made a big difference in their dogs' lives. From helping a dog stay pain-free from arthritis and cancer to helping pups feel more energized and happy.
It's also great for cats, horses, and other pets. You can expect a delivery time of 2-3 business days after purchase.
Looking for a NuLeaf Naturals promo code? Click here for the best deal we could find.
Best Broad Spectrum (Petly CBD Oil for Dogs Review)
Looking for the best broad-spectrum CBD oil for dogs?
Every drop of Petly's broad spectrum CBD oil contains CBD and a robust profile of secondary cannabinoids, including CBD, CBDA, CBG, CBN, and CBC. It's also boosted with a variety of naturally occurring terpenes and flavonoids.
This is a pet-focused CBD company. They carry three size-specific formulas for small, medium, and large dogs.
Its formula is a natural proprietary strain of phytocannabinoid-rich hemp grown in nutrient-rich soil in Colorado. Their farmers operate under strict guidelines and use only 100% organic ingredients and practices.
Petly guarantee that their formulas contain 0% THC thanks to a proprietary technology that removes unwanted compounds such as wax, chlorophyll, plant pigments, and trace amounts of THC still present in the oil.
To further refine their CBD, it is "washed" and "polished" to create the highest quality, zero THC, providing full-spectrum CBD oil benefits. Plus, every batch is tested, and customers receive a Certificate of Analysis and a Certificate of Quality Assurance.
Customers report it's helped with issues such as anxiety, allergies, pain, and other serious health complications. If you don't love their products, they will issue you a 100% refund for the first 30 days.
Petly not only brings the same pain-alleviating and stress-reducing effects with their CDB oils, but they donate 1 dollar to pets in need for every product sold.
Looking for a Petly discount code? Use this link to take advantage of the best deals we could find.
Best THC Free (cbdMD Paw CBD Oil For Dogs Review)
Looking for a high-quality CBD oil and treats that are THC-free? Do you want to eliminate the risk of a THC overdose?
cbdMD's oils are among the best THC-free CBD oils that allow you to feel good about what you're using without any unwanted extras.
This company produces CBD products for humans and pets (including dogs, cats, and horses). All their CBD products are veterinarian-formulated to support canine wellness and test every product batch to ensure its products are THC-free and safe for your dog's daily use.
Made with the same Superior Broad Spectrum hemp extract that they use in their products for humans, so you know it's a top-shelf product. They ensure their oil is one of the best CBD oil for pets by using the most high-tech certified GMP, human-grade, and NSF labs for manufacturing and production.
It's only available in two different flavors, Peanut Butter and Natural. But, it comes in multiple strengths based on your dog's weight. Furthermore, they suspend their CBD oil in wholesome MCT oil (derived from coconuts) with no added synthetic preservatives.
They also sell tasty Peanut Butter with CBD for Dogs, a very effective CBD Balm that promotes healing and reduces skin issues, and Paw Bundle Products for extra savings.
This brand gets positive reviews from customers. One user reported his dog was stiff and limping after a CCL/ACL surgery, but after administering a few drops of this tincture, his dog was up and running again.
Looking for a cbdMD discount code? They have ongoing sales and discounts. Use this link to take advantage of the best possible pricing.
Best Vet Formulated (The Anxious Pet CBD Review)
The Anxious Pet has a proprietary CBD formula developed by working directly with veterinary professionals from top institutions across America. This allows them to achieve the perfect level of CBD, antioxidants, and fatty acids in your dog's oils.
They offer one of the highest CBD concentrations on the market and great value so that you can give your dog all the calming, pain-relieving, and anti-inflammatory benefits of CBD.
Its full-spectrum hemp extract contains less than 0.3% THC, and it provides amplified health benefits thanks to the entourage effect.
A few drops of this CDB tincture can help your dogs manage anxiety, pain, sleeplessness, and other health issues. The Anxious Pet third-party tests each batch of CBD to verify quality, potency, purity, and consistency. They have great reviews from customers!
The Anxious Pet also has CBD supplement bars and calming chews for those dogs who are not fans of oils or for pampering purposes.
Looking for a The Anxious Pet promo code? Click here for the best deal we could find.
Other CBD Oil Options
Best Flavor & Taste (Just CBD Review)
Is your dog not a fan of unflavored CDB flavored oils? Do you want to make your dog's CBD experience more enjoyable?
Just CBD offers the tastiest CBD oil for dogs and various flavors, including beef, bacon, chicken, salmon, and tuna.
Their CBD drop for dogs is made with pure hemp extract oil and contains zero to less than 0.3% THC. It comes in three varying dosages of 100 mg, 250 mg, and 500 mg to make it easier to adjust your pet's dosage based on their size and needs.
This product is produced in the USA using nothing but the finest quality ingredients and natural flavoring. All their products are backed by a safety and quality certifications, such as Hemp Farm Report and GMP certification, making the tinctures entirely safe for your dog.
Just CBD also offers an amazing inventory to discover other CDB products such as gourmet CBD edibles for dogs and powerful CBD gummies, CBD infused liver meatballs, steak bites, chicken biscuits, and more.
Dogs love the taste, according to many happy customers. One dog parent reports it's helped her pit bull with frequent seizures.
Whatever your four-legged family needs to reduce anxiety, stress, or support for anti-inflammatory relief, this CBD oil brand is fantastic for dogs.
Looking for a Just CBD promo code? Click here for the best deal we could find. Use this link to take advantage of the best possible pricing.
Best For CBD Variety & Strength (MediPets Review)
MediPets, a branch of Diamond CBD (a well-known brand in the world of CBD products), has the best variety of CBD products based on CBD strength and dog size, including pure CBD oils, treats, sprays, and bundles for both dogs and cats.
This CBD company has a great product line with CBD oils made specifically for small, medium, and large dogs, which come in 3 different types of potencies to choose from: regular strength, strong strength, and extreme strength.
All MediPets products are third-party lab tested, made in the USA from 100% natural, organically-grown hemp, and pharmacist-formulated products.
MediPets is one of the pioneers in the CBD pet industry and a trusted brand. Its CBD oils are free of THC, easy to use, and 100% natural.
MediPets also donates to its nonprofit partner, Saving Sage Animal Rescue Foundation, an animal rescue organization dedicated to keeping neglected animals out of shelters.
MediPets sells more than a dozen types of high-quality CBD dog treats and sprays in an assortment of delicious flavors and strengths if you prefer treats to oils.
This CBD oil brand is great for treating joint pains caused by osteoarthritis, chronic pain, anxiety, rashes, hot spots, and overall wellness.
Get 55% off your MediPetsCBD order with the coupon code CanineBible via this link.
Best Premium (Joy Organics CBD Oil for Dogs Review)
Support your dog's quality of life with Joy Organics premium broad-spectrum CBD dog oil.
This company was created with a clear initiative: to develop premium CBD products for dogs. Their tinctures are formulated with organic olive oil and broad-spectrum CBD and come in 225mg and 450mg concentrations.
They are so confident your dogs will benefit from their CBD oil that if you are not achieving your desired results within 30 days, they encourage you to use the entire bottle before asking for a return.
Joy's pet CBD products are vegan-friendly, gluten-free, dairy-free, and made using natural methods and other organic ingredients. Whether your pup is suffering from mild physical issues, anxiety, stress, or chronic pain, Joy Organics CBD oil is a fast-acting tincture that will quickly relieve the discomfort.
The smell is pleasant to most dogs, and it has no flavor. It's perfect for picky dogs.
Joy Organics prides itself on using the finest available ingredients in its products and provides an extensive list of its third-party lab results, so you are confident its oils are safe for your pup.
Dog not a fan of oils? No worries, Joy Organics also has beef-flavored CBD Dog Treats that will work just as well as their tinctures.
Looking for a Joy Organics discount code? Click here for the best deal we could find.
Best Discounts For Vets, Disabled & Low Income (Lazarus Naturals CBD Oil For Dogs Review)
Lazarus Naturals is a CBD company founded on the belief that quality CBD products should be accessible to those who need them most, including our furry friends. They offer a 60% discount for veterans, active military personnel, individuals on long-term disability, and low-income households.
They make oils for people and pets. They are proud to be a part of key national and state industry associations, including AHPA, OIHFA, and the U.S. Hemp Roundtable.
Lazarus's current products are two Full Spectrum formulas (Calming CBD & Wild Salmon flavor) and one THC-free formula made with isolate CBD for sensitive dogs, weary dog owners, or smaller dogs. They offer free shipping via USPS First Class mail.
You can buy it in 300mg, 1200mg, and 2400mg concentrations. All their CBD tinctures are third-party tested for harmful ingredients to ensure safety and consistency. The test results are available to the public on its website.
User reviews report that this product has helped dogs with limping issues, aging dog issues, mobility, and more.
Lazarus Naturals also offers the benefits of CBD through delicious dog treats that come in sweet potato and salmon flavors.
Looking for a Lazarus Naturals discount code? Click here for the best deal available.
Best Subscription (Charlotte's Web CBD Oil For Dogs Review)
Whether you are looking for the best CBD oil subscription for dogs or want to find your pup a high-quality CBD product, Charlotte's Web is an excellent choice.
When you subscribe to Charlotte's web monthly CBD oil delivery for dogs, you save 10% on each bottle.
This brand is unique because the National Animal Supplement Council certifies all products for quality, and all pesticides, mildewcides, and herbicides used on their plants are 100% organic.
Charlotte's Web CBD products are designed with your dog's best life in mind, so everything you get is from nature, with no filters or additives. This company is B-corp certified, which means they are committed to transparency and accountability.
Their oil comes in unflavored and chicken-flavored options that appeal to any pup's palate. Available in 2 sizes: 100mL and 30mL size bottles containing approximately 17mg of plant-based cannabinoids per serving.
This brand is an excellent option if you never want to run out of CBD oil and keep your doggy's stash of CBD products stocked up.
Its newly-expanded CBD pet line includes canine hemp-infused balm, calming chews, hip & joint chews, and chews for senior dogs, all with the benefit of botanical blends to support your pup's mind, body, and soul.
Our readers have access to 15% off at Charlotte's Web with coupon code CANINEBIBLE. Just use this link to get started.
Best Size Specific Formulas (CBDfx CBD for Pets Review)
Are you looking for the best CBD oil for small, medium, or large dog breeds?
CBDfx offers size-specific CBD oil formulas for:
CBD oil for small dog breeds
CBD oil for medium dog breeds
CBD oil for large dog breeds

This CBD oils is available in three different concentration blends: 150mg (small dogs), 300mg (medium dogs), and 600mg (large dogs).
Customers' reviews report great success with this tincture. Users report it's helped their dogs with pain problems, anxiety, arthritis, fireworks, muscle stiffness, and many more doggie issues. One review said this oil helps dogs be their old self again.
Farmed from organically grown hemp and extracted using CBDfx's cutting-edge supercritical CO2 extraction, they use the same rigorous quality standards as our human options. This oil is highly bioavailable, meaning that it can be easily digested and absorbed into the bloodstream far more quickly than others.
This company's mission is to deliver the finest, purest, and most effective CBD products from seed to sale. CBDfx is the fifth-largest privately held CBD company globally, with more than 100 employees.
You can choose to administer this oil directly from the dropper or another way. It's entirely up to you.
CBDfx products are never tested on animals, so you can feel good about giving this product to your pup. With this company's formulations based on dog size, you can ensure they get the best possible effect.
Looking for a CBDfx CBD discount code? Click here for the best deal we could find.
Best Breed Specific (King Kanine Review)
King Kanine is one of the most reputable manufacturers of CBD oils exclusively made for pets. They develop naturally-derived products certified organic, free of pesticides and solvents that are great for our dogs and the environment.
Their CBD oils are manufactured in their GMP Certified, ISO-90001 Certified FDA Facility. A third-party lab tests each product to ensure purity, potency, and overall quality. They test for the absence of microbiology, pesticide, mycotoxin, residual solvents, heavy metals, and more.
What makes this CBD oil stand out from others?
King Kalm CBD is made with its proprietary broad-spectrum oil proprietary Phytocannabinoid-rich (PCR). It's extracted from the highest quality, all naturally occurring hemp and suspended in high omega-3 Krill Oil. Why is this special?
Increased omega-3 consumption boosts endocannabinoid receptors and increases endocannabinoid synthesis enzymes, making krill oil an efficient catalyst for delivering CBD to the body. This makes it highly effective when treating your pup's health problems and one of veterinarians' top recommended CBD oil for dogs.
Customer reviews speak extremely well about this brand. Dog owners report this oil has helped with unhealed skin folds, gait mobility from old dog vestibular disease, anxiousness, surgery recovery, tremors, and many other impressive stories about its effectiveness in KingKalm CBD oil.
King Kalm also offers other CDB products, including treats, KING KALM Balm – Dog Paw Balm, and soothing sprays.
King Kanine has ongoing sales and discounts. Use this link to take advantage of the best possible pricing.
Best Clinically Studied (HempMy Pet Review)
HempMy pet is a top alternative to picking a CBD oil for your dog and a reputable, well-established CBD brand.
It's also one of the few CBD brands that have been clinically studied and proven highly effective in treating pain in dogs. This company uses only human-grade ingredients for its products and never uses anything that people would not consume.
Their CBD oil is made from their Proprietary Cherry Abacus CBD Hemp Oil and is also infused with certified organic hemp seed oil and coconut oil for more nutritious deliverability.
It's a full-spectrum CBD oil, so it has all the other cannabinoids, including CBG and CBC, plus all the terpenes, flavonoids, and other natural properties of the plant for the full entourage effect. All ingredients are made from their organically-grown Colorado hemp and follow CGMP guidelines for dietary supplements.
HempMy Pet products don't contain fillers, flavors, synthetic or unnecessary additives. And with less than 0.3% THC, certified organic carrier oils, and ingredients sourced from sustainable growers, this product is perfectly safe for dogs.
The company also contributes to animal rescues and sanctuaries.
You will find Hemp Infused Olive Oil for Horses, a variety of dog biscuits, and Hemp Infused Coconut Oil and great saving opportunities with their Wellness Bundles.
Looking for a HempMy Pet coupon code? Use this link to take advantage of the best offer available.
You can also save up to 30% if you sign up for auto shipping with HempMy Pet. You can cancel anytime.
Other Mentions
Best CBD Oil For Dogs Walmart (Medterra CBD Oil For Dogs Review)
According to MjObserver, Walmart.com only offers a limited selection of CBD products from only two brands, one of them being Medterra.
This CBD oil brand offers three flavor choices to please even the pickiest pets (beef, chicken, unflavored) and comes in three different strengths to fit all sizes and temperaments.
It's made with industrial hemp grown and extracted per the Kentucky Department of Agriculture's strict guidelines.
They back their CBD oils' quality and safety with a corresponding Certificate of Analysis that you can access on their website and lead to a dedicated landing page containing information on each batch of the product, ingredient profiles, and quality control methods.
Medterra uses the highest quality CBD isolate in our product formulations. They also make joint support chews and calming chews that are as delicious as regular dog treats but with CBD benefits.
They have a solid base of customers that keeps coming back for more. The majority of their reviews a positive.
Our readers have access to 25% off at Medterra with coupon code CANINEBIBLE. Just use this link to get started.
Best CBD Oil For Dogs Petsmart (Mary's Tails Review)
If you love shopping for dog products at Petsmart, Mary's Tails Hemp Extract Tincture is the best CBD oil for dogs at Petsmart.
Your pup will get a potent and consistent serving of full-spectrum hemp extract containing naturally occurring CBD with this tincture. Mary's Tails is an excellent holistic addition to your dog's wellness routine that comes in a delicious bacon flavor.
Mary's CBD is derived from 100% organic industrial hemp plants grown on the Elite Botanicals farm in Loveland, Colorado. This brand complies with the Colorado Department of Agriculture's industrial hemp program.
One noteworthy benefit of this brand is that its CBD products are extracted from flowers and not from seeds, which results in higher potency and better quality. They also conduct tests on all raw materials, extracts, and final products in a quality control laboratory for exact standards of purity and consistency. Then the results are validated by third-party labs, which you can request upon purchase.
If you buy Mary's Tails dog CBD oil through Petsmart, you only have the 150mg and 300mg options, and purchases can only be made in-store. If you go directly to the company's website, you will find a 900mg option and several other CBD products, including gels, capsules, and balm for your best friend.
Best Dog CBD Oil Amazon
If you are looking for the best CBD oil for dogs on amazon, stop!
Amazon forbids the sale of supplements that contain controlled substances such as CBD.
Even though CBD oil contains only trace amounts of THC (the psychoactive component of marijuana), Amazon relies on a federal law that deems marijuana a controlled substance.
The closest you can get to finding cannabis-derived oils on Amazon is hemp oil for dogs. Keep in mind that hemp oil does not contain CBD, but it still has a rich profile of nutrients, fatty acids, and useful bioactive compounds that can also have health benefits.
Amazon has some of the best hemp oil for dogs.
Charlie & Buddy's Nаtural Hеmр Оіl fоr Dоgs and Billion Pets Hemp Oil for Dogs are two of the best options we found. Although they may not be as beneficial as CBD oil, they may bring some relief to your dog.
Best Dog CBD Oil Chewy
At the moment, Chewy does not sell any CBD dog products. Chewy CEO said in a CNBC interview, "CBD is not something that I'm thinking about immediately."
They do carry some of the best hemp-derived dog products for dogs.
Chapter 3
CBD benefits and research behind specific dog health issues (i.e., cancer, arthritis)
CBD is used in dogs because of its anti-inflammatory properties, cardiac benefits, anti-nausea effects, appetite stimulation, and anti-anxiety impact, said Dr. Jerry Klein, the Chief Veterinary Officer of American Kennel Club (AKC).
Research and anecdotal evidence have also shown how effective CBD treats several other health dog problems.
We also share our top CBD oil recommendations for each health concern.
Best CBD Oil For Dogs With Arthritis
If your furry friend experiences difficulty getting up and appears tired or stiff, arthritis may be the culprit. This condition is caused by the inflammation of the joints that progressively deteriorates the cartilage.
Common medications to treat dog arthritis are NSAIDs and Gabapentin, but they may cause side effects.
Can CBD oil help with dog arthritis?
Several studies have proven CBD oils' effectiveness in treating dog arthritis without the unwanted side effects these meds may cause on your dog.
To mention a few, a Cornell University study concluded that CBD oil helped increase comfort and activity in dogs with osteoarthritis. At the same time, a study in The European Journal of Pain indicated that CBD has the potential to relieve arthritis pain-related behaviors and inflammation in animals without side effects.2, 9
CBD's anti-inflammatory and pain-relieving properties stimulate receptors CB1 & CB2, which prompt the immune and nervous systems to reduce inflammation by producing more cannabinoids naturally. This is beneficial to dogs with arthritis.
What is the best CBD oil for dogs with arthritis?
Our top pick for the best CBD oil for dogs with arthritis pain is Honest Paws Relief CBD oil. It's made specially to target pain and discomfort. HolistaPet or HempMy Pet are great options if your dog suffers from mild to severe pain from arthritis; they offer different strengths.
Best CBD Oil For Dogs With Anxiety
According to the Merck Veterinary Manual, dog anxiety can be caused by different reasons, including:
Fear
Separation
Aging
Noise phobia
Aggression
You can try prescription medication, behavioral training correction, SSRIs, or even antidepressants, but nothing works better than CBD's natural approach when it comes to treating dog anxiety.
Can CBD oil help with dog anxiety?
The American Kennel Club reports on its website that "some dog owners have reported success in using CBD oil to treat dog anxiety." But, based on our research, we are confident that CBD can help a ton if you'd ask us.
In a study assessing dog owners' views, experiences, and behaviors surrounding CBD, CBD was also deemed to help reduce anxiety by over 75% of participants.10
Given how the endocannabinoid system (ECS) regulates the functions of cannabinoids and works in the same way among all mammals (dogs and humans), human studies are also valid to prove the effectiveness of CBD in dog anxiety. One particular study published in the journal CNS and Neurological Disorders – Drug Targets noted that CBD has great therapeutic uses as an anti-anxiety-like and an antidepressant-like compound.11
Plus, hundreds, if not thousands, of CBD dog anxiety testimonials from real dog parents.
What is the best CBD oil for dogs with anxiety?
Stop if you are looking for CBD oil for dog anxiety on Amazon. There is none.
Our top recommendation for CBD oil for dogs with severe anxiety (or mild) go to HolistaPet. Its fast-acting formula is perfect for dogs that quickly get anxious. Honest Paws Calm formula and The Anxious Pet are also great options.
You can find the best CBD oil treats for dogs with anxiety here.
Best CBD Oil For Dogs With Cancer
Like humans, there are a variety of cancers that affect dogs. Unfortunately, 1 in 3 dogs develops some form of cancer. Symptoms include lumps, bumps, abnormal cell or tissue growth, abnormal bleeding, enlarged lymph nodes, or swelling of the bones.
Some of the most common types of cancer in dogs include lymphoma, melanoma, and mammary.
CBD has been extensively researched as a cancer-fighting substance, but it's worth mentioning that CBD oil alone is not a cure for cancer. But research looks promising!
Can CBD oil help dogs with cancer?
Here is the research-based evidence.
Some studies have suggested that CBD can even lead to a process called cancer apoptosis or completely kill cancer cells in dogs with cancer. Still, it's too early to consider CBD as a complete treatment method for dog cancer.12
A study in mice showed that CBD could suppress the growth of mammary cancer cells. Another study reports that CBD, in addition to gemcitabine (a type of chemotherapy), reduced pancreatic cancer cell growth and increased survival rates threefold. Another animal research showed CBD has the properties and ability to kill tumor cells and slow their growth.13, 14, 15
Another benefit of CBD in dogs with cancer is that it can help with nausea, loss of appetite, and pain associated with many cancer treatments. It's also been shown that CBD increases the effectiveness of conventional cancer treatments. 16, 17
Whether you are looking to use CBD oil to treat your dog's mouth, skin, bladder, pancreatitis, lung cancer, or any other type of canine cancer, CBD is an excellent ally that could drastically help this condition.
What is the best CBD oil for dogs with cancer?
When buying CBD oil for dogs with cancer, you should look for the most natural, organic, and high potency. Our top recommendation for the best CBD tincture to treat dog cancer is Canna-Pet Advanced MaxCBD. It provides the best potency to combat a serious illness like cancer. HolistaPet & NuLeaf Naturals are also excellent choices.
Where to buy CBD oil for dogs with cancer? You can buy dog CDB oil for cancer online. Use our review section for more information.
Best CBD Oil For Dogs With Seizures & Epilepsy
If your dog has a seizure, some common signs are falling on their side and start twitching, foaming at the mouth, stiffening, jerking, or uncontrollable shaking, and can last from less than a minute or more. Epilepsy is just the term used to describe repeated episodes of seizures.
The current drugs to treat dog seizures have intolerable side effects or do not work well enough.
Does CBD oil for dogs help with seizures?
A groundbreaking study at Colorado State University found that 89% of dogs who received CBD in a clinical trial had a reduction in the frequency of seizures. 18
Furthermore, the National Institute of Health has published research demonstrating that CBD is an effective anticonvulsant with strong reductions in epileptic seizures in rodents.19
It's believed abnormal brain activity in the motor cortex (electric charges of the neurons in the nervous system) causes seizures. CBD works on CB1 brain receptors, altering brain chemistry, and reducing the chances of a seizure. Some theories claim CBD calms the neurons firing during a seizure.
What is the best CBD oil for dogs with seizures?
HempMyPet is among the best CDB oils to treat dog seizures. THC-free options like cbdMD Paw CBD Oil or Joy Organics would also be a fantastic alternative. CBD oil dog treats for seizures are also a good option for preventive care, but if your dog has a seizure and needs to stop it right away, a tincture is what you need.
Best CBD For Dog Pain
Your dog may be in pain for many reasons, including arthritis, bone disease, old age, hip and joint disease, dental problems, accidents, and more. Whatever the reasons may be, CBD can help.
Can CBD Stop Pain In Dogs?
Yes, CBD has been effective at relieving pain in animals.
Studies report CBD enhances anandamide signaling, an endocannabinoid transmitter known to be involved in the regulation (damping) of pain. A 2017 study published in the Journal of Pain found that local administration of CBD blocked osteoarthritis pain in rats.20, 21
Subsequent studies on rodents discovered that CBD (cannabidiol) and THC (tetrahydrocannabinol) help manage challenging-to-treat pain. Furthermore, a 2018 review assessed how well CBD relieved chronic pain and concluded that CBD was effective in overall pain management and didn't cause negative side effects.22, 23
So, yes, CBD oil can help relieve your dog's pain issues.
What Is The Best CBD Oil For Dogs With Pain?
Honest Paws, Green Roads, and Medterra are some of our favorite choices when treating dog pain with CBD.
Best CBD Oil For Dogs Thunderstorms, Fireworks or Phobias
Dog noise-related phobias can take a toll on your dog's health and well-being.
Sudden, loud noises can trigger anxiety and erratic behaviors in some dogs, causing many of them to run away, jump through glass (or fences), tremble with fear, or have horrible injuries.
Whether you are looking for CBD oil for dogs on the 4th of July, New Year's eve, or maybe you want CBD for dog thunderstorm or fireworks anxiety, CDB can undoubtedly help with whatever noise-related phobias your dog may have.
CBD can mimic serotonin in the brain by binding and activating the body's 5-HT1A serotonin receptors. Serotonin is the key hormone that stabilizes our mood, well-being, and happiness; thus, the calming effect CBD has on taken.24
A study in The Permanente Journal in 2019 found that CBD could hold benefits for anxiety-related disorders (noise phobias). Another research demonstrated CBD's ability to trigger the ECS to produce more natural cannabinoids, like anandamide (a neurotransmitter). This is important in treating noise-related phobias in dogs because anandamide guards against stress and reduces behavioral signs of anxiety and fear, according to a 2019 study. Anandamide has also been called the 'bliss molecule' for its role in activating cannabinoid receptors in brain cells, heightening motivation and happiness.25, 26, 27
There's anecdotal evidence all over the internet about ways CBD has helped dogs with fireworks anxiety and thunderstorm anxiety. Dog owner Joanne Schaus told CNBC that CBD oil helped her dog stop panicking. "He just didn't even notice the storm," Schaus said.28
What is the best dog CBD oil for fireworks, thunderstorms, or noise phobias?
We like King Kalm CBD oil for its fast-acting formula. Honest Paws Calm CBD oil line is also a great alternative. If you want a THC-free option, Petly is an excellent choice. They are all great at treating stress and anxiety-related issues caused by loud noises.
Best CBD Oil For Dogs With Hip Dysplasia
Dog hip dysplasia is an abnormal formation of the hip socket that can cause lameness and arthritis of the joints. This kind of joint disease can cause limping, inflammation, difficulty getting up or lying down, and decreased activity due to extreme pain to your dog.
Dogs with hip dysplasia deal with this kind of pain and inflammation daily.
Can CBD help with hip dysplasia in dogs?
CBD acts as a powerful analgesic and anti-inflammatory that help manage pain and inflammation. CBD suppresses the inflammatory response and subsequently attenuates disease symptoms through suppression at inflammatory sites and upregulation of FoxP3+ or cells in charge of maintaining the immune system's immune tolerance and homeostasis. It basically suppresses pain signals traveling to the brain.29
In addition, CBD has been shown to prevent oxidative stress and inflammatory activity in animals and dogs.30
If you've read through this part of the article, you should know CBD products can help with pain and inflammation (just read all the research cited above).
CBD can help alleviate hip dysplasia symptoms and give dogs with this condition a better quality of life, less discomfort, and more mobility.
What is the best CBD oil for dogs with hip dysplasia?
For treating hip dysplasia in dogs, we recommend HempMyPet CDB oil. If your dog is in much pain, you may want to pick a CBD oil like Canna-Pet or MediPets for extra potency and effectiveness.
Best CBD Oil For Dogs With Skin Issues
If your dog's skin appears inflamed, red, dry, with rashes (or maybe he is constantly scratching or licking), a skin condition is probably the culprit.
Can CBD oil help with dog skin conditions?
According to different studies, CBD can greatly improve your dog's skin health or problems.
A study indicated that the endocannabinoid system might target the treatment of immune-mediated and inflammatory disorders such as allergic skin diseases in dogs such as atopic dermatitis (an itchy skin disease in dogs). Further research also observed that hemp seed oil increased many essential fatty acids in the skin and relieved atopic dermatitis symptoms.31, 32
In fact, another research found that ECS plays a key role in maintaining skin "homeostasis," or the balance of skin cells and their proliferation, survival, and more. More research showed CBD could act as a cytoprotective compound (a compound that protects cells against harmful agents) against UVA or UVB Irradiation. 33, 34
Other benefits of CBD seem to help with skin dryness and possible skin growth and development, but the latter needs more research.
What is the best CBD oil for dog skin problems?
NuLeaf Naturals CBD Oil droplets are an excellent choice for skin problems in dogs. Lazarus Naturals and Medterra CBD brands are also great solutions. These three brands are organic and offer some of the most natural formulas.
Best CBD Oil For Dogs With IVDD
Intervertebral disk disease (IVDD) is the most common cause of spinal cord injury in dogs. It happens when the "cushions" in the space between spinal vertebrae bulge or burst—commonly resulting in wobbling, incoordination, pain, nerve damage, muscle spasms, and even lower-body paralysis.
A common med for IVDD is an NSAID like Rimady or Metacan. Unfortunately, there can be serious side effects of using these drugs on your pet.
Can CBD help IVDD in dogs?
Yes, CBD is a fantastic miracle, side-effect-free treatment if you haven't noticed that by now from the ton of research and evidence we've provided in this article. CBD can significantly reduce the pain and inflammation associated with IVDD, effectively preserving the quality of life of your dog.
When you administer CBD to your dog, pain signals to the brain are reduced while also actively fighting inflammation around the body. A study showed CBD could slow down intervertebral disc degeneration (damage) in animals. This degeneration is what essentially IVDD is.35
More research found that endocannabinoids (like CBD) acting through "CB1 and CB2 receptors are part of an early neuroprotective response triggered after Spinal Cord Injury that is involved in the spontaneous recovery after an incomplete lesion." Meaning, that endocannabinoid like CBD plays an important role in recovery from spinal cord injury.36
Loss of mobility is a serious symptom of IVDD. Still, CBD not only can reduce the dame to the spinal cord, but scientists showed that it also could "[improve] locomotor functional recovery…suggesting that it could be useful in the treatment of spinal cord lesions".
So, yes! There you have it, folks, more incredible stuff CBD oil can do for your pets! But wait until you see the video below!
What is the best CBD oil for dogs with IVDD?
There are many great CBD oil options for dogs with IVDD, but we like HolistaPet, cbdMD Paw CBD, and Canna-Pet and dog oil brands.
Watch how CBD oil helped this pit bull recover and walk again from a slipped disc!
Best CBD Oil For Dogs With Tumors
Many dogs often have lumps and bumps that are completely benign. However, tumors can be malignant (cancerous). Tumors are usually small lumps or bumps, but they also can occur as hairless, discolored patches, rashes, or non-healing ulcers. You should contact your vet asap if you suspect your pup has one.
Can CBD help with dog tumors?
If you've read our previous CBD and dog cancer section, you know Cannabidiol has been shown to have anti-tumor effects.
Further research, however, conducted by Colorado State University (CSU) has found that CBD slows the growth of cancerous brain tumors and is toxic to both canine and human brain cancer cells. Both the CBD isolate and extract's anti-cancer effects had almost entirely equal rates of success.37, 38
Another study published in the British Journal of Pharmacology reinforces the evidence of CBD's antitumoral properties. It showed CBD could inhibit the migration of tumoral cells. One study indicated that cannabidiol (CBD) could reduce tumor growth and size.39, 40
Findings from these studies on the anti-tumoral benefits of CBD oil in dogs suggest cannabidiol could be a useful therapy for dogs' tumors.
What is the best CBD oil for dogs with tumors?
When buying the best CBD oil for dogs with tumors, look for a strong potency tincture such as Canna-Pets, Lazarus Naturals, or Charlotte's Web. These CBD oil brands have some of the most potent drops to treat a condition like this.
Best CBD Oil For Dogs With Cushing's Disease
Cushing's Disease (CD) is an endocrine disorder system disorder and health issue when a dog's body produces too much cortisol.
Cortisol is a hormone that helps the body respond to stress, control weight, fight infections, keep blood sugar levels in check, and a wide range of processes throughout the body, including metabolism and the immune response. You can see now why too much or too little cortisol can be life-threatening!
There are two major types of CD that affect dogs: (i) Adrenal dependent caused by a tumor on the adrenal gland (80% to 90% of dogs have this type) (ii) Pituitary dependent caused by a tumor on the pituitary gland (15% of dogs develop this type). Another kind, called iatrogenic Cushing's syndrome, happens to dogs over-prescribed with steroids.
Can CBD oil help a dog with Cushing's Disease?
We already know CDB oil has killing-tumor cell properties (read our cancer & tumor CDB sections), so that's more than half of the battle won at treating CD as this health condition is mainly caused by tumors in the pituitary and adrenal glands. Once the tumors are gone, the hormonal cortisol imbalance and symptoms caused by CD will be reduced or eliminated.
Research has shown that cannabinoid receptors (receptors that cannabinoids like CDB can activate) are found throughout the endocrine system, including the pituitary gland. They found these receptors play a key role in our response to stress and the hypothalamic-pituitary changes. Activating these receptors is known to have a clear effect on sleep cycles, stress levels, appetite, food intake, energy balance, and even metabolism.41
The endocannabinoid system is known to influence hormone levels and regulates our stress responses. In fact, a study on the effects of cannabidiol on cortisol found that CBD can directly affect cortisol secretion.42
What is the best CBD oil for dogs with Cushing's Disease?
Our picks for the best CBD oil for dogs with Cushing's Disease are Medterra, 4 Corners CBD, or King Kalm.
Best CBD Oil For Hyper Dogs (Hyperactivity, Hyperkinetic)
If your dog always seems hyper or overly excited, it may be suffering from hyperactivity, also known as hyperkinetic. These dogs typically have a frenetic, impulsive, or abnormal behavior, lack of self-control, and short attention spans. Dogs suffering from this condition show increased heart and respiratory rates, poor body condition, reactivity, and agitation.
Can CBD help with dog hyperactivity?
In short, yes! A study on animals revealed that CBD provides anxiolytic effects (calming properties) upon consumption. A survey of US veterinarians showed that vets often prescribe CBD due to CBD's effectiveness in reducing dogs' anxious behaviors.
Hyperactivity in dogs is anxiety-related and often has the same symptoms, such as pacing, restlessness, and compulsive behavior reports the American Kennel Club. Administering CBD oil to your hyper dog may help your dog calm down and thus damp hyperactive dog behaviors. (Read our CBD dog anxiety section for more).
What is the best CBD oil for dogs with Hyperactive dogs?
Our favorite CBD oils for hyper dogs are Honest Paws Calm, cbdMD Paw CBD, and Just CBD. These tinctures are sure to do the trick in calming your hyper dog.
Best CBD Oil For Inflammatory Bowel Disease
Inflammatory bowel disease (IBD) occurs when a dog's stomach, GI tract, and bowels (intestines) from A contact inflammation resulting in inhibition of the normal absorption and passage of food, vomiting, diarrhea, blood in the stool, and other several gastrointestinal diseases.
Can CBD help with dog Inflammatory Bowel Disease (IBD)?
As discussed previously and supported by research, CBD has powerful anti-inflammatory properties that can relieve the stress and pain associated with unusual bowel movements. CBD works with the endocannabinoid system to restore homeostasis.
What is the best CBD oil for dogs with Inflammatory Bowel Disease?
Our picks to treat IBD with CBD oils go to Petly, Joy Organics, and Charlotte's Web dog oils.
Chapter 4
Other CBD products for dogs
Comparison Table
A side-by-side comparison of the best CBD oil companies for dogs in the market.
| Brand/Features | HolistaPet | Honest Paws | HempMy Pet | Green Roads | Canna Pet | NuLeaf Naturals | King Kanine | cbdMD paw CBD | Petly CBD | The Anxious Pet | Just CBD | MediPets | Joy Organics | Lazarus Naturals | Charlotte's Web | CBDfx | Medterra | Mary's Tails | 4 Corners |
| --- | --- | --- | --- | --- | --- | --- | --- | --- | --- | --- | --- | --- | --- | --- | --- | --- | --- | --- | --- |
| Starting Price For CBD Oil | $25.95 | $39.95 | $39.00 | $19.99 | $79.99 | $38.50 | $29.99 | $19.99 | $39.99 | $58.00 | $17.99 | $29.99 | $29.95 | $12.00 | $59.99 | $20.00 | $19.99 | $25.49 | $21.24 |
| Best For | Best Overall | Best Heatlh-Specific | Best Clinically-Studied | Best Value | Best Potency | Best Organic | Best Breed Specific | Best THC-Free | Best Broad Spectrum | Best Vet Formulated | Best Flavor & Taste | Best Variety & Strength | Best Premium | Best Discounts For Vets, Disabled & Low Income | Best Subscription | Best Size Specific | Best At Walmart | Best At PetSmart | |
| Type | Full Spectrum | Full Spectrum | Full Spectrum | Broad Spectrum | Superior Broad Spectrum | Full Spectrum | Broad Spectrum | Superior Broad Spectrum | Broad Spectrum | Full Spectrum | Isolate | Full Spectrum | Broad Spectrum | Full Spectrum | Full Spectrum | Full Spectrum | Isolate | Full Spectrum | Full Spectrum |
| THC Level | Less than 0.3% | Less than 0.3% | Less than 0.3% | 0% | 0% | Less than 0.3% | Less than 0.3% | 0% | 0% | Less than 0.3% | Less than 0.3% | Less than 0.3% | 0% | Less than 0.3% | Less than 0.3% | Less than 0.3% | 0% | Less than 0.3% | 0% |
| COA Available* (Third Party Tested) | Yes | Yes | Yes | Yes | Third Party Tested (no reports available) | Yes | Yes | | Third Party Tested (no reports available) | Yes | Yes | Yes | Yes | | Yes | Yes | Yes | Yes | Yes |
| CO2 Extraction Process | Yes | Yes | Yes | Yes | Yes | Yes | Yes | Yes | Yes | Yes | Yes | Yes | Yes | Yes | Yes | Yes | Yes | Yes | Yes |
| 100% Organic | Yes | Yes | Yes | Yes | | Yes | Yes | | Yes | Yes | Yes | Yes | Yes | Yes | Yes | | Yes | Yes | Yes |
| GMO Free | Yes | Yes | Yes | Yes | Yes | Yes | Yes | Yes | Yes | Yes | Yes | Yes | Yes | Yes | Yes | Yes | Yes | Yes | Yes |
| 100% Pesticide & Solvent Free | Yes | Yes | Yes | Yes | Yes | Yes | Yes | Yes | Yes | Yes | Yes | Yes | Yes | Yes | Yes | Yes | Yes | Yes | Yes |
| Subscription Available | Yes | Yes | Yes | Yes | Yes | Yes | Yes | Yes | Yes | Yes | Yes | Yes | Yes | Yes | Yes | Yes | Yes | Yes | Yes |
| Money Back Guarantee | 30 Days | 30 Days | 30 Days | 30 Days | 30 Days | 30 Days | 30 Days | 30 Days | 30 Days | 60 Days | 15 Days | 30 Days | 30 Days | 90 Days | 30 Days | | 30 Days | 30 Days | 30 Days |
| CBD Dog Treats | Yes | Yes | Yes | | Yes | | Yes | Yes | | Yes | Yes | Yes | Yes | Yes | Yes | | Yes | | Yes |
| CBD Spray | | | | | | | Yes | | | | | Yes | | | | | | | |
| CBD Shampoo | Yes | | | | | | | | | | | | | | | | | | |
| CBD Topical Balm | | Yes | | | | | Yes | Yes | | | | | | | | | | Yes | |
| Other CBD Products | Calming Chews | CBD Infused Peanut Butter | | | CBD Capsules | | | | | CBD Bars & Calming Chews | | | | | Calming Chews | | Calming Chews | | |
| Coupon Code | | Use CANINEBIBLE for 15% discount | | | | | | | | | | Use CanineBible for 55% discount | | | Use CanineBible for 15% discount | | Use CanineBible for 25% discount | | Use CanineBible for 25% discount |
| Review | Read Review | Read Review | Read Review | Read Review | Read Review | Read Review | Read Review | Read Review | Read Review | Read Review | Read Review | Read Review | Read Review | Read Review | Read Review | Read Review | Read Review | Read Review | Read Review |
| Website | Website | Website | Website | Website | Website | Website | Website | Website | Website | Website | Website | Website | Website | Website | Website | Website | Website | Website | Website |
*A COA is a Certificate of Analysis or a document issued by an independent lab that confirms that the product meets its product specification and desired quality standards.
Types of CBD Products Available For Dogs
While CBD oil is the most popular alternative for dogs, there are other ways your furry dude can get the benefits from CBD.
CBD Capsules For Dogs
CBD capsules are just another way for your dog to consume and get the benefits of CBD.
CBD pills for dogs are perfect for those dogs who dislike the flavor of the oil. You can administer it directly or with food.
The best CBD capsules for dogs will provide equally beneficial results to your pup, but it may take slightly more time to see the effect because the capsule has to dissolve once it enters your dog's body.
Calculating CBD capsule dose for dogs should be simpler as each pill has a predisposed amount and potency.
CBD Dog Treats
Administrating your dog's oil through a tincture can sometimes be challenging for several reasons, including the dog won't sit still, the dog hates the smell or taste or avoids opening his mouth. Whatever your reason may be, CBD dog treats can provide all CBD benefits in an enjoyable and tasty snack.
CBD Dog Treats are convenient and come in many irresistible flavors that your pup won't know the difference between his favorite treat and medicine.
The only difference between dog CBD treats and CBD oil for dogs is that edibles usually take longer to absorb as they have to be digested before the effects kick in.
Learn about CBD dog treats for dogs, including when to use them, dosages, best CDB dog treats, and more in our guide.
CBD Spray For Dogs
CBD spray for dogs is not intended to be sprayed all over your dog.
These spray bottles are designed to make it easier for parents to apply CBD to their dog's food or beverage.
Like CBD oils, you can find a variety of dog CBD topical sprays for skin, anxiety (calming), or any other health concern.
CBD Oil Topicals For Dogs (Cream, Balms, Shampoos & Gels)
CBD topicals pr balms for dogs are applied directly to the skin. This allows a localized relief effect.
If your dog needs constant relief during the day, these CDB balms or creams are a great option. sham
The main difference between CBD oil and topical is that the ladder is a transdermal treatment option meaning it does not reach the bloodstream; thus, its moderate benefits and effectiveness.
If your dog suffers from arthritis, muscle pain, joint pain, or skin allergies, administer a topical to provide localized pain relief and a soothing sensation. You can also use it with your current CBD oil treatment for more highly targeted support.
CBD Oil For Dogs Versus Humans
Is CBD oil for dogs and humans the same?
There is no significant difference in the CBD oils manufactured for humans or dogs. However, the dosage amount of human CBD tinctures. The main differences are the labeling standards imposed by the FDA, flavors available, and dosage amounts per bottle.
Can I Give My Dog Human CBD Oil?
You can technically give your dog human CBD oil for humans, but veterinarians strongly advise against this practice. CBD oil for people has different dosage levels and potencies (usually higher) and other ingredients that may not suit your pet. You may be running the risk of overdosing your dog when giving human CBD oil.
It's advised to give your dog what's manufactured for them, not people, and vice versa.
Is CBD Oil For Dogs Worth It? Alternatives
CBD is a growing industry and trend among dog parents.
The ongoing research results are positive and promising for this new holistic medicine alternative. Giving cannabinoids to your pup is worth it. From all the research and evidence provided in this article, we are sure you'll be impressed with the results. Don't forget to run it through your vet if you are thinking about giving CBD to your dog.
Like It? Subscribe & Share!