Green Roads Pet Dog CBD Oil Reviews 2023 [Tested & Experience]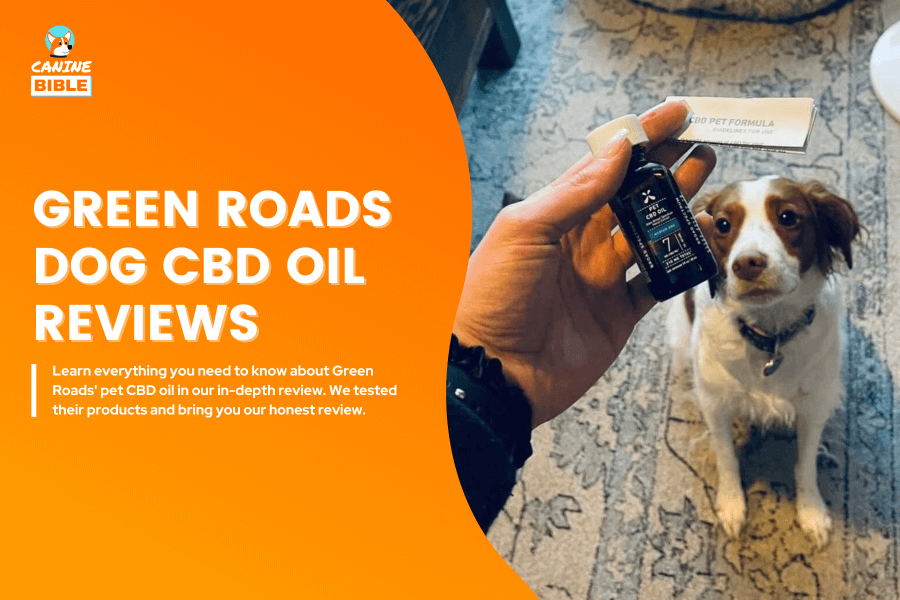 Canine Bible is reader-supported. We receive affiliate commissions via some of our links. This doesn't affect rankings. Learn more.
This is a comprehensive review of Green Roads pet CBD oil for dogs.
We tested Green Roads' pet CBD drops on one of our dogs to provide you with thoughtful and informed purchasing decisions regarding this CBD company.
Below, you will find a detailed account of our dog's experience with the product, including insights on ingredient quality, beneficial results, taste, effectiveness, and other important factors you should know before considering Green Roads CBD for your pet. Let's dive right in!
Table of Contents 📖 Chapter 1: Full Review Chapter 2: Our Experience Chapter 3: Tips, FAQs & More
Green Roads CBD Oil For Dogs Review
A glance at our favorite products from Green Roads.
Green Roads Pet CBD Review — At A Glance
Who Is Green Roads CBD?
Based out of Florida, Green Roads has been in the CBD industry for eight years. According to the Brightfield Research Group, the company is ranked as the largest privately-owned CBD company in the U.S. Today, Green Roads CBD products are sold in over 10,000 retail locations. Laura Fuentes, the CEO and co-founder, is a medical professional who spent more than two decades as a licensed compounding pharmacist before starting Green Roads. "We look at our end-user as patients, not as customers," Fuentes says. "Which translates into a different level of commitment regarding product quality and customer care."
Green Road's goal is to formulate CBD products for therapeutic purposes to help every person find the healthiest version of themselves through the power of plants.
Why Use Green Roads? Benefits
Here are some main reasons and benefits of getting Green Roads pet CBD drops.
It's important to note that while there are many anecdotal reports and some studies supporting these benefits, more research is needed in this area, and it's always advisable to consult a veterinarian before using CBD products on your pet. To learn more about the benefits of CBD for pets, our 'CBD Oil for Dogs' article presents the studies supporting the benefits outlined above, including other vital information you need to know about cannabinoids.
Green Roads Pet CBD Key Features
A look at the most notable features of Green Roads.
Green Roads Sourcing & Manufacturing
Green Roads sources hemp plants grown within the U.S., primarily from Colorado, Kentucky, and Oregon. The company only partners with American farms that exceed the definition of industrial hemp via the U.S. 2018 Farm Bill, maintain high standards and implement the best practices in hemp cultivation.
The manufacturing arm of Green Roads is Clarity Labs LLC, based in Florida. They recently received the permit to be an official over-counter (OTC) products manufacturer from the Florida Department of Business and Regulation. This means Clarity Labs' equipment, safety standards, staff certifications, and testing methods must all meet the FDA's rigorous requirements to keep this permit.
Green Roads Pet CBD Ingredients
Here is a list of the ingredients that make up all Green Roads CBD pet products.
Green Roads Certificate Of Analysis (Lab Sheet Pet CBD)
We like that Green Roads third-party tests every batch to ensure purity, potency, and safety.
They make it simple for customers to validate that what's on the product's label (i.e., CBD content, THC, etc) is accurate.
We only had to scan the QR code on the packaging with our phone to view our product's lab results. We verified the lab results for accuracy, and here is what we found.
*Analysis report performed by Kaycha Labs on July 27, 2020, & Oct 14, 2020 (Terpenes only)
For a more detailed lab result analysis, you will find Green Roads' Lab Sheets for the Medium Dog Drops product below.
Green Roads Dog CBD Oils
Here are the different Green Roads CBD pet formulas that this company offers.
Green Roads Pet CBD Oil For Small Dogs & Cats
Price:  $19.99

Overview
60mg CBD – 30ml bottle
2mg CBD per 1ml
Ideal for small dogs under 15lbs & Cats
Broad Spectrum 

Why & When Should You Consider This Recipe?

Green Roads CBD drops for small dogs & cats is a great source of support if your small pal gets jittery over trips to the vet, new house guests, or scary thunderstorms. These drops are ideal if your small dog struggles with tired joints and limbs and other aging-related challenges.
Green Roads Pet CBD Oil For Medium Dogs
Price: $39.99

Overview
210mg CBD – 30ml bottle
7mg CBD per 1ml
Ideal for medium-sized dogs 15-50lbs
Broad Spectrum 

Why & When Should You Consider This Recipe?

Green Roads CBD drops for medium dogs is perfect for supporting your medium-sized dog through stressful moments like long car rides, thunderstorms, or trips to the vet. These drops are also a great way to add additional support to the troubles that creep up on dogs in their later years.
Green Roads Pet CBD Oil Large Dogs
Price: $59.99

Overview
600mg CBD – 30ml bottle
20mg CBD per 1ml
Ideal for large dogs over 50lbs
Broad Spectrum 

Why & When Should You Consider This Recipe?

Green Roads CBD drops for large dogs are among the best CBD oils for dogs and a great way to support your large dog through stressful moments like airplane rides, thunderstorms, vet visits, or age-related challenges. 
Green Roads Dog CBD Oil Dosage
CBD dosing can be challenging to get right initially since there is no official dosing standard, and each manufacturer has unique dosing guidelines. To learn all about CBD dosing, check out our guide.
Here's the lowdown of Green Roads' dosing recommendations for their pet CBD products.
Pro Tip: If your pet is new to CBD, we recommend starting with half (50%) of the recommended amount and increasing from there. Always talk to your vet first. However, some pets may require more CBD. Increasing the amount of CBD is acceptable but do so slowly over time.
How Much Do Green Roads Cost?
| Green Roads | Size | Weight | Quantity | Price |
| --- | --- | --- | --- | --- |
| Green Roads Pet CBD Oil | Small Dogs & Cats | Under 15lbs & Cats | 60mg CBD x 30 ml | $19.99 |
| Green Roads Pet CBD Oil | Medium Dogs | 15 - 50 lbs | 210mg CBD x 30 ml | $39.99 |
| Green Roads Pet CBD Oil | Large Dogs | Over 50 lbs | 600mg CBD x 30 ml | $59.99 |
Green Roads Pet CBD Coupon
Use this link to take advantage of the best offers from Green Roads.
The Judges
We picked one Canine Bible dog to give us their paw-honest opinion and verdict.
Emmie
Age: 4.5 ┊ Gender: Female ┊ Breed: Brittany ┊Weight: 30 lbs ┊ Health Concerns: Anxiety ┊ Personality: She is an angel

"Since we started giving Emmie Green Roads CBD oil, I've noticed a difference in her energy and mood. She used to be anxious, especially during thunderstorms, but now she's much more relaxed. Her joints also seem to be less stiff, and she's been more playful and happy." — his person, Kassie Reid
Green Roads Dog CBD Oil Unboxing
Green Roads' packing was nice overall. All the items (from the box to the bottle) are made from high-quality materials. Everything was labeled and well organized.
Here is everything that came in the box:
My Green Roads Dog CBD Oil Video Review
Watch our canine judge Emmie test Green Roads Dog CBD Oil.
My Personal Green Roads Dog CBD Oil Testimonial
My Dog's Experience With Green Roads Dog CBD Oil
We tested Green Roads CBD drops on our furry friend Emmie to see if she would find them beneficial. We looked for signs of health improvements, adverse effects, and overall well-being. Here are the results.
Ordering, Shipping & Delivery
The ordering process is pretty straightforward. Simply select the product of your choice, enter your shipping and payment information, and you are good to go. After placing your order, you will receive a follow-up email with an order confirmation and another email with the tracking information and delivery date once your package has been shipped. Our order took about four days to arrive. Green Roads works with all major shipping carriers. They pick the shipping company that's best suited to ship to your location so you so can receive your purchases as soon as possible. Shipping is free for orders over $50.
Our Green Roads Customer Service Experience
From our personal experience, Green Roads has great customer service. We received a timely response every time we contacted them regarding their products. We also tested Green Road's customer service by having a few of our dog owner friends inquire about Green Road's CBD dog oil through email, phone, and chat to gauge their responsiveness and attentiveness. Overall, our pet parents were more than satisfied with the attention. Furthermore, their website provides an array of options for disabled customers. We found that pretty outstanding!
What We Like & What We'd Change
What Customers Think About Green Roads Dog CBD Oil
Here is what real-verified customers had to say about this Green Roads Dog CBD Oil.
Green Roads Pet CBD Positive Review
"I've tried multiple types of CBD for my dog. This is the only one that has had a substantial effect on him. I had to use a higher dose, which I did so in very small increments and very carefully, to see a difference. Which does make us a pretty expensive option. However, it has really helped him to be calmer and able to handle stressful situations."

Hallie F. Verified Buyer
"My Aussie is very high strung and perpetually anxious. One thing she does all night long is chase lights and shadows. I was about to take her to a very pricey canine behaviorist when a friend suggested CBD oil. I bought some from Green Roads and instantly noticed a change. She's still silly and a little anxious, but much calmer. She no longer runs around the house jumping on the furniture or walls trying to get lights 😂 so that's a major improvement. But what I love the most is that she's still the same Zoe. I'm glad I didn't have to go with something that would alter her mood more. I've recommended it to several others. It tastes good, and she seems to like it. I give my 40 lb Aussie about 1 mL and not every day. My Husky doesn't need any but wants what the other has so I give her a teeny tiny drop for a dose. I've never been super brand loyal but I just ordered more, 4 more bottles in fact!"

Amanda M. Verified Buyer
Green Roads Pet CBD Negative Reviews
"Been using this for about a month now. Our 11-year-old Pembroke Corgi was diagnosed with degenerative myelopathy last year in August '18. He's always had mild anxiety issues with driving or fireworks. Now with a progressive disease that's slowly leaving him lame in the hindquarters, I am searching for something to help ease those issues and the new ones that come with a loss of mobility. So far, there has been no obvious change with a 1ml two times a day dosage. We are very active in his care and are hopeful we will find something that helps."

Meghan F.Verified Buyer
"I've tried CBD dog treats and oils. They all seem to have the same effect on him, terrible dog farts. He also doesn't like the taste."

Doralee M.Verified Buyer
Overall, upon a visual survey of customer satisfaction for Green Roads, the positive reviews far outweigh the negative. Out of the thousands of reviews submitted by real Green Road customers (on Green Roads, Trustpilot & review platforms combined), more than 90% are positive reviews.
Other Green Roads Products
Green Roads not only offers CBD products for pets but also award-winning CBD products for people, including:
Green Roads Dog CBD Oil Review — Conclusion & Alternatives
Overall, Green Roads gets excellent reviews from pet parents for their CBD products' high quality and effectiveness.
They offer, by far, the best value for your money without sacrificing quality. We love that they use third-party lab tests for everything. That's a huge plus for transparency and safety. If you are looking for Green Roads CBD dog treats, unfortunately, they don't carry CBD treats, but you can find CBD chews in our reviews of best dog CBD treats.
We feel confident recommending Green Roads' dog CBD products to anyone looking for a high-quality brand. Read our best CBD oils for dogs article to compare other high-quality options.

Like It? Subscribe & Share!
Canine Bible authorship represents the unified voice of our entire editorial team rather than a single author. Each article, blog post, and review published under the Canine Bible name undergoes a rigorous review process, involving all team members to guarantee accuracy and up-to-date in accordance with the latest veterinarian research. This collaborative effort is an integral part of our editorial process and aligns with our four pillars of content creation. This approach ensures our content is backed by expert knowledge and factual information, offering our readers reliable, actionable, and trustworthy content.