Best Pet Safe Lawn Fertilizer: Grow Dog-Friendly Grass [Reviews 2023]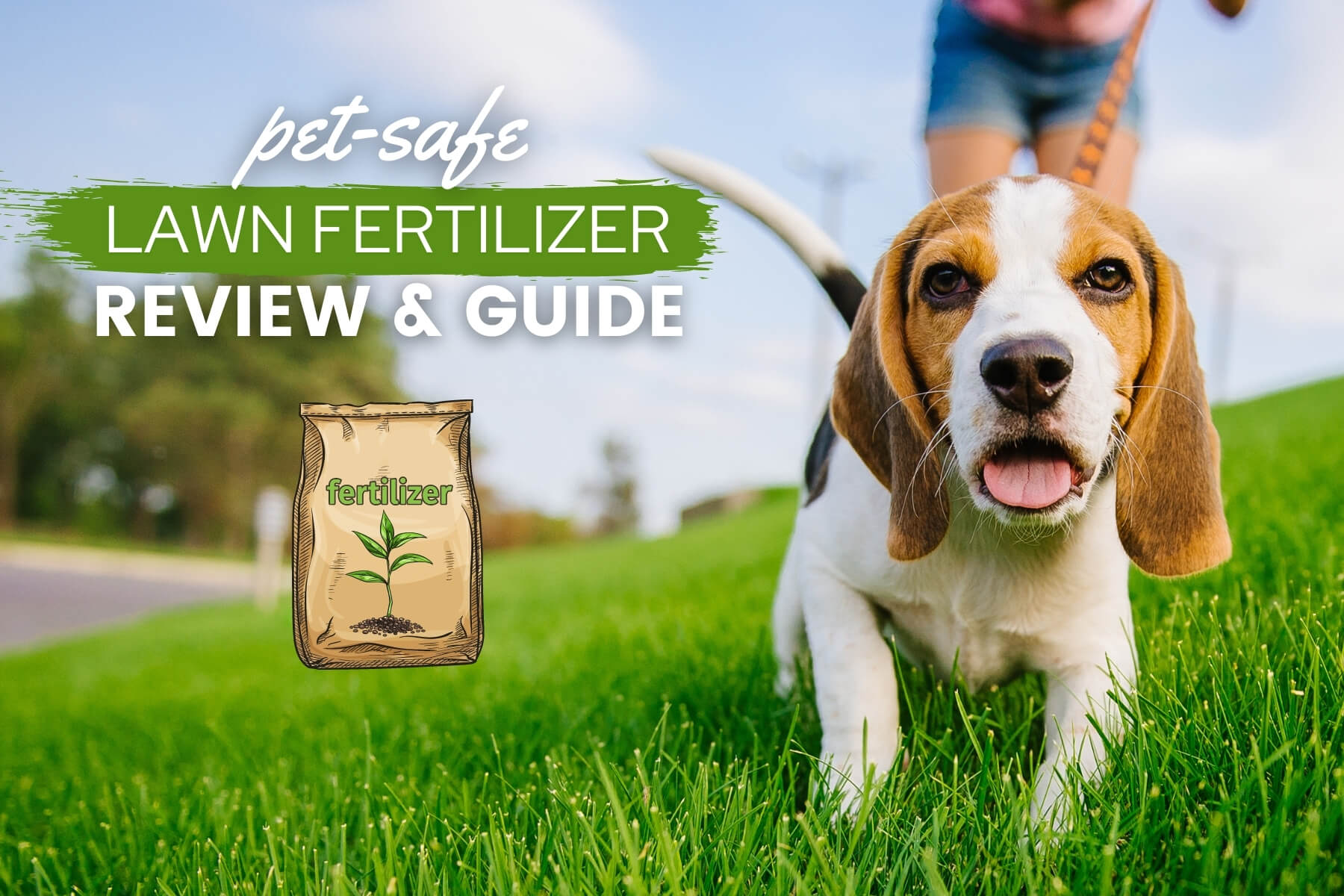 Canine Bible is reader-supported. We receive affiliate commissions via some of our links. This doesn't affect rankings. Learn more.
This is the ultimate guide to finding the best pet-safe lawn fertilizer.
Using the right fertilizer is vital for proper lawn care and providing your plants with the nutrients, they need to grow. Unfortunately, if you have dogs or other pets that play on your lawn and gardens, many chemicals found in traditional fertilizers can have questionable side effects on their health.
Luckily, there are pet-friendly lawn fertilizers that can help you achieve your grass goals while keeping your dogs happy and safe.
Our team of researchers found the best fertilizer safe for dogs and other pets. They also give you insights and literature on all things fertilizers and pets. Let's get started!
Table of Contents 📖
Top Pet-Safe Lawn Fertilizers At A Glance
Scroll to the right to see all our recommendations for the top dog-friendly fertilizers.
You can click this link to go to the reviews, but we encourage you to keep reading to make a more informed decision about picking the best pet-safe lawn care products.
Why You Should Trust This Review
What Are Pet-Safe Fertilizers?
Traditional lawn care fertilizers use synthetic ingredients and chemicals that may put your family and pets at risk. Fertilizers are often combined with weedkillers (herbicides), pesticides, insecticides, and snail bait. These ingredients make fertilizers toxic if ingested or inhaled by dogs and other pets.
You don't have to worry about exposing your pets to dangerous chemicals with pet-safe fertilizers. A fertilizer that is safe for pets has an all-natural composition made up of non-toxic ingredients.
Typically, pet-friendly fertilizers are safe to walk on immediately after application but always read the label and recommended instructions. To further minimize the risk to your pets, we advise you to water your lawn immediately after applying the fertilizer and wait a couple of days (or as instructed) before letting Fido back on the lawn again.
Pet-Safe Fertilizer Types
The main types of pet-friendly fertilizers are solid, liquid, and granular. None of these types of fertilizer should be ingested or inhaled.
Why Use Pet-Friendly Fertilizers?
There are several reasons why you may want to use yard fertilizer safe for dogs, including:
If your dog is a grass eater, switching to dog-friendly lawn care fertilizer is advised
Some pets find fertilizer to be palatable and may eat the product
They are a safe alternative used in gardens to enhance the beauty and growth of our plants without harming our pets
Avoid fertilizer poisoning in dogs
Most pet-friendly lawn treatments do not contaminate the environment
If you have dogs who play outside often
Avoid unsuspected vet visits
The Best Pet-Safe Lawn Fertilizer Reviews
If you want to make your lawn and garden safe for your pets, our best pet-friendly lawn fertilizer reviews will help you create the safest lawn fertilizer for dogs.
We've chosen our top picks based on ingredient quality, customer reviews, and price, among other factors. So, what is the best pet-friendly lawn fertilizer? Let's take a look!
Best Overall Pet-Safe Fertilizer — Sunday Lawn Care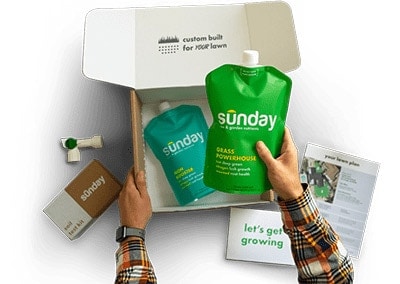 Why We Picked & Recommended It
Most Sunday lawn plans include three shipments of Sunday lawn care products delivered roughly every 3-4 months. However, this varies based on the time of the year you placed your order, climate, and grass growth. We can honestly say Sunday is the best dog-friendly lawn fertilizer. They also have an option for lawns or agricultural land equal to or larger than 13,500 sq ft.
What Sets It Apart From Competitors
To get a more accurate assessment of your lawn's needs and possible nutrient deficiencies, Sunday sends a soil testing kit with your first shipment and will ask you to take a few samples from around your yard. Once the samples are back in the lab and analyzed, they will amend any nutrient deficiencies in your plan. A prepaid shipping label is included.
Key Features
Price
The price for a Sunday lawn care plan starts at $89 and is dependent on lawn size. Your subscription automatically renews, but you can cancel anytime. And they offer a satisfaction guarantee. Sunday provides professional lawn care, yet it's cheaper than most full-service lawn care plans or other fertilizers.
Ingredients
How It Works
Here is what you can expect when going through the sign-up process on Sunday.
Our Video Review
What We Like & Don't Like
Looking for a Sunday Lawn promo code? Our readers get $20 off their order using CANINEBIBLE20 at check out. Just use this link to get started.
Best Organic Lawn Fertilizer Safe For Dogs — Scotts Natural Lawn Food
Why We Picked & Recommended It
Scotts Natural Lawn Food is an organic pet-safe lawn fertilizer perfect for all grass types during any season. It's formulated with natural ingredients to green and feed your lawn naturally and is OMRI-Listed for organic use. You can count on Scotts pet-friendly Natural Lawn Food to naturally build a thick, green lawn without risking your pet's health. Scotts recommends feeding four times a year and allowing 6 to 8 weeks between applications for best results.
What Sets It Apart From Competitors
The best thing about this lawn food is kid and pet-friendly; it is safe to walk on immediately after application.
Ingredients
Nitrogen, phosphate, soluble potash, calcium, and sulfur
What We Like & Don't Like
Also A Great Pet-Friendly Lawn Fertilizer — Pet Safe Lawn Fertilizer
Why We Picked & Recommended It
The grass is always greener with Pet Safe Lawn Fertilizer 5m. Properly applying this pet-friendly lawn care produce provides up to 12 full weeks of feeding. It also has higher amounts of slow-release nitrogen, which feeds your lawn twice as long as other fertilizers. You can have a professional-looking lawn that the whole family can enjoy safely!
What Sets It Apart From Competitors
Unlike other fertilizers requiring you to wait 24-48 hours or more after application before using the lawn again, Pet Safe Lawn Fertilizer dissolves almost instantly into the lawn's root zone upon watering, keeping the paws and feet of your loved ones safe. It allows you immediate return after watering the product as directed.
What We Like & Don't Like
Cheapest Pet-Safe Fertilizer — GreenView Turf Nurture
Why We Picked & Recommended It
Another good grass fertilizer safe for dogs option is GreenView Turf. This fertilizer is ideal for dull, stressed lawns that need a second chance. Think of Turf Nurture as prescription lawn therapy for dying lawns or lawns that need repair and renewal. Turf Nurture provides the nutrients for growth and reinvigorates the root system for only green and dense lawns. It's also a pet-friendly lawn treatment when used as directed and without harmful chemicals. It can be applied in Spring, Summer, and Fall. There are no surge growth problems with this granular fertilizer for dogs, rabbits, or whatever pets you have playing or living on your lawn.
What Sets It Apart From Competitors
Its natural base formula contains 70% slow-release nitrogen, making it effective over a much longer time. It also delivers 15-0-7 strength lawn restoration to reduce lawn stress caused by drought, heat, and cold. You can start seeing progress after two weeks and significant improvement within 4 to 6 weeks.
Ingredients
Nitrogen, soluble potash, calcium, magnesium, and sulfur.
What We Like & Don't Like
Best Pet-Safe Fertilizer For Coverage — Jonathan Green Organic Lawn Food
Why We Picked & Recommended It
Jonathan Green Organic Lawn Food is a great alternative for pet-friendly grass fertilizer needs if you want maximum coverage. Packed with excellent turf nutrients that gently feed for 8 – 10 weeks and cover lawns up to 5,000 to 15,000 square feet, depending on which bag you buy. It's made of a complex organic formula derived from feather meal, soybean meal, molasses, and wheat middlings. It comes in homogenous, easy-to-spread granules that promote healthy grass growth. It can be used on established and newly seeded or sodded lawns in the spring, summer, or fall. Jonathan Green lawn care requires time to break down the fertilizer nutrients so the grassroots can absorb them.
What Sets It Apart From Competitors
It contains iron for deep greening, great for establishing new seedlings. It's children and pet-friendly and can be used immediately after spreading—no traces of undesirable manures or sludge-based fertilizers.
Pet-Safe Liquid Lawn Fertilizer
Sunday lawn care is by far the best option when it comes to Pet-Safe liquid lawn fertilizer. But, if you are looking for another option, Simple Lawn Solutions Advanced 16-4-8 Balanced NPK is also a good alternative.
Why We Picked & Recommended It
Simple Lawn Solutions is great for any grass type and is produced in the United States by a family-owned business with 25 years of former experience in the commercial professional turf industry.
What Sets It Apart From Competitors
It's made from high-quality ingredients. Its NPK (Nitrogen, Phosphorus & Potassium) percentage ratio of 16-4-8 provides the perfect blend of key macronutrients. This lawn liquid food turf fertilizer also contains Seaweed & Fish.
Pet-Safe Indoor Plant Fertilizer
Why We Picked & Recommended It
NutriDense by Humane NPK 6-4-3 is organically designed for all your indoor fertilizing needs. This pet-safe flower fertilizer can be used on your kitchen herb gardens, succulents in the home office, fiddle leaf fig trees, houseplants, flower gardens, vegetable gardens, you name it.
It's easy to apply; shake NutriDense onto the soil around houseplants, then water. Your plants will now absorb nutrients and water from the soil faster than average. Made in the USA by 4th generation farmers, their products are safe for people & pet-safe because they don't use ingredients such as biosolids, composted household waste, or synthetic chemicals.
They only use natural products from mother nature, and it's organic so that they won't burn or scorch your plants. Plus, it's fragranced and a pleasant experience inside your home and office space.
What Sets It Apart From Competitors
NutriDense is a powder that quickly penetrates the soil when you need to revive a plant ASAP. It contains short and long-term release nutrients to help plants immediately and weeks in the future. This indoor plant fertilizer brand is proven to increase fruit production, improve foliage, boost new starts, help transplants, and revive malnourished plants.
Homemade Pet Safe Lawn Fertilizer
Don't like any of these pet-safe fertilizer companies, here is how to make your own.
Ingredients
1 cup Epsom Salts
1 cup Listerine-type mouthwash
1 cup liquid dish soap (not antibacterial, as plain and simple as possible)
1 cup ammonia
1 bottle of beer
1 can of sugary soda
Instruction
Mix all these ingredients in a pail until the salt is well dissolved, and then transfer to a garden sprayer.
Don't water during the heat of the day. It's wasteful, and you could scorch your grass.
Please use this Homemade Pet Safe Lawn Fertilizer recipe at your discretion. Consult with a lawn care professional first.
Recipe From: Herb Farmer
Why Avoid Non-Pet-Friendly Fertilizers?
Are fertilizers safe for dogs? No, traditional (or non-pet-friendly) fertilizers are considered harmful for dogs!
Traditional fertilizers are typically mixed with pesticides, herbicides, and other toxic ingredients. Some tragic stories remind us of the importance of using pet-safe lawn care products.
Deanne Wishert tells WYFF News 4 that her two dogs died from pesticide poisoning after playing around a popular Upstate creek in Laurens County.1 A similar story comes from a professional skater who claims to Newsweek that her dog died after exposure to pesticides sprayed on a neighbor's lawn. Another more tragic story notes seven dogs died after eating paraquat herbicide in Portland, Oregon park.2
In fact, a study by the National Cancer Institute found that dogs were two times more likely to develop lymphoma if their owners used a popular herbicide on their lawns four or more times a year.3
Toxic Ingredients
Are fertilizers toxic to dogs? Yes. A fertilizer that is not pet-friendly can contain harmful substances, including:
Herbicides
Fungicides
Pesticides
Iron
Sodium
Calcium
Copper
Zinc
Ammonium (irritates skin and lungs)
Disulfoton (responsible for seizures and pancreatitis)
When consumed in large amounts, these substances can be toxic for dogs. Minerals such as nitrogen, potash, phosphorous, and potassium are also found in most lawn fertilizers. These minerals are generally non-toxic to pets.
Fertilizer Poisoning Symptoms In Dogs
If your dog has ingested or inhaled fertilizer, here are some symptoms it could experience.
Ulceration in the gastrointestinal tract
Redness on the skin
Breathing difficulties
Tearing and redness of the eyes
Vomiting
Burns on the pads (if your pet walked through in your fertilizer application)
Diarrhea
Lethargy
Abdominal pain
Take your dog to the vet right away if you suspect fertilizer poisoning. If your dog ingests large amounts, symptoms and complications may be more serious.
Conclusion: Best Pet-Safe Lawn Fertilizers For Grass
Pet-safe lawn care is an essential practice for every responsible pet owner.
You should definitely buy a pet-safe fertilizer for your grass if you have pets. Not only will it help keep your lawn healthy and green, but it will also protect your furry friends from any harmful chemicals or products. So make sure to do your research and find the best pet-safe lawn fertilizer for your needs!
Dog-safe grass fertilizers minimize any adverse effect fertilizers could have on our dogs. We hope this guide helped you find the best fertilizer for grass with dogs.
By following label directions and instructions, you can use fertilizers confidently and protect your family and pets while keeping your landscape healthy, beautiful, and green.
---
Like It? Subscribe & Share!
Canine Bible authorship represents the unified voice of our entire editorial team and our in-house veterinarians rather than a single author. Each article, blog post, and review published under the Canine Bible name undergoes a rigorous review process, involving all team members to guarantee accuracy and up-to-date in accordance with the latest veterinarian research. This collaborative effort is an integral part of our editorial process and aligns with our four pillars of content creation. This approach ensures our content is backed by expert knowledge and factual information, offering our readers reliable, actionable, and trustworthy content.