A Pup Above Dog Food Reviews: Hands-On, Tasting Test, Price & More
Canine Bible is reader-supported. We receive affiliate commissions via some of our links. This doesn't affect rankings. Learn more.
This is the most comprehensive A Pup Above Dog Food review.
If you're like most dog parents, your dog is family, and you want the best for them, including providing top-notch nutrition. That means feeding them the best food, which is why you might consider switching to a fresh and healthier option like A Pup Above (formerly Grocery Pup). But does this brand really deliver on its promises? Is this high-quality dog food worth the price? Are their formulas really human-grade and free of preservatives and additives?
Our research team and dog testers decided to put it to the test and do a hands-on review of A Pup Above to answer every question about this company. We also include our dog's experiences, exclusive video reviews, and tasting analyses of their recipes. Plus, after feeding them A Pup Above for a month, we evaluate nutrient and ingredient quality and our dog's health results.
This in-depth review will help determine if this company suits your dog. Let's dive right in!
Table of Contents 📖 Chapter 1: Full Review Chapter 2: Our Experience Chapter 3: Tips, FAQs & More
A Pup Above Dog Food Reviewed
Our favorite A Pup Above dog food products at a glance.
Fresh Food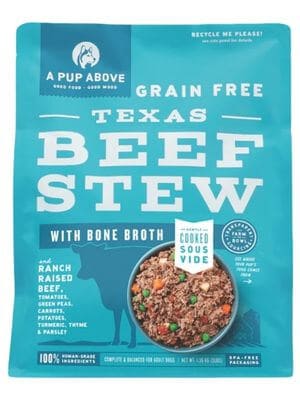 Beef Stew
Their fresh recipes offer the
most optimal nutrition. Made with
human-grade meats and ingredients.
Dry Food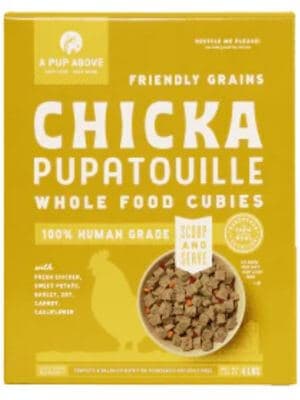 Chicka Pupatouille
Cubis provides the benefits of fresh
dog food but with the convenience
of kibble at a more affordable price
Combo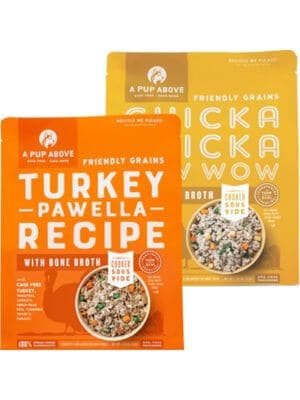 Mix Fresh + Dry
Pick the best of the best worlds that
A Pup Above has to offer. Mix and
match fresh and dry food.
A Pup Above Dog Food Review — At A Glance
Products & Recipes
Fresh food and dry food recipes: 8 recipes in total
Price
Plans start at $3 per day (price varies by age, size, health, activity level, and more)
Customization
No customization, they sell fixed-sized packaging, much like traditional dog food.
Ingredients Source & Quality
USDA-sourced human-grade ingredients from local farms and fresh food suppliers in the U.S.
Manufacturing Location & Facility
1401 Lavaca Street #204, Austin, TX 78701
Nutrition
All of their recipes exceed the AAFCO Dog Food Nutrient Profile standards.
A Pup Above Dog Food — Company Overview
A Pup Above is headquartered in the city of Austin, TX. It was founded in 2020 by pet parents Ruth and Javier Marriott and their pup, Lola Marriott. When they got Lola, they found it "almost impossible to know what was in her food or where it was coming from, and that was frustrating." stated the founders.
A Pup Above was born to make it super simple to know what's in your dog's bowl and provide the highest quality ingredients. They claim their food is good enough for humans and believe in making food more sustainable so it's better for humans, pups, and the planet.
What Is A Pup Above Dog Food?
A Pup Above is a fresh dog food brand offering fresh and dry dog food (or a sampler pack containing one of each), and they'll be shipped straight to your door. These recipes are 100% human-grade ingredients and are prepared through a unique cooking method that yields protein-packed and low-carbohydrate final recipes that your dog will gobble up. It's real food for dogs, and every ingredient is good enough for humans.
Why Feed A Pup Above To Your Dog? Benefits & Research
Below are a few benefits of feeding your pet A Pup Above.
Third-Party Research-Backed Benefits
Here is what the research on feeding fresh food like A Pup Above to canines says.
Furthermore, feeding your dog fresh dog food filters out fillers, preservatives, and highly processed ingredients in commercial dog food. All those fillers, preservatives, and highly processed ingredients in commercial dog food can affect your dog's health over time, whereas a fresh, human-grade diet produces increased energy and improved long-term health. Sadly, studies have shown that feeding your dog processed foods like kibble throughout their life may increase their cancer risk due to the presence of toxic chemicals, mycotoxins, free radicals and carcinogenic chemicals. [5],[6],[7]
How Does A Pup Above Dog Food Work?
Unlike other fresh dog food brands, with A Pup Above, you are not required to fill out a dog profile and answer a questionnaire.
Here is a step-by-step guide on how A Pup Above works.
Step 1:
To get started, you can click here to get their biggest discount—50% off your first order.
Step 2:
Once on their website, you will be presented with three options.
NOTE: If you are unsure which recipe your dog will like, you can order a sampler pack of all four recipes.
Step 3: Delivery
Once your order is placed, they will ship the food. Depending on where you live, shipping usually takes 1-3 business days, but it could take up to five days, depending on where you live and when you place your order. They do not ship on weekends.
*A Pup Above dog food subscription can be canceled at any time. A Pup Above accepts returns.
A Pup Above Dog Food Key Features
Listed below are some of the top key features of A Pup Above.
A Pup Above Dog Food Sourcing & Manufacturing
Who makes and how is A Pup Above produced?
Sourcing
All ingredients sourced are human-grade and USDA-certified. All veggies are non-GMO, pesticide-free, and meats are free of added hormones and antibiotics.
Manufacturing
A Pup Above dog food manufacturing facility is located on Lavaca Street #204, Austin, TX. A Pup Above meals are cooked slowly and evenly to preserve the nutrients in a certified USDA-inspected human food facility using 100% human-grade ingredients.
All recipes are formulated and reviewed by Drs. Sarah Abood and Rebecca Remilliard, veterinarian nutritionists, boarded the American College of Veterinary Nutrition (ACVN). These veterinarians have a combined experience of more than ten years. They are also members of the American Veterinary Medical Association (AVMA), the American Academy of Veterinary Nutrition (AAVN), and their respective state veterinary medical societies. Food scientists are also involved in the processes.
What Sets A Pup Above Apart from the Competition?
Three food manufacturing practices differentiate A Pup Above from the competitors:
A Pup Above Dog Food Sous-Vide
The main difference between A Pup Above meals and competitors is how the meals are cooked. Unlike traditional kibble brands that use high-temperature cooking methods that can leave your dog's food dry and create nutrient loss, A Pup Above uses a unique cooking process known as Sous-vide.
If you're unfamiliar with sous vide cooking, it involves vacuum sealing raw foods in a plastic bag, then submerging them in a water bath. The water is heated to a relatively low cooking temperature, so the food is cooked gently over a long period. This process produces a juicer, tastier, and more flavorful final product for your dog. It creates raw-like nutrient-rich dog food but is safer since it's fully cooked.
A Pup Above veterinarian nutritionist mix their ingredients, portion them into BPA-free packages, and sous vide cooks their meals under non-boiling water for over 2 hours at 180 Co . Once cooked, the meals are cooled and frozen to preserve freshness.
Benefits of sous-vide cooking include:
A Pup Above Sustainability
A Pup Above makes significant efforts to fight against environmental destruction. They are one of the major sustainable dog food brands to adopt eco-friendly practices.
Here's what they're doing to make food more sustainable for humans, dogs, and the environment.
Third-Party Tested & Traceability
The company also focuses on ingredient safety and transparency. Every food pouch is tested for ingredient safety and comes with a lot number you can type into their site to trace the source of each ingredient in your bag.
We reviewed the traceability and lab test sheets for one of their most popular recipes (Turkey Pawella) to confirm label accuracy. Here is what we found.
Below are both reports for your reference.
A Pup Above Dog Food Ingredients
All A Pup Above recipes is formulated to be 100% complete and balanced according to AAFCO Dog Food Nutrient Profile for Adult Maintenance.
A Pup Above Nutrient Mix (Proprietary Mix)
Additionally, A Pup Above meals are fortified with A Pup Above Nutrient Mix (APA Nutrient Mix) of vitamins and minerals. All their formulas include a proprietary blend of balanced vitamins and minerals to ensure maximum nutritional value. This mixture contains minerals such as dicalcium phosphate, calcium carbonate, potassium chloride, sodium bicarbonate, magnesium oxide, zinc amino acid chelate, iron amino acid chelate, copper amino acid chelate, manganese amino acid chelate, potassium iodide, and sodium selenite—vitamins such as vitamin D3 supplement, vitamin E supplements.
Their meals also include taurine to help maintain cardiovascular health.
A Pup Above Ingredients Characteristics
A Pup Above ingredients vary by recipe, but these are the main characteristics across all recipes
Other important ingredient qualities
Higher Protein Ingredients
A key difference between A Pup Above and its competitors is protein level. 90% of the protein comes from the meat guaranteeing your pup is getting the highest quality source of protein to fuel their life.
With 50% more protein than other brands, A Pup Above recipes help you control your dog's weight, build muscle and skin, and keep their joints healthy.
A Pup Above Dog Food Reviews
A Pup Above offers a total of 8 tasty recipes.
A Pup Above Fresh Food Recipes
We decided to try the four recipes of A Pup Above fresh food to provide an insight review and help you determine which recipes would be most appropriate for your dog. You can choose between two grain-free formulas and two friendly grains recipes.
Below are the four flavors available:
A sampler pack (all recipes in one box) is also available for owners trying the brand for the first time.
NOTE: A Pup Above is a great topper option for puppies, making even the pickiest eater lick their bowl. However, puppies should not be fed A Pup Above exclusively. A puppy's growth relies on extra calcium and other vitamins and minerals. Dogs can generally transition to adult food once they are a year old or older. The exception is giant breed dogs (>80 pounds), which can take up to two years to reach full maturity.
A Pup Above Dry Food
A Pup Above offers a unique dry food called "Cubies Dry Food". They use a unique cooking process called Nutridry™ which gently dries out whole foods to preserve nutrients and flavor, providing the flavor of fresh food and the convenience of dry food.
Cubies from A Pup Above use the same proteins and fresh ingredients as their fresh recipes. The only difference in their ingredient composition is that A Pup Above adds cranberries to the Cubies. Cranberries are rich in antioxidants and nutrients that help support your pet's immune system and decrease inflammation.
You have the following options:
Another difference is that they use eggs and pork plasma as natural food binders, both great protein sources. These binders give the Cubies their iconic cube shape.
Why & When Should You Consider This Recipe?
I would pick A Pup Above's fresh recipes if you want the ultimate nutrition. However, Cubies are an excellent choice if you want the convenience of feeding fresh dog food without worrying about freeze space, thawing, or the higher cost associated with fresh dog food. It's also perfect for dog parents that are constantly traveling. You can scoop and serve and store it anywhere at room temperature. It's less processed than kibble and better than air-dried or freeze-dried food.
How Much Does A Pup Above Cost?
Our team did some calculations and determined A Pup Above's average price per pound.
You can expect to pay between $8 to $13 per pound when you purchase their fresh dog recipes.
Compared to a decent mass-market kibble brand, A Pup Above dog food price is higher than a decent mass-market kibble ($1.97 per pound) brand and high-end kibble ($3.45 per pound).
Even though A Pup Above is more expensive, it is significantly healthier for your dog than traditional kibble. Healthy food is a long-term investment. Although it will cost more now, your dog will likely suffer from fewer health problems over their lifetime. You will save money and stress on medication and vet bills and make your dog happy.
A Pup Above dog food day and monthly cost will depend on your pet's weight and size. A Pup Above costs as little as $3 per day for small dogs, and larger dogs, the cost can go up to $20 per day.
The following table breaks down A Pup Above's daily and monthly pricing by dog size.
A Pup Above Daily Price
| Daily Price Per Weight | No Subscription | No Subscription | Subscription (10% off) | Subscription (10% off) |
| --- | --- | --- | --- | --- |
| Pup's Weight | Bag 3 lbs ($39,99) | Bag 7 lbs ($77.99) | Bag 3 lbs ($35.99) | Bag 7 lbs ($58.49) |
| 5 lbs | $3.33 | $2.79 | $3.00 | $2.09 |
| 10 lbs | $4.44 | $3.71 | $3.99 | $2.78 |
| 15 lbs | $6.67 | $5.57 | $6.00 | $4.18 |
| 20 lbs | $10.00 | $8.36 | $9.00 | $6.27 |
| 40 lbs | $16.66 | $13.93 | $15.00 | $10.44 |
| 60 lbs | $23.33 | $19.50 | $20.99 | $14.62 |
| 80 lbs | $26.66 | $22.28 | $23.99 | $16.71 |
A Pup Above Monthly Price
| A Pup Above Monthly Price | No Subscription | No Subscription | Subscription (10% off) | Subscription (10% off) |
| --- | --- | --- | --- | --- |
| Pup's Weight | Bag 3 lbs ($39,99) | Bag 7 lbs ($77.99) | Bag 3 lbs ($35.99) | Bag 7 lbs ($58.49) |
| 5 lbs | 99.98 | 83.56 | 89.98 | 62.67 |
| 10 lbs | 133.17 | 111.30 | 119.85 | 83.47 |
| 15 lbs | 199.95 | 167.12 | 179.95 | 125.34 |
| 20 lbs | 299.93 | 250.68 | 269.93 | 188.00 |
| 40 lbs | 499.88 | 417.80 | 449.88 | 313.34 |
| 60 lbs | 699.83 | 584.93 | 629.83 | 438.68 |
| 80 lbs | 799.80 | 668.49 | 719.80 | 501.34 |
A Pup Above Dry Food Price
A Pup Above dry dog food price is $106.98 for the 2-pound bag and $190.08 for the 4-pounds bag.
Coupon
Our readers have access to save 25% off their first A Pup Above order when using the code CANINEBIBLE. Just use this link to get started.
What We Like & What We'd Change
The Judges
We picked one Canine Bible dog to give us their paw-honest opinion and verdict.
A Pup Above Unboxing
The products arrived as described. Everything was labeled and well organized. The food was fresh and frozen. Our food came in a nondescript cardboard box with a big perishable and dry ice label. The box has an insulated liner material to ensure the food arrives in a cold state. The liner is a plastic-wrapped recycled denim liner made from upcycled materials and can be recycled through store collection bins. The box is curbside recyclable, which is fantastic.
Here is what we found in the box:
Our four meals arrived in perfect condition. We love the attractive bag design, quality and that it's recyclable. You can tell the product, and its contents are high quality.
My A Pup Above Dog Food Video Review
Watch our canine judge Bandit test A Pup Above.
My Personal A Pup Above Testimonial
My Dog's Experience With A Pup Above
A Pup Above Ordering & Delivery
Ordering and getting our meals delivered to our home was a breeze. Unlike other fresh dog food delivery services, we appreciated the simplicity of A Pup Above's ordering process and not having to create a profile to view products and place an order.
After placing our order, we got an order confirmation follow-up e-mail. When our order shipped, we got an on the status with a tracking number and expected delivery date. We received our box three days after ordering it.
Other things we love:
A Pup Above home delivery is available in 48 states – excluding Alaska and Hawaii. Their shipping typically takes 1-3 business days, depending on where you live. Keep in mind that depending on the timing of your order, it can take up to five days total to arrive at your doorstep.
Our A Pup Above Customer Service Experience
A Pup Above provides excellent customer service. We tested A Pup Above's customer service by having a few of our dog owner friends inquire about their products through e-mail to gauge their responsiveness, attentiveness and helpfulness. Overall, our pet parents were satisfied with the answers they received.
Unfortunately, they don't offer live chat or a phone number for direct contact like some competitors.
A Pup Above Feeding Guide
There are three key aspects of feeding your dog A Pup Above.
How much to feed
How to serve and feed
Transitioning to a new food
How Much A Pup Above Dog Food To Feed My Dog?
Not sure of the amount your dog needs? This table gives you a guide based on their weight.
How to Serve A Pup Above Dog Food?
Here is how to properly serve A Pup Above dog food to your dog.
Note: Do NOT microwave the food.
How Do I Transition To A Pup Above dog food?
Feeding your dog new food requires a slow transition process so your pup's stomach can adjust to the new food.
Below is the recommended transition guide by the company.
Transitioning your dog's food can take up to a week and sometimes two weeks, especially if your pup has eaten kibble their whole life.
What Customers Think About A Pup Above
Here is what real-verified customers had to say about this A Pup Above.
A Pup Above Positive Review
I had to go out of my way to write a positive review for this site. I own a small Maltipoo who is the world's pickiest eater. She really needs to win an award for how picky she is. She would literally rather starve herself than eat any type of dog food. And she's been living like that for the past 11+ years. The closest thing I got for her to like was a dog food brand called Just Food For Dogs. However, she only tolerated it. And she would only eat if she was absolutely starving. So you can imagine my stress. I don't like to see my dog go hungry, but I also knew that giving her table scraps all the time can be harmful to her. So I kept searching for different dog foods online and made different purchases for her, but they all failed. Finally, I found A Pup Above. I was absolutely surprised at how much my dog loved its food. She not only finished her plate her first meal, but she would eat it over and over again throughout her next meals. I have never ever seen her act like this. My dog absolutely hates dog food, but A Pup Above is not just something she can tolerate. She loves and enjoys eating it. And that puts a big smile on my face 🙂

– TJ, TrustPilot 12/18/2021.
My Goldendoodle Gwen is absolutely obsessed with her turkey pawella! She does this little dance while I get it ready and it makes me so happy to see how excited she gets. I used to feed her dry pellets, but she would sniff around and often not even eat. She'd give me this look and I felt so awful that she didn't enjoy her meals. I would often add cooked rice or yogurt to her bowl so she would eat. I love food so much and I think it's important that our fur babies love theirs too.

– Kayla B., Google Reviews, 1 year ago.
As my dog has gastrointestinal issues and was prescribed Royal Canine in Gastrointestinal by my vet, after a period of time, my dog no longer liked the Royal Canine food. I had to try a different food for my dog, and was very worried that he would have the same soft stool from A Pup Above – but he did not !! Giving him A Pup Above slowly (over a two-week period mixed with the dog food that he stopped liking), happily, he had no soft stool issues. He loves A Pup Above – both the turkey and chicken. I will keep giving him A Pup Above. Plus, I am glad to stop the Royal Canine because it contains corn and meat by-products which are not healthy for dogs. A Pup Above is a winner.

– Gary L., Google Reviews, 2 months ago
A Pup Above Negative Reviews
My lab loves all of the flavors and gobbles it up, but my golden retriever will not try it. She just sniffs it and walks away.

– Verified buyer, 03/13/2022
Our dog just hates leftovers. So once we opened her pack of food, she needs to be able to eat it all and she is only 10 pounds. I don't hold it against the food. I'm sure it's very good, or she wouldn't eat it at all.

– Verified buyer 11 months ago.
I have three pups and they r boarded sometimes. If you ever do a food that is packaged in single servings per PUP, I would be on board in a minute. Right now when I board my dogs, I have to weigh and measure every meal two times a day for each pup. I need individual servings of foods

– Verified buyer, 5 months ago.
A Pup Above Reddit Reviews
We haven't seen any threads yet.
A Pup Above Vs Other Dog Food Companies
Here is how A Pup Above stacks up to other fresh dog food companies.
A Pup Above vs Farmer's Dog
There are a few differences between A Pup Above and The Farmer's Dog subscription-based dog food delivery services. The Farmer's Dog offers a way to make a custom dog's meal, and A Pup Above allows the customer to determine the amount of food given to their dog based on their weight, physical activity, and size. Despite offering four meal plans, A Pup Above meals has more protein. A Pup Above focuses on the part of the meat that has the most nutrients, while The Farmer's Dog offers more ecologically friendly options. Although both brands have relatively similar prices, A Pup Above offers two options: a subscription or a single purchase. Both brands use USDA-approved meat.
A Pup Above Recall
As of the date of this review, December 2022, A Pup Above has not been recalled.
A Pup Above Dog Food Frequently Asked Questions
Here are some popular questions people ask about Wild Earth dog food.
Should You Get A Pup Above For Your Dog? Alternatives
A Pup Above human-grade dog food is an excellent investment if you want to feed your pet healthier food free from nasty chemicals.
We highly recommend their recipes. Our dogs loved every recipe they offered, and we couldn't be happier with the results. We've tested their four recipes, and they're all impressive. They also get two thumbs up (and paws up) from us for their transparency, mission, food quality, ease of use, and packaging. While they did not make our sustainable dog food list for this year, they are a solid sustainable company.
Other human-grade dog food alternatives might better fit your budget and dietary needs.
---
Like It? Subscribe & Share!