Raised Right Dog Food Reviews 2023: From Taste Test to Ingredient Analysis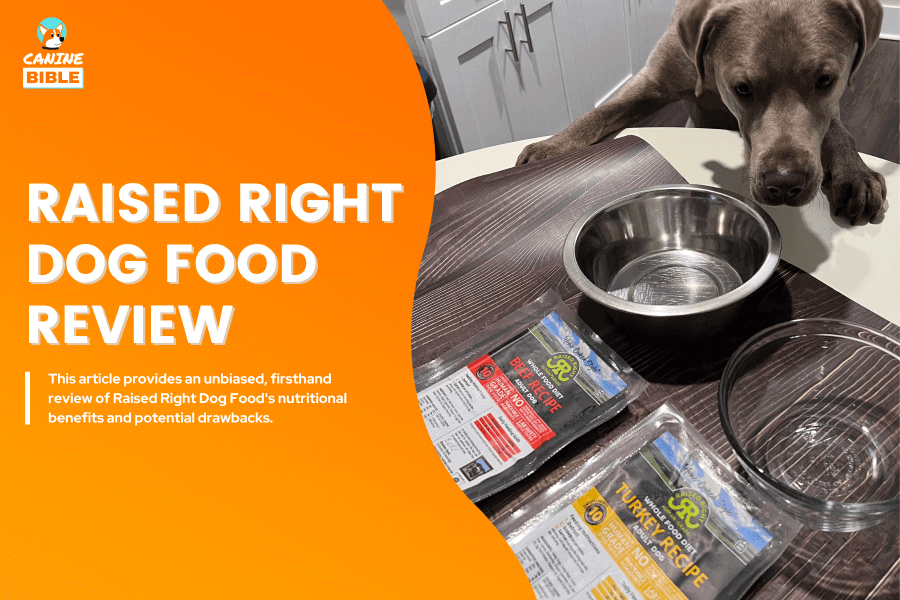 Canine Bible is reader-supported. We receive affiliate commissions via some of our links. This doesn't affect rankings. Learn more.
This is the most comprehensive Raised Right dog food review.
If you are in the market for fresh dog food, you've probably come across Raised Right (RR), an actual brand promising to be the 'filet mignon' of dog chow. In this review, we'll unbag the truth behind Raised Right, analyzing everything from ingredients to customer reviews and our experience. Will it pass the canine cuisine test, or will it end up in the dog house of disappointment? Let's get started!
📖 In This Review: Chapter 1: Full Review Chapter 2: Our Experience Chapter 3: Tips, FAQs & More
Raised Right Dog Food Review — At A Glance
A glance at our favorite products from Raised Right dog food.
Raised Right Dog Food Review — At A Glance
What Is Raised Right Pet Food? Overview & History
Raised Right is a family-owned dog food manufacturing company that makes "home-cooked style" recipes. They are dedicated to providing high-quality, human-grade recipes. It was founded in 2016. The company headquarters is in Rye, New York. The Ruud family started the company (Braeden, Larry, and Mary Ann). The Ruuds noticed a lack of transparency, recalls, contaminations, and many commercial dog foods containing low-quality ingredients and fillers. Concerned about the impact of such products on dogs' health and well-being, the Ruuds started Raised Right as a better alternative.
Raised Right's mission is to revolutionize the pet food industry by offering wholesome, nutritious meals for dogs that meet the same standards as human food.
How Does Raised Right Work?
Raised Right recipes are currently available as a subscription or one-time purchase. You need to pick what suits you best. One-time purchases are straightforward, pick your preferred recipe, and you are done. On the other hand, Raised Right's custom subscription meal plan offers a more personalized option for your dog.
To get a custom meal plan, you need to place your order by answering a brief questionnaire that will ask for general information, such as your dog's life stage, activity level, and if it requires weight management. Once you provide this information, Raised Right will generate a tailored food plan, and you can select the types of recipes you want to feed your dog.
Here is a step-by-step on of the whole subscription meal plan process.
Key Things to Know About Signing Up
Other key items to understand
Raised Right Dog Food Key Features
A look at the most notable features from Raised Right.
Why Feed Raised Right Dog Food? Benefits
There are several benefits of feeding Raised Right to your pet.
It's worth noting that these are the same benefits we typically see in dogs eating a fresh diet, so we deem their claims appropriate.
Third-Party Research-Backed Benefits
Here's what the research on feeding fresh food like Raised Right to canines reveals.
All those fillers, preservatives, and highly processed ingredients in commercial dog food can affect your dog's health over time, whereas a fresh, human-grade diet produces increased energy and improved long-term health. Sadly, studies have shown that feeding your dog processed foods like kibble throughout their life may increase their cancer risk due to toxic chemicals, mycotoxins, free radicals, and carcinogenic chemicals. [5],[6],[7]
Raised Right Sourcing & Manufacturing
Here is what you need to know about Raised Right ingredient sourcing and food production.
Sourcing
The ingredients used in Raised Right's recipes are responsibly sourced, free of antibiotics, hormones, and preservatives from farms that uphold high animal welfare standards and sustainable farming practices all over the United States. They also list the states and countries from which their ingredients are sourced. All sourced ingredients meet human-grade consumption standards.
Every batch of Raised Right's dog food undergoes testing for pathogens, further attesting to their commitment to quality control and food safety. To date, the company maintains a clean dog food recall history.
Production
Raised Right's food production occurs in a human-grade facility in the United States. Each batch is tested for pathogens. This company has a clean recall history thanks to its strict safety procedures. The company works with veterinarian Karen Becker, DVM, and pet-food formulation expert Steve Brown to create cat and dog food made of real, whole, human-grade ingredients that are nutritionally balanced and complete.
They use a small-batch highly cooking process to preserve the nutritional integrity of the ingredients, and their products are gently cooked at low temperatures to retain the natural flavors and nutrients. Their delivery service uses environmentally friendly packaging materials, and their boxes and refrigerated liners are recyclable and compostable, respectively.
Raised Right Dog Food Ingredients
Raised Right has a simple ingredient list because they include fewer than 10 ingredients—all whole, recognizable foods.
All Raised Right dog food recipes use one type of animal meat, organ meat and heart meat in their recipes (i.e., beef, beef liver, chicken liver, etc). This combination of meats makes Raised Right recipes nutrient-dense and high in protein. All the recipes consist of at least 60% or more protein on a dry matter basis, except for the Original Pork Adult Recipe, which consists of 57% protein on a dry matter basis. Their beef and pumpkin paté recipe clocks in at an astonishing 66% protein on a dry-matter basis.
Raised Right Recipe Ingredient Composition
You can find a mix of these ingredients in every Raised Right recipe.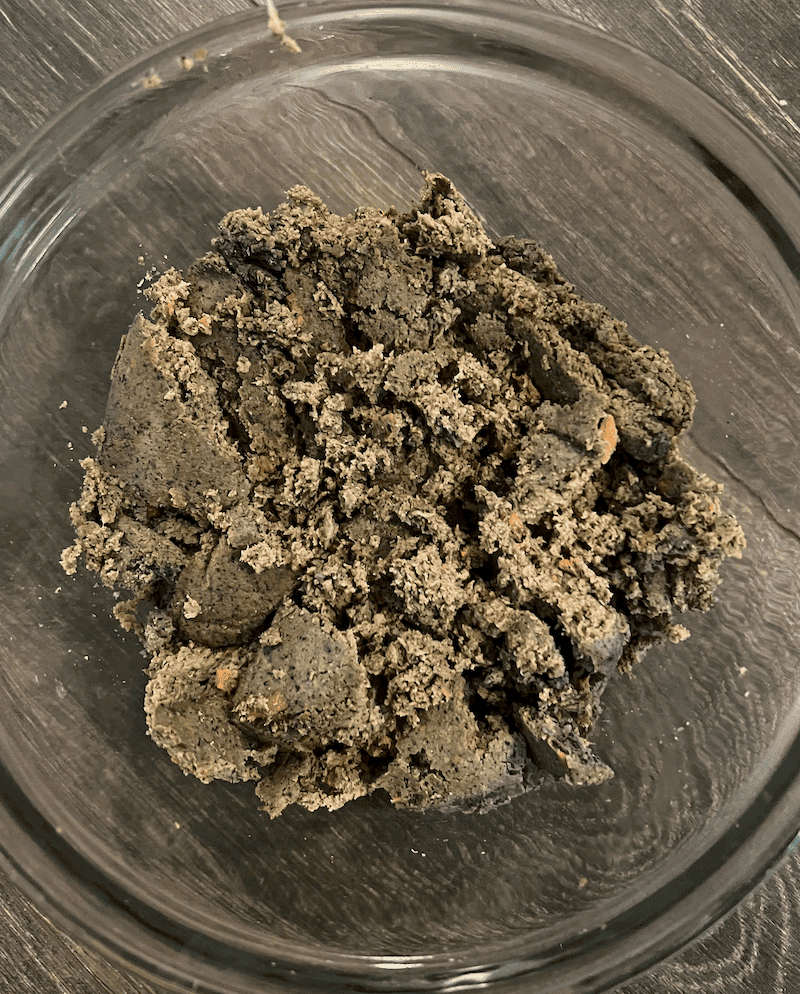 Key Aspects of Raised Right Ingredients
Other key aspects to know about Raised Right dog food ingredients.
Due to the limited-ingredient composition, Raised Right recipes are great for dogs with food allergies and sensitive stomachs. Dogs with protein allergies will appreciate that Raised Right's recipes have just one animal protein, making avoiding triggers easy. If you are unsure about your dog's food allergies, perform an at-home dog allergy test pint point out potentially harmful ingredients.
We recommend checking with your vet before switching your dog to high-protein food.
Raised Right Dog Food Reviews
Let's dive deeply into all the Raised Right recipes and why you should pick them.
Raised Right Original Recipe Review
Raised Right original recipes are purposeful, nutritious, and palatable for dogs. The food is cooked fresh, then frozen and delivered. These recipes use the best human-grade ingredients and limit hard-to-digest fillers by removing grains, potatoes, rice, oats, squash, yam, or added ingredients. It must defrost to serve.
Why & When Should You Consider This Recipe?
These recipes offer the most optimal nutrition without the risks associated with highly processed kibble. The primary reason to consider fresh food is its health benefits. As we stated above, research shows feeding fresh food can significantly impact your dog's health and even increase its lifespan.
Raised Right Pate Recipe Review
These pate recipes are just as great as the original recipe in terms of nutrition and ingredient quality. However, two of the main differentiators between the original and Pate recipe is that Pate recipes have smoother textures, and the pumpkin ingredient is included in all Pate recipes.
Why & When Should You Consider This Recipe?
Pate recipes typically have a smooth, consistent texture, which might be ideal, especially for dogs with dental, older, or digestive issues. Additionally, all pate recipes contain pumpkin. Pumpkin contains essential micronutrients and fiber, making it a very nutritious treat. Pumpkin is also a natural stomach soother and can help to remove excess water in a dog's digestive tract. Pumpkin is used to reduce instances of diarrhea and constipation in their dogs.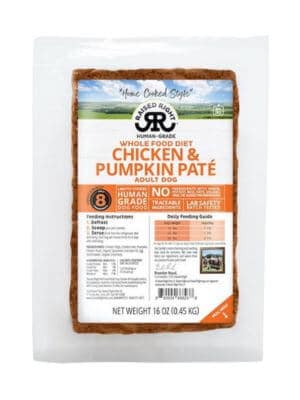 Raised Right Puppy Growth Recipe Reviews
Raised Right formulates puppy-specific recipes suitable for puppies of all breeds, including those 70 pounds or more. These recipes have added ingredients to provide puppies with nutrients for proper development.
Why & When Should You Consider This Recipe?
These recipes are great to start weaning your puppy into adult food. They have balanced calcium and phosphorus levels, perfect for healthy bone growth in puppies. It's filled with healthy fats and carbs higher than all other recipes to support the energy requirements of growing puppies. Once your puppy reaches one year of age, you can start feeding them the original or Pate recipes.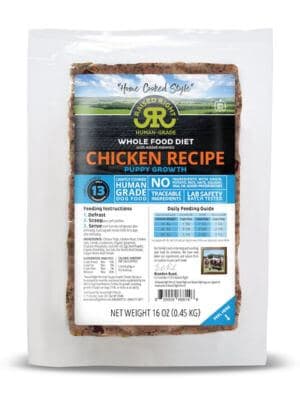 Raised Right Treat Reviews
Raised Right offers two kinds of treats. The first one is called Meat Bites. These are crunchy, "chip style," single-ingredient treats in four flavors. They are medium-sized, so you may need to break the treat into smaller pieces for smaller dogs with a lower daily caloric intake. The second treat is Shake A Flakes, a single-ingredient meal topper. These are like little flakes of meat the size of a dime you can sprinkle over your dog's food to keep your dog's meal interesting.
Either treat is suitable for both dogs and cats. Like Raised Right food, these treats are traceable, lab-tested, and free of preservatives and grains.
How Much Does Raised Right Dog Food Cost?
There are two pricing options with Raised Right, subscription and one-time purchase.
Subscription Price
On average, Raised Right subscription plan customers spend $11.79 daily. You can expect to pay a similar. However, the price depends mainly on your dog's weight and activity level.
Here is a table to give you some perspective on how much you would pay depending on your dog's weight.
| | | | |
| --- | --- | --- | --- |
| Dog size | 100% full meal | 50% partial meal | 25% partial meal |
| 5 lb Dog | $2.74/day | $1.37/day | $0.69/day |
| 25 lb Dog | $9.17/day | $4.58/day | $2.29/day |
| 50 lb Dog | $15.42/day | $7.71/day | $3.86/day |
| 70 lb Dog | $19.85/day | $9.92/day | $4.96/day |
*Calculations are based on normal activity and maintaining weight. Your price may vary depending on your dog's weight, activity level, and weight goal.
One-Time Purchase Price
There are two options for one-time purchases: Sample Box (4 bags) or Full Box (16 bags).
A full box of 16 1-lb bags costs $175.84, no matter the size of your dog, the recipes you choose, or how often you have it shipped to you.
| | | |
| --- | --- | --- |
| Box size | Sample box | Full box |
| # of food bags | 4 bags | 16 bags |
| Cost total | $43.96 | $175.84 |
| Cost per bag | $13.48 | $10.99 |
| Shipping cost | $9.99 | Free |
| Discount on first order | None | None |
| Total Cost | $53.95 | $175.84 |
Treats Price
Treats can be added and cost $14.99 per bottle of Shake a Flakes and $17.99 a bag for Meat Bites.
Whether you want to try Raised Right one time, use it as a topper, or a full meal, we recommend subscribing to the 100% plan. It's the most cost-effective way to buy it. You can request fewer shipments to lower your cost, cancel anytime, or return it for a refund within 14 days of the first box purchase if you are not satisfied.
Raised Right Coupon Code
Our readers have access to the best deal the company offers. Just use this link to get started.
The Judges
We picked 1 Canine Bible dog to give us their paw-honest opinion and verdict.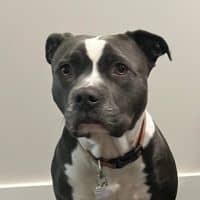 Xena
Age: 1.5 ┊ Gender: Female ┊ Breed: American Bulldog ┊Weight: 55 lbs ┊ Health Concerns: None ┊ Personality: Loving and affectionate

"Ever since Xena started on Raised Right's fresh recipes, her tail wags brighter, and her energy knows no bounds. Truly, the right food makes all the difference!" — her person, Victoria Windsor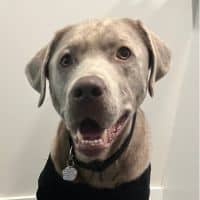 Ice
Age: 3 ┊ Gender: Male ┊ Breed: Silver Labrador ┊Weight: 80 lbs ┊ Health Concerns: Skin/coat ┊ Personality: Playful and Fearful

"Once we switched to Raised Right's fresh recipes, Ice didn't just eat; he celebrated each meal. It's like watching him discover his love for food all over again!" — her person, Victoria Windsor
Raised Right Unboxing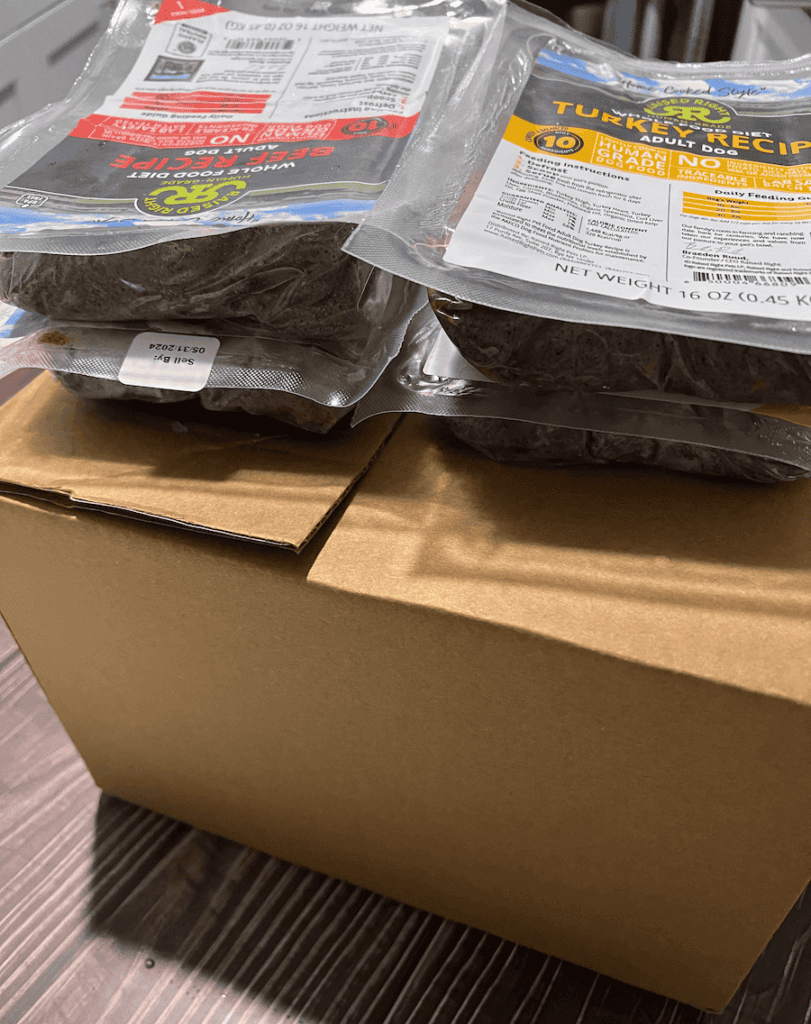 Here is everything that came in our Raised Right box during our unboxing.
The food was fresh, cold, labeled, and well-organized when we opened our box. The food looked tasty, and we could see actual real ingredients through the pouch. Our food was delivered in a cardboard box sealed with dry ice and biodegradable insulation, ensuring meals are 100% frozen upon delivery.
My Raised Right Dog Food Video Review
Watch our canine judges, Xena and Ice, test Raised Right dog food recipes.
My Personal Raised Right Dog Food Testimonial
My Dog's Experience With Right Adult Dog Recipe
Ordering, Shipping & Delivery
The ordering process was fast and simple. We visited the company's website, selected the product(s) we wanted to purchase, added them to our cart, and checked out.
After placing our order, we got a follow-up email with an order confirmation and another email when our food shipped out, including the tracking information and estimated delivery date. The box reached us in 3 days once our order was processed. However, delivery times can depend on various factors, such as location.
It's okay if you aren't home. The meals arrive frozen at your door in an insulated cardboard box with dry ice. Our food was frozen solid with no signs of thawing, even after sitting outside in the heat for a little while.
Our Raised Right Customer Service Experience
Overall, Raised Right offers great customer service. We had a few fellow dog parents test Raised Right customer service by having them inquire about it through email, phone, and chat. Overall, we received quick responses that were helpful and professional.
Sometimes it took them a while to respond, but we usually got an answer. They have an email and phone number on their website for quick customer service. They also leverage social media to help current customers and people inquiring about their services.
What We Like & What We'd Change
What Customers Think About Raised Right Dog Food
Here is what real-verified customers had to say about this Raised Right dog food
Raised Right Positive Review
Thank you for your wonderful products. My three year old is eating 100% Raised Right pork, beef, and turkey! He had a rough couple of years trying to find the right food and now we are satisfied that we found the answer. He now runs to his food bowl instead of turning his snout up at meal times. No more trying to find toppers to entice him because Raised Right is perfect the way it is. We are very happy to hav found this very special formulation of dog food. PS. The packaging is the bomb. All the way to California and the meat is delivered frozen hard, even if it sits at the front door till we get home.

– Marcia Y. Verified Buyer
I love being able to give my corgis human grade food that has all the nutrients they need without having to make it myself. We started using this food because our rescue developed stuvite stones and her new diet helped them disappear. I'm glad I can give my dogs healthy dinners which they love.

Denise K. Verified Buyer
Raised Right Negative Reviews
Raised Right arrived and upon thawing I found it to have a good smell. But sadly, my pup smelled it, took one bite and then refused it. I tried the other flavors and still she isn't a fan. I really wish she would have taken to because I think this family owned business is great and while my pup wouldn't eat it it seems like quality food.

– Shannon P. Verified Buyer
I know it's the very best food you can buy. I would love to right an amazing review. Unfortunately We cannot get our puppy to eat it….no matter what we do.

– Paige M. Verified Buyer
Other Raised Right Products Reviewed
Other products Raised Right offers.
Raised Right Cat Food Review
Raised Right offers cat food and treats, so it's perfect for pet parents with dogs and cats. Currently, four meals and four treats are available for our feline friends. You can learn more about cat food on their website.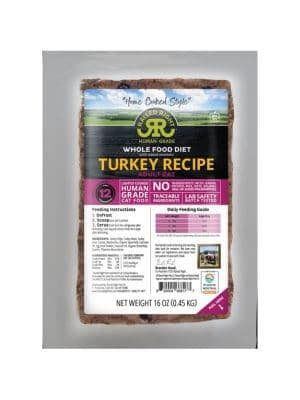 Raised Right Vs Other Dog Food Companies
Learn how Raised Right stacks to other brands.
Raised Right Frequently Asked Questions
Here are the most frequently asked questions about Raised Right and dogs.
Raised Right Dog Food Review — Conclusion & Alternatives
In conclusion, Raised Right Dog Food has successfully made its mark in the highly competitive pet food industry of human-grade dog food and fresh dog food manufacturers. The brand distinguishes itself through its commitment to high-quality, human-grade ingredients, offering pet owners an exceptional solution to their dog's nutritional needs. With transparency in sourcing and production and the flexibility of customizable meal plans, Raised Right offers unmatched trust and peace of mind. Based on our testing and hands-on review, we can confidently recommend their recipe to those parents seeking to optimize their dog's nutrition.
Remember that RR may have a higher price than some commercial dog food brands and other fresh dog food companies. Our assessment suggests that the cost is a fair trade-off for the improved health and longevity it can potentially provide for your canine companion. Nonetheless, there are slightly less expensive alternatives with the same quality. If you are a cat owner, RR also offers cat food and treats, a bonus for owners with both pets.
Remember that their recipes are high in protein content and may not be suitable for some dogs. Remember, every dog is unique; what works best for one may not work for another. Always consult your vet before making major changes to your pet's diet.
---
Like It? Subscribe & Share!
Canine Bible authorship represents the unified voice of our entire editorial team rather than a single author. Each article, blog post, and review published under the Canine Bible name undergoes a rigorous review process, involving all team members to guarantee accuracy and up-to-date in accordance with the latest veterinarian research. This collaborative effort is an integral part of our editorial process and aligns with our four pillars of content creation. This approach ensures our content is backed by expert knowledge and factual information, offering our readers reliable, actionable, and trustworthy content.