Best Subscription Box For Multiple Dogs: For 2 Dogs or More [2023 Reviews]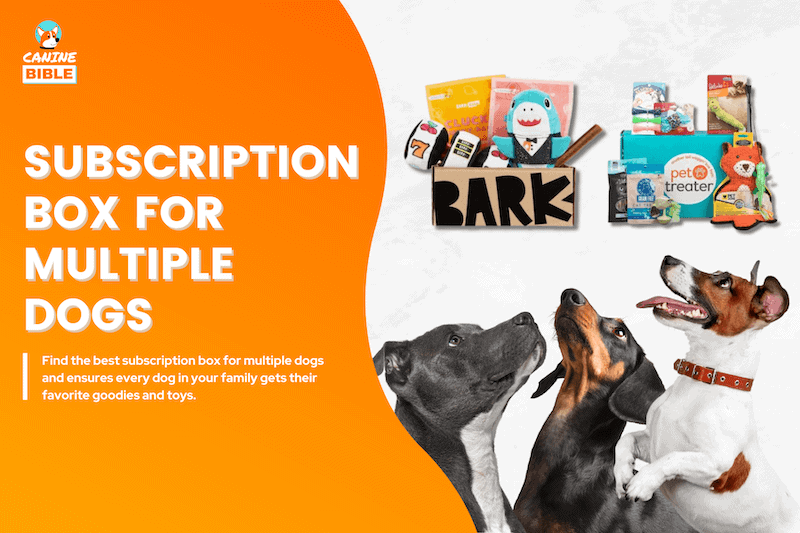 Canine Bible is reader-supported. We receive affiliate commissions via some of our links. This doesn't affect rankings. Learn more.
This is the ultimate guide to finding the best subscription box for multiple dogs.
If you have more than one dog, finding a perfect subscription box for all of them can be tough. Maybe you are already subscribed to a monthly dog subscription box, but that alone doesn't suffice to meet the toy and treat requirements of your five furry companions. Don't worry; we've got you covered. We have rounded up the best subscription boxes for multiple dogs so that you can buy multiple customizable boxes for all the dogs in your household.
Keep reading to find the best multiple-dog subscription box and keep your pack happy! Let's go!
Best Multiple Dog Subscription Boxes — At A Glance
Scroll to the right to see all our recommendations for the best multiple-dog subscription boxes.
Click this link to go to the reviews
(We encourage you to keep reading to make a more educated decision)
Why You Should Trust Us
165
hours of research went into this review. Hands-on tests, our dog's experience, competitive analysis and more
15
dog multiple subscription boxes companies were under consideration for the top 7
5
experts' opinions and research studies were used to provide accurate information and rankings
What Are Multiple Dog Subscription Boxes?
Companies selling subscription boxes for multiple dogs let you add more than one pet profile to your account. This feature allows you to customize each box for each dog in your family based on their toy's needs, size and other preferences.
Buying a subscription box from brands that offer the option to get multiple boxes for multiple dogs can be an excellent way to provide your pets with monthly treats, toys, accessories and other dog products.
Why Get Subscription Boxes For Multiple Dogs?
Giving different dogs a subscription box containing the same products could be the wrong way to pamper and stimulate them. For instance, small dogs have different needs than large dogs, so you wouldn't give your tiny chihuahua the same box you bought for your German Shepherd. Toys and treats made for large breeds are not always suitable for smaller dogs, especially toys.
Dog box subscription brands allow you to order multiple boxes for every dog, that you have solved that problem by allowing you to customize the items in each box based on the individual needs of each dog in your household.
Getting a multiple-dog subscription box is an excellent idea for many reasons:
Benefits of Subscription Box For Multiple Dogs
A multiple-dog box subscription helps you save money and keep your dogs entertained and happy. Furthermore, getting more than one subscription box might be necessary to prevent jealousy or annoyance between your furry friends.
A team of researchers headed by Kathryn Wrubel at Tufts University Cummings School of Veterinary Medicine found that the most common reasons that trigger problems between dogs are the owner's attention to one dog over another, excitement, food and toys. In fact, 46% of the conflicts were caused by food, while 26% of incidents involved were triggered over found items or toys.[1] Researchers also believe dogs, like children, can form strong emotional attachments to their toys.[2]
Providing your dog with its own set of toys and treats (box) can promote a healthier relationship, avoid conflicts and provide emotional support.
A monthly dog box subscription minimizes periods of boredom, keeps toys fresh longer, and provides excellent mental stimulation and new challenges for dogs every month.
What to Expect From A Multiple Dog Subscription Box?
Here is what you can expect when you get a dog subscription box for 2 dogs or more.
Best Monthly Subscription Boxes For Multiple Dogs Reviews
These are the best dog subscription box for multiple dogs.
The main factor we considered in picking the best multiple dog boxes is the brand's allowed "add multiple pets and boxes" feature. We also considered the level of customization they allowed.
We also based our rankings on customization level, price, customer reviews, toys and treats, quality and quantity, and other factors.
Best Overall — BarkBox For 2 Dogs
Can you get a Barkbox for 2 dogs? In short, yes. While BarBox cannot do multi-size boxes, they have an option for every member of your pack. You can get a BarkBox for multiple dogs through multiple subscriptions. BarkBox is the leading monthly dog box brand based on customer reviews and high-quality items in their boxes.
Each box contains five full-sized products, including two innovative toys, two all-natural bags of treats, and one chew centered around a theme. Also, you can add a premium toy to your dog's BarkBox for just $9 per month. If your pups have the same preferences and size, you can opt for one subscription and get the monthly Double Deluxe add-on at a discounted price.
Their boxes are broken down into three sizes, perfect for families with dogs of all sizes.
They offer an extra small box for pups below 9 pounds, and you can contact their team for more options. Barbox Super Chewer is an ideal option if you have a heavy chewer.
What We Like & Don't Like
Cheapest Subscription Box For Multiple Dogs — PupJoy
PupJoy offers the most affordable price on subscription boxes, allowing you to add multiple boxes per order. Furthermore, you can customize each box with your desired items, which is a nice feature. It will also let you select multiple boxes for different dog sizes, making it one of our top picks. If you have more than two dogs and want to save some cash, this is your best choice.
Customers have many box choices, from a Build Your Own option to themed, power chewers and bully boxes. No matter which one you pick, they will delight your pup with curated deliveries of super high-quality artisan treats, toys, & accessories.
The price may vary according to the size of your dogs and whether you have a monthly, 3-month, or 12-month subscription
What We Like & Don't Like
Best Customizable Box For Multiple Dogs — Pooch Perks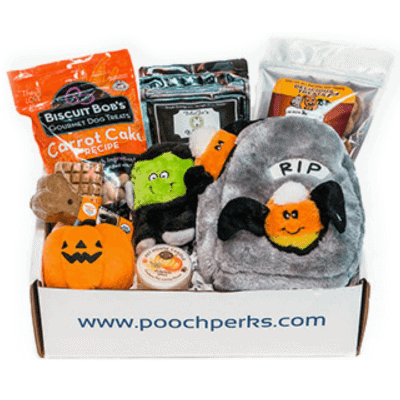 Pooch Perks was named "Best in America" by Fox Business, and it is another good option if you are looking for a subscription box for multiple dogs. Pooch Perks shines when it comes to customization. If you have multiple dogs, you can customize the box to cater to their needs. You can choose the size and preferences for toys and treats, ensuring both dogs get suitable products.
When you subscribe, you can choose from three plans: Popular Pooch (around $24 per month), Pampered Pooch (about $44 per month), or Toys Only (approximately $22 per month). At checkout, there is a box where you can leave them a message to customize your box further based on your dog's needs and other specific details, such as food allergies. They offer the option for an extra toy for $7.99 more.
What We Like & Don't Like
Subscription Box For Multiple Puppies — PupBox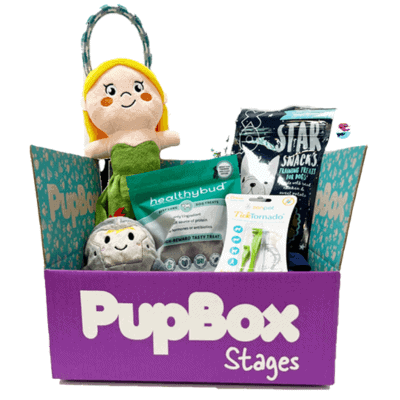 As seen on Shark Tank, PupBox is a pet subscription service explicitly created for puppies by celebrity dog trainer Andrea Arden. Raising a puppy is no joke, and it comes with many challenges, including shoe closet destruction, puppy crazies, terrible twos, and other dreaded adolescent behaviors.
PupBox is our top pick for the best dog box for multiple puppies because it is designed for the changing needs of your puppy. It delivers the best puppy products and training information you need to raise the perfect dog. For instance, if your puppy is teething, you will get chew toys that encourage positive chewing habits, or if your dog is potty training, you may get pee spray.
Each box from PupBox contains 5 to 7 products, including 2 treats (one of which is a bag of training treats), 2 toys, 2 accessories, and 1 training and development guide that will walk you through housetraining teething, adolescence, and adulthood.
What We Like & Don't Like
Non-Subscription Box For Multiple Dogs — Chewy Goody Box
Chewy, the popular online pet retailer, offers over 13 themed dog boxes packed with premium toys, treats and accessories. Plus, you can order without a recurring subscription, making it our top pick if you have many dogs at home but want to pamper them only on special occasions without a subscription.
The items in your Goody Chewy Box are hand-packed into one fantastic gift box by pet parents. You can get one box or as many as you please. Each box costs $25.99, making it one of the cheapest and highest-quality dog boxes. If you want to receive this box as a subscription, you can do it through Chewy's Autoship option at checkout and save 30% on your first order. You can cancel at any time.
What We Like & Don't Like
Best Also Great— Pet Treater
Pet Treater is another great pick for a dog box subscription for multiple dogs at home. This company allows you to add multiple pet profiles, and they will customize your box based on each profile you create. You can even add a cat profile.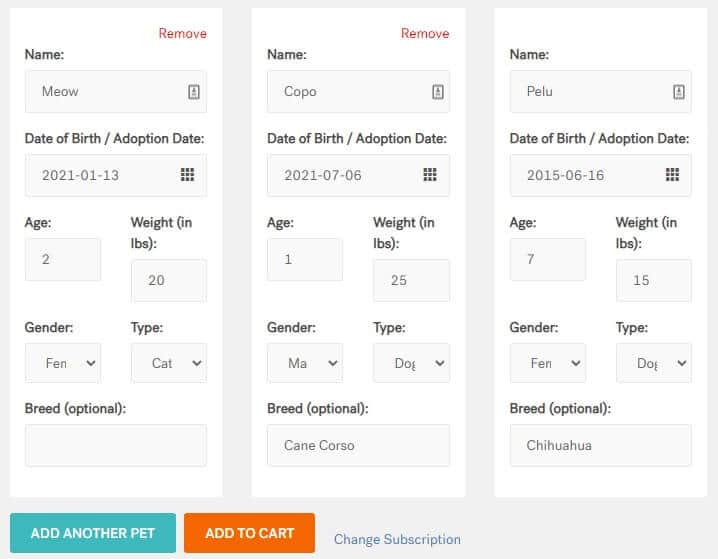 The subscription box from Pet Treater is available for small, medium and large dogs. Your Pet Treater box includes toys, leashes, poop bags, grooming supplies, outfits, and other accessories. You can cancel anytime if you are not satisfied.
Here are the options Pet Treater offers:
Their Deluxe box is the best choice if you want the most toys, treats, and accessories per dog (5 to 8 items for $25). But if you only need toys or treats, they offer those boxes too.
What We Like & Don't Like
Subscription Box For Multiple Dogs & Cat Owners — Meowbox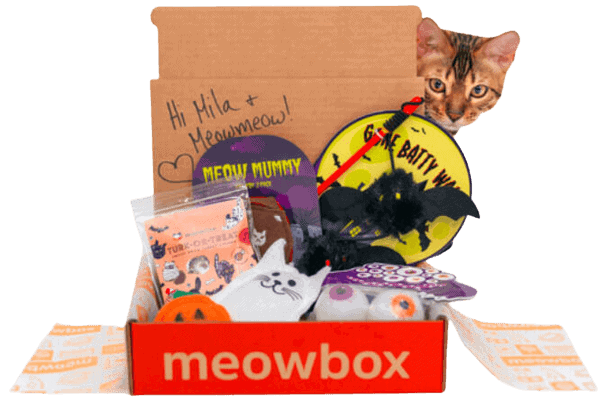 For dog owners who also have cats at home, there is a box for you too. We added Meowbox as the best subscription box for cats to our list. Meowbox is our best cat subscription box because it delivers a wide variety of toys and treats that cats love, offers flexible delivery options, and consistently delivers items on time.
You can get a Meowbox monthly (5-6 items, $23.95) or every other month (5-6 items, $23.95). Their plans are perfect for one or more cats and come with free shipping. Meowbox toys are designed exclusively by them. If your kitty is a picky eater or has a special diet, try selecting the "No Food" option during checkout to exchange treats for an extra toy.
You can get a Meowbox, and one of our dog box picks above if you have a dog and a cat.
Dog Box For Multiple Dogs Unboxing
Get a sneak preview of what your dogs can expect from a subscription box by watching these cute dogs unbox it.
BarkBox For 2 Dogs Unboxing
Dog Toy Subscription For Multiple Dogs — Compared
Are you wondering how Pet Treater vs. BarkBox and the other stack up? This comparison table breaks down the differences.
Characteristics
BarkBox
PupJoy
Pet Treater Dog Box
PupBox
Chewy Goody Box
Pooch Perks
Meowbox
What's In The Box
2 Treats, 2 Toys, & 1 Chew
2 Treats, 1 Toys, & 2 Chews
Dog Pack (3-4 items); Deluxe Dog Pack (5-8 items)
2 toys, 2 accesories and 1 training and development guide
1 Leash, 1 Poop Bag, 1 Shampoo, 2 Toys & 1 Treat
Popular Pooch (5-6 items)
Pampered Pooch (8-9 items)
Toys only (3 -4)
5-6 items
Delivery Time
Ships Immediately
48 Hours or Sooner
10th of Each Month
Ships Within 3-7 Business Days
1 to 3 Days
Ships Immediately
Free Shipping
Yes
Yes
Yes
Yes
Free Shipping on Orders of $49 or More
Yes
Yes
1 Month Subscription
$35
$24.99
$25
$39
$24.99
Varies By Subscription Types
$23.95
3 Month Subscription
$23.74
$25
$34
Varies By Subscription Types
6 Month Subscription
$26
$22.49
$25
$32
Varies By Subscription Types
12 Month Subscription
$23
$21.24
$25
$29
Varies By Subscription Types
Lite Option
$15
Satisfaction Guarantee
Replaces Toys If Pup Doesn't Like Them
Full Refund Within 30 Days
Extra Toy Cost
$9
$9
Customization Options
Yes
Yes
Yes
Yes
Caters To Allergies
Yes
Yes
Yes
Yes
Yes
Themed Boxes
Yes
Yes
Yes
Change Delivery Frequency
Yes
Yes
Yes
Yes
One-Time Option (Puppy Gift Box)
Yes
Yes
Yes
Yes
Yes
Yes
Yes
Heavy Chewer Puppy Option
Yes
Yes
Yes
Yes
Dog Subscription Box For Multiple Dogs — Conclusion & Alternatives
There are many different types of dog subscription boxes to choose from. Some people may find it worth the money to have one box shipped to them every month for all their dogs, while others may think buying a box for every dog in the home is best. We recommend dogs get their toys and treat to avoid conflict among them and keep everyone happy when possible.
If you have a puppy or heavy chewer or want to save money on dog subscription boxes, read our monthly puppy boxes, cheap subscription boxes, or heavy chewer boxes articles.
Like It? Subscribe & Share!
Canine Bible authorship represents the unified voice of our entire editorial team and our in-house veterinarians rather than a single author. Each article, blog post, and review published under the Canine Bible name undergoes a rigorous review process, involving all team members to guarantee accuracy and up-to-date in accordance with the latest veterinarian research. This collaborative effort is an integral part of our editorial process and aligns with our four pillars of content creation. This approach ensures our content is backed by expert knowledge and factual information, offering our readers reliable, actionable, and trustworthy content.