Super Chewer BarkBox Reviews 2023: Price, Unboxing, Pros, Cons & FAQs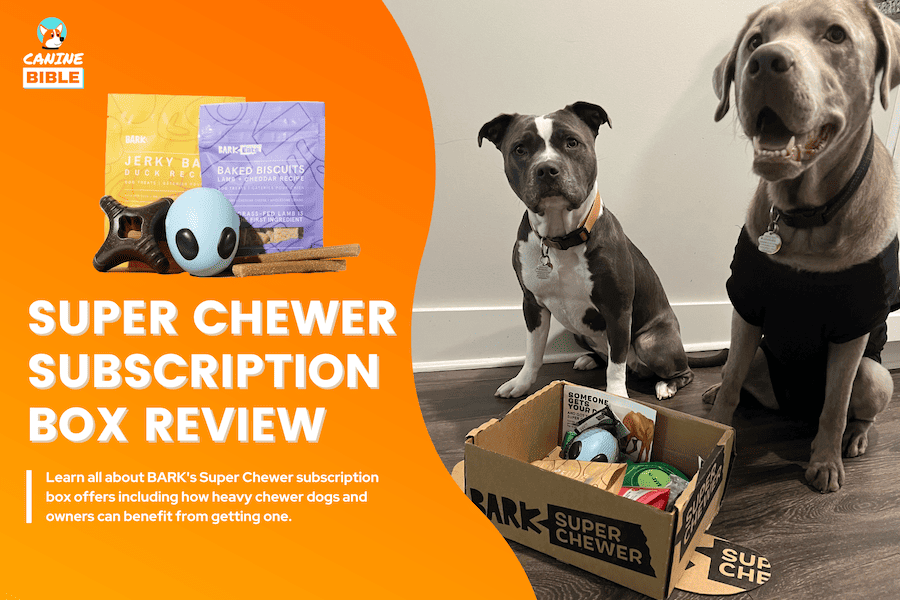 Canine Bible is reader-supported. We receive affiliate commissions via some of our links. This doesn't affect rankings. Learn more.
If your dog is a tough chewer (aka toy-destroyer), you are probably tired of spending money on new toys all the time. Sounds like you? You might want to consider signing up for a Super Chewer subscription box.
We signed up and tested their toys and treats with our pack of aggressive toy chewers. So, are the toys indestructible? How about the quality of the treats? What happens when the toys break? We answer these and more questions in our BarkBox Super Chewer review.
Plus, we will show you pictures and videos from our experience. Let's dive right in!
In This Article: Chapter 1: Full Review Chapter 2: Our Experience Chapter 3: Tips, FAQs & More
Super Chewer BarkBox Review — At A Glance
What Is A Super Chewer Box?
BarBox's Super Chewer is a monthly subscription box created for heavy chewers. Super Chewer dog toys are designed by BarkBox using innovative technology to create the next generation of super durable dog toys to stand up to the toughest chewers. When you subscribe, a themed collection of super-tough toys, treats, and chews is shipped to your doorstep every month.
How Does Super Chewer BarkBox Work?
Signing up for Super Chewer by BARK is quick and easy.
Step 1: To get started, you must visit Super Chewer's website and click subscribe.
Step 2: Complete a simple questionnaire. The questionnaire will request basic information on your pet's age, breed, and size. You can provide information on any applicable food allergies. Below is the whole process.
Step 3: After you put in your billing and shipping information, you'll receive a confirmation email and shipping update email. Then, you can expect to receive your first Super Chewer box in about a week. The first box ships immediately; the following boxes ship on the 15th of every month.
Why Get A Super Chewer Box? Benefits
Here are some main reasons and benefits of getting a Super Chewer box.
Super Chewer boxes are never the same. Each month comes with a new theme that inspires new kinds of toys that encourage new ways to play so your pet never gets tired of the same thing.
What Comes In A BarkBox Super Chewer Box?
Every BarkBox for chewers box comes with
BarBox Super Chewer Dog Toys
The company uses the following materials to engineer these crazy-durable dog toys.
These materials make Super Chewer dog toys able to withstand any chomping. BarkBox toy engineers also build these toys for entertainment, so your dog never gets bored playing with them. Treat-dispensing, floating, and fetchable toys are among the few extra-tough toys you can expect.
Super Chewer plush wrap toys are made to be torn. There is a heavy chewer toy inside.

A funny alien-shaped head toy that squeaks. Dogs were not able to damage it.
BarkBox Super Chewer Toys Durability
Barkbox Super Chewer toys are incredibly durable and last our dogs for months. Barkbox also guarantees that the toys will last and will send you a replacement if it breaks sooner than expected. There's no time limit.
BarkBox Super Chewer Treats & Chews
Every chew and treat in your pup's Super Chewer box is all-natural and made in the USA or Canada, with domestic and imported ingredients. All edibles are always corn, soy, and wheat-free; we have allergy options if your pup needs them. Typically, the food items have a 24-month shelf life.
When ordering, you can tell Barkbox if your dog has an allergy to a type of protein, such as turkey, and they won't send any treats or chews that contain that ingredient.
Super Chewer meaty chews. Our pups gobbled it down almost immediately. 

Bark Super Chewer treats are made with organic ingredients, including turkey, barley and oats.
BarkBox Super Chewer Themes
No two Super Chewer boxes are ever the same. Boxes come in different monthly themes, making Super Chewer even more exciting and fun for your pup.
You can choose your first month's theme from a selection of two or begin your subscription with a mystery box.
Playlien theme poster story. It made us chuckle.

I love the design and theme we received.
BarkBox Super Chewer Toys Only
There is a toy-only option you can pick during the checkout process. You only get three toys per box. However, you can add an extra toy for $9. The monthly price may vary for this option.
How Much Does BarkBox Super Chewer Cost?
The more boxes you sign up for, the lower your monthly cost!
Super Chewer offers 3 different monthly subscription plans. Here is how much they cost:
To put the financial aspect into perspective, a comparable Amazon heavy chewer dog toy costs $19, a bag of high-quality treats costs $10, and a bag of meaty chews $7. In total, this would be $36. But you must multiply $36 times two because the Super Chewer box has 2 of each item. If you were to buy these items separately, it would cost you around $72.
Regardless of your subscription option, you save a lot every month.
They also offer gift boxes if you don't want to subscribe or for gifting them to someone else. They cost:
BarkBox Super Chewer Coupon Code
Looking for a BarkBox Super Chewer promo code? Use this link to take advantage of the best offers from Super Chewer.
The Judges
We picked two Canine Bible dogs for their paw-honest opinion and verdict.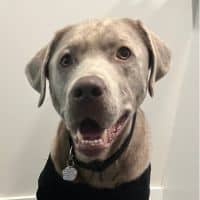 Ice
Age: 3 ┊ Gender: Male ┊ Breed: Silver Labrador ┊ Weight: 80 lbs ┊ Health Concerns: Skin/coat ┊ Personality: Playful and Fearful

"Ice is an enthusiastic chewer, and these durable toys have truly met his match. He had a blast trying to destroy the toys, but he couldn't. He loved playing and tossing around with his super chewer toys." — her person, Victoria Windsor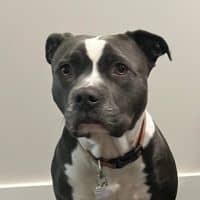 Xena
Age: 1.5 ┊ Gender: Female ┊ Breed: American Bulldog ┊ Weight: 55 lbs ┊ Health Concerns: None ┊ Personality: Loving and affectionate

"I can't recommend Super Chewer's dog box enough! Xena loves it. The variety of durable toys and tasty treats keeps her entertained and satisfied. Plus, the new themes each month add an extra element of excitement. It's a win-win for both Xena and me!" — her person, Victoria Windsor
BarkBox Super Chewer Unboxing
Everything in our BarkBox Super Chewer box arrived in perfect condition. Toys and accessories looked premium and durable, while treats looked fresh and delicious.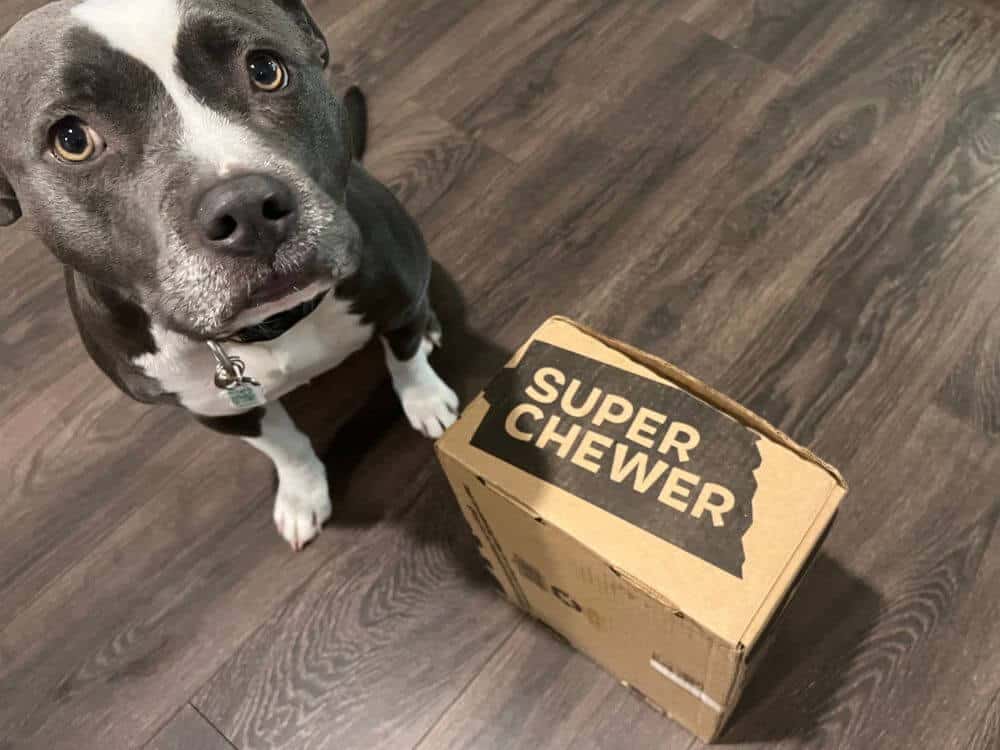 My BarkBox Super Chewer Video Review
Watch our canine judges, Ice and Xena, test BarkBox Super Chewer.
Our Personal BarkBox Super Chewer Testimonial
My Dog's Experience With BarkBox Super Chewer
Ordering & Delivery
The ordering process is fun and straightforward. You can personalize your dog's box based on breed, size, allergies and other preferences.
Super Chewer lets you add an extra super premium toy for just $9/month. You can choose your box's theme to be:
Shipping is FREE for customers in the contiguous 48 states, but if you live in Canada, Alaska, or Hawaii, you will see an $8/month shipping charge. It usually takes 2 to 4 days for your boxes to arrive.
Our BarkBox Super Chewer Customer Service Experience
From our personal experience, Super Chewer has excellent customer support.
If you have a question about your Super Chewer, you can reach them through text, live chat, or email – whatever you prefer. We received a timely response every time we contacted them regarding their products.
We also tested Super Chewer's customer service by having a few dog owner friends inquire about the service to gauge their responsiveness and helpfulness. Overall, our pet parents were satisfied with their answers.
What We Like & What We'd Change
What Do Customers Think About Super Chewer?
Positive Reviews
We LOVE Super Chewer! Karma destroyed any and every toy we ever purchased anywhere else, but Super Chewer toys have been durable, easy to clean, and consistently stimulating. She gets so excited every month when her box comes! The treats are great quality and always a favorite, I'm so glad they send small ones that can be used easily in the dispensing toys.

Audrey of Largo, Consumer Affairs 9/8/2020
Tippy first started with regular Bark box, but being a Pitt bull, she grew stronger quickly and had to upgrade to Super Chewer. She loves to toys that have 2 different types of rubber. She chews through the softer one fast but then takes her time with harder pieces. She hasn't received a treat she hasn't liked. She really likes the ones with Duck in it. She has to have ones that work with her allergies. The only difference I would make is for Super Chewer box to have a rope toy every couple of months. She loved it when she got those with the regular Bark box. Overall our experience has been great and when I had questions or concerns, I got quick responses. Well worth the money for monthly treats & toys. Since the COVID-19 outbreak and work hours cut, it has made our budget tight, but thankful we can still buy her food. We are thankful that people are still able to work making Super chewer boxes and Bark boxes for our fur babies.

Jessica of Dothan, Consumer Affairs 4/13/2020
Negative Reviews
We have been very happy with the boxes except for this last one. I paid extra for the super chewer, but the toy was destroyed in 10 minutes. It was the black and yellow toy that was in the shape of a target.

Jodie of San Antonio, Consumer Affairs 7/31/2020
My dog doesn't like the treats and she constantly destroys the toys in minutes. I have contacted you several times and requested my money be refunded and my subscription be cancelled and I just get the runaround. There is no way to contact anyone by phone, so I contacted through FB but still have no resolution.

Leigh of Campbell, Consumer Affairs 7/30/2020
BarkBox Super Chewer Review Reddit
Here are some Reddit threads from real customers who have tried BarkBox
Other BarkBox Super Chewer Products Reviewed
Here are other BARK products from the same company we recommend trying.
BarkBox Super Chewer Vs Other Dog Super Chewer Box Companies
Here is how Super Chewer stacks up against popular competitors.
Super Chewer vs Bullymake
Both companies offer similar pricing. Regarding durability, they use the same materials to build their toys (Nylon, Strong Rubber & Ballistic Materials), so you can expect them to last the same. Even though they are equally tough, Super Chewer takes the edge on toy design and theme boxes. They have a winning formula for designing irresistible dog toy that makes playtime more exciting and fun. Another area where Super Chewer excels is its replace-it-anytime Guarantee versus Bullymake's 14-Day Guarantee.
BarkBox vs Super Chewer
How does BarkBox Super Chewer differ from the classic BarkBox? Super Chewer toys are designed to withstand the most aggressive dog chewers. The materials are fluff-free and super durable, while regular Barkbox toys are more fluffy and won't last as long. BarkBox makes it best suited for smaller dogs or a little more gentle while playing. Super Chewer is slightly more expensive, but it's the best plan for larger dogs or those who love chewing. And because they are the same company, the quality of treats, design, and themes are equally matched.
How BarkBox Makes Their Toys?
Here is a behind-the-scenes look at how BarkBox makes fun toys that last!
BarkBox Super Chewer Vs Heavy Chewer Dog
Watch another heavy chewer dog take big bites at a Super Chewer toy. Will the toy survive?
Can I Buy Super Chewer Toys Separately?
Yes and no. You can sometimes find Super Chewer toys from past edition boxes on Amazon. However, current theme boxes (toys and treats) are exclusive and only available on the official website and won't be available until they sell out or new editions roll out. Here are some old Super Chewer toys we found on Amazon. But remember buying them individually is more expensive, and you pay more for less. Of course, unless there was a toy that your pup was super excited about, then it might be worth the sacrifice 😉
BarkBox Super Chewer Frequently Asked Questions
Here are the most frequently asked questions about BarkBox Super Chewer and dogs.
Super Chewer BarkBox — Verdict & Alternatives
Is BarkBox Super Chewer worth it?
Absolutely; not only are you paying less for premium extra-tough dog toys, treats and chews, but you are saving more money by not having to buy toys all the time because your dog breaks them every five seconds.
Super Chewer is a dog subscription box to consider if your dogs are "super chewers" or tend to chew a lot. Bullymake and Kong Box also offer a similar box for heavy chewers, but do the toys hold up like they say they do? If you're curious about other power chewer boxes, read our dog subscription boxes for heavy chewers review.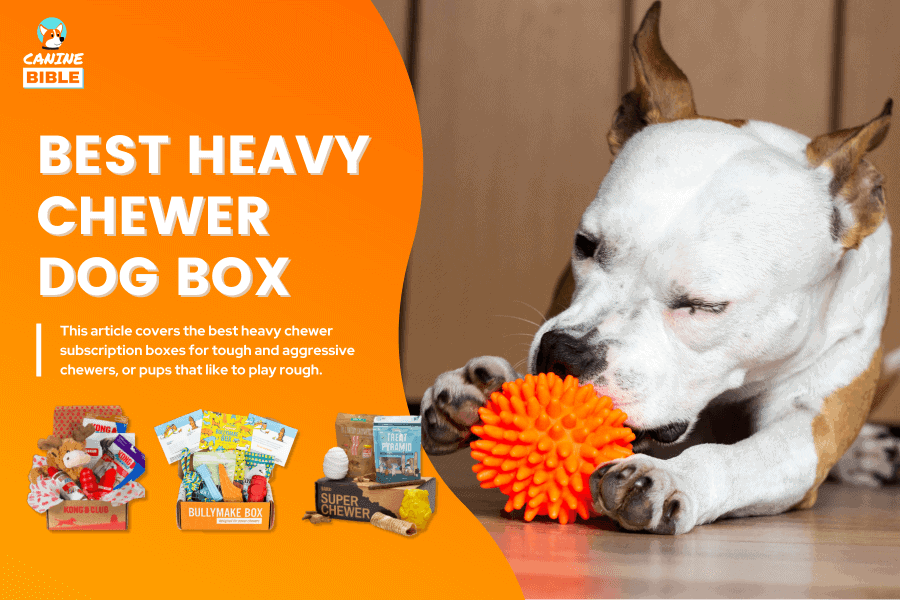 Like It? Subscribe & Share!
Canine Bible authorship represents the unified voice of our entire editorial team rather than a single author. Each article, blog post, and review published under the Canine Bible name undergoes a rigorous review process, involving all team members to guarantee accuracy and up-to-date in accordance with the latest veterinarian research. This collaborative effort is an integral part of our editorial process and aligns with our four pillars of content creation. This approach ensures our content is backed by expert knowledge and factual information, offering our readers reliable, actionable, and trustworthy content.