6 Best Dog Toy Subscription Box For Heavy, Tough Chewers — BarkBox Super Chewer vs Bullymake vs Kong Box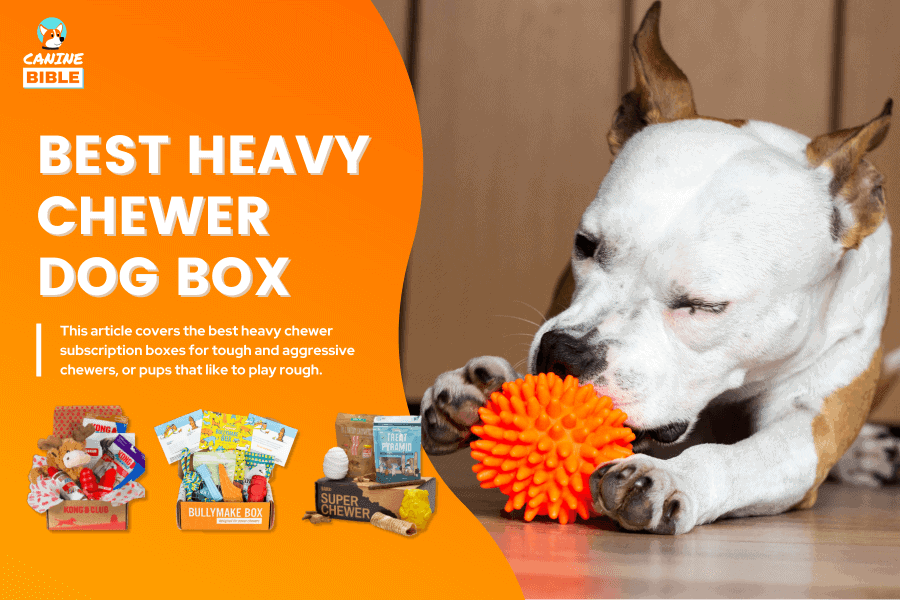 Canine Bible is reader-supported. We receive affiliate commissions via some of our links. This doesn't affect rankings. Learn more.
This is the ultimate guide to finding the best dog subscription box for heavy chewers.
A monthly dog toy subscription box for heavy chewers is perfect if your dog typically tears through classic dog toys within minutes. These toys are not your cheap plush ones that tear open in seconds. These toys are designed specifically for aggressive chewers. There are so many tough chewer box companies out there claiming to be tough, so it's hard to know where to start. But we have saved you the grueling task, so your dog can enjoy more time playing with toys that last.
If you want to buy a super chewer dog box, we've reviewed the best dog boxes for chewers for different needs. No matter which dog box for aggressive chewers you choose, your pup will love the paw-ty in a box because they also come packed with delicious treats. Let's dive right in!
Dog Subscription Box For Heavy Chewers — At A Glance
Scroll to the right to see all our recommendations for the best subscription box for aggressive chewers.
Why You Should Trust Us
78
hours of research went into this review. Hands-on reviews, our dogs' experience, competitive analysis and more
10
heavy chewer dog subscription box brands were under consideration for the top six
3
experts' opinions and research studies were used to provide accurate information and rankings
What Is A Heavy Chewer Subscription Box?
A heavy chewer dog subscription box comes with heavy-duty dog chewing toys specially designed for those dogs that like to chew a lot or have a super strong bite. Dog boxes for chewers also come with delicious treats. If you have a heavy chewer dog breed at home and dog toys don't last a second, a durable dog toy subscription can solve that problem.
Dog subscription boxes are a growing trend among pet parents. They are a fabulous way to deliver toys and healthy treats to your door each month.
Benefits of Subscription Boxes For Heavy Chewers
Here is what you can expect from most power chewer boxes.
Tough Dog Toy Subscription Unboxing
Watch these power chewer dogs unbox their heavy chewer subscription boxes to get a sneak peek of what your dog can expect.
Dog Breeds That Need A Tough Chewer Box
Here is a list of the top-heavy chewer dog breeds that are highly likely to tear through most toys and that can benefit from a tough chewer box.
It might be wise to consider getting a dog subscription box for heavy chewers if your dog is among the dog breeds with powerful bites.
If your dog isn't on this list but destroys all his toys, it's time you make the switch!
Best Dog Subscription Box For Heavy Chewers
Below, you'll discover the best monthly dog boxes for heavy chewers dogs are guaranteed to fall in love with month after month.
Canine Bible's favorite picks are based on price, customer reviews, toys and treat quality, the number of items, customization options, and other factors.
Best Overall Tough Chewer Box — Barkbox
Why We Picked & Recommended It
Having a toy destroyer at home is not fun for your wallet and heavy chewer pup. That's where the Super Chewer box from Barkbox comes in. Barkbox heavy chewer box is the best option for dogs that are rough on their toys. The company designs and tests each toy to withstand the chewing habits of the toughest chewers. Super Chewer uses strong rubber and nylon materials to withstand any chomping. The box includes a monthly themed collection of super-tough toys, healthy treats, and chews worth $45. Once you place an order, your first box will be shipped immediately, with the following boxes shipped on the 15th of every month.
What Sets It Apart From Competitors
This BarkBox for aggressive chewers keeps dogs engaged with various challenging play themes each month. Their toys are made from custom concepts to limited-edition collaborations with unique design elements to maximize playtime. Plus, the ingredients used in their meaty treats and chews are of premium quality.
Key Features
Price & Plans
Super Chewer dog box comes in 3 different monthly subscription plans. Here is how much they cost:
What We Like & Don't Like
Our Video Review
Looking for a Super Chewer coupon code? Click here to take advantage of the best offer we could find.
Best Tough Dog Toy Subscription For Training — Kong Club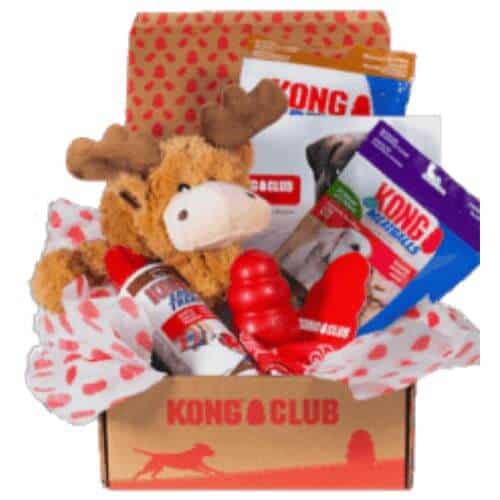 Why We Picked & Recommended It
KONG is probably one of the most popular dog toy brands out there, and it's well known for making the iconic KONG toy that even the strongest heavy chewers would have trouble destroying. And yes, they have their own subscription box now. If your dog loves to chew, KONG Box (recently rebranded as KONG Club) offers avid dog chewers durable rubber KONG toys, tools, and training tips you'll need to manage and fulfill their chewing instincts. It's our top pick for the toughest toy box because they offer various tough chewing solutions designed for dogs in different life stages, including heavy chewer puppies, adults, seniors, and extreme chewers dogs. Plus, the versatility of their toys supports better behavior.
What Sets It Apart From Competitors
Kong Club is the only tough dog toy box with 24/7 veterinarian support as part of your subscription at no additional cost.
Key Features
Price & Plans
The price of your KONG Box depends on how many boxes you decide to get.
What We Like & Don't Like
Our Video Review
Our hands-on experience and test with the Kong Box
Looking for a Kong Box discount code? Click here to take advantage of the best offer we could find.
You can also get a Kong Box by Chewy, known as a Goddie Box Kong.
Also A Great Durable Dog Toy Subscription — Bullymake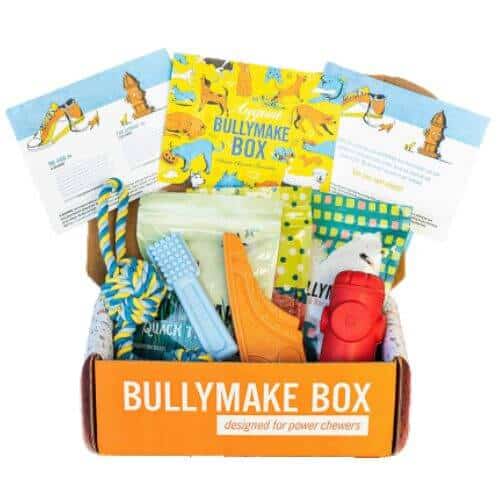 Why We Picked & Recommended It
If your dog annihilates their toys, it's time you consider a Bullymake Box! Bullymake specializes in making the most durable dog toys for the toughest chewers. They also add delicious treats. Everything is backed with a durability and satisfaction guarantee. They design and manufacture unique, highly long-lasting toys every month catered specially to power-chewing dogs. Your Bullymake will be shipped the next business day after placing an order. You can choose between toys & treats or a toy-only box. The toy-only box will arrive at your house with 4 to 5 toys instead of treats. Whether your dog is an extreme chewer, tugger, fetcher, or player, we are sure Bullymake has you covered with extra tough dog toys and nutritious treats. Is your dog allergic to certain ingredients? No problem! There is an option to select your dog's allergy at the checkout page, and they will cater to your dog(s)' allergy needs.
What Sets It Apart From Competitors
All toys they deliver have a satisfaction and durability guarantee. Nothing goes destroyed, or it is replaced for free.
Key Features
Price & Plans
Depending on the monthly plan you want for your furball, this is how much Bullymake plans cost:
What We Like & Don't Like
Our Video Review
Watch the short video below to learn about the Bullymake dog toys your dog(s) can look forward to receiving.
Looking for a Bullymake coupon code? Click here to take advantage of the best offer we could find.
Best Non-Subscription Aggressive Chewer Dog Box — PupJoy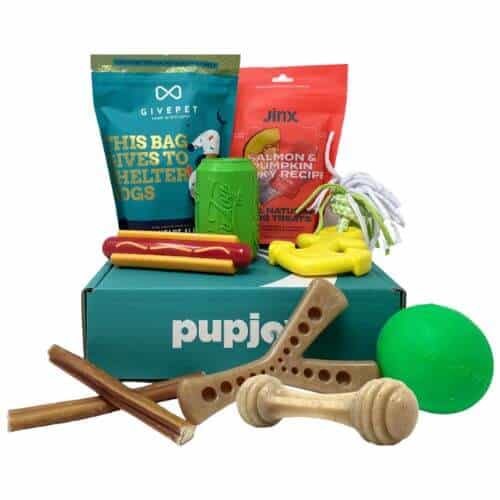 Why We Picked & Recommended It
Pup Joy is not known for their tough chewer boxes, but they offer a one-time buy Power Chewer Subscription Box for small, medium, or large dogs. Your box includes 1 uber-durable toy, 2 premium treats, and 2 grass-fed bully sticks. You can also opt for the "Build Your Own Box (BYOB)" option and pick heavy chewer toys as add-ons. Select your dog's BYOB size, and PupJoy will send you tailored goodies to keep your power chewer's tail wagging.
What Sets It Apart From Competitors
Each box includes more than $45 in value, and you can extensively customize your box. Dog with allergies? No problem. You can specify and choose all-natural, organic, grain-free, or protein-sensitive options. This company makes shopping for dog toys and treats as joyful as coming home to them.
What We Like & Don't Like
Best Customizable Extreme Chewer Dog Box — BoxDog
Why We Picked & Recommended It
A BoxDog subscription box comes with handmade treats cooked by their chef, vegan skincare items, toys, gear, gadgets for your dog, and even beds.
What Sets It Apart From Competitors
While they have one of the best pet subscription boxes for dogs, they also offer an 'extra tough' selection of tough toys you can include in your box. You can hand-pick the toys in your box, but they don't offer much variety.
You can choose from two different types of options:
Both come with a flexible payment plan; you can also select add-ons. Shipping is always free in the continental U.S., Hawaii, Alaska, and Puerto Rico for $15 and in Canada and the U.K. for $20. You can also find BoxDog on Amazon but not their tough dog toys box.
What We Like & Don't Like
Honorable Mention — The Dapper Dog Box
Why We Picked & Recommended It
While The Dapper Dog is not known for their heavy chewer toys, they offer two boxes for power chewers (small or medium-heavy chewers & large or extra-large, heavy chewers). Each box contains 2 healthy bags of USA-made treats, 2 heavy chewing dog toys, and one limited edition, stylish bandana for 5 items per box. You can get them for a flat standard rate of $35.99.
What Sets It Apart From Competitors
The treats are 100% natural and sometimes organic too. Every purchase you make supports shelter dogs looking for their forever family, which we think it's fantastic. They rotate what toys, treats, and chews are included so your dog will never get bored. Once you place your order, it ships within a couple of days. It typically takes up to 4 days for you to receive it.
This heavy chew box comes with a 100% satisfaction guarantee! If your furry friend doesn't love something, reach out, and they will make it right.
What We Like & Don't Like
Comparison Table: Bullymake vs Barkbox Super Chewer vs Kong Club Box
Are you wondering how Barkbox Super Chewers vs. Bullymake stack up to each other and the other heavy chewing companies? This comparison table breaks down the differences.
Barkbox Super Chewer
KONG Box
Bullymake

Dapper Dog box
PupJoy
What's In The Box
2 Toys, 2 Bags Of Treats, 2 Meaty Chews
1 KONG Classic (First Box only) 2 Toys, 3 Treats, 1 Recipe & Tip Cards
2-3 Toys & 3-4 Treats/Chews
(4 Toys In Toy Only Box)
2 Treats, 2 Toys, & 1 Stylish Bandana
2 Treats, 2 Toys, & 2 Chews
Delivery Time
Ships Immediately
Unsure, Box Takes 10 Days to Arrive
Shipped Next Business Day
Ships Within a Couple of Days
48 Hours or Sooner
Free Shipping
Yes
Yes
Yes
Yes
No
1 Month Subscription
$45
$39.95 (for 1 box)
$39
$35.99
$34.99
3 Month Subscription
$34
N/A
$36
$35.99
$34.99
6 Month Subscription
N/A
$34.9 (for 6 boxes)
$34
$35.99
$34.99
12 Month Subscription
$29
$29.95 (for 12 boxes)
$31
$35.99
$34.99
Satisfaction Guarantee
Any Time
60 Days
Within 14 Days

Any Time
Extra Toy Cost
$9
$9
Customization Options
Yes
Yes
Yes
Yes
Caters To Allergies
Yes
Yes
Yes
Yes
Yes
Themed Boxes
Yes
Yes
Yes
Change Delivery Frequency
Yes
Yes
Yes
Dog Toy Subscription For Heavy Chewers — Frequently Asked Questions
We answer some of the most commonly asked questions about indestructible dog toy subscription boxes.
Super Chewer vs Bullymake
Both companies offer their boxes at a fairly equal price. Regarding durability, they use the same materials to build their toys (Nylon, Strong Rubber & Ballistic Materials), so you can expect them to last the same. Even though they are equally tough, Super Chewer takes the edge on toy design and theme boxes. They have a winning formula for designing irresistible dog toy that makes playtime more exciting and fun. Another area where Super Chewer excels is its replace-it-anytime guarantee versus Bullymake's 14-Day guarantee.
Kong Box vs BarkBox Super Chewer
Two significant differences exist between the Kong Box and Barkbox's Super Chewer. Kong Box lets you customize your box based on seven behavioral issues your dog may need help such as anxiety. KONG toys. While BarkBox's aggressive chewer box comes with nearly indestructible toys, KONG slightly comes on top in toy toughness mainly because Kong has been in the market for over 40 years, and thanks to its trademark Rubber, it produces toys that last for years as we've come to know. BarkBox, on the other hand, is more affordable, has a more fun monthly theme, and design-wise, toys look more attractive. While we love Kong treats, Super Chewer excels in the treat department with a more premium selection.
Kong Box vs Bullymake
So how does KONG super chewer box stack up to the Bullymake super chewer box? It's a close race, with Bullymake leading in the theme department and has a broader toy arsenal with over 100 indestructible toys, according to their online shop. While BULLYMAKE Rubber is super strong, we give KONG Rubber the edge for the above reasons. Kong toys come with recipes you can use on their toys, and they are a bit more versatile and interactive. However, Bullymakes stands out with a more natural line of doggie edibles. Pricing is almost the same.
Pitbull Subscription Box
A Pitbull subscription box is a monthly subscription service that delivers a curated selection of products for Pitbull owners and their furry companions. These boxes typically include tough dog toys, as Pitbulls tend to be heavy chewers. Some popular Pitbull subscription boxes include Super Chewer, Kong Club and Bullymake.
Indestructible Dog Toy Subscription – The Verdict
Based on our test, expert review, and everything we've seen here, we recommend the following:
Choosing between Bullymake, Super Chewer, or KONG Box depends on your priorities and your dog's needs. We recommend carefully reviewing the comparison chart and review above to determine what best suits you and your pup.
Are Dog Toy Subscriptions For Heavy Chewers Worth It?
Toys play a huge role in raising, training, and bonding with your dog. They provide tons of fun and are great for overall oral health, relieve boredom, be a reward for good deeds, and provide activity and exercise.
What happens when your dog only has plush toys or thin latex toys that can't stand up to strong chewers?
Well, your pup won't be able to receive the kind of constructive activity your dog needs when you're not around, which can lead to boredom. Dog toys also function as a sort of babysitter when we can't be with them. All of this can lead to behavioral problems. Canine behavior expert Dr. Emily Blackwell, who studied 4,000 dog owners, discovered that the fewer playtime dogs had, the more likely the dogs would suffer from one or more of 22 behavioral problems. Your wallet will also suffer if you constantly run to the store for new toys.
A dog toy subscription box for heavy chewers is an excellent concept that can handle the demands of the most extreme chewers.
Dog Toy Subscription For Heavy Chewers — Conclusion
Don't waste money again by getting toys that get destroyed easily. Tough chewers deserve a challenge worthy of their super-powered chompers, which is why these indestructible dog toy subscriptions will give your pup the best monthly surprise. We hope you found the best monthly dog box for your tough chewer that best fits your needs.
Have a puppy? You may want to start him off on a puppy box. Have multiple dogs? Are you on a tight budget? Check our subscription box for multiple dogs and cheapest monthly dog subscription box reviews. And if your heavy chewer pup also likes to chew and annihilates beds, check out our indestructible dog beds article.
---
Like It? Subscribe & Share!
Canine Bible authorship represents the unified voice of our entire editorial team rather than a single author. Each article, blog post, and review published under the Canine Bible name undergoes a rigorous review process, involving all team members to guarantee accuracy and up-to-date in accordance with the latest veterinarian research. This collaborative effort is an integral part of our editorial process and aligns with our four pillars of content creation. This approach ensures our content is backed by expert knowledge and factual information, offering our readers reliable, actionable, and trustworthy content.