Best Raw Dog Food Delivery Companies 2023 — Top Brands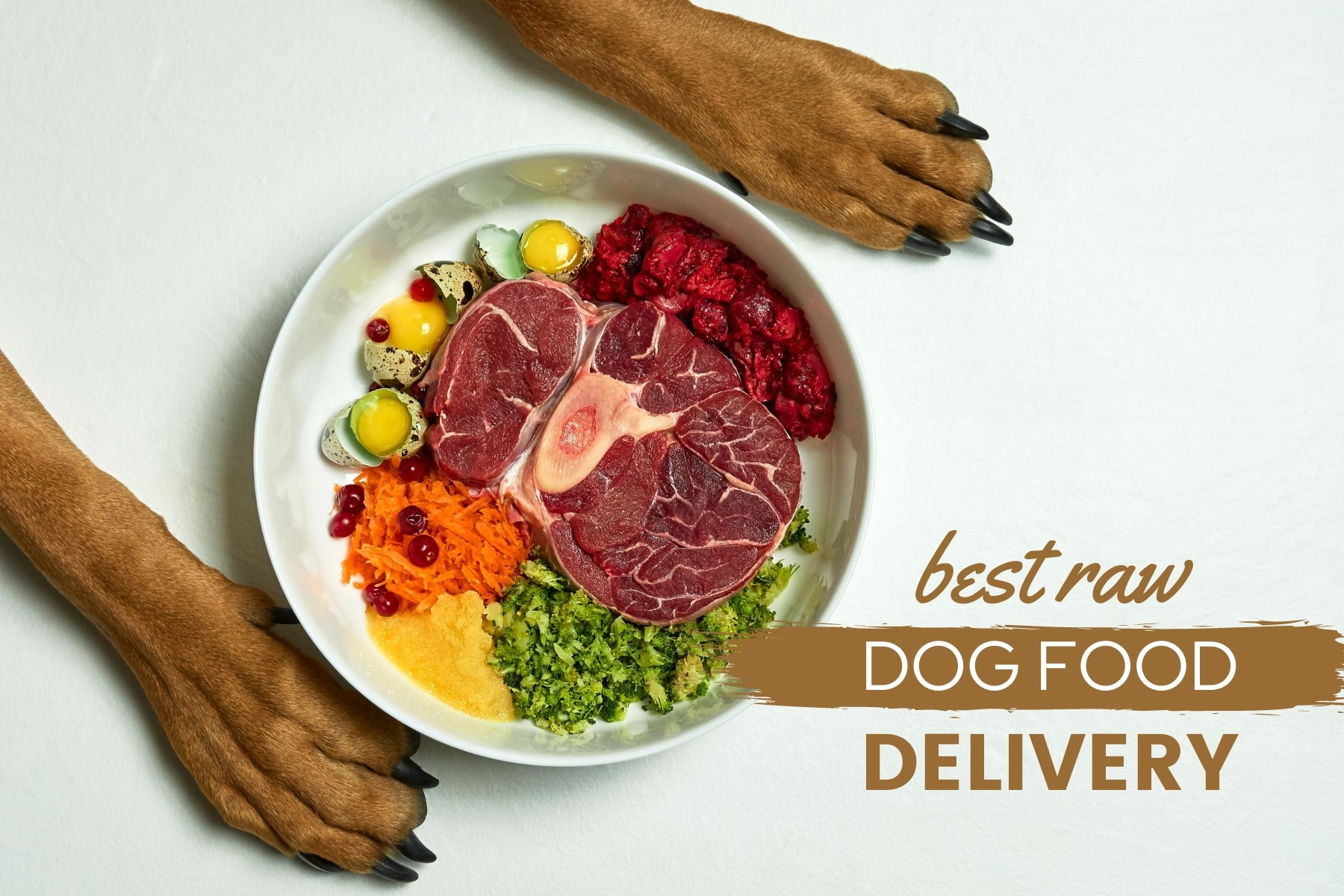 This is the most comprehensive guide to finding the best raw dog food delivery brands.
Are you a busy dog parent with no time to prepare raw food for your dog? Are you overwhelmed with raw dog nutrition, balancing raw ingredients and nutrients? If so, using a raw dog food delivery service is a more efficient way to get high-quality raw dog food delivered to your doorsteps from top raw dog food companies.
Whether you are looking for the cheapest raw dog food, the best raw dog food subscription, or organic raw dog food, we review and recommend the best options for every need.
If you are considering buying your dog's next raw meal, keep reading to find a frozen raw dog food delivery that will keep your dog healthy and his tail wagging for more. Let's dive right in!
Table of Contents 📖
Best Raw Dog Food Delivery Services At A Glance
Scroll to the right to see all our recommendations for the best raw dog food delivery brands.
Why You Should Trust This Review
What Is The Best Raw Dog Food Delivery?
Meet our top picks for the best raw dog food deliveries available today.
Canine Bible's research team chose all the raw dog foods listed below based on several factors, including AAFCO's nutrient guidelines, customer reviews, price, specific needs, and more!
So, what is the best raw dog food? It will depend on your dog's dietary needs, health conditions, and other preferences. Be sure to keep this in mind when selecting a raw dog food brand.
Below are our favorite places to buy raw dog food online. Let's take a look!
Best Overall Raw Dog Food — BARF World
Why We Picked & Recommended It
Our pick for the best raw dog food overall goes to BARF World. This raw dog food company is the pioneer of raw dog food. BARF (Biologically Appropriate Raw Food) states their food has helped generations of dogs become free of allergies, itchy skin and coats, digestive problems, obesity, and weight problems, among other issues. Their formula is a complete and carefully balanced blend of raw meat, fruits, vegetables, organs, and bone. It's meant to mimic what nature has designed our dogs to thrive on in the wild. In most areas within the continental United States, they will deliver your order in 3 days or less.
What Sets It Apart From Competitors
BARF's raw dog food supplements all of its formulas with four additional ingredients: cod liver oil (a great source of vitamin A and D and the omega-3 fatty acids), vitamin E (potent antioxidant), zinc oxide (promote good hair, coat, and activity levels), and manganese oxide (helps balanced metabolism).
Key Features
Pricing
Frozen Chubs (Beef, Chicken, Lamb): starts at $107.97 for six 2 lb chubs
Frozen Patties (Beef, Chicken, Lamb): starts at $109.97 for two 6 lb patty bags
Frozen Nuggets (Beef, Chicken, Lamb): starts at $168.97 for eight 3 lb bags
Freeze-Dried Nuggets (Beef, Chicken, Lamb): starts at $36.97 for one 14oz bag
Products
Product
Beef
Chicken
Lamb
Combo Diet (Blend of Chicken, Beef, Lamb & Pork)
Freeze-Dried Nuggets
1 bag = 14 oz
6 bags = 84 oz
$30.97 for 1 bag
$158.97 for 6 bags
$28.97 for 1 bag
$153.97 for 6 bags
$31.97 for 1 bag
$160.97 for 6 bags
Frozen Chubs (2 lbs each)
$80.97 for 6 chubs
$139.97 for 12 chubs
$279.94 for 24 chubs
$78.97 for 6 chubs
$137.97 for 12 chubs
$275.94 for 24 chubs
$90.97 for 6 chubs
$153.97 for 12 chubs
$307.94 for 24 chubs
$80.97 for 6 chubs
$139.97 for 12 chubs
$279.94 for 24 chubs
Frozen Nuggets
$84.97 for 12 lbs
$143.97 for 24 lbs
$82.97 for 12 lbs
$141.97 for 24 lbs
Frozen Patties (each 6 lb bag comes with 24 8-oz patties)
$82.97 for 2 bags
$141.97 for 4 bags
$80.97 for 2 bags
$139.97 for 4 bags
$92.97 for 2 bags
$155.97 for 4 bags
$82.97 for 2 bags
$141.97 for 4 bags
What We Like & Don't Like
Best Frozen Raw Dog Food — Instinct Raw
Why We Picked & Recommended It
If you are looking for the best frozen raw dog food, Instinct Raw dog food is your top choice. They provide a great variety of options (frozen raw bites, medallions, and patties). The quality is as excellent as the competition, but their slightly lower prices give them the edge in the frozen raw dog food category. You can choose from three flavors: beef, chicken, and lamb. Each 3-pound bag contains approximately 11 cups of delicious bites, while the 6-pound bag contains 22 cups.
What Sets It Apart From Competitors
Instincts' ingredients are frozen at their peak and never cooked to maintain their nutritional integrity. They use ingredients closest to their natural state. They state their formula promotes lean muscles, healthy teeth, gums, and improved digestion and overall energy levels.
Key Features
Best Raw Dog Food Subscription — Cali Raw
Why We Picked & Recommended It
Cali Raw is a raw dog food subscription box company that believes wholeheartedly in the benefit of raw dog food. This raw dog food delivery company offers a 12-pack box of each of its 6 formulas. They also have a build-your-own box option where shoppers can create a variety box depending on their needs. Food is delivered to your door every week or every 12 weeks, depending on the amount and frequency you choose. At any time, you can pause or cancel your subscription.
All their recipes are made from human-grade ingredients passed for human consumption. Their formula is based on AAFCO guidelines and produced on-site in a USDA-inspected facility with a USDA inspector. You have six flavors: chicken, turkey, lamb, beef, chicken & beef and turkey & lamb. They include vegetables such as broccoli, kale, and carrots in their recipes. Each formula comes in a 1lb bag, designed to make feeding easy and convenient for you.
According to our research, Cali company is hands down the best monthly raw dog food subscription option.
What Sets It Apart From Competitors
They add organic vitamins, minerals, and 18 EPA /12 DHA wild Alaskan sockeye salmon oil to ensure a complete and balanced diet. Calif Raw states their formula helps improve dogs' health with sensitive stomachs, sensitive skin, overweight, and allergies.
Key Features
Best Organic Raw Dog Food Delivery — Darwin's Raw Dog Food
Why We Picked & Recommended It
When it comes to getting the best premium organic raw ingredients for your dog, the best option is Darwin's Natural Pet Products Raw Food. This company offers a premium recipe of free-range meats and organic vegetables to provide complete nutrition for your dog. Natural Selections meals are free of steroids, antibiotics, and hormones. Additionally, they have over 15 years of experience and have served over 25 million fresh, raw meals to dogs and cats across the country. Darwin's is one of the first raw pet food companies to deliver raw pet food directly to pet owners' homes, using USDA-certified ingredients meticulously selected by a team of experts and formulas scientifically designed to meet the needs and requirements of dogs' nutrition.
We also love the story of how the company got started, as it speaks to its mission and drives to provide the best quality raw ingredients. Gary Tashjian, Darwin's founder, started the company out of desperation to help his arthritic dog, Max. In desperate need of an answer, he turned to a holistic veterinarian, who suggested a raw diet for Max. Gary went home and started making homemade raw dog food by grounding raw meat and vegetables. Gary was astounded by how much Max had improved on his new diet. In just 30 days, his dog was acting more like a puppy than an old dog, and that's how Darwin's raw dog meals were born.
What Sets It Apart From Competitors
*Special Nutrient Mix: Flax Seed Oil, Cod Liver Oil, Proprietary Vitamin and Mineral Mix
Darwin's offers three unique raw dog food formulas.
Key Features
Cheapest Raw Dog Food Subscription — Stella & Chewy's
Why We Picked & Recommended It
After a pound-per-dollar analysis, the most affordable raw dog food medal goes to Stella & Chewy's Raw Freeze-Dried Patties. Stella & Chewy's freeze-dried raw dinner pattie recipe quality is just as good as the competition. In fact, it is one of our favorite raw-freeze dried options. Keep in mind that when we say cheap, we refer to the cost per pound, not the quality. Their price is just slightly lower than others. That's why we named them the most affordable raw dog food option. Each bag of Stella & Chewy's is made from 90-95% meat, organs, bone, 100% organic fruits and vegetables, and fortified with added vitamins, minerals, probiotics, and antioxidants.
They have a whopping 13 flavors your dog can enjoy, including beef, chicken, duck, goose, lamb, surf n' turf, venison blend, rabbit, turkey, chicken & salmon, beef & salmon, red meat recipe, pork, and simply venison.
What Sets It Apart From Competitors
Stella & Chewy's raw diets focus on pure ingredients and raw protein that support better health for your dog with improved appetite and digestion, relief from allergies, vibrant skin and coat, healthy teeth and gums, greater stamina and vitality, and a healthy immune system.
Best Freeze-Dried Raw Dog Food — TruDog Raw Food
There is no real winner here. There are many great options when it comes to freeze-dried raw dog food.
We found TruDog's Freeze-Dried Raw Superfood to be a great option, but we also like Open Farm Freeze-Dried Raw Dog Food, BARF World's freeze-dried, Instincts Raw freeze-dried, and others just as much as we like TruDog. Choosing the best freeze-dried food will depend mostly on your dog's preferences and taste.
Why We Picked & Recommended It
Made from premium raw ingredients, TruDog's raw recipe is a tasty way to support your best friend's health with paw-some nutrition. Your pup will love to eat the nutrient-rich ingredients in this recipe, including quality beef meat cuts, organs, bone, blood, and herring oil.
What Sets It Apart From Competitors
It's easy to digest and supports overall health, including gum and teeth, bad doggie breath, digestive system, and immune system health. Because it's hypoallergenic and easy to digest, it's an excellent choice for dogs with sensitive tummies. Its tasty raw aroma and tail-wagging good taste encourage picky eaters to wolf down their meals. To unleash the nutritious goodness of each serving, just add water.
Best Dehydrated Raw Dog Food — The Honest Kitchen
Why We Picked & Recommended It
Dehydrated raw dog food is another excellent way to have your pup experience the benefits of a raw dog diet. Even though The Honest Kitchen Human-Grade Dehydrated Dog Food formula lacks bones and organ meat (major components of a raw diet for dogs), they use 100% human-grade ingredients that meet FDA standards for human food. It's perfect for puppies and active adult dogs. It has the same quality ingredients found in healthy people's food. Your pup will love this tasty meal made with free-range meats, and other quality ingredients dogs crave. They come in various flavors, including chicken, beef, turkey, duck, and even a veggie-only option.
You can use this formula as a dehydrated raw base mix, add water to the base mix, and add your choice of organs (ideally liver) and ground bone. The meat is already included, so there is no need to add raw meat. You can, but it's optional.
What Sets It Apart From Competitors
Dehydrated raw dog food offers a more convenient way to serve, store and transport. If you buy the 10-pound box, it's 40 pounds worth of dog food once you add water to the mix. They dehydrate the ingredients to retain natural vitamins, minerals and phytonutrients.
Raw Dog Food For Sensitive Stomachs & Other Health Problems
Why We Picked & Recommended It
Do you have a dog with a sensitive stomach or other health issues at home? Darwin's Intelligent Design Raw Dog Food is the best option for your dog if you do. These recipes are for specialized meals designed by veterinarians to provide extra support to dogs facing specific health issues such as liver, kidney, cancer, joint and musculoskeletal problems.
To get this raw dog food delivered to your door, you'll need a prescription from your vet. Then, you'll need to speak to a customer service representative to order this food. You will need your veterinarian's name, clinic name, and the clinic's phone and fax number.
What Sets It Apart From Competitors
Their recipes are palatable and nutritious meals that use only hormone-free (no added hormones), antibiotic-free, pesticide-free meats, and organic vegetables, with no grains, fillers, or chemical preservatives.
Best Raw Dog Food For Allergies — Instinct Limited Ingredient Diet
Why We Picked & Recommended It
Most raw dog foods we've recommended above are great for dogs with food allergies. But, if you want to be extra sure that's the case, Instinct's Limited Ingredient Raw dog food formula is your best bet. Why is this formula the best raw dog food for allergies? Because dogs have food sensitivities or ingredient intolerances that trigger allergies, the purity and simplicity of the recipe are vital in keeping your dog happy and allergy-free.
It comes in four flavors: Salmon, lamb, rabbit, and turkey. These easily digestible proteins provide all the essential amino acids your pooch needs. Their recipes are made with grass-fed meat or cage-free poultry. This raw dog food will make it less likely your dog will experience an allergic reaction.
What Sets It Apart From Competitors
This formula is purposefully made with a short ingredient list, with just one animal protein and one vegetable.
Best Grain Free Raw Dog Food — Primal Pet Foods
Why We Picked & Recommended It
If your furry friend can't tolerate grains but wants the benefits of raw dog food, Primal Pet Foods offers frozen and freeze-dried grain-free raw dog food options. It is made with antibiotics, hormones, steroid-free chicken meat and organs, and fresh ground bone for calcium supplementation. It's shelf-stable and ready to serve; just portion, shred and rehydrate with water, bone broth, or raw goat milk. They come in chicken, duck, beef, and lamb flavors. They use organic produce for food-derived vitamins A, B-complex, C, and D.
What Sets It Apart From Competitors
This raw dog food brand offers your grain-sensitive dog all the benefits of a safe and wholesome raw-food diet while boosting overall health.
Best Puppy Raw Food
Providing proper nutrition when feeding a growing puppy is very important to ensure the puppy grows as healthy as possible. When feeding puppies a raw diet, it is necessary to provide a formula that satisfies the nutritional needs of a growing puppy.
Merrick Backcountry Raw Infused is one of our favorite raw recipes for puppies because it combines the best of both worlds (raw bites + dry kibble). The kibble is raw-coated, but it also has freeze-dried raw bites to give your little furry dude all the benefits of a raw diet while keeping safe. It's perfect for puppy owners who don't want to commit to a full BARF diet for puppies. It's boosted with high omega fatty acids to help promote healthy skin and a shiny coat, while glucosamine and chondroitin support hip and joint function in puppies. It's an excellent raw option for assisting puppies in growing, developing, and building healthy muscles.
These are our top picks for dog parents who want to feed a full BARF diet to puppies.
The Puppy Raw Dog Food Subscription Box by Cali Raw Nutrition offers you the ability to build a custom box of raw dog food explicitly based on your puppies' needs & desires. Another puppy raw food option is Darwin's. They can produce raw balanced puppy food tailored to growing puppies. Other options we love include Sojo's Puppy Freeze-dried, which makes it easy to nourish your growing canine with real turkey, salmon, fruits, and veggies and feed raw without mess, hassles or guesswork. Stella & Chewy's Perfectly Puppy also helps puppies reach optimal growth potential with a raw diet. It's a pretty popular choice among puppy owners.

Getting the right premade raw dog food for puppies will ensure the optimal protein levels and calorie content to support the higher energy needs of puppies. Be sure to consult with your vet first!
Best Low Fat Raw Dog Food
We compared the fat percentage for the top raw food brands for dogs and found that the lowest fat raw dog food options you can buy are BARF World's frozen patties (7% fat), Cali Raw (8% fat), and Instinct Raw (8% fat).

Bulk Raw Dog Food Delivery
Where can you find raw meat in large and affordable quantities to feed your dog?
These are the best places to buy raw dog food in bulk.
Our top pick for best premade raw dog food, BARF World, offers a volume purchase program that discounts those who order 500 food or more at a time. Click here to learn more about BARF® World's Volume Purchase Program.
Big box discount stores, warehouse clubs, and wholesalers are great options for raw meat in bulk deals.
Local farmers, butchers, and ethnic grocery stores usually have options for buying in bulk. These flexible options can get their hands in just about anything you ask, often offering the best prices and discounts when buying in bulk.
Raw dog food distributors are another alternative.
We like to buy pre-made raw dog food from suppliers to avoid all the hassle of shopping for ingredients, balancing nutrients, portioning, and labor associated with preparing raw meals at home. Our top raw dog food picks are the most convenient way to give Fido all the benefits of raw dog food.
Buyer's Guide: How to Choose The Best Raw Dog Food Delivery Service
Here are some main factors you should look out for when buying commercial raw dog food.
Special Considerations With Raw Dog Food Diets
Conclusion: The Best Raw Dog Food Delivery Service
We hope this raw dog food subscription review provided you with a starting point when selecting a raw diet for your dog. Always consult your veterinarian before making the switch, mainly if your dog is a puppy, an elderly dog, or suffers from medical concerns.
Finding the best raw dog food on the market is no easy task with many options. Whether you are preparing raw dog food at home or using a raw pet food delivery service, you must understand the ins and outs of raw dog diets. Now that you know where to purchase prepared raw dog food, run it by your vet before feeding it to your dog.
Concerned that your dog might be allergic to raw dog food, consider performing a dog food allergy test to identify the raw ingredients that may cause discomfort to your pet.
We also invite you to explore another trending diet among dog owners⁠ — the vegan dog diet. Yes, dogs can be vegan too!
---
Like It? Subscribe & Share!