Easy DNA Dog Allergy Test Reviews 2023  — Discover Dog Allergies [My Dog's Results]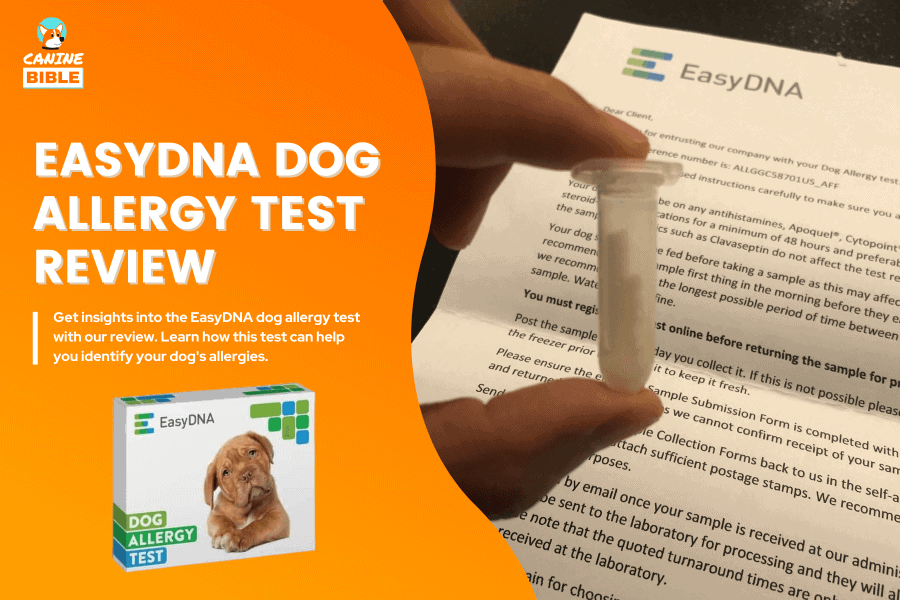 Canine Bible is reader-supported. We receive affiliate commissions via some of our links. This doesn't affect rankings. Learn more.
This is the most complete EasyDNA dog allergy test review.
Would you like to learn what causes dog allergies? EasyDNA is one of the leading dog allergy testing companies available today that can assist. But can they aid you in identifying the specific substances responsible for your dog's allergies? Is it a worthwhile investment?
Let's find out if this at-home dog allergy test will give you enough information to help fight your dog's allergy problems. Let's dive in!
📖 In This Review: Chapter 1: Full Review Chapter 2: Our Experience Chapter 3: Tips, FAQs & More
Easy DNA Dog Allergy Test Review — At A Glance
Company Overview & History
EasyDNA is a reputable global company that offers at-home DNA tests for people, such as paternity, ancestry, and wellness testing. They also offer a dog allergy test kit that is easy to do at home and promises results in just a few weeks. They have more than 18 years of experience in the industry and operate in more than 30 countries worldwide.
*This review exclusively examines their dog allergy test (EasyDNA dog allergy test).
What Is EasyDNA Dog Allergy Test?
The Easy DNA Dog Allergy Test kit measures your dog's saliva antibodies against more than 119 allergens, including everyday household products, foods, and environmental allergens. High antibody levels indicate sensitivity and intolerance to the item.
After your dog undergoes testing, you will receive a comprehensive list of the allergens for which your dog has tested positive and negative. Allergens have the potential to cause discomfort or trigger allergic reactions in dogs.
What Types of Allergies Does EasyDNA Dog Allergy Test?
This test is designed detecting for sensitivities and intolerances in your pet, not true allergies.
True allergies involve the immune system, are immediate, and can have severe consequences. When an allergen enters the body, the immune system mistakenly recognizes it as harmful and releases antibodies, such as immunoglobulin E (IgE), to fight against it.
On the other hand, intolerances and sensitivities happen when the body has a chemical reaction to eating or being exposed to food, drink, chemicals, or item in its environment. These reactions are typically not immune-mediated and don't involve the immune system. However, they can cause discomfort or digestive issues.
Testing for dog sensitivities and intolerances is essential because they may become true allergies over time.
Allergens Tested By EasyDNA Dog Allergy
Almond Oil
Ants
Apple
Banana
Barley
Bean Curd
Beef
Beet
Beetroot
Blackberry
Blueberry
Bok Choy
Brewer's Rice
Broccoli
Brown Rice
Brussels Sprout
Buckwheat
Buffalo/Bison
Cabbage
Canola Oil
Carrot
Cauliflower
Celery
Cheese
Chick Pea
Chicken
Chicken Egg
Cockroach
Coconut
Cod
Cod Liver Oil
Collard Greens
Corn
Corn Syrup
Cottonseed Oil
Cranberry
Cucumber
Dairy
Duck
Duck Egg
Dust Mites or Dust
Feathers
Fish Meal
Fish Stock
Flaxseed Oil
Fleas
Gelatin
Glucosamine
Goat's Milk
Grains (Bread)
Grass
Grean Beans
Green Lipped Mussel
Green Peas
Halibut
House Fly
Kale
Flatspine Bur Ragweed
Kidney Beans
Lamb
Lecithin
Lemon
Lima Beans
Limonene
Mackerel
Mango
Molasses
Mosquito
Moths
Mold (Plant)
Navy Beans
Oat
Oat Meal
Olive Oil
Orange
Peach
Peanut Butter
Pear
Pineapple
Pinto Beans
Pollen
Pork
Potato
Propylene Glycol n-Butyl Ether
Pumpkin
Rabbit
Raspberry
Rice Bran
Rosemary
Salmon
Sardines
Shellfish
Sorghum
Soy
Spinach
Squash
Strawberry
Sunflower Oil
Sweet Potato
Tapioca
Tempeh
Tobacco
Tomato
Turkey
Turnip
Vegetable Oil
Watermelon
Wheat
Whey
White Rice
Yam
Yogurt
Yucca
Zucchini
Sage
Honey
Western Ragweed
Fungus (Household)
Fungus (Plant)
Trout
Yellow Peas
Quinoa
Millet
Venison
Why Use EasyDNA Dog Allergy Test? Benefits
Here are the main reasons to try the EasyDNA dog allergy test.
EasyDNA Dog Allergy Test Key Features
A look at the most notable features of EasyDNA dog allergy test.
How Much Does EasyDNA Dog Allergy Test Cost?
EasyDNA dog allergy test is one of the most affordable options.
EasyDNA Dog Allergy Test Discount Code
Are we looking for an Easy DNA promo code? Click here for the best deal we could find.
The Judges
We picked one Canine Bible dog to give us their paw-honest opinion and verdict.
Bandit
Age: 3 ┊ Gender: Male ┊ Breed: Minature Schnauzer ┊Weight: 15 lbs ┊ Health: Concerns: Food sensitivities┊ Personality: Sweetie pie

"When we noticed him constantly scratching and showing signs of discomfort, we decided to try the EasyDNA dog allergy test. It was a game-changer! Finally, we could identify the specific allergens causing his distress and take steps to alleviate his symptoms." — his person, Anna.
EasyDNA Dog Allergy Test Unboxing
Everything arrived as described. The EasyDNA Dog Allergy Test was well-packaged and labeled, and organized.
Here is everything that came in the box:
My EasyDNA Dog Allergy Test Video Review
Watch our canine judge Bandit get tested with the EasyDNA dog allergy test kit.
My Personal EasyDNA Dog Allergy Test Testimonial
My Dog's Experience With EasyDNA Dog Allergy Test
How Does EasyDNA Dog Allergy Test Work?
Step-by-step guide on how to use EasyDNA Dog Allergy Test kit,
NOTE: Aside from collecting your dog's saliva, you must complete a few basic forms with basic information about your dog. They also ask you to disclose suspicions about your dog's allergies or intolerances.
EasyDNA Dog Allergy Test Results
Once your dog's saliva has been analyzed in the lab, the test results report will provide you with a list of the allergens broken down into three categories: strong intolerance (positive for the allergen tested), mild intolerance, and no intolerance (negative for the allergen tested). The report includes an insightful description of the substance and the potential associated symptoms for each food or item.
You will be notified via email when your results are available. You will need to log in online to see your dog's report.
Our dog's test yielded the following results:
Bandit tested positive for two strong intolerance (Rosemary and Western Ragweed) and positive for twenty-one mild intolerances. You can see a small excerpt of our report below.
After going over your results, you should discuss them with your vet to devise a plan to eliminate any allergens from your dog's diet or other recommendations they may have.
Ordering, Shipping & Delivery
The ordering process is quite simple. You must fill out your personal information, dog profile, and test options. After placing our order, EasyDNA sent us a same-day, follow-up email order confirmation. Once the kit had shipped out, we received another email with the tracking information and delivery date. Delivery times vary depending on the delivery option you choose at checkout.
Our EasyDNA Customer Service Experience
A professional and friendly customer service staff handles EasyDNA customer service. We received a timely response every time we contacted them regarding their service. We also tested EasyDNA's customer service by having a few of our dog owner friends inquire about EasyDNA's service through email, phone, and chat to gauge their responsiveness and attentiveness. Overall, our pet parents were more than satisfied with the attention.
What We Like & What We'd Change
What Customers Think About EasyDNA Dog Allergy Test
Here is what real-verified customers had to say about this EasyDNA Dog Allergy Test.
EasyDNA Dog Allergy Test Positive Review
My experience was pretty good, to be honest! I ordered my home kit online, and it arrived promptly in plain packaging. Took my samples, sent them back and received back an easy-to-understand set of results. I had one administrative question for support and they responded quickly.

Isabelle N., Trustpilot 4/29/2020
Very easy process with progress updates and quick responses. Didn't get the result I had been lead to expect, but then again, that is why I did the test for my dog. The information provided with the certificate was very interesting and helpful. Highly recommended!

Betina D., Trustpilot
EasyDNA Dog Allergy Test Negative Reviews
Sent off for a dog breed test, the kit came out fast but took almost 6 weeks to get results, after emailing and questioning. Turns out our staffy cross is a St. Bernard crossed with an Irish wolfhound……what a load of nonsense, don't waste your money!

Sam S., Trustpilot 3/27/2018
I got there biggest package they had, with three tests included in this pack. all results are vague.

Antony R., Trustpilot 2/12/2020
EasyDNA Dog Allergy Test Reddit Reviews
We analyzed the commentary and most popular threads about the EasyDNA dog allergy test kit on Reddit. He is what people were saying:
One user notes that EasyDNA has one with good reviews but that he is from New York, and they have strict rules about DNA testing, even for dogs, so that they won't ship it to me. One user responded that 'these allergy tests I've looked at have been pretty clear in the disclaimers that they detect "sensitivities and intolerances" rather than true allergies. Another user said, "In order to successfully diagnose a food allergy, you need to do a strict elimination diet under the supervision of your vet." These accurate statements are accurate according to our research.
Other EasyDNA Dog Test Products
EasyDNA also offers other dog tests. Here is the complete list.
Other EasyDNA Products
EasyDNA offers a wide variety of other products for people and other animals.
How to Know If Your Dog Has Food Allergies
Dog allergies can come from various sources, and sometimes, it's hard to pinpoint the allergen causing your pet to feel miserable. Our article on dog food allergies article can help you identify if your dog is suffering from an intolerance or certain types of allergies. And if your pup is currently experiencing allergies, here is a breakdown of the best dog allergy medicines.
EasyDNA Dog Allergy Test Frequently Asked Questions
Here are the most frequently asked questions about EasyDNA and dogs.
EasyDNA Dog Allergy Test Reviews — Conclusion & Alternatives
We recommend using the EasyDNA dog allergy test for all dog parents who want to find pesky allergens causing their dogs' allergies. If you want to test only food allergies, our top pick is 5Strands.
However, this test should not be used as a substitute for professional advice from a qualified veterinarian. If you suspect your dog has allergies, take him to the vet.
While EasyDNA's dog allergy kit tests for the most common allergens, other options can test for more uncommon and specific allergens in dogs. Read our reviews of the best dog allergy test kits review for more alternatives.
---
Like It? Subscribe & Share!
Canine Bible authorship represents the unified voice of our entire editorial team rather than a single author. Each article, blog post, and review published under the Canine Bible name undergoes a rigorous review process, involving all team members to guarantee accuracy and up-to-date in accordance with the latest veterinarian research. This collaborative effort is an integral part of our editorial process and aligns with our four pillars of content creation. This approach ensures our content is backed by expert knowledge and factual information, offering our readers reliable, actionable, and trustworthy content.