Bully Beds Review 2023: The Best Bed For Large Dogs & Heavy Chewers?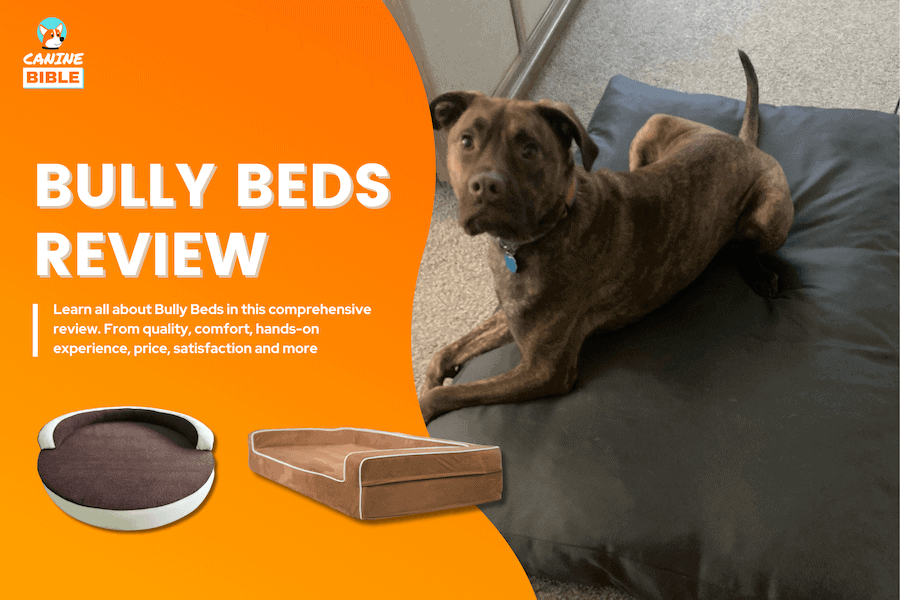 This is the most comprehensive Bully Beds review.
We tested Bully Beds on two of our pups a few months ago. At the time, we couldn't find a bed that would endure our dogs' excessive chewing habits and large-size needs, but we came across Bully Beds on social media, and it seemed worth trying.
Whether you have a large dog that needs an orthopedic place to rest, a dog that is not too fond of his bed to the point where he chews it open, or you need a high-quality large dog bed, our Bully Beds review can help you decide if this bed is right for your pet. Let's get started!
Bully Beds Reviews — At A Glance
Our favorite products from Bully Beds at a glance
Bully Beds Review — At A Glance
Bully Beds Company Overview & History
Bully Beds was born in 2015 in honor of Bull, the company's founder, 150-pound Cane Corso Mastiff, who suffered from hip discomfort. After Bull's owner, Joe Chanda tried dozens of beds that didn't provide adequate support or relief for Bull's hip problem; he started Bully Beds out of desperation to help his pup. After years of research, Joe developed the right combination and configuration of foam, and the Bully Bed was born.
Their mission statement reads, "We set out to develop an affordable, high-quality dog bed that provides the comfort and support a big dog requires, enabling luxurious relaxation and therapeutic relief.
Since its foundation, the company has expanded its product categories to offer more than beds.
What Are Bully Beds?
Bully Beds are Orthopedic Dog Beds designed with large dogs in mind. Their beds are constructed with premium materials to handle any bully's abuse. The company makes affordable, luxury big dog beds for big dogs.
Why Use Bully Beds? Benefits
Here are some main reasons and benefits of getting a Bully Bed.
According to WebMD, large dogs are prone to developing hip and joint problems such as hip dysplasia, elbow dysplasia, osteoarthritis, and cervical Spondylomyelopathy.[1]
A high-quality bed is vital to help soothe your dog's aching joints. A recent clinical study by the University of Pennsylvania found that dog beds can reduce joint pain, improve mobility, reduce joint stiffness, and decrease limping in big dogs with arthritis.[2]
Beds like the Bully Bed are crafted to help take some of the pressure off your dog's hips, which can help her feel better and potentially regain a bit of mobility. All this while providing a comfortable place to nap.
Even if your dog has no issues, a bed like Bully Bed may lessen the probability of developing these skeletal complications.
Bully Beds Key Features
A look at the most notable features of Bully Beds.
Bully Beds Are Also Great For Multiple Dogs
Some dog parents like to buy a large or extra large Bully Bed to fit multiple dogs in one bed.
Bully Beds Sourcing & Manufacturing
Bully Beds sources its materials from various trusted suppliers. While specific supplier information is unavailable, they carefully select materials that meet their stringent quality standards for comfort, durability, and performance.
As for the manufacturing location, Bully Beds manufactures its beds in the United States. The exact city or facility where the manufacturing occurs is not explicitly disclosed, but the company is based in sunny Florida. By manufacturing their beds in the United States, Bully Beds ensures that their products meet the high-quality standards expected by their customers.
Bully Beds Materials
Bully Beds uses a variety of premium materials to craft their beds.
Bully Beds use the same quality materials on all their beds. These include:
Their innovative material technology provides a soft and strong surface – two significant orthopedic benefits that large dogs enjoy. Any dog will appreciate how this bed gently cradles his joints while providing solid support to stay comfortable, happy, and healthy.
*Depending on the Bully Beds product you pick, the thickness of materials may vary.
Bully Beds Reviews
While all the beds below share the key attributes, features, and benefits described above, each bed has been built with a unique specific purpose. So you need to pick according to your needs and preferences.
Let's look at the different Bully Bed types.
Bully Bed Product Reviewed
Bully Beds Replacement Covers
Bully Beds sells replacement covers for each bed style.
You can find the following covers on their website.
Bully Beds replacement covers are super soft but made from durable microfiber. They are washable and removable, quickly zip on and off, and are available in multiple colors.
*They do not offer a chew-proof guarantee on their heavy-duty covers. These covers are not marketed as indestructible but are made from heavier-duty material, but not indestructible.
How Much Do Bully Beds Cost?
Here is how much you can expect to pay for Bully Beds.
| Bully Bed | Size | Price |
| --- | --- | --- |
| Original Bully Bed | M, L, XL & XXL | $139.99 - $339.99 |
| Chew Resistant Bed | M, L, XL & XXL | $139.99 - $339.99 |
| Infrared Dog Bed | L, XL & XXL | $399.99 - $499.99 |
| 3 Sided Bolster Bed | M, L, XL & XXL | $139.99 - $339.99 |
| Round Sherpa Top Bolster Bed | L, XL & XXL | $229.99 - $349.99 |
Bully Beds Coupon
Looking for a Bully Beds discount code? Just use this link to get the best possible pricing available.
The Judges
We picked two Canine Bible dogs for their paw-honest opinion and verdict.
Bully Beds Unboxing
Our Bully Bed looked great in its packaging – there was no denying there was a giant dog bed! Everything lived up to standard. The pictures and descriptions on the website were accurate representations of the product.
Here is everything that came in the box:
My Bully Beds Video Review
Watch our canine judge, Watson, test Bully Beds
Our Personal Bully Beds Testimonial
My Dog's Experience With Bully Beds
My Bully Beds Video Review #2
Watch our canine judge Bandit test his Bully Beds.
My Personal Bully Beds Testimonial
My Dog's Experience With Bully Beds
Ordering, Shipping & Delivery
Once you have selected your preferred Bully Beds bed, the ordering process is straightforward. You need to provide your general information and shipping address. The payment options include PayPal, Amazon Pay, G-Pay, Shop Pay, or traditional credit/debit cards.
After placing your order, you will receive a confirmation email and a tracking number once your order has been shipped. We were pleased with the shipping speed as our Bully Bed arrived within three days. It's worth noting that if you reside in the U.S., both shipping and returns are free of charge.
Our Bully Beds Customer Service Experience
Bully Beds' customer service is commendable. They prominently display their phone number on every website page, making it easy for visitors to contact them. Additionally, they offer a messaging feature, further facilitating communication.
We conducted several test calls to their provided phone number to assess their customer support. The person who answered the call was friendly and provided helpful information when we inquired about their beds. However, the response time was slower when we attempted to contact them via email. It took a couple of days to receive a reply.
Fortunately, Bully Beds maintains an active presence on various social media platforms. We recommend utilizing their social media channels as an alternative means of reaching out to them. You can likely ask any questions and receive prompt responses through these platforms.
What We Like & What We'd Change
What Customers Think About Bully Beds
Here is what real-verified customers had to say about this Bully Beds
Bully Beds Positive Review
"My 4 dogs (110lbs, 95lbs, 85lbs, and 40lbs) can all share this bed with ease and with no squish to the bed! I got it with my two senior dogs in mind, but they all seem very happy with it. My only complaint is that there is a small hole that occurred in it within 12 hours of getting it right at one end of the bolster. Had it even taken a week, I would absolutely blame it on my dogs, but they had barely even had the chance to interact with it. But overall the bed is awesome, and the small hole isn't enough to make me distrust the quality of this bed."

Breana E., verified buyer.
"This bed is really top of the line. I lay on this bed. Haha. I have two kinds of larger dogs (Akita and a malamute) and one small (yorkiepoo). I have the XXLarge bed and its plenty of room for all three and me. This bed is tough, easy to clean, and comfortable. My two big dogs are getting older (8 & 9) and they really seem to find it quite comfortable. I do use apiece of fabric over the bed so I don't have to wash the cover every time."

Josh, Chewy, 02/24/2021
Bully Beds Negative Reviews
"Welllll … the bed is nice she definitely enjoyed it as soon as I took it out the box. Unfortunately, I have a 7-month STAFFY. This is probably bed number eight since I've had her. Destroying beds is what she does and sorry to say this isn't much different. I had to keep her away from the bed so she wouldn't rip through it. I may be using the warranty on this one. I have to keep monitoring her. She digs sometimes but that hasn't bothered the bed much. She damaged it by the first day. If y'all need a dog tester I think she is it. I would not tell anyone not to try it but my dog is tenacious. Size is awesome she is comfortable."

Aziza W., verified buyer
"My reason for giving a public poor review is a description of the product & return policy. The company beds are good products. I have bought the original bed. So, when I went to return buy I bought the chew proof one. The website never specified the chew-proof bed wasn't whole foam. I thought it would be the same quality as the original. I mean it was more expensive….. this bed is cut-up foam & poor quality filler. The bed hardly has a cushion. My husband & I tried hard to comply with their return instructions. It is nearly impossible to get the bag not to let air in. It also made our vacuum overheat. It's like they don't want people to be able to return. They did say we can do a half-fold & send it back. However, I am not spending more money to purchase a box to fit it in. The company should be more transparent with the description of the product. I would have never bought it if I knew it was cut-up foam. Also, when you call their number no one ever answers. They have lost a repeat customer."

Lacy S., Better Business Bureau (BBB), 03/24/2021
Bully Beds Reddit Reviews
Here are the most popular Bully Beds Reddit reviews
Other Bully Beds Products
A list of other Bully Beds products.
Bully Beds Crates
Bully Beds Pet Care
Bully Beds Travel
Bully Beds Blankets
Bully Beds Vs Big Barker Company
According to our researchers, you can't go wrong with either. These two brands offer the best beds for large pups in the market today.
Bully Beds Amazon
You can purchase only a few types of Bully Beds through Amazon. Their website offers all their Bully Bed options. There are some knock-offs, so always be sure they are Bully Beds.
Bully Beds Warranty
Bully Beds come with a great 20-year warranty. If your Bully Beds flatten by more than 2 inches anytime within those 20 years, they will replace it once, at no charge. However, the warranty applies only to the original owner and is not transferable.

Warranty doesn't cover:
Bully Beds Frequently Asked Questions
Here are the most frequently asked questions about Bully Beds and dogs.
Bully Beds Review — Conclusion & Alternatives
---
Like It? Subscribe & Share!