5Strands Allergy Test For Dogs Reviews 2023: Is It Reliable?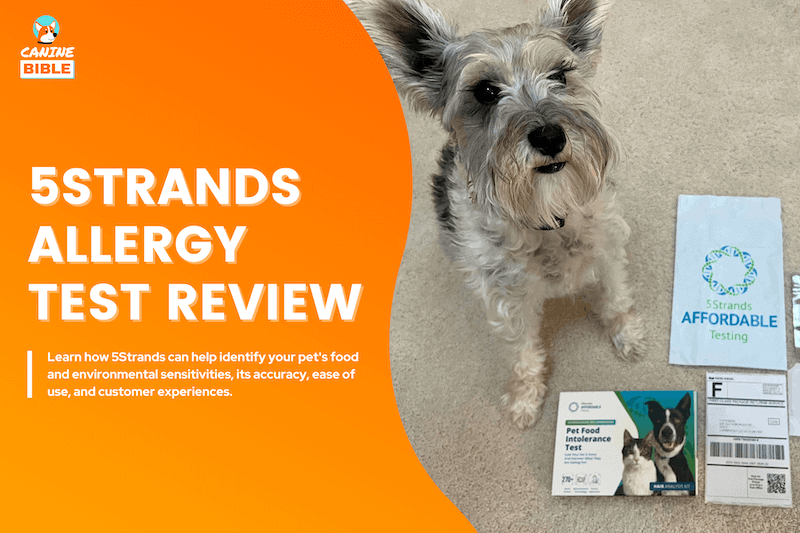 This is the most comprehensive 5strands allergy test for dog reviews.
Are you interested in figuring out which allergies might be affecting your dog? 5Strands is among the leading dog allergy testing companies that offer at-home allergy test kits for dogs, cats, and horses. You can test for hundreds of allergens, including ingredients in traditional pet food, raw pet food, metals and minerals, nutrition, and the environment. But can 5Strands identify your pet's allergies? Should you invest in one?
Let's dig deeper into the details and determine if the 5Strands allergy test for dogs can help your pet.
5Strands Test Reviews — At A Glance
5 Strands Dog Allergy Test Reviews — At A Glance
5Strands Affordable Testing — Company Overview
The team behind 5Strands launched the company in 2018 with the goal of changing healthcare. Its mission is to create transformation and change within the healthcare system for people and animals. 5Strands offers different types of at-home allergy tests (and other tests).
What Is A 5Strands Dog Allergy Test?
A 5Strands Dog Allergy Test is a diagnostic tool that helps dog owners identify their pet's sensitivities and intolerances to various substances, including food, environment, minerals, raw ingredients, and more. 5Strands tests are easy to conduct at-home test kits, and you can get the results in 7 to 10 days. 5Strand tests are non-invasive and provide helpful insights to make impactful changes to your dog's diet or lifestyle.
How Do 5Strands Dog Allergy Tests Work?
5Strands uses Bioresonance Technology to test your dog's hair sample to determine whether they've got imbalances or intolerances to food, environmental agents, common household products, nutritional items, raw food, metals, mineral, and other items. Each test only requires 10-15 hair strands to provide accurate results. Compared to other tests (blood and prick), 5Strand tests are a pain-free procedure.
What Is Bioresonance Technology?
5Strands tests use innovative and holistic bio-resonance technology based on biophysics and quantum mechanics principles.
Here is how 5Strand's Bioresonance sample analysis work according to their website:
5Strands uses Bioresonance technology to test the hair sample and obtain the results. Bioresonance technology is a safe, non-invasive form of assessment for energetic alignments in the human body. Bioresonance works by scanning a hair sample to create a profile of the energies that radiate from a person or pet. This is called their energetic blueprint or profile. With this created profile, it can now be compared to all of the energetic profiles of all of the other items we test for. If the created profile from the hair sample does not harmonize with the items tested, the energy is distorted and the intolerance or imbalance is detected. The stronger the distortion, the higher the intolerance or imbalance.

5Strands.com
Step-By-Step Guide On How 5Starnds Dog Allergy Test Works
Learn how the 5Strands pet allergy test works.
What Kind of Allergies Does 5Strands Test For: Intolerances or Allergies?
5Strands only tests for food intolerances, not allergies.
A food intolerance (or sensitivity) response occurs in the digestive system. It happens when the body has difficulty digesting or breaking down certain foods. When a dog is allergic to a particular food or substance, its immune system mistakenly identifies that food as harmful, and the immune system produces immunoglobulin E (IgE) antibodies in response to specific foods or ingredients. This reaction can have symptoms such as itching, swelling, hives, or difficulty breathing. In some cases, a severe allergic reaction can even be life-threatening.
Read our article on dog food allergy testing to learn more details about dog food allergy testing and why testing for intolerances is critical in combating dog food allergies,
Why Use It 5Strands Pet Food Intolerance? Benefits
Here are the main reasons to try the 5Strands pet intolerance allergy test.
Testing your dog for allergies allows you to develop a specific prevention plan, whether it is dietary or seasonal (change your environment to eliminate harmful allergens), and to seek specific treatment.
5Strands pet intolerance test is not intended to diagnose but is a screening tool to guide you through the food elimination diet process. It can save you time and money you could have wasted trying multiple prescription diets. You should share the results with your veterinarian and get approval before making any dietary manipulations in your pet's diet.
5Strands Allergy Test Key Features
A look at the most notable features from 5Strands.
5Strands Affordable Testing For Dogs Reviews
The company offers six different kinds of testing.
5Strands Coupon Code
Our readers get 10% off their total order using "CANINEBIBLE" at checkout. Click here to get started.
The Judges
We picked one Canine Bible dog to give us their paw-honest opinion and verdict.
5Strands Dog Allergy Test Unboxing
You will find the following items when you receive your 5Strands test pet kit in the mail.
My 5Strands Dog Allergy Test Video Review
[Coming soon. Our team is working on it]
My Personal 5Strands Testimonial
My Dog's Experience With 5Strands Dog Allergy Test
Ordering & Delivery
Ordering 5Strands for our doggo was fast and straightforward. After placing our order, 5Strands sent us a same-day, follow-up email order confirmation. Once we collected the hair samples and sent them to 5Strands labs for analysis, we received a confirmation 'Sample Received' email from [email protected] upon arrival at the processing center. It took about six days to get our dog's results via email. There is the option to view the status of your order via your portal account.
For a faster and more convenient option, they offer a 'downloadable kit' option that you can be requested via email by registering and sending in your sample.
Results & How To Use Them
The results came as three email attachments.
The results are color-coded. Red represents foods that should be avoided, yellow represents foods that should be avoided or reduced as much as possible, and green foods should be consumed in limited amounts.
You should consult with your veterinarian. They can provide professional insight into the significance of the identified intolerance and help you understand its potential impact on your dog's health.
It's recommended to consider implementing an elimination diet based on the identified intolerances. This involves removing the suspected allergens from your dog's diet for a certain period and monitoring for improvements in their symptoms. Reintroduce the eliminated ingredients one at a time to observe any adverse reactions and narrow down the specific triggers. If you notice symptoms after reintroducing the item into your pet's diet or environment, it is advisable to remove it from your pet's diet. However, if your dog shows no adverse reactions, you can continue to include it in moderate amounts.
By following these guidelines, you can lessen or eliminate the unwanted symptoms they are experiencing. The elimination diet will also let you test the accuracy of your results.
Customer Service
The customer service at 5Strands is excellent, and it's the one thing that ensures you'll get the answer you need to your questions or concerns about their products. Their web chat and even email responses are the fastest way to communicate. You can also contact them via email or phone. Their support is customer-friendly, and they are active on social media.
We also tested 5Strands' customer service by having a few of our dog owner friends inquire about their tests through email, phone, and chat to gauge their responsiveness and attentiveness. Most parents got a fast and helpful response in less than a few hours. We like that the 5Strands website is informative, and their FAQs section contains a lot of information that will help us better understand their products and results.
What We Like & What We'd Change
How Accurate Is 5Strands Pet Food Allergy Test?
Based on research and the literature, no dog allergy test is a hundred percent accurate, not even the ones you get at the vet. Even in a human allergy test, 50 to 60% of all skin prick tests yield "false positive" results, meaning that the test shows positive even though you are not allergic to the food being tested.[1]
Regarding pet kits, you can expect test results to be 65% to 75% accurate.[2]
5Strands states that a strict elimination diet is the only way to test for food intolerances accurately. This is true. The elimination diet is the golden standard vet-approved way to rule out pet food allergies. However, the time required to conduct such a controlled diet can be lengthy and costly. This is where 5Strands comes in. These kits remove the guesswork and make an elimination diet easier by providing the exact list of items that should take priority in an elimination diet. "The accuracy of the results is directly related to the amount of interaction and diligence given to implementing the results," says the company.
However, the company is confident its tests will yield great results for your pets and has conducted case studies on hundreds of customers. These case studies outline a record of a pet and their experiences based on the implementation of their testing results. You can check out the case studies here.
What Do Customers Think?
Here is what real-verified customers had to say about this 5Strands dog allergy test.
5 Strands Positive Reviews
We have to highlight that Amazon customer reviews are positive. We found that a "top contributor" for Amazon Pets left a review stating how she had tried multiple foods, and nothing seemed to work. She even discovered that peanut butter was causing her dog's allergies, and ironically enough, all her pup's treats had peanut butter in them. She also notes that it's also worth trying and not jump to conclusions even when your vet says so.

Amazon
"This is an expensive and fast way to see what might be causing your dog's itchy skin and paw licking. I thought I was feeding my dog a clean and neutral diet of beef, only to learn that the organs were a major irritant for him. I've switched his protein, and after just a few days, I could tell the difference in how much he licks and scratches."

Tiffany Fraley 4/29/2021
5 Strands Negative Reviews
As far as negative reviews, we have pet parents who report their test did not work for their pets. Comments like bio-resonance testing for allergies are not reliable, it only tests for intolerances, and that instructions are vague are some of the not-so-positive comments.
Overall, 5Strands Pet Food Intolerance Test has excellent customer reviews, averaging 4.3 out of 5 when looking at their website and Amazon rating reviews.
5Strands Reddit Reviews
There were only a few threads where people were talking about 5Strands. The conversation about the elimination diet surfaced as the best alternative.
Other 5Strands Pet Products
Here are other products offered by this company.
Blue-Green Algae Testing
Horse Allergy Testing Kit
This Equine Intolerance Test for Horses tests 300 items, including 158 food items, 98 environmental factors, 29 nutritional imbalances, and 15 metal/mineral imbalances.
Consultation Pet
This one-on-one consultation is highly recommended for pet parents needing assistance using the 5Strands results. This consultation focuses on finding a commercial diet for your cat or dog.
5Strands Adult & Child At-Home Intolerance Tests
5Strands' affordable at-home intolerance tests for adults and children allow you to take control of your overall health and wellness. Uncover common food and environmental intolerances and change your diet or lifestyle.
5Strands Dog Allergy Test Review — Conclusion & Alternatives
While 5Strands is our best pick for food and environmental allergies, other options can test for other specific allergens in dogs. Read our reviews of the best dog allergy test kits for more.
Like It? Subscribe & Share!