Best Vegan Dog Treats: Plant-Based Snacks, Benefits & Recipes [+Vegetarian Options]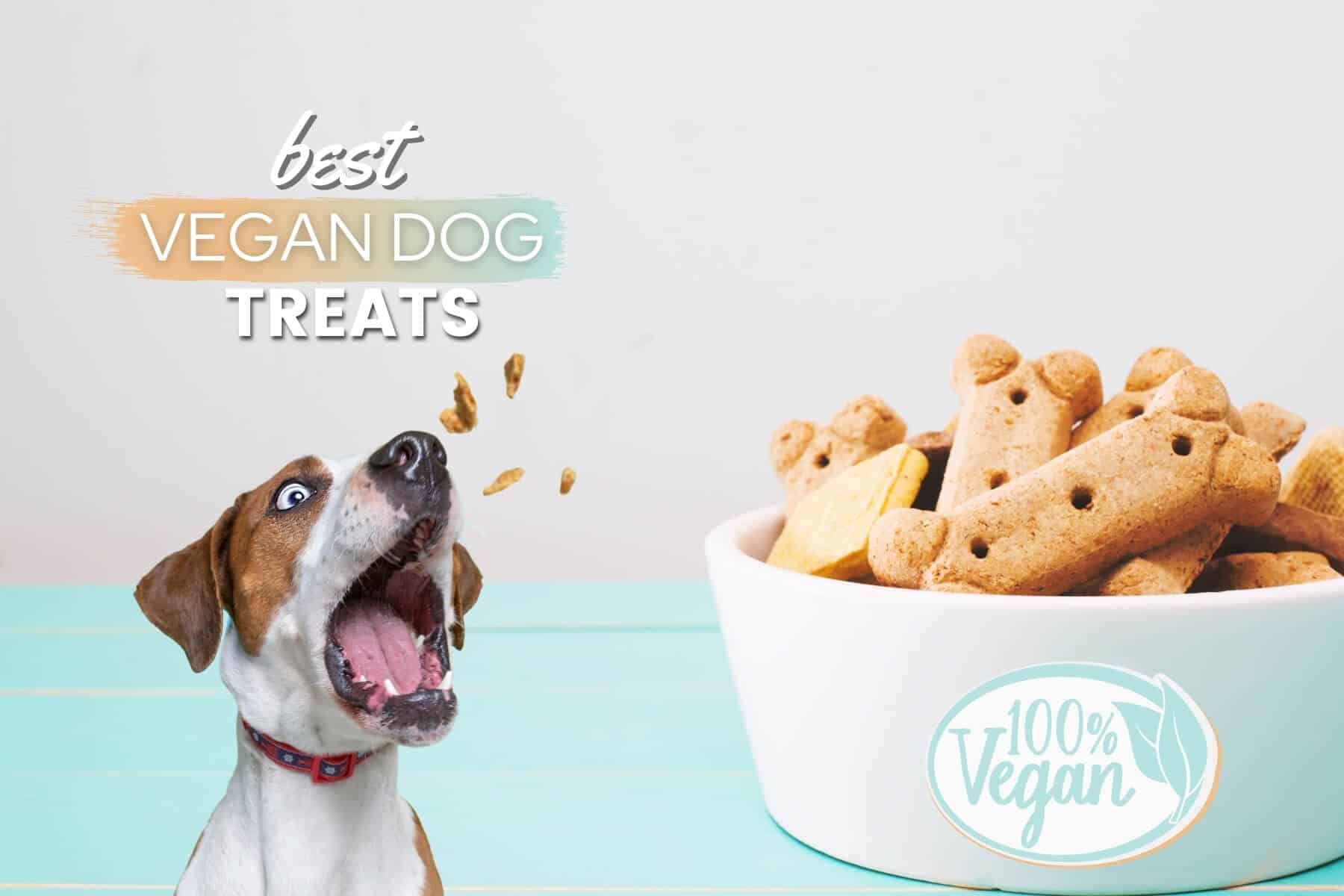 This is the ultimate guide to finding the best vegan dog treats.
A vegan lifestyle is being rapidly adopted by millions of people in the U.S. alone. So, it's not a surprise that vegan dog owners want to give their four-legged friends vegan food and treats due to the rising concerns about animal cruelty, environmental impact, and better overall health.
But, can dogs eat vegan dog treats, let alone benefit from them? If so, which brands offer the best veg dog treats for dogs.
If you're vegan (or simply care about what goes in your pup), it can be difficult to find healthy veggie snacks for them too.
We cover everything you need to know about vegan dog treats, including our top-recommended options so that your pup can enjoy plant-based snacking while still maintaining optimal health. Plus, we've added a section for the best vegetarian dog treats. Let's dive right in!
If you are new to vegan dog treats or looking to learn more, we highly encourage you to read Chapter 1 before other Chapters. Already familiar? Jump straight to Chapter 2, where we've reviewed the best vegan dog treats by category and needs. For more in-depth information about this topic, visit Chapter 3.
Best Vegan Dog Treats (Our Top Picks At Glance)
Here is a quick overview of just four of our top picks (by category) for the top vegan dog treats.
You can click here to go straight to our raw dog food reviews, but we encourage you to read the first few sections of this article to make a more educated decision when buying plant-based dog treats.
Chapter 1
Learn all about vegan dog treats
What Is A Vegan Dog Treat?
A vegan dog treat is made from fruits, vegetables, cereals, legumes, nuts, vegetable oils, soya, and other non-animal-based foods. Plant-based dog treats are manufactured without meats or ingredients derived from animals (e.g., poultry, fish, seafood, dairy, and eggs).
Vegetarian Treats For Dogs
Are vegan dog treats, and vegetarian dog treats the same? In short, no.
Vegetarianism is generally less strict than veganism. Vegetarian dog products include byproducts that do NOT involve the slaughter of animals. These can be eggs, dairy products, such as milk, cheese, yogurt, and honey.
The only similarity between the two is that vegans dogs and vegetarian dogs do not eat meat or byproducts of animal slaughter.
Now you know how to differentiate vegan dog treats from vegetarian dog treats.
Can Dog Eat Vegan Treats?
Yes, dogs can safely enjoy vegan dog treats. Research and anecdotal evidence show that dogs can thrive on a meat-free diet.
Dogs are classified as omnivores, meaning they derive nutrition from plant and animal sources.1
BIology and research tell us that dog bodies are built to consume plants and meats. Nature has given dogs molars for grinding and break down plant matter. They also pose a digestive system that can break down the daily diet of plant food.2,3
Dogs' diet adaptation research shows our pups have evolved to eat diets with less meat and more plant starch (carbs). Thanks to a mutation that happened over thousands of years in the gene coding for pancreatic amylase (AMY2B), dogs can digest plant starch. This dog diet change happened over thousands of years due to domestication and the start of agriculture.4,5
In fact, compared to true carnivores (wolves), dogs have evolved to better digest starches, revealing a study of the dog genome.6 They also have much lower protein and amino acid requirements and can easily utilize vitamin A and D from plant sources, just as people do.
Furthermore, Cummings Veterinary Medical Center at Tufts University says dogs can thrive on a vegan or vegetarian regimen as long as the formula is a carefully designed vegan diet that meets all of their nutritional needs.7
Are Vegan Treats Good For Dogs?
Meat-free dog treats, whether vegan or vegetarian, is a healthy alternative to highly processed dog treats.
Dogs can enjoy veggies and fruits, and other whole foods. These foods are powerful boosters to your dog's diet, whether they're supplementing kibble or being fed to your dog as a healthy snack. The nutrients in vegan diets can make a real difference in your pet's health.
"Natural things, such as carrots and lightly cooked sweet potatoes, are great treats. They can also have berries, which provide antioxidants," says Dr. Julie Mayer, DVM, a holistic veterinarian at The Integrative Veterinarian in Phoenix.
Check which fruits and vegetables are safe before sharing dog vegetable chews or fruit-based treats with your pet. Some — such as avocado, onions, mushrooms, and grapes could be toxic. Here is the full list.
NOTE: Plant-based dog treats are okay to feed your dog as long as they remain treats. These treats should not replace meals.
Vegan Dog Treat Benefits
Veg treats for dogs offer great benefits for our canine friends.
Powered by superfoods
Plant-based snakcs are naturally allergen-friendly
Improves stool health
Better breath smell
Helps with digestive issues (i.e. from loose stool to constipation to gas)
Natural anti-inflammatory properties help relieve joint pain and arthritis.
Boost energy levels and vitality
May help prevent diseases such as cancer or hypothyroidism
Healthy heart
Promote dental health
Support a healthy weight
Protects the environment
Help fight animal cruelty (It's cruelty-free dog food)
Why Feed Vegan Dog Treats?
Dog veganism prevents a great deal of animal suffering and slaughter. Our environmental footprint can be shrunk greatly by choosing to feed vegan dog treats rather than meat-made dog treats, especially when climate change problems persist.
In addition, vegan dog treats are healthier than traditional dog treats and can improve fitness levels while decreasing dogs' risk of chronic diseases. Run-of-the-mill dog treats contain undesirable substances like additives, flavors, preservatives, and other harmful chemicals – Such treats could take a toll on your dog's health in the long run.
Vegan treats are also great for dogs with allergies (or food sensitivities) since the most common sensitivities are with animal products like beef, chicken, and dairy.
What To Look For
How do you pick the best vegan dog treats?
Here is a list of factors you should look out for before considering a brand.
Ingredient list. Read the label and avoid buying treats with ingredients your dog might be sensitive or allergic to.
Protein count. The best vegan treat brands contain a high count of protein. Protein helps with muscle growth, keeps good immune system health, and has the right amino acid balance. Look for a high crude protein percentage on the back of the bag.
Superfoods and supplementation. Opt for an ingredient list that contains superfoods and supplements. This further enhances the benefits of the treats.
Dental. Some treats offer oral benefits and stimulation. They may come as chews and/or contains a blend of ingredients (herbs) that can keep a dog's breath smelling fresh. This can help prevent dental diseases.
Needs. The treats must support your dog's needs or preferences, such as taste, size, training, and health concerns.
Minimal processing and chemicals. Avoid veg treats with sugary fillers and an unhealthy amount of starchy carbohydrates.
Chapter 2
The best vegan dog treat brands reviewed.
Best Vegan Treat For Dogs Reviews
We've rounded up the best vegan dog treat brands that your dog is sure to love.
Our team of experts rated the best vegan dog biscuits based on ingredients, customers reviews, product tests, price, and other factors.
Best Overall | Best Budget | Best For Training | Best Organic | Best Superfood | Best Hypoallergenic
Wild Earth Dog Treats Reviews (Best Overall)
Wild Earth is widely known for appearing on the popular show Shark Tank.
Our medal for best overall dog vegan treats goes to this company.
Why? For starters, Wild Earth has the most sustainable and vegan-friendly manufacturing process. They source their main ingredient, a microscopic fungus called Aspergillus Oryzae (aka Koji), from a sustainable source, a laboratory. Yes, they grow Koji in a lab. It's a "clean protein," meaning the environmental impact is much less than conventional meat production.
Plus, koji tastes great, is high in protein, and contains all 10 essential amino acids dogs require. Koji is a cultured protein that has been used for over three thousand years in the east. They boost their treats with whole foods and superfoods like pumpkin, flax, peanut butter, beet powder, green tea extract, rosemary extract, and oats.
You won't find any fillers or artificial ingredients in their treat recipes. They are made from cruelty-free, sustainable, and natural ingredients. Wild Earth dog food is was created by scientists, nutritionists and vetted by their chief veterinary officer Dr. Ernie Ward and other industry experts.
They adhere to AAFCO and European guidelines when formulating their recipes.
These Shark Tank vegan dog treats come in three awesome flavors.
Peanut Butter Flavor – A good source of protein, vitamins, and healthy fats. It also contains fiber, potassium, magnesium, and vitamins E and B6.
Strawberry & Beet Flavor – Beets are a rich source of phytonutrients, which help support a healthy heart and liver function. They're also a source of folate, manganese, potassium, and copper. While strawberries are full of antioxidants, boast high fiber, and have a lot of vitamin C. They also help strengthen the immune system and may slow issues related to aging.
Banana & Cinnamon Flavor – Bananas are a great source of potassium and magnesium, and vitamins B6 and C. Cinnamon supports periodontal functions by promoting a proper balance of oral flora.
Wild Earth koji dog treats contain 15 calories per treat make it easy to reward puppies or adult dogs.
Wild Earth Dog Treat Coupon
Are you looking for a Wild Earth dog treat coupon? Our readers have access to 30% off the first order when you subscribe. Just use this link to get this offer. You can cancel anytime.
Read Our Wild Earth Dog Food Full Review
V-Dog Vegan Dog Treats Review (Best Budget)
V-Dog vegan dog treats are packed with fruits and veggies for a healthy (and yummy!) nutrient boost.
V-dog plant-based dog snacks are made from organic vegan ingredients to give your pup a delicious taste without all the cruelty.
These treats do not contain corn, soy, wheat, milk, eggs, or any other animal products, which is why sensitive, itchy pups love these veggie-based treats. They make their treats in California and are packed with protein and natural goodness your furry monster deserves to stay happy and healthy.
All threats use USDA organic ingredients. They use ingredients like pea protein, superfood chia seeds, or tummy-friendly sweet potato to provide the fuel your dog needs to stay strong and healthy.
This company offers three types of vegan dog treats
V-Dog Vegan Wiggle Biscuit Dog Treats. V-dog wiggle biscuits are crunchy heart-shaped treats that measure 1 inch in diameter. Each bag contains about 100 yummy treats. Perfect for dogs of all sizes. Comes in two flavors, blueberries and penutnutter.
V-Dog Breathbones. Breathbones are hard dog veggie chews that become soft and break apart as your dog licks and chews. They come in two sizes mini (3 inches long) and regular (4 inches long). Perfect for helping with dog bad breath,
V-Planet Vegan Jerky Dog Treats. This treat has a meaty, savory tasty that's healthy, good for all animals and better for our planet. They are 100% vegan and the perfect snack for daily rewards, training, or walk time.
The company has been in the vegan kibble and healthy treats for dogs business since 2005.
V-Dog Coupon Code
Looking for a V-Dog vegan dog treat coupon discount? Click here for the best deal we could find.
Best Vegan Dog Treats For Training
Looking for the best vegan dog training treats?
Zuke's Crunchy Naturals offer the best high-value vegan dog treats for training. The company has been making wholesome treats for adventurous dogs for over 20 years so that you can be certain these treats won't disappoint.
With less than 10 calories per treat, they are perfect for training or an anytime, bite-sized reward to satisfy your active pooch. Plus, they come in the shape of pills and are designed to break in half easily.
Their crunchy texture and wholesome ingredients such as berries, bananas, pumpkin, sweet potatoes, protein-rich peanut butter, vitamins, and minerals make this vegan dog bites ideal for all your adventures in dog training.
Available in 6 delicious flavors
Peanut Butter & Bananas.
Peanut Butter & Apples
Peanut Butter & Berries
Yougut & Honey
Berries
Pumplin & Sweet Potato
Know that different recipes are available in 2-calorie and 5-calorie varieties. Their low caloric value makes these baked treats a healthy, guilt-free, delicious reward or training treat for dogs.
They come in a resealable package for maximum freshness. It also contains coconut oil for a dose of goodness in every bite.
Another fantastic veg dog treat option for training is CocoTherapy Blueberry Cobbler Coco-Charms Dog Training Treats. These are ideal for small dogs or figure-conscious dogs.
Zuke's Coupon Code
Looking for a Zuke's coupon code? Click here for the best deal we could find.
Halo Vegan Dog Treats (Best Organic Vegan Dog Treats)
Halo Healthsome Garden of Vegan Dog Treats is your best organic vegan dog treat alternative.
Why? The company does NOT source their ingredient from factory farming facilities. This ensures all fruits and vegetables don't contain genetically modified ingredients and are free of artificial ingredients and preservatives. All Halo products are made in the USA with quality ingredients sourced from US farms worldwide.
This delicious meat alternative treat for dogs is completely plant-based and great for protein-sensitive dogs. Recipes are made using a blend of ingredients like chickpeas, ground peas, apples, and other delicious fruits and vegetables.
Halo vegan dog treats are naturally balanced and free from cereals, gluten, and dairy. Your dogs will love the aroma and crunchy texture of the Peanut N' Pumpkin recipe or Sweet Potato, Carrot & Quinoa recipe. These two flavors make these treats irritable and perfect the perfect snack for training and rewarding your pet.
From puppies to senior dogs, these tasty treats are crunchy and easily breakable, making them ideal for all breeds, large and small, and all ages.
By choosing Halo's vegan treat recipes, you'll be helping to reduce your carbon footprint. Avoiding meat even one day a week can make a positive impact on the environment.
Halo Dog Treat Coupon Code
Looking for a Halo coupon code? Click here for the best deal we could find.
Best Vegan Superfood Formula (Zuke's SuperFood Blend)
For those dog parents looking for the best nutrient-rich superfood vegan dog recipe, Zuke's SuperFood Blend Natural Dog Treats provides just that.
These tender, superfood dog treats give dogs the nutrient boost that keeps them going. Depending on the formula you pick, you will find superfoods like kale, spinach, kelp, spinach, alfalfa broccoli, peas, asparagus, turmeric, cabbage butternut squash, apricots, beets, cranberries,s, and other nutritious ingredients.
Additionally, naturally, antioxidant-rich whole foods are included to support your dog's healthy body. Plus, like all Zuke's recipes, all their ingredients are trail-tested to meet our high standards for quality. Every pouch reseals to stay fresh.
Available in three flavors. These include SuperFood Blend with Great Greens, Vibrant Veggies & Bold Berries.
Try SuperFood Blend treats as a frequent reward or on top of food as a super healthy, super tasty appetizer.
Zuke's Coupon Code
Looking for a Zuke's coupon code? Click here for the best deal we could find.
Chippin Vegan Dog Treats (Best Hypoallergenic Vegan Dog Treat)
Chippin vegan dog treats offer the best Hypoalleegnic formulas
This pet food company was founded by Haley Russell and Laura Colagrande while studying at the University of Pennsylvania in Philadelphia.
Chippin treats are powered by novel protein sources like crickets and spirulina. According to the Food and Agriculture Organization, insects such as crickets are an excellent form of alternative protein. Millions of people widely use them as part of their daily diet.
In fact, in an interview with the BBC and on their website, Chippin states that crickets are good for dogs in providing a source of complete and highly digestible protein that has all 10 essential amino acids.8 While, Spirulina is highly digestible blue-green algae and vegan protein that is more than 55% protein.
Crickets and spirulina are hypoallergenic proteins that we have seen work well for thousands of dogs, says the company. They also did a study that showed Chippin treats support gut health. Gut microbiota is an important factor in immune system health and even allergic responses.
To further prove the quality and safety of these treats, Chippin vegan dog treat recipes are formulated with guidance from board-certified veterinarians, PhDs, and pet parents like you. They bake their goodies in a kitchen with the highest Safe Quality Foods (SQF) certification for quality and safety. All Chippin products are developed and overseen by board-certified veterinary nutritionist Dr. Beth Hamper DVM, Ph.D., DACVN (Diplomate to the American College of Veterinary Nutrition).
Chippin is made in the USA, and they partner with small to medium-sized local farms to directly source our humane grade cricket, spirulina, and other ingredients.
Check out their 4 formulas.
Antioxidant. Banana and blueberry natural dog treats made with human-grade cricket protein. Immune system support and anti-inflammatory power. Omega-3 rich.
Smokehouse BBQ. All natural pumpkin and cricket dog treats. Made with human-grade cricket protein for an omega 3-rich training treat. Supports gut health and vision power.
Spirulina Dailies. All natural kale, flaxseed and carrot dog treats with spirulina protein. Powered by vegan ingredients for a veggie packed snack.
Superfood. Peanut butter and pumpkin natural dog treats made with human-grade cricket protein. Supports gut health. Omega-3 rich.
These treats are also powered by other healthy natural ingredients that dogs love and have a pleasant smell and taste. They are oven-baked in small batches, bit size, crunchy, and made in the USA.
For dogs with allergies or sensitive tummies, these hypoallergenic, vegan dog cookies are your best bet.
Clippin Coupon Code
Looking for a Clippin coupon code? Click here for the best deal we could find.
Best For Specific Needs
From soft vegan treats to classic vegan dog bones, your dog is sure to love these vegan treats for specific needs and preferences.
Bones | Soft | Gluten-Free | Dental | Dehydrated | Calming | Gourment
Vegan Dog Bones
Regular dog bones and even rawhide dog bones can pose a choking and blockage risk. They can splinter and are not healthy.
Vegan dog bones can provide the chewing fun dogs need while providing health benefits without the risks.
V-Dog Breathbones Regular Dog Chews is a great vegan rawhide alternative. Made with sweet potato, chia seed and broccoli, they entice your furry friend and leave behind clean breath with a hint of cinnamon. These vegan chews contain parsley to help reduce inflammation and improve your dog's dental health. Breathbones dog vegetable chews become soft and break apart as your dog licks and chews. They come in two sizes mini (3 inches long) and regular (4 inches long).
Another great option is Zuke's Z-Bone. These come in two different flavors Zuke's Z-Bone with Carrots and Zuke's Z-Bones with Apples. The chewable are made of natural fruits and vegetables, while the perfect texture gently removes plaque and tartar from her teeth and gums as she chews. In addition to being easily digestible, they also freshen her breath with a carefully chosen blend of aromatic herbs.
Both of these vegan dog bones are crafted in the U.S., pooch tested, and planet approved for a smaller environmental pawprint.
Lord Jameson Dog Treats (Soft Vegan Dog Treats)
Looking for the best soft vegan dog chews?
Lord Jameson dog treats have the perfect no-bake soft vegan bites.
The company only uses USDA-certified organic ingredients in a custom blend of hand-selected superfoods. These treats can turn any day into a celebration with their delicious flavors.
With 12 recipes to choose from, Lord Jameson soft plant-based treats are certified gluten-free and packed with all kinds of nutrients that support health and offer various health benefits.
Pooches love the Coco Crush with peanut butter, Apple Pops, Blue Bliss, and Celebration Bash. You can view all the recipes here.
They pride themselves on never using anything processed or genetically modified. Recipes are made from coconut oil, fruits like blueberries which are great for their skin health, vegetables that will keep them full of energy throughout the day.
Only plant-based proteins and no meat products are used, so pups with or without allergies can enjoy them safely.
Flavors so outrageously delicious your dog's tail will wag for more!
Lord Jameson Coupon Code
Looking for a Lord Jameson coupon code? Click here for the best deal we could find.
Vegan Gluten-Free Dog Treats
Shaded Trails All Natural and Vegan Crunchy Dog Treats are here to make sure your furry friend enjoys all-natural, vegan, gluten and grain-free vegan treats. This means no artificial flavors or fillers.
These treats contain no meat, so they're perfect for dogs with dietary restrictions or sensitivities. Moreover, these vegan dog cookies are fortified with awesome health-beneficial ingredients like garbanzo bean, flaxseed, hemp seed, coconut oil, and apples.
They come in three flavors:
Apple & Hemp Seed Crunchy Treats. Great source of Vitamin A & B. Hemp seed brings 20 amino acids to this formula helping maitain a healthy heart, reduce allergies, and more.
These vegan treats aren't just for vegan dogs. Their ingredients help keep your dog on a healthy trail all year round.
Shaded Trails Coupon Code
Looking for a Shaded Trails coupon code? Click here for the best deal we could find.
VeggieDent Virbac Chews (Best Vegan Dental Chews)
There are several excellent options when it comes to vegan dental chews that can help keep your dog's pearly whites in good health.
We have already talked about V-Dog Breathbones Regular Dog Chews, and these are certainly great vegan dental treats. Made with whole foods ingredients, dogs love the fresh and cinnamony smell of breastbones.
However, for more specialized dental chews and variety, Virbac VEGGIEDENT chews can help keep your dog's dental health in check by cleaning her gums and freshening her breath. It also promotes a balanced digestive system thanks to prebiotic ingredients, which promote balanced and healthy gut flora.
These are designed to help eliminate plaque and tartar. These toys have a chewy consistency and a patented Z-shape, improving chewing action and making it easier for dogs to grasp.
Veggiedent chews are made without any animal-based ingredients. VeggieDent FR3SH is delicious and can also be given daily as a nutritious reward. Furthermore, their chews have been approved by the Veterinary Oral Health Council. VOHC authorizes the use of the VOHC Registered Seal on products intended to help retard plaque and tartar on animals' teeth.
Provides a significant improvement in breath from day one by addressing the oral causes of bad breath over the short and long term.
You can find them in various sizes in resealable pouches.
Extra Small (<11 lbs)
Small (11-22 lbs)
Medium (22-60 lbs)
Large (>60 lbs)
Note: Greenies are not plant-based. It contains animal products (chicken, gelatin, glycerin).
Shaded Trails Coupon Code
Looking for a VEGGIEDENT coupon code? Click here for the best deal we could find.
Dehydrated Vegan Dog Treat: Wholesome Pride Pet Treats
These all-natural dehydrated banana vegan dog treats are a safe and healthy indulgence that you can give your pup. Because bananas are naturally grain-free, these tasty morsels won't upset the stomach of dogs with sensitive tummies either! With no harmful additives or preservatives—just 100% dehydrated bananas. Other popular flavors include apple, pumpkin, and sweet potato.
These treats come in a resealable bag and don't need to be stored in the fridge—just a cool and dry place will do! They're great for small dogs or as training rewards.
All threats are crafted using real ingredients that provide natural, wholesome nutrition you can trust. They provide fiber along with vitamins and minerals.
Calming Vegan Dog Treats
The Anxious Pet has a vegan recipe with a blend of active ingredients such as acetyl-L carnitine, chamomile, melatonin, and CBD to reduce anxiety and stress and promote relaxation and restful sleep without drowsiness.
Veterinary professionals have developed these treats from top institutions across America. Backed by science and great customer reviews, The Anxious Pet can bring relief to a pup who shows signs of anxiety, fear, stress, depression, grooming, or chewing furniture.
Antioxidant-rich compounds prevent stress and contain powerful pain-relieving anti-inflammatory properties.
Ingredients: TAP70 (a proprietary blend of Acetyl L-Carnitine, Chamomile, Ginger Root, L-Theanine, L-Tryptophan, Melatonin, Organic Flaxseed Powder, Organic Turmeric and Willow Bark ) and Cannabidiol (CBD)…15 mg
Gourment Vegan Dog Treats: Threepaws Gourmet Dog Treats
Threepaws Gourment dog treats are regarded as a canine culinary masterpiece, and they are vegan.
All the recipes start with a nutrient-dense, filler-free base of coconut flour, garbanzo flour, coconut milk, and peanut butter — all organic and GMO-free. Then they add natural flavors, including peanut butter, strawberry, and carob mint.
No chemicals, artificial ingredients, preservatives, or chemicals make these unique gourmet plant-based dog goodies.
You can use them for decorating dog-friendly desserts or for making your dog's kibble more interesting. Furthermore, the treats are filled with protein, so you won't have to feel guilty about feeding them to your pup.

Threepaws GourmetCoupon Code
Looking for a Threepaws Gourmet coupon code? Click here for the best deal we can find.
Other Mentions
More veg treats for dogs.
Sweet Potato | Peanut Butter | Benevo | Cookies
Vegan Sweet Potato Dog Treats
Here are some popular vegan sweet potato dog treat options
Vegan Dog Treats Peanut Butter
Want to feed your pup the best peanut butter dog treats? Here are some of the best.
Benevo Vegan Dog Treats
Benevo vegan sweet potato treat is a great substitute for rawhide dog chews. Both pet parents and their companion animals will love this delicious sweet potato bone-shaped treat. Contains 78% sweet potato, made with only natural ingredients and devoid of GMOs. Benevo Pawtato Knots is vegan. Formulated without meat, fish, dairy, eggs or wheat, or soya and have no artificial flavors or colors despite their appealing orange appearance.
Vegan Cookie Dog Treats
If your dog loves cookies, these plant-based cookie-shaped vegan treats are sure to delight your pet.
Best At Stores
Amazon | Petco | Petsmart | Target | Chewy
Looking for dog treats at these popular pet stores? Our team of experts searched for the best vegan and vegetarian dog treats recipes at these stores. Here is what we found.
Vegan Dog Treats Amazon
Most of our recommendations for vegan or vegetarian dog treats in this article come from Amazon. Please refer to our veg dog treats reviews above to see our top picks for this store.
Vegan Dog Treats Petco
Our researchers scoured this store and only found one vegan dog treat brand, Shameless Pet Treats.
Vegan Dog Treats Petsmart
Most of the treats we saw at Petsmart were meat-based. There were a few veggie and fruit-based treats, but we have already covered them here.
Vegan Dog Treats Target
Halo Healthsome Garde of Vegan dog treats is the best choice at Target.
Chewy Vegan Dog Treats
Chewy has a great variety of vegan dog biscuits. We listed the best ones in our reviews above.
Chapter 3
Learn in-depth, key information about vegan dog treats
Vegan Dog Treats Reddit
We looked at the conversations on Reddit to see what vegan treats or tips were being shared on the platform, and here is what we found.
A user named "mcflufferbits" asked about vegan dog treats, and a dog parent said, "sliced baked sweet potatoes. She also loves apples, bananas, peanut butter, and pumpkin. I like to stuff a kong with any of those and freeze it."
Another user gives tips on how to make your own vegan dog treats. He said, "I used bananas, peanut butter, and oats. Combined them all in a food processor, rolled out the dough, cut it into small circles (don't have a cookie-cutter..just used the top of a water bottle), and baked them until they were firm! Super easy, cheap, and my dog loves them! Canned pumpkin is a great treat that most dogs/cats like!"
Watermelon and roasted acorn squash are also recommended on these threats. Sweet dehydrated potatoes slides are a popular recommendation for other threads. Any pet-friendly fruit or vegetable can work great, another user noted.
As always, be sure to run anything by your veterinarian before adding to your dog's diet.
Vegan Dog Treats Homemade
If you like to cook for your pooch, DIY vegan dog treats are a great alternative to have fun and personalize your dog's veg treats to their preferences.
Other benefits of making your own vegan dog treat include:
Knowing exactly everything thats going into them

so you can avoid harmful ingredients.
They are also cheaper
Easy to make as most fruit, veggies and other ingredients can be found at your local grocery store
If you don't really have one, a dog treat market kit can be extremely helpful.
Vegan Dog Treats Recipes
Want to learn how to make vegan dog treats? Follow this easy vegan dog treats recipe to get started.
soft vegan dog treats recipe
vegan dog training treats recipe
Peanut Butter–Pumpkin Dog Treats
Ingredients
2 cups whole wheat flour
1/2 tsp. baking powder
1 1/2 tsp. ground cinnamon
1/2 cup pumpkin purée (be sure to use real pumpkin, not the pie filler)
1/4 cup unsalted and unsweetened peanut butter
1/4 cup water
Instructions
Preheat the oven to 350ºF.
In a large mixing bowl, combine the flour, baking powder, and ground cinnamon.
Mix in the pumpkin and peanut butter, then slowly add the water. If the dough is too sticky, add a bit more flour. If it's too dry, add a small amount of water.
Roll the dough out to 1/4-inch thickness on a lightly floured surface and use a knife or cookie cutter to cut out whatever treat shapes you desire.
Place the treats 1/2 inch apart on a nonstick baking pan or a baking pan lined with parchment paper.
Bake for 20 minutes.
Let the treats cool and then let your dog have a taste!
Makes approximately 25 treats
Recipe from: Peta
Peanut Butter Oat Dog Treats
Equipment
Ingredients
2 cups oat flour (or whole oats, ground into flour in a food processor)
1/3 cup peanut butter (no added sugar, salt or oil – just peanuts)
1 large ripe banana (fresh or frozen)
1 tbsp ground flaxseed
1/2 tsp ground cinnamon
1 pinch salt
1/4 cup water
Directions
Preheat the oven to 180ºC and line a baking sheet with baking paper.
If you don't have oat flour, grind the whole oats into a flour using a food processor.
Add the oats, banana, peanut butter, flax, cinnamon and salt to the food processor, and blend until smooth.
Add a bit of water to help the dough form – but it should still be a thick, sticky dough.
Take a heaped teaspoon of dough into your hand and roll it into a ball, then place on the baking sheet.
Repeat until the dough is used up, then take a fork and press each ball into a flattened cookie shape.
Bake for 20 minutes, then leave on a cooling rack until at room temperature.
Store in an airtight container at room temperature for up to a week, or freeze for up to 3 months.
Recipe from: Plantiful Coach
These plant-based recipes for dogs book "Nutritional Lifestyle Guide: Feed Your Dog for Health & Longevity" is a great start for more vegan or vegetarian dog treats.
Raw Vegan Dog Treats
Here is a list of raw vegan dog treats you can feed Fido.
Steer clear of these fruits: Pets should not eat cherries, grapes, or raisins because they may cause kidney damage. Persimmons and citrus fruits like lemons, limes, and grapefruit can upset the stomach.
Steer clear of these veggies: In all forms, including raw, cooked, and onion powder, do not feed your pet onions or garlic. These cause damage to the red blood cells, ultimately causing them to burst. Wild mushrooms and rhubarb also contain toxins. It is recommended to avoid corn as it is a common allergen among pets.
Vegan Dog Treats Wholesale
The only company we found that sells wholesale vegan dog goodies is V-Dog. If you're a reseller interested in buying v-dog at the wholesale price, you can request additional information here.
If you want to buy vegan dog treats in bulk, we Wet Noses Organic Crunchy Dog Treats come in 5-pound boxes at a great price and have various delicious flavors. Flavors include apple and carrots, apple ginger, berry blast, carrot & sweet potato, hempseed & banana, peanut butter & molasses, peanut butter & banana, and much more.
Vegan Dog Treat Alternatives
With the growing popularity of veganism in America, it's no surprise that more dog owners are looking for plant-based alternatives for their furry friends.
When buying dog treats, the key is to know what works best for your dog. We hope this post sheds some light on the benefits of vegan dog treats and helps you find the right veggie chews for your pooch. Remember to always talk to your vet before feeding anything new to your pet.
A more therapeutic alternative to vegan dog treats is CBD dog treats. These treats use CBD, a compound known to have amazing properties that can soothe several health conditions. Freeze-fried dog treats are probably the healthiest and more nutritious of all dog kinds of treats. Both articles are a must-read if you are in the market for treats.
---
Sources and References: [1] Dietary Nutrient Profiles: Optimal Dog Nutrition, [2] Research Gate, [3] Purina, [4] Dog Diet Adaptation, [5] NPR, [6] Genomic Signature of Dog [7] Tufts University, [8] BBC, [9] Reddit
Like It? Subscribe & Share!