Wild Earth Dog Food Reviews 2023: Recall, Pros, Cons, Safe? (Experience)
Canine Bible is reader-supported. We receive affiliate commissions via some of our links. This doesn't affect rankings. Learn more.
This is the most comprehensive Wild Earth dog food review.
Is your dog vegan or looking to be? If so, you'll want to check out Wild Earth pet food, a popular vegan dog food company making headlines for its delicious and nutritious kibble. Wild Earth dog food caught our attention when featured on Shark Tank. After learning about Wild Earth's mission and the quality of this dog food, we had to try it. But is Wild Earth's plant-based protein suitable for dogs? Can Wild Earth improve your pet's health? Will your dog benefit from eating this formula?
Sit tight. Our Wild Earth dog food review answers those questions and more to help you determine if Wild Earth recipes are a good fit for your pup. We look at ingredient quality, price, sustainability, benefits, taste, hands-on experience, and everything you need to know. Let's get started!
📖 In This Review: Chapter 1: Full Review Chapter 2: Our Experience Chapter 3: Tips, FAQs & More
Wild Earth Dog Food Reviews — At A Glance
Our favorite Wild Earth dog food products at a glance.
Wild Earth Dog Food Review — At A Glance
What Is Wild Earth Dog Food? — Company Overview & History
Wild Earth is dog food made with plant-based ingredients that are sustainable and cruelty-free. The company was founded as a result of being fed up with the dog food industry's malpractices and unhealthy meat dependency on pet food.[1]
The CEO, Ryan Bethencourt, a biotech major, studied the problems associated with traditional dog kibble, such as unethically sourced ingredients resulting in industry recalls and trace amounts of potentially dangerous chemicals, animal cruelty, and environmental impact, among other factors. In fact, a study by UCLA states that meat-based pet food accounts for 64 million tons, or one-third, of carbon dioxide emissions per year.[2] This translates to the meat-reliant kibble industry accounting for 25-30% of meat's environmental impact on the environment. To stop all these problems, Bethencourt created Wild Earth dog food.
Wild Earth Dog Food Mission
Wild Earth's mission is to transform the meat-heavy kibble industry into a vet-approved plant-based industry made from cruelty-free, sustainably sourced ingredients for healthier pets. Their recipes are designed with planet-conscious dog parents in mind. Their organic and vegan dog products provide proven health benefits backed by scientific research.
Why Feed Wild Earth Dog Food? Benefits & Research
The benefits of feeding Wild Earth vegan dog kibble (or plant-based dog goodies) include:
Wild Earth Research Benefits
Furthermore, the company surveyed 3,000 customers whose dogs were on a Wild Earth diet for at least three months. The results were excellent; 86% of customers reported a positive health benefit for their dog after switching to Wild Earth.[3] Here is what they found:
Most of these dogs in the study switched from meat-based kibble to vegan dog food. Astonishingly, 92% of dogs preferred the taste of Wild Earth.
Third-Party Research-Backed Benefits
Here is what the research says about vegan dogs on a plant-based diet like Wild Earth.
How Does Wild Earth Dog Food Work?
You have three options with Wild Earth.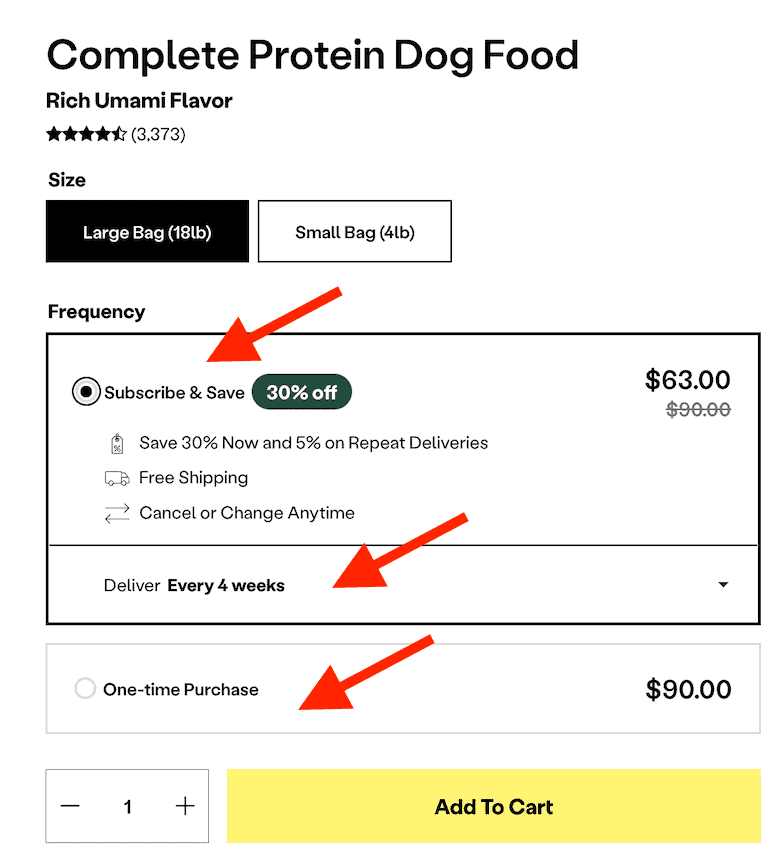 Personalized Plan
If you prefer a personalized meal delivery plan, click the "take the quiz" option on the home page.
Below is everything Wild Earth asks to customize your's dog diet to their needs.
Wild Earth Dog Food Key Features
Below is a list of some of Wild Earth's most noteworthy features.
Wild Earth Shark Tank
You may already know Wild Earth from the popular show Shark Tank.
Ryan Bethencourt, CEO of Wild Earth vegan dog food, walked onto the Shark Tank stage in 2020. He presented the idea of plant-based dog food as one of the solutions to kibble fillers and preservatives, pet food recalls, pet obesity, and environmental impact. The vegan dog food company also presented plant-based dog treats offered in five flavors. However, some Sharks were not immediately sold on the claim that dogs could easily transition to a meat-free diet. Bethencourt defended his vegan dog food position by stating that most vets agree that a meat-free diet is just as healthy as a meat-based diet.
Bethencourt cited Dr. Knight, a Professor of Animal Welfare and Ethics, and Director of the Centre for Animal Welfare, at the University of Winchester, who states that dogs can thrive on vegetarian diets as long as they are nutritionally complete and reasonably balanced. Further research evidence from the University of Winchester said dogs and cats could experience fewer health complications and higher activity levels on a vegetarian diet.[6]
Bethencourt's Wild Earth dog food valuation was $11 million. Ryan attributed the valuation to the extensive R&D (Research & Development). Bethencourt explains the process of making koji-based protein. Wild Earth made a deal with Shark Tank billionaire Mark Cuban, who offered $550,000 to invest in the brand. Fellow sharks critiqued his decision saying that vegan dog food was not solving an environmental problem but exacerbating waste with bougie dog treats. This claim was quickly put to rest with the research provided by UCLA, 'meat-based dog and cat food account for one-third of carbon emissions produced by the meat industry.
Ultimately, Ryan walked away from Shark Tank with a successful deal and sought to bring the benefits of vegan dog food to every dog owner.
*Wild Earth dog food Shark Tank update – We will update when info becomes available.
Wild Earth Shark Tank Episode
Watch the highlights from Wild Earth's Shark Tank episode! Mark Cuban seems to know what's up with vegan dog food!
Wild Earth Ingredient Sourcing & Manufacturing
Who makes wild earth dog food? Where does Wild Earth get its ingredients?
Sourcing
Their ingredients are sourced from the U.S., Latin American, European and Asian countries (not including China).
Manufacturing
Wild Earth is made in the United States, in a facility in the Midwest. As with most dog food manufacturers, they create kibble using heat extrusion. They do not test and measure every toxin but for everything that meets standard quality checks.
Wild Earth is one of the few sustainable dog food companies using biotechnology (cellar agriculture) to achieve a much lower carbon footprint by making some protein sources in a laboratory.
For instance, Wild Earth grows a main ingredient in Bonneville laboratories, a microscopic fungus called Aspergillus Oryzae (aka Koji). Because Koji is produced in a lab, each koji strain selected is free of bio-contaminants and remains in its pure form. Growing things in labor are much more humane and gentle on the environment.
They are currently investing in cell-based meat," he says, referring to the cultured meat grown in laboratories from chicken and bovine cell lines. This is exciting news for the industry and shows the company's direction—more on Koji in the next section.
Wild Earth Dog Food Ingredients
Each ingredient was hand-selected for targeted health benefits.
Wild Earth's dog food formulas come with 23% or 28% complete meatless protein, depending on your chosen formula. The recipes are high in fiber and contain a blend of superfood ingredients like oats, chickpeas, and sweet potato for strong muscles and a healthy gut. The food is free from fillers, artificial ingredients, or additives. Plus, there's no corn, soy, or wheat in it. The components of every Wild Earth dog food formula are correctly labeled.
Below is an in-depth breakdown of everything you need to know about Wild Earth dog food ingredients.
No problematic and unhealthy ingredients were found in our analysis.
How Do Dogs Get Protein From Wild Earth Dog Food?
The ingredients that contribute to our overall protein levels are: Dried yeast, chickpeas, peas, oats, pea protein, potato protein, sweet potato, flaxseed, marine microalgae and Aspergillus oryzae (aka Koji)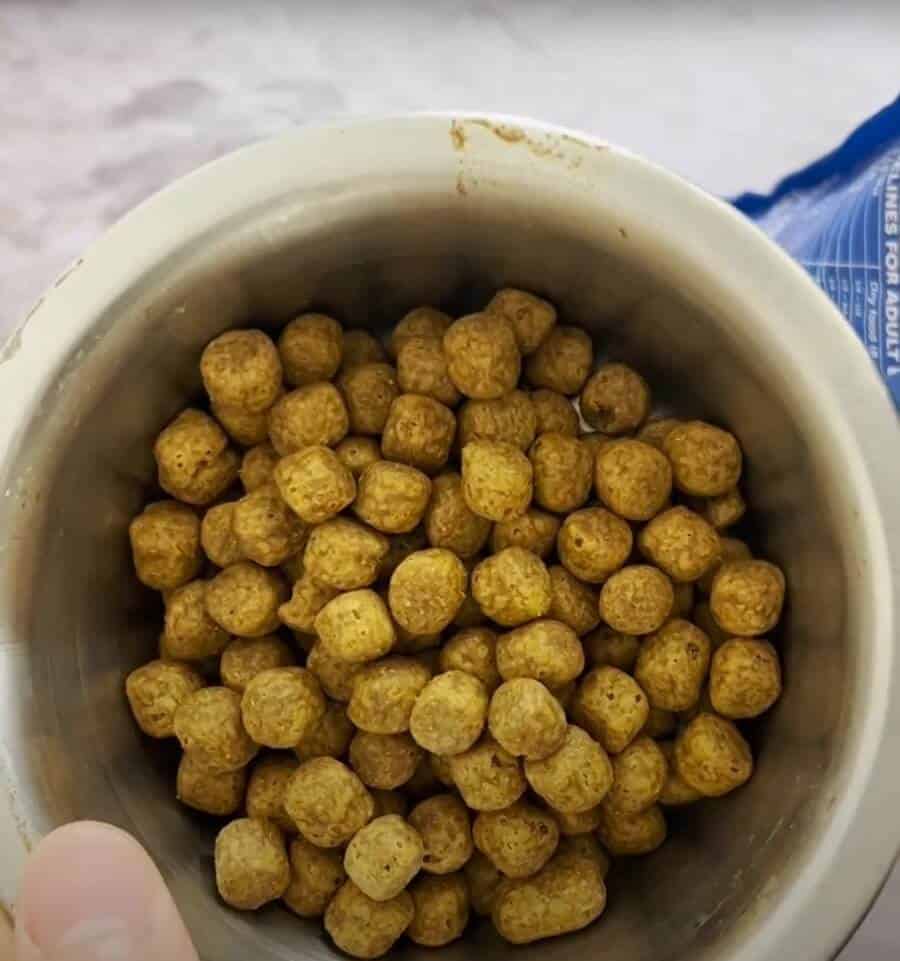 Superfoods
Wild Earth dog food adds several superfoods, including blueberries, cranberries, and spinach. These foods are low in calories but are packed with vital nutrients. In addition to being natural ingredients, they also contain antioxidants that reduce cancer and heart disease risks.
Other Key Ingredients
Wild Earth's dog food formula adds Taurine, a critical amino acid for heart health and vision. They've also added L-carnitine, which helps with fat metabolism, encourages lean muscle mass, and promotes healthy heart muscle and function. Furthermore, The Calcium carbonate in Wild Earth strengthens bones, teeth, and joints. It's boosted with marine microalgae, a type of omega-3 fatty acid that aids in keeping your dog's brain and nervous system functioning well. Also included in Wild Earth's blend is Riboflavin, an antioxidant that plays a role in helping your dog utilize food energy. Sunflower oil for omega fatty acids and other valuable vitamins and minerals are present in this formula.
If you are unsure if your dog is allergic to any of the Wild Earth food ingredients listed above, a dog food allergy test can help you learn if this recipe is appropriate.
Is Wild Earth Dog Food Safe?
Wild Earth dog food is safe, healthy and nutritionally balanced (AFFCO approved).
Popular belief says that dogs are exclusive meat-eaters. The reason is partly because dogs are related to wolves and are in the scientific order of "Carnivora." Despite its name, the order also includes herbivores and omnivores, such as Giant Pandas and Raccoons.[9] Over millennia, dogs have evolved several differences from wolves. The genomes of dogs have evolved to allow them to digest plant-based starches and thrive on food that contains a wide variety of ingredients, including vegetables, fruits, herbs, grains, meat, poultry, fish, and more.[10]
However, a plant-based diet may be risky for some dogs. That's why you should always consult your vet before you start your dog on a new diet.
NOTE: If you are concerned about grain-free diets and their relationship to canine dilated cardiomyopathy, don't be. The U.S. Food and Drug Administration (FDA) concluded that no scientific evidence exists that a grain-free diet causes canine-dilated cardiomyopathy (DCM).[11] Wild Earth has eliminated this from its recipes.
Wild Earth Dog Food Reviews
We recommend Wild Earth recipe to vegan parents or any pet parent who wants a more eco-friendly dog food alternative that is better for the environment. Wild Earth produces more sustainable food than meat-based kibble brands. This dog food brand aligns with vegan values, and you can have peace of mind that any of its products follow vegan practices. Secondly, it's also great for any dog who wants to experience the benefits of plant-based dog food, but especially great for dogs with allergies to meat proteins, dairy, or common ingredients found in traditional dog kibble.
This Wild Earth dog food review will cover the key aspect of why we like their products and why you should buy them.
Wild Earth Performance Dog Food
Wild Earth Performance Formula is a calorically dense formula with only high-quality superfoods, protein, and added minerals for optimal health outcomes. In fact, it's our top pick for the best vegan dog food brands. The food features a Veggie Chick'n Kabob flavor, which is designed to appeal to dogs' senses with aromas and flavors similar to chicken, but without any animal products.
Why & When Should You Consider This Recipe?
The food is best suited for dogs that need a high-protein diet, such as active dogs, canine athletes, seniors, dogs with sensitive tummies or other specific dietary needs. This is also great for dogs who need to build extra muscle, cognitive, and digestive support.
Wild Earth Maintenance Dog Food
Wild Earth's Maintenance Formula features a limited-ingredient recipe that checks all the nutritional boxes to keep your dog happy, healthy, and well-fed. It provides targeted nutrition that will help keep their gut regular, skin healthy, and coat soft.
Why & When Should You Consider This Recipe?
Best suited for healthy younger adult dogs with less active to active lifestyles.
Wild Earth Dog Treats Review
Wild Earth offers a year of carefully baked vegan dog treats made with sustainable koji protein, which has a nutritional profile similar to quinoa. It contains all ten essential amino acids your dog needs, and it's packed with other superfoods like pumpkin, flax, peanut butter and oats. There are also added omega fatty acids and prebiotics for a healthy gut. Each treat is only about 15 calories. You won't find any fillers or artificial ingredients in their treat recipes.
Why & When Should You Consider These Treats?
With 14% to 20% protein, these treats are ideal for dog owners seeking to provide a protein-pack snack to their dogs. These treats are also chewy and easy to break apart, making them safe for most dogs to eat and used as high-training treats. We love Wild Earth's dog treats because 90% fewer resources are required than meat-based treats. This treat is also the perfect choice for those environmentally conscious dog owners. Ideal for puppies and adult dogs.
Wild Earth Supplements
They sell veterinarian-developed and science-backed vegan dog supplements to provide support in the areas your dog needs it most. All without the use of animal ingredients. Each jar comes with 60 delicious peanut butter-flavored chews.
They have three supplements that offer support for the following:
How Much Does Wild Earth Dog Food Cost?
Let's look at the cost of feeding your pet Wild Earth vegan kibble.
| Product Name | One-Time Purchase | Subscription |
| --- | --- | --- |
| Dog Food (4 lb) | $39.00 | $27.30 (30% off) |
| Dog Food (18 lb) | $99.00 | $69.30 (30% off) |
| Dog Food (28 lb) | $125.00 | $87.50 (30% off) |
| 3 Pack Dog Treats | $30.00 | $21.00 (30% off) |
| Supplements | $30.00 | $21.00 (30% off) |
Our pup, Bandit, a two-year-old Miniature Schnauzer, weighs in at 14 pounds and is active. He eats about one bag of small dog food every four weeks. A subscription that takes 30% off each order costs 91 cents daily to feed Bandit. Let's say you have a German Shepherd that weighs 65 pounds and is relatively active. According to the size and frequency chart on the Wild Earth Website, he needs one large bag (28 lbs) every 28 days. It will cost $3 a day to feed a German Shepherd at the subscription rate.
The rates are better when you are a subscribed customer, with 30% off your first order and 5% off on subsequent orders.
Wild Earth Dog Food Price vs Kibble
Is Wild Earth more expensive than traditional kibble? Despite being seemingly high priced, Wild Earth's price is similar to most high-end kibbles.
According to our calculations and data from Statista, you can expect to pay, on average, $1.97 per pound for a decent mass-market kibble brand and $3.45 per pound for the high brands.[12] In contrast, Wild Earth will cost you $5 per pound without a subscription. However, when you subscribe, the cost per pound goes down to $3.9, making it a little bit more expensive than premium kibbles.
Wild Earth Dog Food Coupon Code
Our readers can access 30% off their first order and 5% off on subsequent orders if they subscribe.
NOTE: Wild Earth recently rebranded its packaging. We tested this product before the rebranding, so you will see the old branding below. However, all their recipes have remained the same; only the packaging has changed.
The Judges
We picked two Canine Bible dogs to give us their paw-honest opinion and verdict.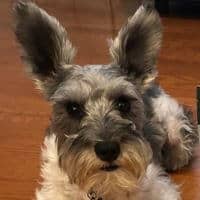 Bandit
Age: 3 ┊ Gender: Male ┊ Breed: Miniature Schnauzer ┊Weight: 14 lbs ┊ Health Concerns: None ┊ Personality: Active

"Bandit was a bit apprehensive when his first bite, but after a few sniffs of these, he approved and gobbled them down. Bandit really seems to like it, and since he's a bit picky, that's a win" — his person, Anna
Wilder
Age: 2 ┊ Gender: Male ┊ Breed: Miniature Australian Shepherd ┊Weight: 13 lbs ┊ Health Concerns: None ┊ Personality: Active

"When we fed Wilder Wild Earth's vegan treats for the first time, he was suffering from a loss of appetite. He would barely eat anything. Thankfully, he liked them instantly and perks up when he sees the bag." — his person, Silvia
Wild Earth Dog Food Unboxing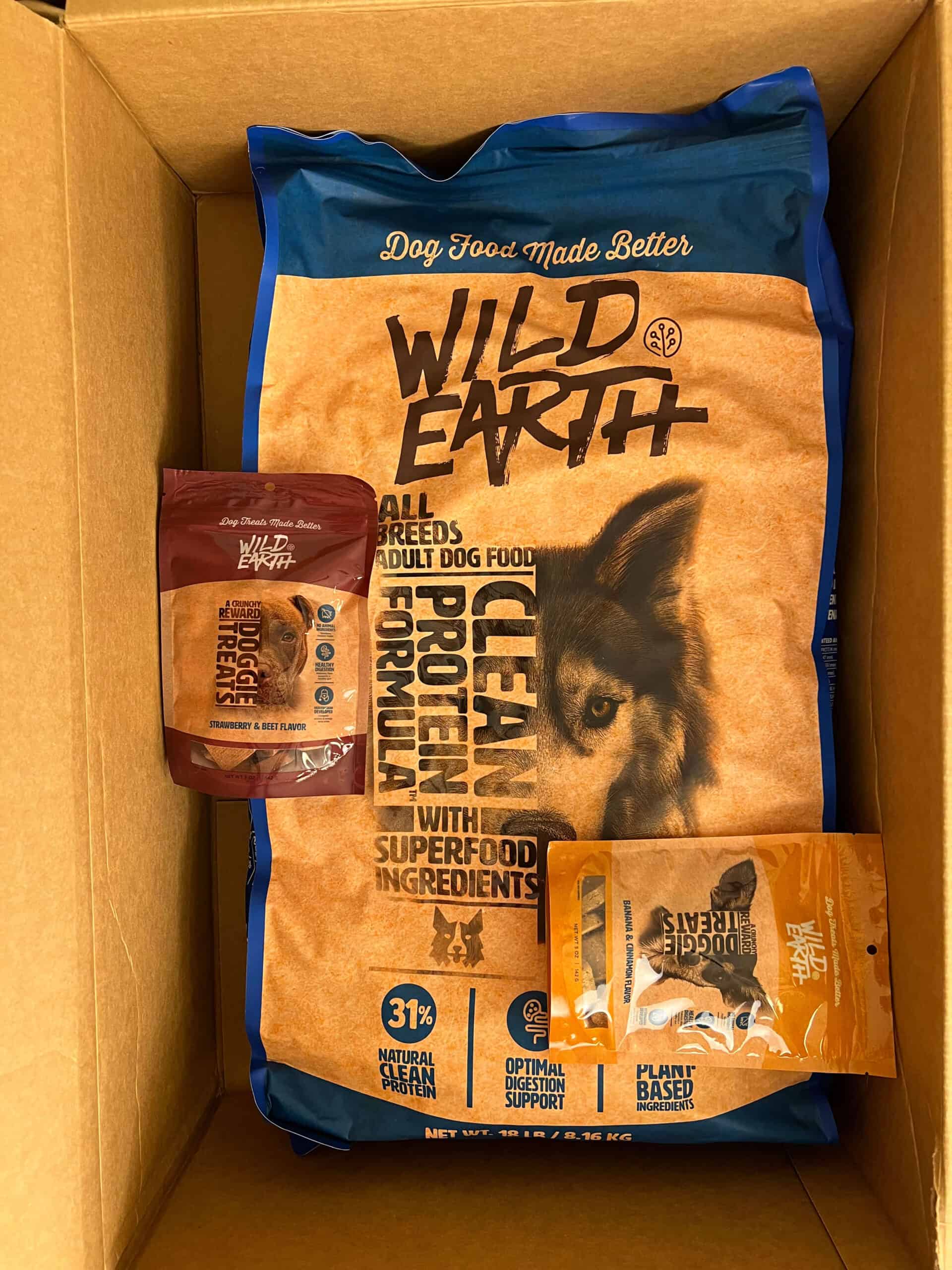 Here is everything that came in the box:
My Wild Earth Dog Food Video Review
Watch our canine judge, Bandit test Wild Earth dog food.
My Personal Wild Earth Dog Food Testimonial
My Dog's Experience With Wild Earth
My Wild Earth Dog Treat Video Review
Watch our canine judge Wilder test Wild Earth dog treats.
My Personal Wild Earth Dog Treat Testimonial
My Dog's Experience With Wild Earth Dog Treats
Ordering & Delivery
Ordering Wild Earth is simple. They provide an easy, seamless checkout process.
If you choose to subscribe, you can select your food to be shipped every 2 weeks to 12 weeks. There is also a one-time purchase option. Wild Earth also provides a handy chart to help determine how much food your pup needs based on weight. After ordering, we received an instant email confirmation. When our package shipped, we also received an email with a shipping tracking number, which you can track on their website. The food and treats were delivered to our doorstep in three days. The box was huge, but everything looked fresh, delicious, and well-packaged.
For subscribers, shipments and charges are automated, so you never have to repeat the process. You can access your account's custom preferences whenever you'd like.
Our Wild Earth Customer Service Experience
Wild Earth Dog Food is committed to building its customer base and providing quality customer service. We had a few fellow dog parents test Wild Earth's customer service by having them ask questions about their ingredients and formula through email and chat. Overall, they replied promptly with adequate information. However, we did notice some comments from customers on their social media that were not addressed. Despite that, they are pretty active on social media and provide helpful information through posts.
The lack of phone support or messaging system displayed on their website is not ideal. That's something they should implement. Overall, customer service is good, but they need to work on building lasting relationships with clients through their social channels.
What We Like & What We'd Change
What Customers Think About Wild Earth Dog Food
Here are what some real customers have said about Wild Earth Dog Food
Wild Earth Dog Food Positive Review
My two Boston's use to have diarrhea and sick after eating other dog food with all that nasty meat and by-products, and since I switched to Wild Earth, they have no problem. I also cook meat and veggies for them but was afraid they weren't getting their vitamins and minerals, so I feed them Wild Earth for all their nutrients, and they like the taste of it too. I'm a vegetarian myself, so I'm glad I found this food for them. I had two other Boston's and fed them high-priced dog food, and they both died of cancer. So thank you, Wild Earth, for your wonderful food.

Aisha F, Verified Purchase, Wild Earth.
I wasn't sure about Wild Earth when I first heard about it. I figured that vegetarian dog food couldn't possibly be as good as one with meat. After all, dogs evolved from wolves whose diet is all meat. I decided to try it after my lab started having allergy symptoms of itching, dry, coarse fur, and ear infections. The vet thought a single ingredient diet might help but I didn't want to go down the prescription diet route because I have another chihuahua/rat terrier and I wanted them to be on the same food. A prescription diet is too expensive. Hence, my introduction to Wild Earth. I decided to give it a try. I slowly introduced Wild Earth and decreased their old food. Now both dogs are 💯 percent on the Wild Earth and they have really taken to it. My rat-chi would usually stay in bed in the morning and the. turn up her nose at her old food until she finally realized nothing better was coming along. Then she'd slowly eat the food. Now, she comes running as soon as she hears the food hit the bowl. She gobbles it down in about 2 seconds. Even my lab seems to enjoy it. He never used to gobble down his food quickly. Sometimes it would sit in the bowl all morning. Now he gobbles it down as soon as I put it down. Truth be known I do add salmon oil and a probiotic to the food at every meal. However, they seem to really like it and so far my lab hasn't been itching as much and his fur is very soft and silky. I also feel really good knowing that the food I am feeding my fur babies is a high-quality protein and not meat by-products. I would most definitely recommend trying it.

Melissa G. Verified Purchase, Wild Earth
Wild Earth Dog Food Bad Reviews
My complaint involves multiple factors; however, it boils down to the issue in receiving my refund. This is an online dog food company; I enrolled in a subscription-based delivery, and one month they withdrew funds without fulfilling the order. I've reached out to customer service via email, Facebook, and Facebook messenger. I have not received a response from customer service in an attempt to resolve the issue. After much research, I have discovered MULTIPLE individuals who have commented on social media have been dealing with the same issues—an overall lack of customer service and advertising. I've canceled my subscription and won't be returning. 70$ is a lot of money to some, especially when we don't receive the product and are unable to contact customer service to resolve the issue other than via email or social media.

Better Business Beurue, 03/03/2021
Our two smaller dogs pick the pieces out of their dish and spit them on the floor. Our neighbor's German Shepherd and Husky won't even pick up a piece. I called PAWS animal shelter Lynnwood, and they won't use this, neither will HOWL, the wildlife rescue place. I thought a bear or raccoon might like it. They refused to take the new 18# bag I just received. I thought it might just work for treats, but no. I make dog treats with carrot pulp, oats, and one egg that my dogs love, so I assumed they would like these vegan pieces.

Verified Purchase, Chewy, 03/18/2021
Wild Earth Dog Food Reddit Reviews
Check these Wild Earth Reddit reviews to get more insights on this brand from real people.
Wild Earth Dog Food Recall
As of July 2023, Wild Earth has zero recalls.
Where to Buy Wild Earth Dog Food?
Wild Earth Dog Food is not available at PetSmart or Petco. Wild Earth sells on Amazon and Chewy. However, their website is the best place to buy Wild Earth dog products. Why? Buying from their website allows discounts and offers otherwise unavailable through third-party merchants like those listed above.
Wild Earth Dog Food for Puppies
Wild Earth states their kibble is not suitable for puppies. They chose their first food to meet and exceed adult dog nutritional requirements. Puppies have a different set of AAFCO dietary standards. This is why you see "puppy foods" and "adult dog foods."
Wild Earth Dog Food has not come out with puppy formula. We will update this if they do. For now, stick to feeding this formula to adult dogs or check with your vet to see if it would be alright to supplement some of Wild Earth's food into your puppy's diet.
Wild Earth Dog Food Amazon
Wild Earth dog food sells on Amazon, but we advise you to buy their products on their website if you want access to all the discounts and offers they currently have.
Wild Earth vs V-Dog vs Others
What's Wild Earth Dog Food Net Worth?
The total net worth of Wild Earth Dog Food remains unknown. When CEO and founder Ryan Bethencourt pitched this product on Shark Tank, the company's valuation was $11 million. Since then, Wild Earth's net worth has been estimated at $16 million.
Wild Earth Dog Food Frequently Asked Questions
Here are some popular questions people ask about Wild Earth dog food.
Is Wild Earth Vegan Dog Food Worth It? — Conclusion & Alternatives
Plant-based diets are definitely on the rise, despite being a controversial way to feed your pet. Our consensus is that Wild Earth vegan dog food is worth trying, as it is safe and nutritious for dogs.
Our research and scientific studies show that vegan dog nutrition may be a great alternative to traditional dog food. The team at Wild Earth has worked hard over the years on research and development to bring fresh and wholesome plant-based ingredients together to give dogs healthier nutrition. Whether you are looking for an all-natural, chemical-free diet or trying something different to find relief from allergies and gastrointestinal issues plaguing your pup, Wild Earth's clean vegan dog food is a great choice.
Check out our best vegan dog food guide to learn more about the benefits of plant-based dog diets and other vegan dog food brands.
---
Like It? Subscribe & Share!
Canine Bible authorship represents the unified voice of our entire editorial team rather than a single author. Each article, blog post, and review published under the Canine Bible name undergoes a rigorous review process, involving all team members to guarantee accuracy and up-to-date in accordance with the latest veterinarian research. This collaborative effort is an integral part of our editorial process and aligns with our four pillars of content creation. This approach ensures our content is backed by expert knowledge and factual information, offering our readers reliable, actionable, and trustworthy content.