Best Dog Runs: For Large Dogs, Outdoor, Backyard & DIY Ideas [2023]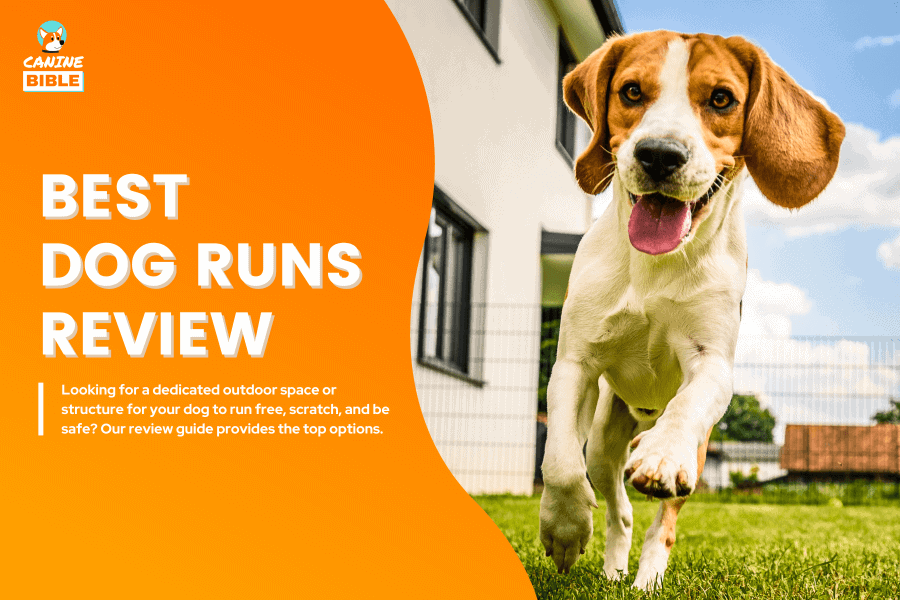 This content was reviewed and fact-checked by AKC Certified Dog Trainer & Behaviorist Madison Tanner Clark.
Are you looking for the best dog runs in the market? Need dog run ideas? Want to learn how to build a dog run? Sit tight as we explain how outside dog runs will keep even the largest breeds securely confined while providing the freedom they need to stretch, run around, potty, chase their tails, and play daily.
Our dogs love spending time outside, but owners will need a dog run to keep Fido safe and secure without a fenced-in yard. After sorting through dozens of dog run models and designs and building some ourselves, we show you how to pick the best dog run, when to use one, benefits, DIY dog run ideas, types, and materials to build one and recommend our top picks. Let's get started!
Top Dog Runs — At A Glance
The Research
Jump to: Full Reviews | Additional Info
What Is A Dog Run?
A dog run is an enclosure that is a private or public fenced-off area where one or multiple dogs can be confined and get exercise and playtime. Private dog runs are typically built on one side of a house, in apartments, indoors, or in backyards. Most dog runs are fenced in with a chain-link fence, but wood fencing may be another viable option if it doesn't tear at it.
Dog runs provide our pups with a safe, spacious, and pleasant environment.
A dog run acts as a temporary playpen or a kennel where your dog can spend part of the day. They are usually portable, so you can re-position them wherever needed. Some dog run systems have a modular design that allows you to increase or decrease their sizes according to your needs by simply adding or subtracting panels from the structure.
Dog runs may also include a dog house, food and water, a potty area, and a shared area for hot days. Dong runs are also referred to as pet areas or backyard dog kennels.
How to Use A Dog Run
A dog run should be where your dog can enjoy a little downtime. If not used correctly, your dog may feel trapped and frustrated.
Dogs should not spend most of their time enclosed on an outdoor dog run. Can you imagine spending day after day in your room?
When buying a dog run, if you feel it might be too small and your dog may feel cramped, buying another set or more is the easiest solution. Thanks to modular-designed dog runs, you can easily add the panels from your second set to the first one to make the run as large as you need.
The Reviews
Jump to: The Research | Additional Info
Best Dog Runs Reviews
We reviewed dozens of outdoor dog runs and fenced enclosures to help you pick the best one for your dog.
Panel size: 32 x 48''(WxH) each
Why we picked and recommended it: Giantex Dog Playpen takes the spot for best overall dog run. With panels measuring 48 inches in height, this dog run is ideal for small and medium dogs. It's built to be used as a dog run for yards or for making an indoor dog run in your house. Once assembled, it's pretty steady and sturdy so it won't get knocked around.
What sets it apart from competitors: Whatever dog run idea you have, its modular design allows you to create, expand, or shape the run to your desired setup. It also has a door with double locks, well makes sure your pet does not get loose.
While the manufacturer says it can work for large dogs too (and it can), we have identified a better option for large and giant dog breeds in the section below.
Key Features
What We Like (Pros)
What We Don't Like (Cons)
2. Best Dog Run For Large Dogs (Indoor & Outdoor)
Panel size: 96 x 48 x 72'' (LxWxH)
Why we picked and recommended it: The best dog runs for large dogs medal goes to Lucky Dog Outdoor Dog Kennel Playpen. What makes this large dog run ideal for large dog breeds is its height and material. It measures 6 feet tall and 5 without a cover installed. To put this into perspective, an adult Great Dane is 4'4 feet tall. This dog run provides plenty of room for big dogs. You can get a second or third set to cover a larger area if you want more space. It has a modular system, so you can make it as big as you need.
What sets it apart from competitors: It comes with a covered steel waterproof roof that provides your pet with complete protection from UV rays, rain, snow, and debris. Its wire mesh and steel bars are welded before coating to prevent sharp edges from hurting your pet and offer greater corrosion and rust protection, delivering years of durable service.
Key Features
What We Like (Pros)
What We Don't Like (Cons)
3. Best Portable Dog Run: Yaheetech
Panel size: 31.5 x 40″ (WxH) each
Panels per set: 8, 16, 24 or 32
Why we picked and recommended it: If portability and expandability are your top concerns, Yaheetech Heavy Duty Foldable Metal Playpen is your best choice. We didn't pick this brand as our best dog run because their panels' maximum height is 40 inches, not 48 (our top pick). While this difference may not seem significant, having a taller panel is a better alternative when housing medium to large dogs. Having said that, it is ideal for puppies, small to medium-sized adult dogs. This outdoor dog run allows your dog to relax or play outside in a safe, enclosed area.
What sets it apart from competitors: Its portability makes this run unique. It can be disassembled into a flat and compact size for easy storage when not in use. Flat packing size is also convenient to transport. Yaheetech playpens are subjected to rigorous sturdiness testing to ensure your pet's comfort and safety.
Key Features
What We Like (Pros)
What We Don't Like (Cons)
4. Best Affordable Dog Run (Cheap Dog Run Idea)
Panel Size: 24″, 32″, 40 & 48″
Why we picked and recommended it: If you are looking for the most affordable dog run that doesn't break the bank or sacrifice quality, Iconic Pet Heavy Duty Metal Tube Pen Pet is your top choice. This durable pet pen provides a safe area for your dog while providing the best mix of freedom and security. It's perfect for the yard or your favorite room. It's a great alternative to small kennels or crates.
What sets it apart from competitors: Eight interlocking metal panels offer maximum security and easy access. Available in other shapes as well as an 85" wide octagon. You can buy as many sets of 8 panels to make this dog run as big as you need to.
What We Like (Pros)
What We Don't Like (Cons)
Panels Per Set: 5 x 5 x 4 (L x W x H)
Why we picked and recommended it: ALEKO Heavy Duty Dog Kennel and Playpen Kit provide a perfect space for small dog breeds. From puppies, toy breeds and small dog breeds, it's designed to keep your pet safe and secure without feeling confined. Panels feature 12 gauge mesh welded to a 1-inch frame. Rust-resisting and powder-coated galvanized steel construction allows this kennel to be used indoors or outdoors for a long time.
What sets it apart from competitors: ALEKO is one of the premier online retailers of home and outdoor goods in the US and Canada, so expect excellent quality. You can connect multiple kennels to give your pet an even larger space to play.
What We Like (Pros)
What We Don't Like (Cons)
6. Best Dog Runs With Covers
Panel size: 96 x 48 x 72'' (LxWxH)
Why we picked and recommended it: PawHut is the best dog run with a top. Dog run covers are important because they help keep your pets protected from the weather and outside elements. Adding a roof or top panel to your dog's run is a good idea if your dog jumps or climbs. A roof also deters threats from wild animals (coyotes, raccoons, foxes) that may roam around your neighborhood. This is especially ideal if you have small dogs and docile dogs.
What sets it apart from competitors: A pitched roof allows water, debris, and light snow to easily run off instead of accumulating.
What We Like (Pros)
What We Don't Like (Cons)
Cord size: 50 to 100 feet
Why we picked and recommended it: If you don't like confining your dog in a box but you still want to let your pup run free, an aerial dog run is a solution. An aerial dog run works like a zip line, but two poles/trees support an overhead cable with a lead/tie-out cable. This keeps Fido home without being overly restrained.
What sets it apart from competitors: A great solution for properties where a complete fence isn't feasible or for situations where you want to give a dog some mobility without letting them roam entirely free.
Key Features
What We Like (Pros)
What We Don't Like (Cons)
Panel Size: 44.25 x 12 x 23.25 inches
Why we picked and recommended it: While a picket fence may not provide all the attributes and benefits of a real dog run, it can work well for small dog breeds and young puppies. It's relatively easy to install, with no digging required. Simply insert pointed stakes into the ground. It's reasonably sturdy.
What sets it apart from competitors: It looks more stylish than your typical dog run.
What We Like (Pros)
What We Don't Like (Cons)
Additional Information
Jump to: The Research | Full Reviews
Dog Run Ground Cover
Here are the six most common dog run ground cover options to consider. We evaluate each and recommend our top pick.
Best Dog Run Ground Covers
Coming in as our second favorite are the Bare Decor EZ-Floor Interlocking Flooring Tiles, which we call Wood Floor Tiles. These tiles boast a design advantage with their elevated platforms, which ensures adequate drainage. They are impeccably constructed from solid teak wood and are treated to an oiled finish. Beyond their aesthetic appeal and functionality, they score high on installation ease. Putting them together is as simple as piecing together the interlocking tiles.
Incorporate some padded or soft areas in the run if you opt for solid flooring like concrete. You can mix two flooring options in one run.
How to Build a Dog Run: Step By Step
Here is how to make a dog run on the side of the house or wherever you choose.
Step 1: Select an Ideal Location
Choose a safe, comfortable space for your pet.
For indoor runs, avoid high-traffic areas. For outdoors, avoid areas with toxic plants and watch out for utility lines. Ensure there's some shade for your dog to cool down in summer. Whichever you choose, make sure you can easily check on your dog.
Step 2: Determine the Right Size
Base your dog run's size on your dog. Refer to our reviews for recommended sizes by dog type. The run should offer ample space for freedom of movement. Larger breeds require bigger runs.
Step 3: Selecting a dog run (Pre-Fabricated vs. DIY Ideas)
Option 1: Pre-Fabricated
This is the quickest option, allowing easy assembly and customization. See our reviews to find the best fit. If you go this route, skip to step five.
Option 2: DIY Dog Run.
This requires more effort and time. Gather all necessary materials and tools for your DIY project. Refer to our DIY guide to get started.
DIY Dog Run Guide
Watch this video for the full instructions on how to build a dog run from scratch.
Step 4: Prepare The Area
Whatever option you selected in step three, preparing the surface where the run will be positioned is crucial.
If you plan to set your dog run on your existing ground, there isn't much prep work required. Ensure the area is safe for your pet and facilitates proper drainage.
However, if you aim to install artificial grass, pour concrete, or lay gravel or paving stones, you may need to excavate the site anywhere from 3 to 6 inches deep, depending on your chosen surface. While some surfaces might not necessitate digging, they could entail other specific installation procedures. Now is also a good time to conceptualize your floor plan, helping you decide on the layout.
Step 5: Lay Down The Floor
Begin by covering the prepared area with your chosen flooring. You might consider combinations like concrete and artificial grass, wood with concrete, or any other suitable structure for your pet.
Step 6: Install Fencing
Always follow the instructions provided to assemble the fencing correctly. Test its robustness by checking that your dog cannot open the gate by pushing against it. Ensure all the panels are firmly secured and that the structure is sturdy.
Step 7: Add Other Accessories
Refer to our list of dog run accessories to equip the space with various items, enhancing the overall experience for your pet.
Dog Run Ideas
Looking for inspirational ideas for dog runs?
Below, we captured the best dog-run ideas to inspire you to build your own. They range from simple and small to large and elaborate.
Types of Dog Run Ideas
Remember, your dog's run should be proportionate to your dog's size and exercise needs.
Dog Runs Accessories
If you want to personalize your pup's run, add a host of accessories for a more stylish, mentally stimulating, and fun design.
Here is a list of add-ons to bring your dog-run ideas to life.
Dog Runs Concepts (Video)
Even though this is a promotional video for artificial grass, it gives you a great preview of how a dog run should look.
Frequently Asked Questions
Best Dog Runs — Alternatives & Conclusion
Building a dog run on the side of the house or in your backyard seems demanding, but we hope our guide made it easier to understand the process by providing you with the best pre-made dog runs in the market and every step you need to know.
Dogs are den animals by nature, and they look for their favorite place for comfort in times of stress. A dog run approached correctly will provide that space of security in times of stress your dog can rely on if he ever needs to. Dog runs can effectively provide this den-like structure that gives your pup a safe place to sleep, retreat, and maybe even eat.
You can also consider a wireless dog fence as an alternative to dog runs. Wireless dog fencing is a reliable way to keep your determined dog safe in his yard without having to bury any wires or build a traditional fence.
Like It? Subscribe & Share!
Sources
Canine Bible uses only high-quality sources, including peer-reviewed studies, to support the facts within our articles. Read our editorial process to learn more about how we fact-check and keep our content accurate, reliable, and trustworthy.