Best Car Seats For French Bulldogs — Top Picks & Reviews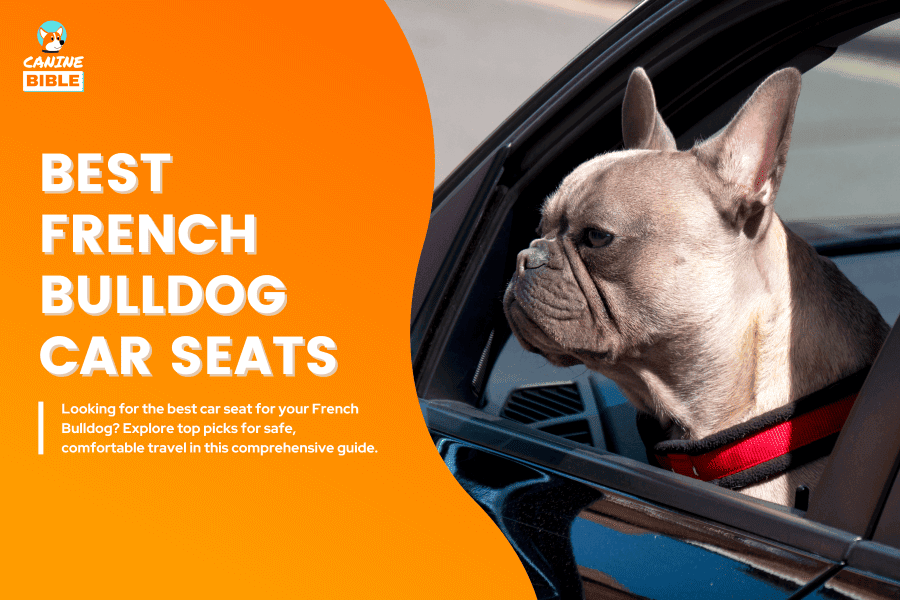 Canine Bible is reader-supported. We receive affiliate commissions via some of our links. This doesn't affect rankings. Learn more.
This content was reviewed and fact-checked by veterinarian Dr. Meri Halvari, DVM.
If you've ever driven with your Frenchie moving around the backseat or sitting in your lap, you understand how distracting it can be. Though it may seem adorable to see a dog enjoying a car ride with its head out the window, it is, in fact, quite dangerous. We have compiled the ultimate guide to assist you in finding the best car seats for French Bulldogs, combining safety, comfort, and style to ensure that your Frenchie is snug and secure on every journey—whether it's a quick trip to the vet or a long vacation road trip.
You will learn about the critical role car seats play in keeping Frenchies safe, the importance of utilizing car seats and the risks French Bulldogs face in car accidents when car seats are not used. Let's get started!
Table of contents
In This Article:
Table of contents
In This Article:
Best Car Seat For French Bulldogs — At A Glance
Why You Should Trust Us
5
experts & studies consulted
8
dog car seat
brands recommended
The Research
Jump to: Full Reviews | Additional Info
Car Seat Importance In French Bulldogs
Is it essential to secure your French Bulldog with a car seat? Much like the way you wouldn't dream of driving with a child unsecured, your French Bulldog should also always be safely restrained in the vehicle. As pet owners, it's our responsibility to minimize distractions while driving.
The American Automobile Association (AAA) and Kurgo report that 1 in 5 dog owners take their hands off the steering wheel to prevent their pets from climbing into the front seat.
Moreover, the AAA Foundation for Traffic Safety warns that even two seconds of diverted attention from the road can double your chances of being involved in a crash.[1] These statistics show that looking away from the road for just a few seconds or being distracted by a French Bulldog that is not properly restrained can be a significant distraction and significantly increase the risk of a deadly accident for you and your four-legged co-pilot.
French Bulldogs Risks of Not Using a Car Seat
In the event of a car accident, a French Bulldog, or any dog for that matter, can become a dangerous projectile.
Consider this: an average-sized French Bulldog weighing 28 pounds, when unrestrained in a vehicle that crashes at 50 mph, can exert approximately 1,518 pounds of force.[2] Such force is sufficient to propel your Frenchie through the car, potentially causing injury to both the dog and human passengers. Additionally, the impact of a collision can force a dog's internal organs like the heart, lungs, brain and intestines to shift violently, which can be fatal.
Allianz, a travel insurance company, has stated that an airborne dog can experience forces of projection up to 40 times its weight.[3] The potential damage from such force if your French Bulldog is not safely secured in a car seat or harness could be lethal. Jennifer Huebner-Davidson, a traffic safety programs manager for AAA, told CNN that even at a modest speed of 30 miles per hour, an unrestrained 10-pound dog can exert an estimated 300 pounds of pressure in a crash.[4]
Understanding these risks underscores why securing your French Bulldog with a car seat is not just a precaution—it's a potentially life-saving measure.
Other Reasons to Get A Car Seat For French Bulldogs
Dog car seats not only reduce the risk of injury during a crash but also provide several other benefits:
How to Pick The Best French Bulldog Car Seat
Start by measuring your dog's height and weight. The seat should provide enough room for your pet to sit, stand, and turn around comfortably. Ensure the car seat can support your French Bulldog's weight. This is crucial for safety.
Ensure the car seat has a robust system for attaching to your vehicle's seat belts and includes adjustable leashes or harnesses to keep your dog securely fastened in their seat.
The car seat should be easy to install and remove for convenience. If you plan on moving the seat frequently, look for a lightweight and portable model.
Select a seat made from durable materials that can withstand scratching and chewing.
Pockets can be handy for storing doggy essentials like treats, bags, and leashes.
Ensure the car seat fits well in your car, leaving enough space for human passengers and other items. Consider whether your car has any specific requirements or limitations for attaching a dog seat. Choose a seat that is suitable for both the front and back seats of your car, giving you flexibility.
Opt for car seats that have been crash-tested and have safety certifications from reputable organizations.
Removable and washable covers are a plus, as French Bulldogs can drool or shed.
For areas with extreme temperatures, look for car seats with temperature-regulation features or breathable fabric.
The Reviews
Jump to: The Research | Additional Info
Best Car Seat For French Bulldogs
Material: Nylon, faux lambs wool, memory foam
Maximum weight: 25 pounds
Key Features
Size: Small, console & Large
Maximum weight: 50 pounds
Key Features
Maximum weight: 30 pounds
Key Features
Color: Charcoal & chili red
Maximum weight: 30 pounds
Key Features
Color: Blue, coffee & red stripe
Key Features
Material: Tear-resistant material
Key Features
This seat belt requires the use of a harness. Do not attach it to your dog's collar. Refer to our top harness pick below. — When seatbelting your dog, always use a harness instead of a collar. In the event of an impact, a collar would concentrate collision forces on your dog's neck. A harness, on the other hand, will distribute the impact across the broader area of his chest.
Key Features
Color: Black, orange, red & blue
Maximum weight: up to 75lbs
Key Features
Additional Information
Jump to: The Research | Full Reviews
French Bulldog Car Seat Best Practices Tips
Here are three ​things to keep in mind when using a car seat.
Car Dog Ramp For French Bulldogs
If you have a senior French Bulldog, or if your Frenchie suffers from arthritis or other mobility issues, it might be time to consider dog stairs or a ramp. Many veterinarians recommend ramps, particularly for aging dogs, as their ability to leap onto elevated surfaces diminishes and their joints become more susceptible to injuries.
Dog ramps can simplify life for small dog breeds with short legs, like French Bulldogs. Should your cherished canine companion struggle to climb into the car for any reason, the PetSafe Solvit Pet Ramp could prove to be a useful aid.
Dog Car Crash Statistics
According to a survey by AAA & Kurgo Pet Passenger, 65% of dog owners acknowledge engaging in at least one potentially distracting activity while driving with their dog.[5] The National Highway Traffic Safety Administration highlights that distracted driving accounts for nearly 16% of all car accidents. Securing your French Bulldog in a car seat can not only protect them in the event of a collision but also help to minimize distractions while you drive.
Does Your Frenchie Get Anxious In The Car?
If your French Bulldog gets anxious in the car, here are some tips for calming him down.
Introducing Your French Bulldog to a Car Seat
If your Frenchie is reluctant about using a car seat, follow this step-by-step guide to introduce them to the car seat correctly.
Ensure your dog always associates the car seat with positive experiences. Start with very short sessions and reward them with their favorite treats or affection. Although it might be challenging initially, aim to conclude each session on a positive note.
French Bulldog Car Seats — Conclusion
Finding the best car seat for your French Bulldog is crucial, and it's not always straightforward. The importance of your choice cannot be overstated, as it's about more than just comfort — it's about safety. While you might stumble upon cheaper options that seem adequate, the best dog car seats typically come with a higher price. A proper car seat can prevent injuries during sudden stops or accidents, minimize distractions for the driver, and make the journey more enjoyable for your four-legged companion.
In addition to finding the right car seat, we highly recommend considering pet insurance for your French Bulldog. Pet insurance can be a true lifesaver, offering not just protection for your furry companion but also shielding your finances from unexpected veterinary expenses.
And for those of you looking to safeguard your pet within the confines of your property, exploring the option of dog runs might be beneficial. Dog runs provide a secure area for your pet to exercise and enjoy the outdoors without risking them wandering off or coming to harm. Ensuring your French Bulldog's safety, both in the car and at home, should be a priority for any responsible pet owner.
---
Like It? Subscribe & Share!
Sources
Canine Bible uses only high-quality sources, including peer-reviewed studies, to support the facts within our articles. Read our editorial process and product review methodology to learn more about how we fact-check, test products, and keep our content accurate, reliable, and trustworthy.
Canine Bible authorship represents the unified voice of our entire editorial team and our in-house veterinarians rather than a single author. Each article, blog post, and review published under the Canine Bible name undergoes a rigorous review process, involving all team members to guarantee accuracy and up-to-date in accordance with the latest veterinarian research. This collaborative effort is an integral part of our editorial process and aligns with our four pillars of content creation. This approach ensures our content is backed by expert knowledge and factual information, offering our readers reliable, actionable, and trustworthy content.