Best Online Veterinarians: Top Virtual Vets 2023 (For Diagnosis, Prescriptions, Chat Help, Free Pet Telemedicine, Telehealth Appointments)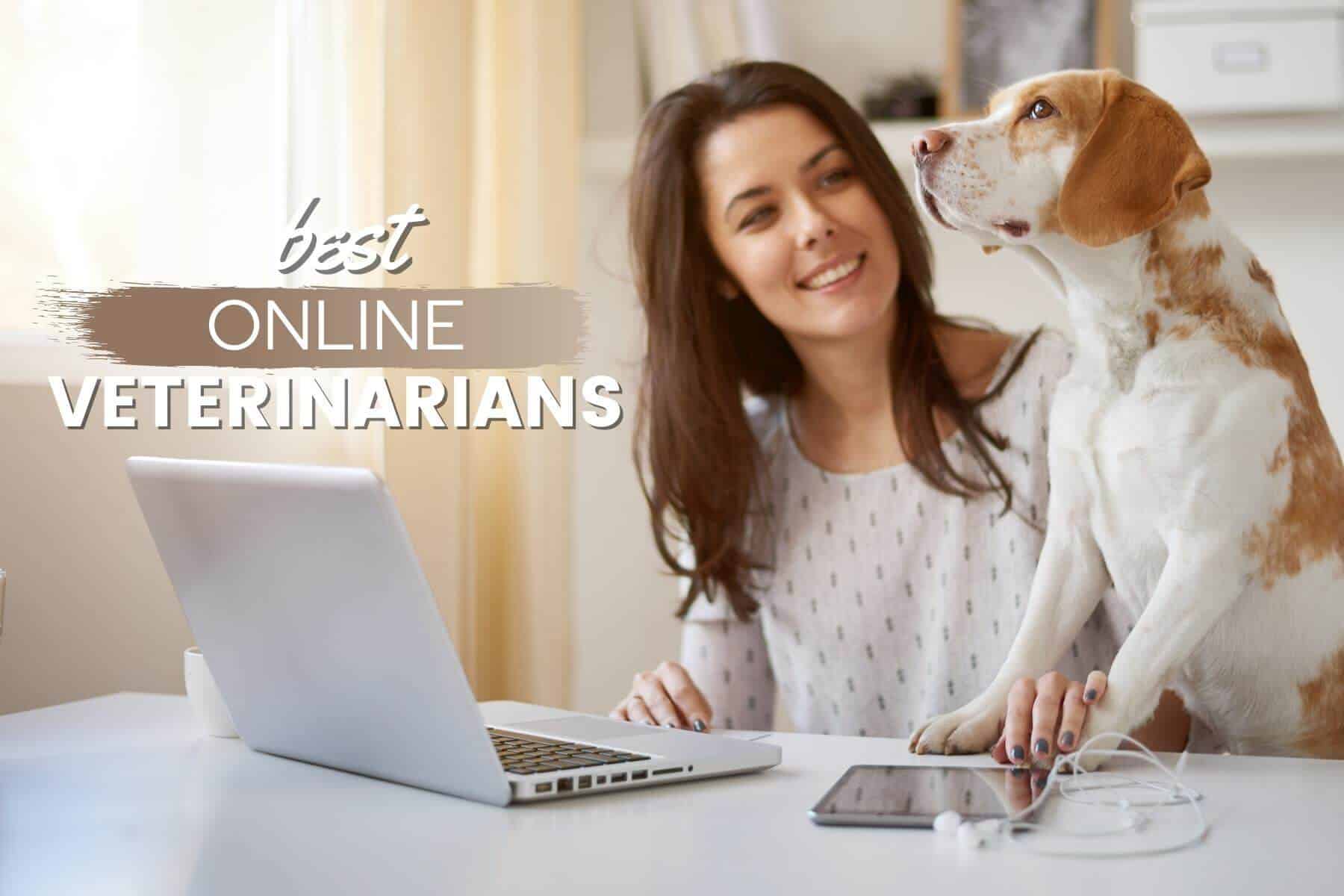 This is the most comprehensive guide to finding the best online veterinarians.
Would you like to consult a veterinarian without spending the time and money to visit your local vet? Enters, virtual vets!
With veterinary telemedicine, you can get an online vet diagnosis, fast answers to all your pet's diet, behavioral issues, and health concerns and even prescriptions. Best of all, you don't have to wait days for an appointment. Pet telehealth is available 24/7.
The pandemic has made online vets more vital, and the appeal will last long after the pandemic is over, mainly due to the convenience and price. But are there limitations to online virtual vets? Can online vets legally write prescriptions? Can you trust these services? Is it cheaper than traditional vets?
We answer every question about this topic and show you our top-recommended veterinary telemedicine providers. Let's dive right in!
Best Dog Vets Online (Our Top Picks At Glance)
Here is an overview of just four of our top picks (by category) for the best online veterinarians.
You can click here to go straight to our online vet reviews, but we encourage you to read the first few sections of this article to make a more educated decision when picking an online veterinarian.
Chapter 1
Learn all about online veterinarians
What Is Pet Telemedicine?
According to the American Veterinary Medical Association (AVMA), telemedicine is the exchange of medical health information electronically.1
Online veterinary telemedicine allows pet owners to schedule appointments with certified veterinarians, veterinary technicians, or veterinary specialists on a computer, tablet, or mobile device.
Pet telemedicine (aka virtual vets or pet telehealth) include online consultation through text-based chats, video calls, email, or a virtual question-answer submission system.
Most virtual vets offer two pricing models, subscription and on-demand on-time visits. With a subscription, you pay a monthly fee and get unlimited consultations and other perks. In contrast, you only pay when you use their service with on-demand appointments.
Online vet appointments should not be considered a substitute for an in-person visit or to treat a medical emergency.
NOTE: Telemedicine laws vary from state to state and are constantly evolving. Depending on where you live, you may have certain restrictions (e.g., getting an online vet prescription) on what type of services an online veterinarian can provide. We explain in more detail later in this article.
How Can Online Vets Help?
Whether you need answers to medical questions, looking for treatment advice, or have less pressing questions like how to figure out your dog's food allergies, veterinary telemedicine providers can help in multiple ways.
Here are the most useful reasons you want to seek and talk to a vet online.
1. General questions. Virtual vets can provide advice on grooming, exercise, preventive care, or maybe you want to know when to remove a dog cone or solve that thick problem.
2. Emergency. Online vets serve as the first line of defense when you're worried your pet has an emergency and whether or not you need to rush to the vet's office. If an online vet feels your pet requires emergency help, they'll direct you to your nearest vet clinic for an in-person appointment.
3. Medical questions. Useful to help answer patient-specific medical questions or get healthcare advice. For instance, if you have concerns about pet allergies, a diagnosed health condition, medications, dosages, or other general health questions.
4. Nutrition & diet. Wondering if your dog can eat certain foods? Want to put your canine friend on a new diet? Or maybe you are just worried about something your dog ate. A virtual vet can provide expert advice on pet nutrition, help you customize a balanced diet for your pet, or answer any food-related questions.
5. Prescriptions. Online vets can prescribe medications. However, it depends on your state's laws, veterinary-client-patient relationship (VCPR), where you live and other factors. We cover this in more detail in the next section.
6. Diagnosing. Telehealth vets can ask questions to learn more about your pet's symptoms and give advice, such as to give an over-the-counter medicine and watch for X, Y, and Z clinical signs. But, similar to prescription online, diagnosing pets online is not allowed.
7. Behavioral issues. Get insights on how to tackle behavior problems. Online vets can evaluate your pet's behavior and the environment through video chat and provide tips, tools, and training advice to solve these problems.
8. Follow-ups & second opinions. Excellent for follow-up advice after a surgical procedure, illness recovery or rechecking a health condition. Sometimes it's ideal for getting a second opinion on your pet's medical condition. Virtual vets make it easy to do so.
9. Symptoms. If your pet is experiencing symptoms or feeling under the weather, a virtual vet can quickly get pet owners answers to questions, such as My dog just had diarrhea. What should I do?

Pet Telehealth is a fantastic initial service for any situation that feels urgent — an animal that is extremely lethargic, having issues breathing, bleeding, having seizures, or seems off," said Dr. Zay Satchu, co-founder and chief medical officer at Bond Vet in New York City.2
10. Closed vet office. If your dog or cat requires care over the weekend, or overnight, or during a holiday, most vet offices will be closed. Reaching out to an online vet is an excellent idea when this happens.
Virtual Vet Benefits
Some of the pros and benefits of seeing an online veterinarian include.
Less expensive
Convenient hours (24/7 vet help through chat or video)
Great for dogs and pets who are afraid of going to the vet
Faster response time
Talk to a licensed vet from no matter where you're located
Lets you know if an in person visit is necessary
Great if you don't have pet insurance
No traveling
Promotes socisla distancing
No waiting rooms
Can Online Veterinarians Prescribe Medication?
The short answer is "Yes" and No"
Online vets can legally write prescriptions as long as they conform with VCPR regulations established by the AVMA, states regulatory discretion, and the U.S. Food and Drug Administration's Center for Veterinary Medicine VCPR suspension. Let's understand each.
American Veterinary Medical Association (AVMA). The veterinarian-client-patient relationship (VCPR) is a regulation set forth by the AVMA, which oversees veterinary medicine in the U.S. VCPR states that a vet must have physically examined the pet in person, typically within the past year, before they can diagnose and prescribe medications via a televet service. However, the AVMA grants exceptions to the VCPR requirement in emergencies until a veterinarian can see that patient.3
States Regulatory Discretion. Due to the pandemic, some states, not all, have applied regulatory discretion to temporarily not require an in-person examination to establish a VCPR.4,5 While the AVMA stands by its policy, as of writing time, it recognizes online veterinarians can waive in-person VCPR to prevent the spread of COVID-19.
FDA Center for Veterinary Medicine. Additionally, in March, the FDA temporarily suspended enforcement of establishing in-person VCPR on the federal level as a measure to fight the pandemic.6
So, Can Online Vets Prescribe Medication And Diagnose?
Yes, you can find online vets who write prescriptions legally as long as they adhere to the current stipulations set by these governing bodies.
We encourage you to check with your state veterinary board to ensure you are familiar with the situation in your area.
While these exceptions and regulations are granted by the AVMA and allow pet telehealth providers to prescribe medications, the AVMA still does not advise using pet telemedicine when the intent is to diagnose and/or treat a patient in the absence of a VCPR.
Nevertheless, Figo Pet Insurance notes that virtual vets can legally prescribe for some conditions without running a full bank of tests. These conditions include prescribing for preventative care (flea medication) or renewing a prescription for an ongoing medication (like insulin).7
Pro Tip: If you are planning to get a prescription for your dog online, try using a virtual vet service offered directly by the primary vet with whom you have an established VCPR. This will enable them to diagnose and prescribe medication.
If that's not an option, we have named the best online vet prescription services that can prescribe.
When Should You Avoid Using Online Vet Care?
There are certain instances where you want to skip the virtual vet visit.
1. Diagnostic testing. Because several health problems share the same symptoms, diagnostic testing needs to be performed to accurately identify the underlying health issues that make your pet sick. Diagnostic testing typically involves a thorough physical exam, x-rays, bloodwork, urinalysis and fecal analysis. When this is needed, you visit your vet in person.
2. Emergencies and severe symptoms. While virtual vets can serve as a triage service to help determine if your pet is indeed having an emergency, you must seek immediate in-office or emergency veterinary care in the event of severe symptoms. Emergencies include unconsciousness, collapsing, difficulty or rapid breathing, pale or bluish gums, seizures, inability to walk or stand, uncontrolled bleeding, persistent or bloody vomiting or diarrhea, broken bones or pain.
3. Yearly check-ups & core vaccinations. Virtual vets are no substitute for annual check-up visits. It's crucial to vet professionals to see your pet once a year in person for a hands-on wellness exam.
4. Traumatic injury. Bleeding or open wound require emergency care because internal damage can be much worse than it appears externally.
If a pet has ingested something harmful, you can call the ASPCA Animal Poison Control Center at 1-888-426-4435 (fees vary) or the Pet Poison Helpline at 1-855-764-7661 (there's a $59-per-incident fee) for 24/7 emergency assistance. Be sure to save your emergency vet and a pet poison hotline phone into your phone.
Online Veterinarians Cons
Here is an overview of some of the disadvantages of virtual pet appointments.
T

echnical connectivity issues (e.g. slow connections, dropped calls)

Higher risk for an incorrect diagnosis without an in-person physical exam (VCPR)
Incomplete medical records
Liability issues should something happen a pet after an owner takes the provider's advice
Online Vet Cost
How much does an appointment with a virtual vet cost?
A dog vet online consultation (or for any pet) costs vary depending on the providers you pick. There are two typical pricing structures: subscription and on-demand consults (single appointments).
When you subscribe to online veterinarian providers, you can expect to pay between $16.99 to $29.99 monthly and you typically get unlimited access to virtual pet appointments and other perks. If you opt for the on-demand one-time consult option, you can pay from $0 to $39.99. (Yes, you can get a virtual vet visit for free. We show you in our reviews below).
Regular Vet Visits Cost vs Online Vet Visit Covst
A routine in-office check-up can cost between $50 to $250, and most general veterinary care costs less than $500. Online vet visits are less expensive. On average, you can expect to pay anywhere from $0 to $39.99 for a one-time visit.
You can save a ton of money if you choose to visit an online vet.
How Does Pet Telemedicine Work & How To Get Ready For Your Appoitment?
The process is pretty simple.
Step 1. Pick a veterinary telemedicine provider.
Step 2. Compile a list of concerns and questions that you have for the vet.
Step 3. Have your pet's medical history handy, including prescription, health conditions, and general background information.
Step 4. If your pet is experiencing symptoms such as limping, skin abnormalities, gum color, vomiting, or other symptoms, take multiple photos and videos of the different areas of concern. Show the pet's whole body and also close-ups. You can share this with your virtual vet during the call or chat to help your veterinarian arrive at a tentative diagnosis.
Step 5. Once you have all the information ready, schedule your appointment via video call, chat, texting or email.
Step 6. You will be asked to describe the reasons for the call (what's wrong with your pet) and fill in some general information.
Step 7. During your visit, sit in a quiet area with good lighting. The veterinarian will need a clear view of you and your pet.
Here is a quick look at how pet telemedicine works.
Does Pet Insurance Cover Online Veterinarians?
Pet Insurance covers care accepted by your state's veterinary medical board. Because the AVMA regulates pet telemedicine at a state level, pet insurance providers should cover online vet care costs. Before using a pet telehealth service, talk to your provider first. Policies coverage will vary by provider.
Can I Talk to A Vet Online For Free?
Are you looking to chat with an online vet for free?
Talking to a registered veterinarian online is possible. Certain providers offer free online vet consultations.
According to our research, we were able to identify three of the significant telehealth pet providers that offer free pet telemedicine support.
Pawp offers one free online consultation via text.
Petcoach have veterinarians who will answer your query within 2 hours for free.
While these companies offer free pet telemedicine services, limitations and caveats exist. Our reviews below explain how to get these freebies and get the most of them.
Free Online Vet Consultation And Prescription
Unfortunately, free prescriptions for pets are not available with online veterinarians.
How To Choose A Pet Telehealth Provider (What To Look For)
Here are the top recommendations set by the AVMA on selecting the right pet telemedicine service provider.8
1. Ensure the pet telehealth company uses licensed veterinarians, preferably from your country. Look for credentials.
2. Make sure the veterinarian is an expert in the field you're seeking advice in. If you seek dog vet advice online, opt for a veterinarian with experience with dogs.
3. The details of the consultation should be captured in a secured database and shared as a part of the medical record of your pet
4. Online vet providers use various telecommunication tools such as computers and mobile devices (apps). Ensure the interface is easy to use.
5. Provides pet insurance claims submission functionality
6. Look at customer reviews and feedback.
7. They should have relationships with traditional vets in your local area, including 24/7 emergency vet hospitals.
Chapter 2
The best online vets for dogs reviews
Best Online Veterinarians
Our team of researchers ranked reviewed the best vet telehealth services and ranked them based on several factors, including customer feedback, quality of advice, accessible hours, response time, cost, specialists are on staff, and more.
Each company is ranked by category, so you can find a service that meets your needs.
Vetster Review (Best Overall)
Vetster is our pick for the best overall online vet service.
They offer 24/7 on-demand online veterinary appointments for any unexpected issues your pet might be facing. The company operates its pet telemedicine services across the U.S. and Canada.
You can expect to pay between $50 to $75 per session. With a network of more than 1,800+ licensed veterinary professionals and over 30 specialists (behavioral, cardiology, and parasitology, etc.) covered, you can find get answers for almost anything. We think the higher price tag is worth the extra cost of specialized virtual veterinary care.
They are transparent about their staff (vets, vet techs and specialists) and provide detailed information about their credentials and specialties, making it easier for pet parents to pick the right professional to help their pets.
If you only have general wellness questions or concerns, Vetster has Wellness coaches available to discuss your pet's health care journey at $30 that probably works better in most situations.
Additionally, as part of your pet's health plan, your Vetster Veterinarian will determine if your pet needs a prescription. Vetster vets can prescribe a wide range of commercial medications similar to how they prescribe in-clinic through the VetsterRx Online Pharmacy. Prescriptions will be processed and shipped to you in 2 business days. You can manage prescriptions and refills via a dashboard found within your account.
Upon completing your appointment, you will receive your medical record and prescription (regional/vet permitting).
We love Vetster's interface. It makes it super simple to book an appointment and connect to your session.
The Vetster team does its best to match you and schedule online appointments with veterinary professionals near you so you can establish a vet-patient relationship (VCPR) in case you ever need an in-person visit and if your State's regulations require a VCPR for prescriptions.
If you want a full refund, same-day appointments must be canceled within one hour of booking. Future bookings need to be canceled within 24 hours.
Vetster Coupon Code
Looking for a Vetster promote code? Click here for the best deal we could find.
Airvet Review (Best For Subscription)
If you want unlimited vet consultation and ongoing virtual care from world-class veterinarians, Airvet is your top choice.
Airvet offers the best online vet subscription plans we've seen. For online $19.99 a month, you can get unlimited video visits and follow-ups with registered vets. You can also request to meet virtually with your primary veterinarian if they are a member of Airvet. Paid annually is even cheaper, $14.99.
But the price is not all. Here are some of the other benefits you get when you sign up for Airvet.
Personalized diet and nutrition programs
Access to experts for behavior and training.
Premium support for any account questions.
You can join Airvet Unlimited + Wellness plan for just $35.99 per month for even more perks. You get all the perks mentioned above, plus free wellness exam (bloodwork, fecal test & urinalysis), grooming, vaccines, flea, tick and heartworm mediation at any vet in the country. You get up to $650 per year for in-person routine and preventative care with this plan. Simply upload a photo of your receipt and you'll be reimbursed in 24 hours to submit a claim.
Dogs who suffer from chronic health issues, have been diagnosed with an illness and require constant medical care and attention will benefit tremendously from an Airvet subscription. Why? It's simple, unlimited vet consultations, and many other benefits.
They also offer excellent on-demand calls. You can connect via video with a licensed vet for a one-time fee of $30.
For less urgent cases, you can request a chat session instead. Each vet sets its price in this option.
We love that after you've finished your session, you can still chat with the vet for up to 72 hours at no extra cost. This is great if you missed something or need to follow up on improvements or worsening symptoms.
Airvet online veterinarians are available 24/7 regardless of the services. They have over 3,000 vets available for you to connect within seconds.
Furthermore, the company is one of the top preferred telemedicine providers by veterinary practices.
To connect with a vet, download the free app, create your pet's profile, answer a few questions, attach photos, videos and start the call.
Don't need a subscription anymore? You can cancel ten days before your next billing date to avoid a charge.
Airvet Coupon Code
Looking for an Airvet coupon code? Click here for the best deal we could find.
PetCoach Review (Best Online Vet Chat)
PetCoach (by Petco) wins the medal for best online chat with a vet. Why?
They offer two "Ask A Vet" options at an excellent price.
For just $5 a fee, a veterinarian or veterinary technician will answer a single question. You can include one photo and expect your answer in 30 minutes. It's a good option if you have a single straightforward question about your pet.
Or, you can pay $20 for an in-depth consultation with a veterinarian. This includes private unlimited online vet chat messaging, multiple photos for as long as it takes to get your question answered. Response time typically is 6 hours.
If you are looking for free online vet advice, PetCoach offers a searchable database of previously answered questions posed by pet parents and answered by their veterinarians. You can easily browse their database to potentially find the answer to your questions for FREE without setting up a vet consultation.
You can get 24/7 chat support on pretty much anything from questions about pet health, nutrition, care, treatment, needs, prevention, and more.
PetCoach's website has a vast amount of content around various veterinary care topics. The site has over one million articles and we love that they post the questions and answers submitted by their paid users and vets.
If your dog needs a prescription, PetCoach is licensed to dispense prescription drugs and other regulated products in all 50 states through their Express Scripts Pharmacy, which is accredited by the National Association of Boards of Pharmacy and can fulfill a prescription with your vet's approval.9 They will even contact your vet on your behalf via fax or phone to get support—a nice feature.
Petcoach Coupon Code
Looking for a PetCoach coupon code? Click here for the best deal we could find.
Chewy Connect With A Vet Review (Best Free Online Vet)
Chewy is among the most popular online pet supply stores, and yes, Chewy has virtual vets available.
So, why did we name Chewy the best free online vet?
There are two easy ways to connect with a virtual licensed veterinarian at Chewy.
Chewy Connect With A Vet allows you to talk with a vet via live chat or video instantly. Chat appointments are priced at $14.55 per chat, while live video calls cost $19.99 per call. You are probably wondering, that is not free. Let us explain!
Well, Chewy provides FREE pet telehealth to its Autoship customers. With 20 million active customers, you are highly likely to shop or have shopped at Chewy. We at Canine Bible do and have used their vet services. We recommended it. We love it because it's super convenient to have a pet store, pet pharmacy, and vet care all in one place.
What if you are not an Autoship customer or never heard of Chewy? Would you have to pay the regular price? You can, but not so fast. There is an easy solution to talk to online vets for free with Chewy.
Signing up for Chewy is free, and so it's Autoship. Even better, there is no minimum requirement for Autoship spending to participate. So literally, all you have to do is set up a recurring Autoship order delivery of your dog's favorite food (or whatever you need regularly) through Chewy to have access to free online vet consultations.
Even more extraordinary is that Autoship saves you 40% off on your first order and 5% off future orders. You save on vet bills, pet care, and all dog goodies you buy, which is a spectacular deal!
If you are not sure about shopping at Chewy, do not worry. They are an extremely reliable company. Think of Chewy as the Amazon for pets.
Whether you choose to pay full price or go the free route with Autoship, the quality of service and veterinarians onboard provide your pet with the best care. You have the option to upload photos and videos of your pet as needed. Their patient feedback is excellent. They also offer pharmacy services to fill prescriptions written by your primary veterinarian.
The Veterinarians on Connect With a Vet are available daily from 8 am to 11 pm ET, 365 days a year, including holidays, so it's not for middle-of-the-night emergencies.
Chewy Connect with a Vet is currently available to everyone nationwide, except customers residing in Alaska, Idaho and Hawaii.
Chewy Coupon
Looking for a Chewy Connect With A Vet promo code? Click here for the best deal we could find.
Pawp Review (Best For Emergency)
Pawp has a unique approach to pet telehealth.
Pawp is a $24 per month subscription service that gives you unlimited text, calls and video chat access to a licensed veterinarian who answers anything about your dog or cat.
From injuries, behavior to nutrition and breed-specific help, Pawp vets are available 24/7 to answer your pet's medical concerns.
And because sometimes emergency vet visits are unavoidable, Pawp ensures your finances and pet well-being are safe by offering an emergency fund that will cover up to $3,000 per year of emergency care. You pay $0 out of pocket and use your fund at any vet. It can cover up to 6 pets, even with preexisting conditions. This is what makes Pawp our pick for best pet telemedicine company for emergencies.
Don't get confused. Pawp is not pet insurance, so there's no copay, deductible, or credit check. And you don't pay back the three thousand dollars. It is an excellent alternative to pet insurance but with the added benefit of having unlimited access to virtual vets. The company notes, pet parents that switch to Pawp save $300 per year on premiums.
To claim your funds, you need to start a virtual call with a Pawp vet first to confirm your emergency and get to the ER within four hours.
Pawp's certified vets are complemented by the expertise of accredited trainers, behaviorists, and nutritionists. Their team has at least five years of experience in veterinary clinics, most over ten, and they go through a highly stringent interview and onboarding process.
Don't want to pay or not fully convinced about this company? Pawp offers free online vet help through its subscription service. Within their seven-day free trial, you have access to unlimited video calls and chat with their Pawp Vet Pro Team. If you cancel your subscription within the 7-day trial, you will not get charged. This is another way to get free online vet help.
If you don't cancel, you will get charged for a full subscription at the end of the trial period.
Calls with Pawp's vets aren't meant to replace emergency visits.
Pawp Coupon Code
Looking for a Pawp coupon code? Click here for the best deal we could find.
Askvet Review (Best Personalized Online Vet Care)
For $29.99/month, Askvet gives you unlimited access to one of the best live online vet chats.
Askvet takes virtual vet care to the next level by offering personalized vet care. How?
For once, live chat sessions can go as long as you need. Laura Berg, vice president of business development at AskVet, reported four hours for the longest live chat session.
The AskVet care squad will also reach out with home lab kits to better assess your pet's health status.
A healthcare coach and a licensed veterinarian are also assigned to your pet for personalized guidance and pet wellness coaching. Together they will help you build a customized plan to keep your best friend healthier. They will also provide daily alerts and guidance on what may be bothering your pet (e.g., high pollen) and give tips to keep your pet happy.
As part of your plan, they offer discounts on pet meds, food and supplies your dog may need at PetCareRx.
You get all of that and 24/7 access to licensed veterinarians to ask any questions regarding your dog's health, nutrition, and behavior concerns and more.
And to top it all, for each month membership, $45 is added to a Rainy Day Emergency fund-up to $1,000, which can be used if your pet needs to visit the emergency room.
They have a great team of veterinarians who have seen nearly a million virtual patients and an average of practice experience of 12 years. No appointments are required and you connect almost instantly.
Once your session is over, you will receive an email copy of the transcript or access it on the site's history tab.
Askvet Coupon Code
Looking for an Askvet coupon code? Click here for the best deal we could find.
Banfield Vet Chat Review (Best Wellness Plan + Virtual Vet Care)
Banfield Vet Chat™ (virtual vet services) is perfect for already members of Banfield Pet Hospitals' wellness plan or for pet parents looking to sign up their pets for a great wellness plan that includes online veterinarian consultations.
Pricing for Banfield's Optimal Wellness Plans (OWP) varies based on your pet's breed, age, location, and several other factors. It offers different plans for each type of pet: dogs, puppies, cats, and kittens. Plans usually start at around $32 for dogs and $26 for cats and can get pricer depending on the plan type.
So, what are the benefits of joining Banfield's OWP?
Typically, every OWP includes coverage for the following preventive care expenses.
Unlimited office visits
Bi-annual comprehensive wellness exams
Pet wellness 1-1
Diagnostic testing
Vaccinations
2 Deworming sessions
2 Fecal exams
It can also cover parasite control, dental, urine resting, x-rays, eye tests, electrocardiograms and more. However, the monthly fee tends to be higher to get this level of coverage.
Every OWP also includes two virtual vet visits per year, unlimited live 24/7 veterinary advice from Vet Chat and a coaching session on nutrition with a trained advisor per year.
With Banfield, you get the best of both world's coverage for routine real-world visits and access to virtual vets for online advice. A major plus in our book.
You can use your OWP at any Banfield location nationwide. With over 1,000 locations, there's a great chance there's a convenient location near you. And most are inside PetSmart pet stores.
If you're not a member and just want occasional online advice, it might not be ideal for you.
Banfield Coupon
Looking for a Banfield Vet Chat coupon code? Click here for the best deal we could find.
WhiskerDocs Review (Best Pet Insurance Plan + Virtual Vet Care )
WhiskerDoc is a veterinary telehealth service with an excellent reputation. With over 5 million pet patients, WhiskerDocs is one of the first real-time veterinary support services to appear in North America.
As a pioneer in pet telehealth, they have developed patented, industry-wide best practices that ensure the highest quality support for every pet and pet parent, every time.
WhiskerDocs offers both one-time on-demand appointments and subscription options. One-time consultation prices range from $4.99 (an email) to $39.99 (phone call or live chat). In contrast, the subscription goes for $16.99 a month. As a subscriber, you get unlimited live chats, calls, or emails at any time, 24/7.
You can also pay a one-time fee of $129.99 for a full-year subscription. If you choose to do that, you will pay approximately $10.80 monthly. With the yearly membership, you can add additional pets to the plan for 75% off. 95% of calls are answered in 28 seconds which is great if you have an emergency.
WhiskerDocs is probably one of the few that offer email vet consultations. This is helpful if you are not in a place where you can speak with a vet in real-time or simply want a more affordable option. Generally, emails are answered within 4 hours.
After any type of visit, WhiskerDocs will follow up within 48 hours to make sure your pet is responding well.
The WhiskerDocs team includes licensed veterinarians and vet technicians, many of whom have over 15 years of experience caring for animals.
Another great benefit of this pet telemedicine is that pet insurance companies like Pets Best, 24PetWatch, and Spot include WhiskerDocs in their policy. This is awesome if you are looking for pet insurance and want 24/7 access to licensed online vets.
WhiskerDoc Coupon Code
Looking for a Whiskersdoc coupon code? Click here for the best deal we could find.
JustAnswer Vet Review (Best For Q&A)
The JustAnswer website connects users with verified experts in various fields, including medical, legal, automotive, tech support and veterinary medicine.
JustAnswer is a legitimate pet telehealth service. They verify the licensing and credentials for all experts.
You can have chat sessions with experts via your choice of email or text, as well as phone availability (for an added fee). They will contact you by text or email when your pet's question has been answered. On average, they claim to respond within six to seven minutes.
It's one of our favorite online vet chats accessible 24/7, including holidays. They've been in business since 2003, with more than 10 million customers over the years and a solid BBB Rating: A+.
You can try them out for $1 for seven days for unlimited chats. Don't forget to cancel your trial; otherwise, you'll be charged a monthly membership fee. Membership fees vary according to the level of urgency and detail needed to answer your questions.
Additional membership perks include savings on other vet services, including dog walking, primary care vet visits, grooming, and more.
They also have dog specialties on board that specialize in all dog veterinary, symptoms, poisoning, illness, medication, behavior, other dog problems and more.
JustAnswer online vets can help answer any issue impacting your dog's health and well-being.
JustAnswer Vet Coupon Code
Looking for a JustAnswer Vet coupon code? Click here for the best deal we could find.
Hello Ralphie Review (Best For Prescription)
Hello Ralphie offers veterinary telehealth via the website or mobile app, in addition to an extensive online prescription service.
Ralphie combines the convenience of an online vet pharmacy with telemedicine so that you can order medications along with your next remote visit. Appointments start at $35. All medical records and conversations will be stored for future reference.
Paying $55 will get you telemedicine appointments for prescription or diagnosis. Keep in mind that some states don't allow telemedicine, so research your state's law first. Ralphie works with a veterinarian pharmacy and can place orders whenever food, supplements, or prescription medications are prescribed for your pet. Medication usually ships within 1 to 2 days.
Hello Ralphie partners with hard-working animal welfare organizations dedicated to helping less fortunate pets find safe and loving homes. The company donates a portion of its appointment fee to these pet rescue organizations.
Pet parents whose pets are insured with PetPlan, PetFirst, Pets Best, and HealthyPaws can receive telemedicine reimbursements through Hello Ralphie.
Hello Ralphie Coupon Code
Looking for a Hello Ralphie coupon code? Click here for the best deal we could find.
Fuzzy Pet Health Review (Best For Product Recommendations)
With over 1,000,000 consultations performed, Fuzzy Pet Health online veterinarians have seen it and heard it all.
Fuzzy Pet Health gives you immediate access to licensed veterinarians, registered vet technicians, and vet assistants through a subscription-based service. For $24.99 per month or $99.99 per year, you can chat with their team live 24/7. They also have a mobile app (Android and iOS) that supports video chat.
They also carry several vet-curated products personally tailored to your pet, including flea and tick medications, probiotics, joint supplements, and more. Subscribers get a discount on these products.
Connect with a vet in seconds with the Fuzzy app. Whether you need guidance on your dog's nutrition or advice on how to help your dog manage its anxiety, Fuzzy can help. In their time as an established company, they have given more than 1 million consultations. Of these, 58% have avoided unnecessary ER visits, saving owners thousands of dollars.
Before you make any commitments, you can try out the service with a free seven-day trial.
Customers in San Francisco and New York get an additional perk — on-demand physical exams. Fuzzy Pet Health sends a licensed veterinarian to any subscriber's choice location for a check-up at their convenience.
Fuzzy Pet Health Coupon
Looking for a Fuzzy Pet Health coupon code? Click here for the best deal we could find.
Honorable Mentions
You might want to check out one of these services if you still haven't found anything you like.
FirstVet
FirstVet ensures you'll always see a skilled veterinarian, no matter where you are, day or night. Aren't sure if you need to bring your pet in to see the vet? Need help with your pet's behavioral issues or sudden illness? FirstVet vets will help you confidently manage your pet's injury or illness from home.
Nationwide Vet Helpline
Nationwide Vet Helpline by Nationwide is a well-known pet insurance company that offers on-demand advice from veterinary experts. They have experienced veterinary experts and include access to experts specially trained in veterinary toxicology. 24/7 access guidance on any pet-related topic, from general questions to identifying urgent care needs through in-app chats and phone consultations.
There is no additional cost for extra pets. Their service is one of the most affordable. Pay $14.99 monthly, $9.99 monthly (every three months), and $9.17 monthly (every six months).
If you already have a pet insured with Nationwide, you already have unlimited access to Vet Helpline. You don't need to sign up for Nationwide pet insurance to access their vet helpline. They are two different services.
Ask A Veterinarian Online
Ask A Veterinarian team of vets is on call for you and your family 24/7, even on holidays. They cover all types of pet problems and some of their specialties include toxic food response, disease diagnosis, treatment options and pet injuries. You can discuss diagnosis and treatment options. They share its expert pool with JustAnswer, a generalist site. But Ask A Veterinarian limits their experts to certified veterinarians only.
One Vet
Onevet service instantly connects you to a vet once you sign up and download the mobile app. It costs $19.99 a month. The OneVet membership covers up to 6 cats or dogs with 24/7/365 access to a licensed veterinarian, a $3,000 yearly emergency fund, and vaccine tracking and reminders. They offer a 14-day free trial.
Virtuwoof
Virtuwoof allows you to chat with a veterinarian anywhere from any smartphone easily. Just download the app, create profiles for each pet, and search your current vet or an available Ask Virtuwof vet. Fees vary by veterinarian and visit type. Virtuwoof says its average response time is between 5 and 10 minutes.
TelePaws
They offer real-time video conferencing between you and your pet's veterinarian. If available, we can guide you to holistic care. Appointments through TelePAWS aim to reduce travel, vet expenses, waiting times, bridge care gaps, increase preventive outreach, and make it convenient for pets and their owners.
Bond Vet Telehealth
When you book a virtual vet visit with Bond Vet Telehealth, you get a 20-minute online vet visit is similar to an in-person visit. Their vets will ask you a few questions, take a look at your pet, and offer solutions. They can prescribe medications to residents of New York. Their experienced veterinarians can help pet owners navigate pet health issues via video call. Visits are priced at $50.
Vet Triage
VetTriage gives you instant video televet sessions for any species with a licensed, experienced veterinarian. Connect 24 hours a day, 365 days a year, from anywhere on your computer or mobile device.
Chapter 3
Learn in-depth, key information about online veterinarians
What Is A Veterinarian-Client-Patient-Relationship (VCPR)?
The veterinary-client-patient relationship (VCPR) is where the veterinarian has established a relationship with your dog (and you). A VCPR states vets should be familiar with the animal's medical history, keep a written record of their animal's health, physical examination, and assess the pet's entire physical status, among other stipulations. This enables the vet to confidently diagnose, prescribe and treat your dog for current or future health issues.
A VCPR can only be established through routine in-person visits. However, once a VCPR is established, it may be used by online consultations for follow-up care, general guidance, prescribing medications, and diagnosing. But, it's up to your veterinarian's discretion to determine if this is appropriate and in the best interests of your animals' health.
VCPR's are generally valid for 12 months, meaning particular treatments for known, ongoing conditions can be prescribed within 12 months of the patient's most recent physical examination.
What Is The Difference Between Telehealth And Telemedicine?
Telehealth appointments or providers online provide advice (vet triage). On the other hand, veterinary telemedicine providers or appointments include prescriptions and diagnoses from a licensed veterinarian in your state.
However, not all states allow veterinarians to use telemedicine. This is why some virtual vets can (or can't) prescribe medication and diagnose animals.
Virtual Vet Visit Near Me
Are you looking for an online vet appointment near your area? It might not be that easy to find local virtual vets.
The industry is still growing. In fact, only 10% of veterinarians have transitioned to offering virtual appointments, but the market is expected to expand at a compound annual growth rate of 19.5% from 2021 to 2028.10
To find the best local online vets, check our reviews. The companies we've selected operate nationally and can provide online virtual consultations anywhere, anytime.
Are Virtual Vet Worth It?
As a pet owner, you may feel like visiting your veterinarian can be costly, time-consuming (calling the vet, driving, taking off work, waiting), realize vet wasn't needed, or even perhaps your vet is not taking the time to answer all of your questions.
If that sounds familiar, it's time to switch from face-to-face veterinary care to online vet service.
On-demand vet services provide instant veterinary advice at a fraction of the price. Plus, if your dog is throwing up and it's 11:20 pm, the extra convenience of jumping on your phone or computer and talking to a registered veterinarian in a matter of seconds makes virtual vets a fantastic way to get professional help from the comfort of your home. Online vet triage providers offer perks such as emergency funds and subscriptions at discounted rates.
However, remember online veterinarians do not replace emergency pet care. If your dog is suffering from a life-threatening injury or condition, you should immediately take him to the ER.
---
Sources and References: [1] American Veterinary Medical Association, [2] Bond Vet, [3] AVMA, [4] AVMA: COVID-19, [5] Veterinary Prescription Orders [6] FDA: VCPR, [7] FIGO, [8] Evaluation Sheet, [9] PetCoach FAQ, [10] Grand View Research
Like It? Subscribe & Share!