Best Dog Running Gear: Must-Have Dog Running Equipment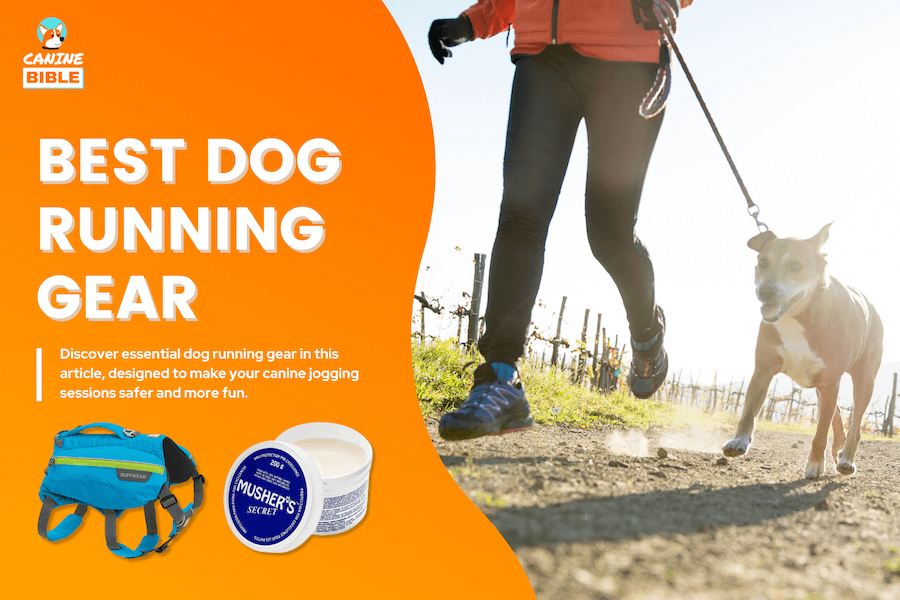 Canine Bible is reader-supported. We receive affiliate commissions via some of our links. This doesn't affect rankings. Learn more.
Running with your dog can be an enriching experience, but having the right gear for a safe and enjoyable run is essential. In this comprehensive guide, we'll delve into the world of dog running gear, examining the top products designed to cater to the needs of both you and your canine companion. From hands-free leashes to reflective vests, our expertly curated list includes all the essentials for making your runs more enjoyable and secure.
We understand that dogs and runners are different, so our recommendations cover various preferences and styles. Ready, set, run!
Top Best Dog Running Gear — At A Glance
Scroll to the right to see all our recommendations for the best dog running gear.
Why You Should Trust Us
105
hours of research went into this review. Hands-on tests, our dog's experience, competitive analysis and more
23
dog running gear companies were under consideration for the top dog running gear
8
experts' opinions and research studies were used to provide accurate information and rankings
Importance of Dog Running Gear & Equipment
Running with your canine companion can be an enjoyable and rewarding experience for both of you. It strengthens the bond between you and your dog and provides an excellent way for both of you to stay fit and healthy. To ensure your dog's safety, comfort, and well-being during these activities, it is crucial to invest in proper dog running gear and equipment.
Here are some reasons why dog running gear and equipment are important:
In conclusion, investing in proper dog running gear and equipment ensures your dog's safety and comfort and enhances the overall running experience for both of you. It allows you to focus on enjoying the run and building a strong bond with your canine companion while minimizing risks and potential issues. So, gear up and hit the trails with your furry friend!
Training Your Dog To Run & Use Running Gear
Are you excited to begin this running journey with your four-legged friend? Don't forget the training part. Don't miss our in-depth article on how to run with dogs training guide, where we will guide you through the essential steps to transform your dog into the perfect running companion. Discover expert tips, techniques, and advice to set you both up for success and make running together an enjoyable and fulfilling experience.
Best Dog Running Gear & Equipment
Learn about the importance of dog running gear. The right equipment for your best friend and go-to adventure buddy will make runs pleasant and safer. From leashes to running booties and almost everything in-between, here are the top running gear for dogs.
Best Hands-Free Leash For Running With Dog — Sparklypets
We recommend running with hands-free leashes only. If you lose your balance, having a free hand may save you and your pup from accidents. If you want a leash that will be more convenient while running, look for a hands-free leash like this one from Sparkly Pets. It attaches to your waist to keep your hands free to run more freely. It's also adjustable to fit all sizes of humans, so you can tether your dog up to other sturdy objects like a tree or a fence if you ever need to.
What We Like & Don't Like
Best Dog Running Harness — Kurgo
A dog harness can make a difference if you need a better way to run with your pet so she doesn't yank you down the trails. Kurgo's dog harness is designed for mobility, which is excellent for running. If your dog hasn't mastered leash manners and is always trying to wriggle out of his collar and constantly pulling, a dog running harness makes it easier to control and manage any dog. A harness is a great training aid for first-time dog runners. It's also safer for their body. A dog harness puts pressure on the chest instead of the neck.
What We Like & Don't Like
Best Dog Running Belt — Ruffwear
So, how do I carry my keys, phone, water, treats, and other items while running with my dog? We like using the running belt by Ruffwear. It's a comfortable way for a runner to carry water and all your essentials.
What We Like & Don't Like
Best Dog Running Backpack — Ruffwear
You might need more space for longer runs to carry your dog's trail essentials. Sometimes a running dog belt might not be enough. A dog running backpack allows your pup to carry his water, extra water for you, and other necessities. Ruffwear's dog pack has two side pockets that fit 0.6-liter of water, each with enough room left for treats, pick-up bags, and a small leash.
What We Like & Don't Like
Best Dog Running Balm — Musher's Secret
Whether you are in cold or hot weather conditions, paw balm is perfect for protecting Fido's pups at the trails. The balm, made from a blend of waxes and oils, protects paws from sand, hot pavement, ice, and salt by creating a layer of protection around your pup's paw. Before you start your runs, we recommend constantly rubbing some paw balm on your dog's palms to minimize the dry skin and damage pavement can cause. Reapply the balm after returning from runs.
What We Like & Don't Like
Best Dog Running Boots — My Busy Dog
Dog running shoes or boots are the best options to protect your dog's paws. Hot pavement/asphalt in the summer, salt, snow in winter, and rough rocks and dirt can impact your dog's comfort as they run. Protecting your dog's paws is essential; running dog shoes are a definite must for any run. A little heads up! Not all dogs love these. Ensure you train your dog to use the boots inside the house several times before going on a run.
What We Like & Don't Like
Best Dog Running Water Bottle — Pupflask
How to carry water for your dog when running? Keeping your dog hydrated while running, it's essential! This dog water bottle for dog runners lets you conveniently offer your dog water without mess or waste. They are portable and have a leaf-shaped silicone bowl that folds out easily. You can pair this with the dog running belt option above.
What We Like & Don't Like
Best Dog Tracking GPS — Tractive
One way to enhance your dog's safety and give you peace of mind is using a GPS tracking device, such as Tractive GPS. Tractive GPS provides real-time tracking of your dog's location, allowing you to monitor their whereabouts directly from your smartphone. This feature is handy if your dog wanders off or gets separated from you during a run. With real-time tracking, you can quickly locate and reunite with your dog, ensuring its safety. Tractive GPS allows you to set up virtual fences or safe zones. If your dog leaves the designated area, the device will immediately alert your smartphone. This feature can be beneficial during off-leash runs, enabling you to respond promptly if your dog ventures too far.
What We Like & Don't Like
Best Dog First Aid Kit — PropEff
Emergencies and accidents can happen during running, especially during long-distance runs, making it crucial for dog owners to be prepared with a reliable and comprehensive dog first aid kit. One of the top choices on the market is the PropEff Dog First Aid Kit. It has various key items that may help assist your dog in an accident, such as a thermometer, hassle-free splint application, and emergency leash.
What We Like & Don't Like
Best Dog Snout Soother — The Blissful Dog
Dogs can experience dry, cracked, or irritated snouts due to various factors, such as running due to weather conditions or environmental allergies. To help alleviate discomfort and maintain a healthy snout, it's essential to find an effective and reliable snout soother. One of the best options available on the market is The Blissful Dog's Nose Butter.
What We Like & Don't Like
Dog Running Gear List
Below is a list of 10 things you should bring when running with your dog.
Best Dog Running Gear — Conclusion
As we wrap up this comprehensive guide to the best dog running gear, we hope you've discovered the essential items to make your runs with your canine companion safe, enjoyable, and memorable. Investing in the right gear is crucial for ensuring the well-being of both you and your four-legged friend during your shared workouts. So, why wait? Equip yourself and your furry buddy with the best dog running gear, and make running a safe and fun experience for both.
Do you know how dogs can run? Read our "How fast can dogs run" article to understand their speed so you can understand what to expect when running with dogs.
Like It? Subscribe & Share!
Canine Bible authorship represents the unified voice of our entire editorial team rather than a single author. Each article, blog post, and review published under the Canine Bible name undergoes a rigorous review process, involving all team members to guarantee accuracy and up-to-date in accordance with the latest veterinarian research. This collaborative effort is an integral part of our editorial process and aligns with our four pillars of content creation. This approach ensures our content is backed by expert knowledge and factual information, offering our readers reliable, actionable, and trustworthy content.