Top 15 Goldendoodle Rescues For Adoption In The U.S.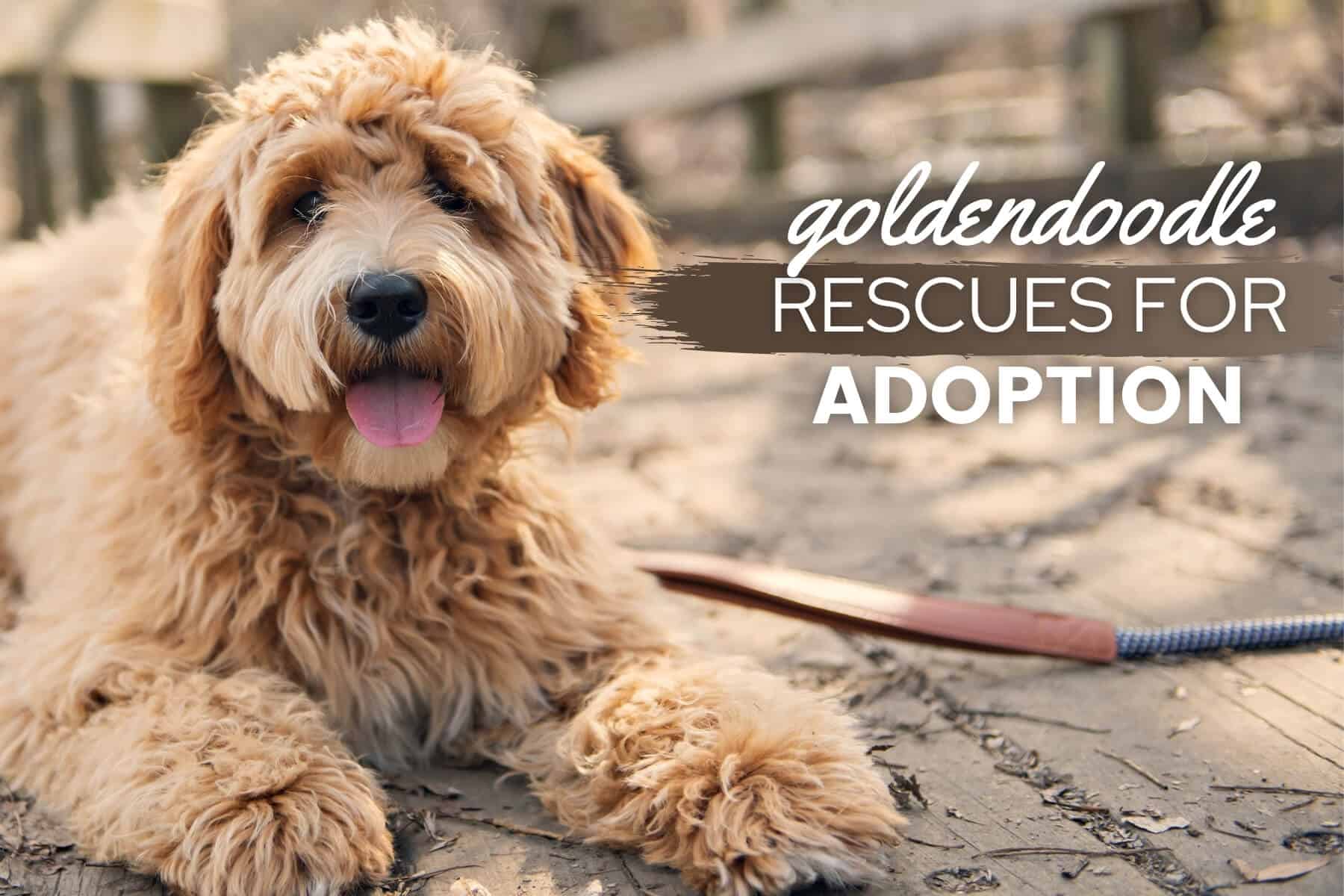 Canine Bible is reader-supported. We receive affiliate commissions via some of our links. This doesn't affect rankings. Learn more.
This is the ultimate guide to finding the best Goldendoodle rescues for adoption.
Goldendoodles are one of America's most popular dog breeds, but they are also often neglected and abandoned.
Whether you are looking to adopt a Goldendoodle, Goldendoodle puppies, or a Mini Goldendoodle, here are the top Goldendoodles Rescues for adoption in the country.
Why Adopt Goldendoodles?
Abandoned, stray, or neglected dogs that ended in shelters are a growing problem.
Did you know approximately 3.3 million dogs enter U.S. animal shelters nationwide every year? Out of this number, the ASPCA says 670,000 dogs are euthanized. This is the single most important reason why adopting Goldendoodles is necessary.
When you adopt a doodle, not only do you get a new best friend who is loving, cuddly, and intelligent but adopting from a shelter is a perfect way to save money while saving a Goldendoodle's life.
Top Reasons to Adopt Goldendoodles
Here are the top reasons why you should consider adopting Goldendoodles.
To save a life
You'll get a best friend
Adopting is less expensive
You get to give a fur-ever home to a dog in need
Because it's one way to fight puppy mills (cruel breeding)
You're helping make space for another animal in need
You'll be more active

Unconditional love

Pets are good for your health
How Much Does Adopting A Goldendoodle Cost?
Standard adoption fees vary by dog breed, demand, and other factors. Nonetheless, adopting a pup costs significantly less than buying one from a breeder.
Adopting a Goldendoodle typically may save you some veterinary costs like spending on spay or neuter surgery, initial vaccinations, microchipping, and other fees.
Generally, you can expect to pay between $50 to $150 for adopting a Goldendoodle at a shelter or rescue.
Adoption fee: $50-$150 or more
Spay or neuter: $50-$300 – if not part of the adoption fee
Initial vaccinations: $50-$100 – if not part of the adoption fee
Dog or cat license: $20 – if not part of the adoption fee
Microchipping: $50 – if not part of the adoption fee
Dog home supplies such as a crate, toys, food and leash: $150-$350 – first-time expenses
It's rare to find free Goldendoodles. Typically, you need to put in an application to take a rescue Goldendoodle home.
How To Find A Goldendoodle Rescue Near Me?
A quick search on Google for "Goldendoodle rescue near me" may show some results, but you'll shortly realize these are dog breeders and not actual rescues or shelters. Goldendoodle rescues or shelters are non-profit organizations filled with Goldendoodles looking to be rehomed. Finding a Goldendoodles rescue can take some time, but there are quite a few across the U.S.
Top Goldendoodle Rescues For Adoption
The following is a comprehensive list of Goldendoodle rescues where you can potentially find Goldendoodles looking to be adopted.
From mini Goldendoodles and Goldendoodle puppies to retired Goldendoodles and Teddy Bear Goldendoodle, these are the top places to get your hands on one of the most popular hybrid breeds today.
This rescue facility began as a rescue for golden retrievers; however, it's grown into a popular rescue for Goldendoodles. You need to contact them and sign up to get one of these dogs.
DVGRR has strict guidelines on rescue dogs. These requirements would include; a fenced yard, no younger children, and not leaving the dog alone. In total, the rescue has saved over 5,663+ dogs.
Goldendoodle Rescue and Adoption Details:
Address: 60 Vera Cruz Road, Reinholds, PA 17569
Telephone: (717) 484-4799
E-mail: [email protected]
2. IDOG Rescue
IDOG is one of the largest Goldendoodle, Labradoodle, and poodle rescue homes in the U.S. They have rehomed doodles. IDOG is a non-profit rescue organization in Houston, Texas but is often asked about Goldendoodles from all over the world.
Due to the generation rule of thumb, they rarely get puppies and have older dogs. If you want to get a dog from a rescue center, you must be open to the gender, coat colors and age of the dog.
Goldendoodle Rescue & Adoption Details:
3. Doodle Dandy Rescue
Doodle dandy rescue is exclusive to those who live within a 4 hours radius of the Dallas Fortworth. The Goldendoodles they receive are puppies are older dogs available for adoption and fostering. It is known that fostering a doodle there will have a higher chance of adopting the dog later if you can have your application approved.
Goldendoodle Rescue and Adoption Details:
4. Norcal Poodle Rescue Adoption
Norcal Poodle Rescue is made up of volunteers who rehabilitate and save different types of poodles and mixes. They usually get their dogs from pet owners, shelters and humane societies, including expensive surgery and spay/neutering for the dog. All the rescue donations go to their pets, while a small part goes into the actual workplace.
Goldendoodle Rescue and Adoption Details:
5. Doodle Rescue Collective
Doodles Rescue is a Labradoodle and Goldendoodle rescue center. It opened in 2008 and since has saved 4,000 dogs. They are mainly in Southern California but have workers around the U.S. Occasionally, they have doodle puppies and transfer them to new homes. DRC works with nationwide rescue services.
6. Carolina Poodle Rescue
Carolina Poodle Rescue is a no-kill/limited entry private rescue group that takes in poodles, poodle mixes and small dogs. Carolina Poodle is a non-profit organization, a registered 501(c)3 non-profit. Before taking the dogs to the rescue, they are spayed/neutered. Dogs looking for homes are rehomed and are on a waiting list. Up to 150 poodles can be housed at a time. People from the Carolinas, Virginia, New York and other states adopt furry friends from this rescue. All of this is possible through adoption fees and donations.
7. Poodle and Pooch Rescue of Florida
Unlike most rescue centers, Poodle and Pooch are run by volunteers, specializing in rescue, socialization, rehoming the abused and neglected dogs, and providing the rescues with spay and neutering, vaccines and dental. Donors help make all this possible by saving the dogs, saving 5,200 lives since 2008.
8. Sugar Pine Doodles
Sugar Pine Doodles is a small to medium-sized, in-home breeder. Their goal is to understand puppy socialization, breeding, and training. They have amazing dog care, therapy sessions, and even dog food development. They let you know everything about your dog before taking it in, including parasite tests and more. The business has authorized dog breeders, and it began in 2006.
9. Doodle Dandy Rescue Texas
10. Doodle Rock Rescue
Doodle Rock Rescue's mission is to rehabilitate and home doodles, a non-profit organization located in Dallas, TX. They receive donations to help support their doodle community. The dogs come from the streets and shelters and are fostered and adopted later on after receiving medical care provided by the rescue. Founded in 2017, they have rehomed 900+ dogs and hope to change southern texas, which has the highest euthanasia rates in the country.
Other Goldendoodle Rescue Options
Mini Goldendoodle Rescue
Our top favorite places to find Mini Goldendoodles for adoption include Delaware Valley Golden Retriever Rescue, IDOG Rescue and Doodle Dandy Rescue. See their contact info above.
Where to Buy The Best Goldendoodles Puppies?
Finding a Goldendoodle puppy at a rescue is rare, let alone finding a Goldendoodle with a specific coat color or characteristics. If this is you, buying one might be your best alternative.
Pawrade is the best place to find healthy, pre-screened Goldendoodle puppies from U.S.-based reputable breeders at a great price.

The company works with over 135,000 breeders and has helped match 4,000,000 awesome families with loving friends forever. The best part about Pawrade is that they have zero tolerance toward puppy mills and only connect you with honest and certified breeders where puppies are raised with love and compassion.
Rehome Goldendoodle
And if you're looking for a Goldendoodle now but aren't sure if you can pull the forever trigger, consider fostering one.
Fostering Goldendoodles allows you to change an animal's life without the lifetime commitment single-handedly. It's a rewarding experience for those who choose to become temporary caregivers until your furry friends find them forever homes.
Even if you decide to adopt a dog or rehome a Goldendoodle temporarily, remember that they need the same amount of care and love to thrive and be happy.
---
Like It? Subscribe & Share!
Canine Bible authorship represents the unified voice of our entire editorial team rather than a single author. Each article, blog post, and review published under the Canine Bible name undergoes a rigorous review process, involving all team members to guarantee accuracy and up-to-date in accordance with the latest veterinarian research. This collaborative effort is an integral part of our editorial process and aligns with our four pillars of content creation. This approach ensures our content is backed by expert knowledge and factual information, offering our readers reliable, actionable, and trustworthy content.