Homemade Vegan Dog Food Guide: 9 Vet-Approved Recipes, Ingredients & FAQs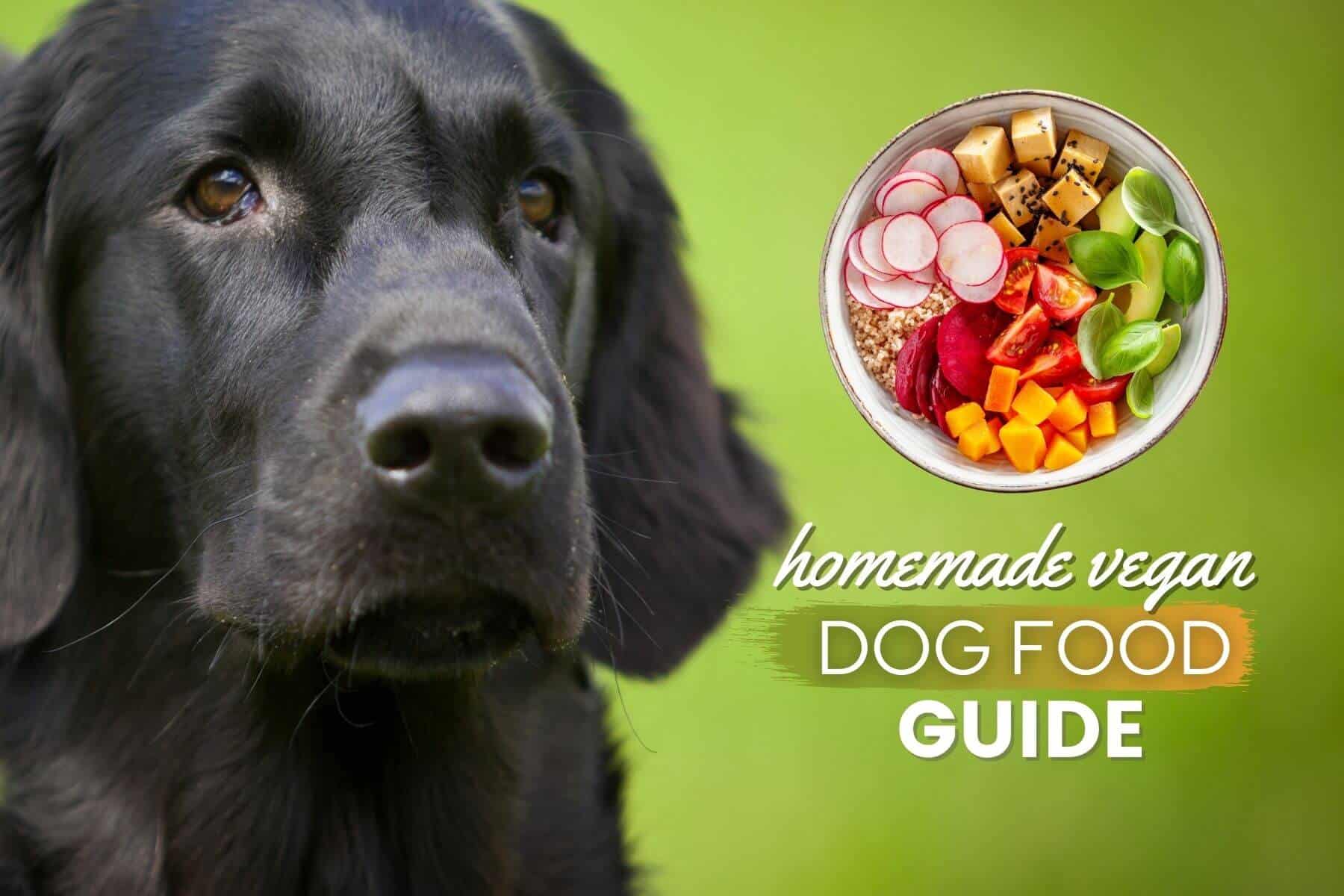 Canine Bible is reader-supported. We receive affiliate commissions via some of our links. This doesn't affect rankings. Learn more.
This is the most comprehensive guide to homemade vegan dog food.
Going vegan is a personal choice and one that can extend to our furry friends as well. However, cooking veggie-based food for dogs requires careful planning and important guidelines you need to follow.
If you want to learn how to make vegan dog food at home, we cover everything from the basics of vegan dog food nutrition, the best homemade vegan dog recipes, ingredients and everything you need to know about vegan meals for dogs. Let's dive right in!
Chapter 1
Vegan dog diet 101
What Is A Vegan Dog Diet?
A vegan dog diet means that your dog refrains from eating meat or other food products derived from animals, such as dairy products, eggs, and honey. Additionally, vegan dog food never contains any byproducts of animal agriculture.
Differences Between Dog Vegetarian & Vegan Diet
Vegetarians and vegan dogs don't eat meat and fish.
However, a vegetarian diet is less strict than a vegan diet. Unlike vegan dogs, vegetarian dogs consume byproducts that do not involve the slaughter of animals. These include eggs and dairy products, milk, cheese, yogurt, and honey.
Can Dogs Be Vegan?
A vegan diet that meets all of a dog's nutritional needs works quite well for most dogs, says Dr. Cailin Heinze is, a board-certified veterinary nutritionist and the Chief Academic Officer and Executive Director of the Mark Morris Institute. Dr. Cailin notes that she uses meat-free diets to help manage various health concerns. The challenge is that designing these diets is not the easiest thing to do.1
Although dogs are members of the order Carnivora — dogs are actually omnivores. A dog's digestive system can digest and absorb nutrients from fruits and vegetables. Dogs' diet adaptation research shows our pups have evolved to eat diets with less meat and more plant starch (carbs). Thanks to a mutation that happened over thousands of years in the gene coding for pancreatic amylase (AMY2B), dogs can digest plant starch.2 This happened over thousands of years due to domestication and the start of agriculture.3
According to Hill's Pet research, dogs have several key omnivorous qualities.5 An analysis of prehistoric canine droppings revealed dogs became omnivores about 8,000 years ago.6 In fact, a close look at the anatomy, behavior, and feeding preferences of dogs reveals that they are omnivorous and able to consume animal and plant food.
A dog can eat and survive on both plant and animal matter as long as its diet is balanced and meets its unique nutritional requirements.
Homemade Vegan Dog Food Benefits
Is a vegan diet good for dogs? Is it healthy for dogs to be vegan?
Yes, vegan dog food is beneficial in several ways.
Plant-based diets are naturally allergen-friendly
Dog's stool and breath will smell
Helps with digestive issues, from loose stool to constipation to gas.
Naturally, anti-inflammatory properties help relieve joint pain and arthritis.
Boost energy levels and vitality
Helps prevent diseases such as cancer or hypothyroidism
Protects the environment
Healthy heart
Support a healthy weight
Help fight animal cruelty (It's cruelty-free dog food)
Increases energy levels

Easy to digest

Potentially can increase lifespan*
Positive ethical (animal cruelty-free) & environmental benefits
Homemade Vegan Dog Food Risks
Cooking at home for your dog comes with certain risks you need to avoid. These are are some of the most common ones.
Not understanding the nutritional needs of your dog
Using inadequate or dangerous recipes
Not preparing a balanced meal
Using unsafe or harmful ingredients
Not understanding the impact of food and dietary changes
Not understanding your dog's life stages (puppies, adults & senior) nutritional needs
Neglecting your dog's health conditions
Many disorders can result from poor dog nutrition, such as obesity, emaciation, rickets, allergies, hair loss, bad breath, flatulence and Inconsistent or unusual bowel movements.
Research published in The Journal of Nutritional Science showed that 48% of homemade dog diets had an imprecise determination of ingredients and quantities and that 71.3 % of dog owners did know how much food to serve per meal. Another study by the University of California, Davis, School of Veterinary found that most homemade dog food recipes lack key essential nutrients and other recipes used dangerous levels of some nutrients.
Your canine diet should be carefully evaluated and managed throughout your dog's life by a veterinary nutritionist. Only a veterinarian can address your dog's nutritional requirements and help you craft nutritionally balanced recipes or recommend a vegan dog recipe.
Homemade Food Vegan Diet For Puppies
Making vegan dog food for adult dogs requires a lot of nutritional knowledge. Cooking for puppies presents a whole different set of challenges, even more so if the food is vegan.
Nutritionally speaking, puppies require different nutrition than adult dogs. Puppies need higher protein, fat, calcium, and phosphorus than adult dogs. Too few (or too many) of these nutrients can cause deficiencies, stunted growth, or lifelong complications.
The National Academy of Science's Committee on Nutrient Requirements for Cats and Dogs estimates that a 10-pound puppy expected to grow to be 33 pounds in adulthood should consume about 990 calories per day.7
Puppies should eat 3 to 4 times a day. When your puppy is a bit older (6 – 12 months), you can switch to 2 to 3 meals daily at scheduled intervals.
Puppies should never skip a meal. This could impact proper growth and development. A puppy's diet needs to be a precise balance of proteins, carbohydrates, fat, minerals, water, and vitamins, as outlined in the nutritional guidelines section below. It must also be designed to support growth.
Your veterinarian can help you design a diet that meets all of your puppy's nutritional requirements. Ask for a referral to a veterinary nutritionist if necessary. Our online vet resource guide can help you connect with a vet nutritionist in minutes.

Vegan Dog Food Nutritional Guidelines
What does a balanced vegan dog diet plan look like?
Homemade vegan dog food should also follow AAFCO's guidelines for creating a balanced meal that promotes life and proper function in dogs.
AFFCO is the entity regulating dog food nutritional value in commercial dog food, including vegan kibble.
Every dog meal should have six indispensable nutrients, including protein, carbohydrates, fat, vitamins, minerals, and water.
Making plant-based dog food recipes should take into account your pup's weight, health conditions, size, activity level, and other factors.
| Nutrient | Food | Description |
| --- | --- | --- |
| Protein | Lentils, chickpeas, quinoa, chia seeds, soybeans and quinoa | Builds and repairs muscles and other body tissues. Needed to make new skin cells, grow hair, hormones, enzymes and more. |
| Carbohydrates | Oats, brown rice, potatoes, and whole wheat | Source of energy for dogs and supplies glucose needed by the brain, nervous system and other critical organs for normal function. |
| Fat | Oils from plants such as olive or sunflower oil, canola oils among others | Responsible for providing quality energy. Necessary for the normal development and function of body cells, nerves, muscles, and body tissues |
| Minerals | Calcium, potassium, sodium, magnesium, iron, zinc, etc. | Common functions include the formation of bone and cartilage, nerve and muscle function, fluid balance regulation, the transportation of oxygen in the bloodstream and hormone production. |
| Water | Water | Hydration is critical in dogs. A dog that loses too much water (10% to 15% of the water in his body) can get very sick and even die. Ensure they have water available throughout the day. |
| Vitamins | A, B, C, D, E, and K | Keeps skin and coat healthy, strengthens bones and teeth, and gives them the overall energy that they need to function. |
Vegan Nutritional Risks & Supplementation
It's common for vegan diets to lack B vitamins, calcium, phosphorus and iron. A plant-based diet can also be deficient in fatty acids and amino acids, particularly taurine and L-carnitine.
Consider adding the supplementation if your dog's vegan meal plan (ingredients) does not provide the nutrients and vitamins mentioned above.
Before you feed your dog anything new, talk to your veterinarian.
Homemade Vegan Dog Food Delivery Service
Does vegan cooking food sound stressful? Don't have the time? Feel lost when it comes to balancing plant-based ingredients?
If you answered yes to any of these questions, you can still provide the benefits of a vegan diet to your dog without going through the hassle of cooking it.
We've compiled a list of the best commercially available veg dog food recipes. These vet-approved vegan dog food recipes meet all the nutritional requirements dogs need to thrive.
Our top recommendation is Wild Earth – this vegan dog food company appeared on Shark Tank.
Its veterinarian-approved recipe is made from plant-based and cruelty-free ingredients for healthier pets. They use only clean, sustainable and tasty plant proteins that offer more protein by weight than traditional dog foods. Its formula is boosted with superfoods including chickpeas, sweet potato, spinach, pumpkin and oats and more
86% of their customers report that Wild Earth has improved their dog's health.
Our readers have access to 50% off their first order with the 30-day challenge or 20% off the first order when you subscribe. Additionally, any repeat delivery after your first order will be marked down 10%. Just use this link to get this offer. You can cancel anytime.
Want more options? Below you can check out our best vegan dry dog food recipes. Your pup is sure to love these vegan dog kibble recipes.
Chapter 2
Vegan recipes & cooking tips for a meat-free dog diet.
Vegan Homemade Dog Food Tips
As you get ready to start cooking, keep these tips in mind to help you plan your veggie-based dog meals.
Set a consistent feeding schedule.
Feed your dog two times a day (puppies under 12 months, 3 to 4 times a day, check with your veterinarian).
Meal prep weekly or monthly.
Measure and control portion sizes depending on your dog's calorie needs.
Keep meals frozen for 2 to 3 months or refrigerated for about 5 days.
Make a new batch when the food supply is getting low.
If you want to feed different recipes, you can make multiple batches and color code by ingredients, rotating out the different meals.
Prepare the food in bulk and portion it into containers (one container per meal makes it extra-easy).
Increase portions appropriately as your puppy grows.
Monitor weight to make sure you are feeding the proper amount of calories.
How To Cook Vegan Dog Food At Home ( Video)

Vegan Dog Food Ingredients
Before sharing our veg dog food recipes, here is a handy list of ingredients you can use as you plan your homemade vegan dog food.
Proteins
Carbohydrates
Fat
Vegetables
Fruits
Lentils
Potatoes
Hemp oil

Cucumbers
Cantaloupe
Chickpeas
Sweet potatoes
Flaxseed oil

Broccoli
Apples
(remove the seeds)
Peanuts
Rice
Coconut oil
Dark, leafy greens
Bananas
Almonds
Barley
Olive oil
Carrots
Blueberries
Spirulina
Oats
Sunflower oil
Kale
Mangoes
Quinoa
Wheat
Hemp oil

Spinach
Peaches
Chia seeds
Millet
Sesame oil
Corn
Pears
Hemp seeds
Brown rice
Artichokes
Pineapple
Beans
Couliflower
Raspberries
Soybeans
Celery
Strawberries
Barley
Asparagus
Watermelon
Buckwheat
Sunflower
Melons
Green Peas
Pumpkin
Protein-rich
vegetables
Zucchini
(Beans can cause flatulence in dogs, be mindful of how often and how much you feed them.)
Best Homemade Vegan Dog Food Recipes
Are you looking for the best homemade vegan dog food recipes? We've compiled a list of vet-approved veggie-based dog meals for you to start cooking.
We've also added a tasty homemade vegan treat recipe packed with incredible health benefits. This recipe can do a lot for your pup's health and wellness. It has our favorite secret ingredient, dog CBD oil.
Note: Please consult with your pet's veterinarian and use personal judgment when applying this information to your dog's diet. The recipes below do not include serving size because portion sizes will vary depending on breed, weight, activity level, age, and dog's health. A common recommendation is to feed your dog a comparable amount of ounces/cups to what you would usually feed in kibble BUT check with your vet to be certain.
To learn more about vegan dog nutrition or find more easy vegan dog food recipes, check out Plant-Based Recipes for Dogs: Nutritional Lifestyle Guide by Heather Coster. This vegan dog recipe book shows you exactly how to create nutritionally balanced vegan dog food recipes that are sure to win over even the fussiest eater.
Homemade Vegan (Whole Foods Plant-Based) Dog Food
Ingredients
1 cup dry organic brown rice
½ cup dry lentils
1 cup garbanzo beans measured after being soaked or 1 1/2 cups cooked
1 cup great northern or navy beans measured after being soaked or 1 1/2 cups cooked (replace with 1 cup of oats if your dog is over the age of 7)
1 1- lb bag organic frozen spinach NOT thawed
1 1- lb bag organic frozen peas thawed
1 1- lb bag organic frozen green beans thawed
1 1- lb bag of frozen broccoli or cauliflower optional but healthy and will extend the food
1 lb organic carrots shredded in food processor or chopped small (you can also buy them pre-shredded)
1/2 cup chia seeds
1/2 cup ground flaxseed
7 cups water
1 15-oz can of organic pumpkin optional
1 1/2 cups cooked sweet potatoes optional (you can add more if you need to increase calories)
Instructions
Shred carrots in food processor or chop into tiny dice by hand. Transfer to pressure cooker. This will be at the bottom of the pressure cooker to prevent burning.

Then, change to an S-blade and process cooked or soaked beans to a medium coarseness.

Add the ingredients to pressure cooker in order: beans, rice, lentils, oats (for dogs over 7 years old, if using) peas, green beans, broccoli, and spinach plus water.

Cook for 12 minutes with natural release. It can take almost 45 minutes for the pressure to come down and release. Remove the pressure cooker lid and stir in chia seeds and ground flaxseed. If adding, stir in 1 can of organic pumpkin and 2 or 3 cooked sweet potatoes. Cool and put into individual containers with tight lids and freeze for future use.
Source: Mrs Plantin Texas
Meat-Less Homemade Dog Food
Ingredients
3 sweet potatoes (cubed)
3 cups peanut butter (creamy or crunchy)
6 cups water
1/2 cup brown rice
1/2 cup quinoa
1 cup lentils
1 cup apple cider vinegar
1/2 cup 100% cranberry juice
1/2 cup coconut oil
Instructions
Bring the water to a boil in a large pot. Once boiling, add the rice, quinoa, lentils and sweet potatoes. Reduce the heat to low, and allow the ingredients to simmer for 30 minutes. Stir the food occasionally.

Remove the recipe from the heat. Add the peanut butter, apple cider vinegar, cranberry juice and coconut oil. The heat from the food will melt the coconut oil and peanut butter, making it easy to thoroughly mix the meatless homemade dog food.

Once the food has cooled, you can feed it to your dog according to the serving sizes recommended below.
Soucer: Top Dog Tips
Cassy's Favorite
Ingredients
6 cups of filtered water
3 ¾ cups of organic Indian basmati (white) rice
½ cup of organic red quinoa
16 oz. package of frozen organic mixed vegetables
¾ cup of nutritional yeast
½ cup ground flax seed
¾ cup of olive oil or sunflower oil
20 ounce package of organic firm tofu, crumbled
15 ounce can of organic black beans, drained
15 ounce can of organic garbanzo beans, drained
1 teaspoon salt
Instructions
In a large soup pot bring water to a boil. Add rice and quinoa. Cover, reduce heat to low and cook until rice and quinoa are done (approximately 15 minutes). Turn off heat. Add frozen vegetables to the pot and cover again to let them steam a little bit. Let rest for ten minutes. Add additional ingredients and mix.
Source: Compassionate Circle
Maximo's Mush
Ingredients
2-3 Sweet potatoes, skin on, sliced lengthwise
2-3 Zucchinis or Yellow Squash, skin on, ends removed, sliced into 2 inch chunks
6-8 Carrots, skin on, sliced in half or thirds
2 tablespoons peanut butter (Max loves creamy)
1 can peas, drained
Instructions
Place an inch of water in the bottom, add potatoes, zucchinis and carrots. Set to high pressure for 20 minutes, then release steam. Set aside.

Remove cooled vegetables to your kitchen counter, a cutting board or a very large bowl. There will be a lot of water from the zucchinis but that is okay. Add peanut butter and peas. Chop until a fine mush has formed.
This makes enough food for my 20lb dog for two weeks and freezes nicely. I keep half in the fridge and the other half in the freezer.
Source: Canterbury Cottage Designs
Lucky's Homemade Food
Ingredients
1 cup of buckwheat
1 cup of rice or barley
1 cup of red lentils
1/2 cup of quinoa
1/2 cup of couscous (optional)
2 cans of beans (I prefer crushing them prior to mixing to the food)
2 large carrots
2 medium sweet potatoes
2 courgettes
handful of parsley
soy beans (optional)
tofu (optional)
Instructions
Start by boiling water enough to fully cover your grains and pulses. Do not add salt or rich stock to it, your aim to make it quite neutral. Cook your rice, lentils, buckwheat and other grains and pulses if using.

Put a timer to 15 minutes and then add chunks of your veggies. Your aim is to soften them just slightly, so they are crunchy! Raw veggies will add so many essential nutrients and they are actually very healthy for your dog, so always have a pack or several of your dog's favourite veggies. Mine is absolutely head over heals for carrots!

If your dog is not sensitive to soy products, both soy beans and tofu are amazing to add vegan protein source to your dog's meal. I also love adding a pinch of parsley to his bowl and mix all things together. It not only makes it fragrant, but they got a lot of goodness from this herb.

Wait until it's slightly cool to serve a portion (I give about 150-200 g a day for my 10 kg Lucky boy!)

The rest can go to a container and be kept in a fridge. Just take a portion, warm it a bit and his food is ready. Trust me, it would be much better than that unnatural dry food you can get in the supermarket!
Homemade Vegetarian Dog Food Recipe
Wondering how to make vegetarian dog food at home? These vegetarian dog food recipes can get you started.
Remember, the only difference between a vegetarian dog diet plan versus a vegan dog diet is that vegetarian recipes include ingredients derived from animals, such as cream cheese. However, vegetarian dog meals do not contain meat, just like vegan meals.
Black Bean, Quinoa & Spinach Mix
Ingredients
1 cup black beans (cooked)
1 cup quinoa (cooked)
1/4 cup spinach (chopped)
1/4 cup butternut squash (chopped)
1/4 cup apple (chopped)
1/4 cup pear (chopped)
1/4 cup zucchini (chopped)
3/4 cup plain yogurt
2 tbsp. low-fat cream cheese
Instructions
The only ingredient that need to be prepared before mixing this recipe together are the black beans and quinoa. I used canned beans that are already cooked, but you could certainly boil fresh beans if you prefer.

Cook the quinoa according to the instructions on the packaging. Mix all of the ingredients in a large mixing bowl. Once the quinoa and beans have cooled, you can serve it to your pet.
Source: Top Dog Tips
Homemade Vegetarian Dog Food With Eggs (Doggie Veggie Frittatas)
Ingredients
Olive oil, to grease mold
Finely chopped or shredded veggies (try spinach, kale, carrots, zucchini, broccoli, or bell pepper) Stick with one type of veggie or mix each muffin up with a few different ones!
2 large eggs, you may need more depending on the size of your mold
1/4 teaspoon ground turmeric
Pinch ground black pepper
Instructions
Preheat oven to 400ºF. Grease silicone mold with olive oil and set aside.
Prepare your veggies by chopping or shredding them with either a knife, food processor, or grater. Add some veggies to each cup in your silicone mold. Set aside.
Crack two eggs into a liquid measuring cup (or another bowl/cup that has a spout) and beat.
Add turmeric and pepper to eggs and mix.
Pour egg mixture over veggies, filling each silicone cup 3/4 way full. The eggs will puff up when baking.
Bake in the oven for approximately 20 minutes. Stick a toothpick into the center of each frittata to check doneness. Toothpick will come out clean when done.
Remove from oven, let cool, then remove frittatas from the mold.
Source: Proud Dog Mom
Homemade Vegan Dog Treats
These vegan dog treat recipes are easy to make and your furry friend will love them.
Peanut Butter CBD Cookies
Ingredients
1 ripe banana, mashed
¼ cup peanut butter
2 cups of old-fashioned oats
1 tablespoon 100% dog CBD oil
Coconut oil

Instructions
Preheat your oven to 325°.

We'll be using coconut oil to infuse with CBD in our treats in this recipe. So go ahead and mix together a tablespoon of coconut oil with how many mg of cannabidiol you wouldlike to your per treat dosage to be.

Mix together oats into a blender until you get a flour-like consistency. Then, combine 1 ripe banana, mashed, alongwith peanut butter and the infused coconut oil. Stir this together with the oats and knead thoroughly until moistened.

Slightly dust a flat surface with dough, then use your hands to shape the dough into a circle, about ¼ thickinch. Use a cookie cutter (this can be any shape or size!) and cut out the treats. Place the cutouts on a non-stick cookie sheet.

Bake until golden brown for approximately 25 – 30 minutes depending on the thickness of the treats. With the measurements included in this recipe, you can make about 30 treats for 1-inch thick treats or 15 for 2-inch treats.
Source: Sit Stay
3 Ingredient Dog Vegan Treat
Ingredients
0.5 cup canned pumpkin
2 bananas very ripe
3.25 cups unbaked oats
Instructions
Line a baking tray with greaseproof paper and preheat the oven to 350 degrees.
Blend the oats until they are a fine powder.
Form a paste by mashing the pumpkin and bananas.
Add the oats (leaving some to flour your work surface with) and combine together.
Draw into a dough and knead on the oat-floured surface.
Roll to a 1/4 inch thickness and cut into treat shapes.
Bake for 10 minutes and then allow to cool before serving up.
Source: Pass Pawt
Read our vegan dog treat guide for more options.
Best Vegan Dog Food Cooking Practices
Follow these meal preparation tips for cooking safe vegan meals.
Never use unsafe or toxic ingredients for dogs
Cook all products thoroughly to kill harmful bacteria
Cook all grains, beans, and starchy vegetables to make them easier to digest
Research every ingredient before using it for safety
Follow recipes as instructed
Add supplements to their diet if needed
Run any questions by a vet nutritionist
What Vegan Foods Should Your Dogs Never Eat?
Stone fruits such as cherries and peaches contain seeds that can cause cyanide poisoning. Similarly, grapes and raisins may cause kidney failure, and too many onions and garlic can cause hemolytic anemia, among other problems.
Here is a non-exhaustive list of foods a dog shouldn't eat to avoid these types of problems.
Cherries
Peaches
Plums
Grapes
Raisins
Mushrooms
Onions
Garlic
Tomatoes
Macadamia nuts
Walnuts
Pistachios
Check out this handy list for a comprehensive list of all foods to avoid. Please print it out and put it on your refrigerator as a reminder.
How to Transition Your Dog To A Vegan Diet
There are some dogs with sensitive GI tracts. To prevent stomach issues, you should transition to vegan dog food gradually.
Here are the general guidelines you should follow when transitioning to a new diet.

Week 1: 25% new food and 75% old food
Week 2: 50% new food and 50% old food
Week 3: 25% new food and 75% old food
Week 4: 100% new food
Some dog owners opt to begin with 50% to simplify things but start with 25% (or a smaller percentage, like a Tablespoon) if your dog is hypersensitive.
Consider extending the transition time to 5 weeks or longer if you feel it will be easier for your dog to adjust.
Changing your dog's food abruptly is not recommended. This may result in upset stomachs, diarrhea, or vomiting.
Monitor Weight And Health
Your dog's weight is one important indicator to monitor to determine whether or not the vegan diet is providing proper nutrition.
Monitor your dog's weight. If your dog is quickly gaining or losing weight, this may signify food-related health concerns.
Be aware of things like their overall energy levels and demeanor. Other indications of inadequate and unbalanced meals are skin or coat issues, excessive lack of energy, allergies, weight loss, malnutrition, or obesity. If your dog is exhibiting any of these symptoms, stop making their meals, review their diet, and speak with a veterinarian to ensure that your dog's meals contain all the nutrition they need.
Keep your pup healthy and strong by scheduling more frequent visits to your veterinarian for blood tests and physicals.
Other Food Alternatives
Homemade vegan dog food can be a healthy and affordable option for your pet.
It is essential to consider your dog's nutritional needs when preparing their food and consult with a veterinarian if you have any questions about whether a vegan diet is appropriate. By following these simple tips, you can ensure that your furry friend enjoys a delicious and nutritious meal that meets their dietary needs.
The raw pet food trend is in vogue just as much as a plant-based diet for dogs. Learn about all about it in our raw dog food guide.
---
Sources & References: [1] Cummings Veterinary School, [2] Diet Adaptation in Dog, [3] NPR, [4] Hill's Pet, [5] Research Gate, [6] Daily Mail [7] NAP
Like It? Subscribe & Share!
Canine Bible authorship represents the unified voice of our entire editorial team rather than a single author. Each article, blog post, and review published under the Canine Bible name undergoes a rigorous review process, involving all team members to guarantee accuracy and up-to-date in accordance with the latest veterinarian research. This collaborative effort is an integral part of our editorial process and aligns with our four pillars of content creation. This approach ensures our content is backed by expert knowledge and factual information, offering our readers reliable, actionable, and trustworthy content.