Finn Dog Supplement & Vitamins Review: Our Pups Experience & Results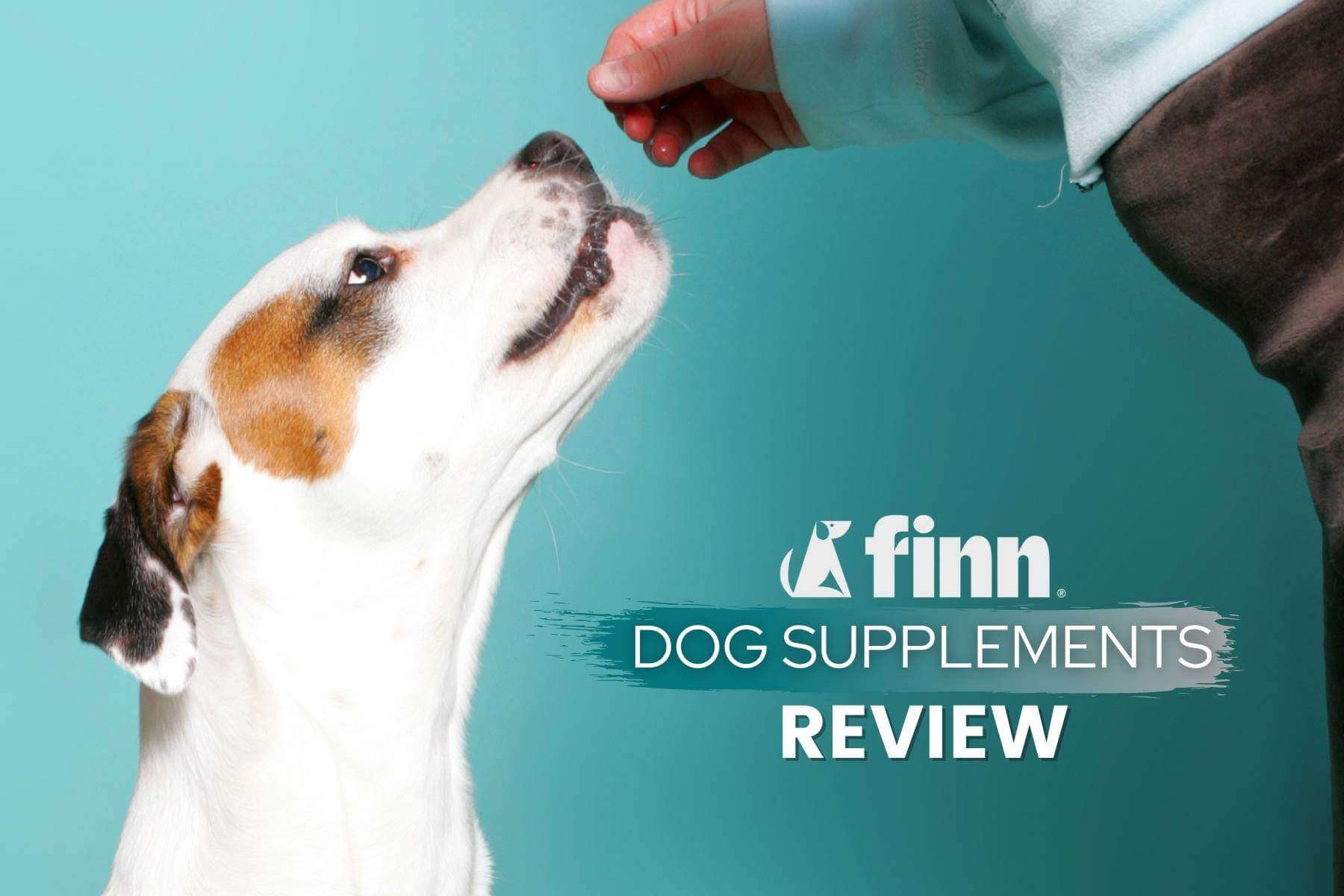 This is the most comprehensive Finn dog supplements review.
Feeding dogs supplements has become a popular way of treating illness and supplementing their nutrition naturally by giving their bodies the nutrients they need to function properly.
If you are in the market for a dog supplement, you've probably realized that navigating the world of dog supplements can make your head spin.
We got our hands on a new pet supplement brand called Finn, a premium pet supplement company worth looking into if you hunt for the best supplement for your dog.
Our team tested out their products on our dogs, and we bring you our results and experience to help you decide if Finn supplements can genuinely make a difference in your dog. Let's go!
Finn Top Products
Here is a glance at Finn's dog supplements.
You can click this link to go straight to the reviews, but we encourage you to keep reading to learn more about the company and make a more informed decision about these dog supplements.
Chapter 1
All about Finn dog supplements
What Is Finn Dog Supplements?
Finn is a pet wellness company that launched in September 2020 and is headquartered in New York.
Finn makes premium soft-chew supplements for pets without unnecessary fillers or artificial preservatives. According to founders James Shalhoub and Alex, Finn is on its mission to elevate the standards of pet wellness and create the golden standard of pet wellness.
Finn's founders launched Finn after working at a human supplement company and realizing there wasn't a product on the market for pets that offered the same modern wellness options as humans. Alex also realized his dog BonBon needed help as much as anyone.1
The company's mission is to create a happier world where our dogs are as healthy as humans can be. This starts with the scientifically backed and carefully selected ingredients used in all their formulas to target the health concerns dog owners care about most.
How Does Finn Dog Supplements Work?
Finn offers six soft chew supplements (Calming Aid, Multivitamin, Hip & Joint, Skin & Coat, Probiotics, and Allergy & Itch).
Once you've determined which product best suits your dog's needs, you have two options: order a single shipment or subscribe (auto-ship).
Subscribing ensures your pet's supplement will be shipped to you regularly. It also comes with an added 20% discount. The delivery cadence for each pup is unique, so there is no 'one size fits all method. Subscription frequency may vary based on your pup's weight and dosage.
If you are not satisfied with the product, you can cancel your subscription/order at any time and get a refund. You need to email [email protected].
Finn has a fantastic tool that tells you exactly what supplements your dog may need based on your dog's breed health problem predisposition, weight, allergies, and more. Use Finn's Virtual Vet and get tailor-made supplement recommendations today. It's free!
They offer a 90-day money-back guarantee — so if you find it's not a fit for your dog anytime in the first three months, you can get a full refund, no questions asked.
Why Feed Finn Dog Supplements? Benefits
A dog fed an appropriate commercial diet labeled "complete and balanced" should not require vitamin supplements unless a veterinarian recommends it.
So why and when should you consider supplementation? Three of the most common reasons why giving supplements to dogs include:
Homemade diets. Cooking for dogs may require supplements in order to ensure that your dogs get enough vitamins and nutrients and balanced meals.
Medical issues and wellness. If you have a senior dog that has moblity issues and digestive problems you could consider a supplement to support joints and muscles and probiotics for dogs.

Kibble does not provide a balanced diet.
Using supplements correctly can improve your dog's quality of life. Here is a review of the scientific evidence and research on dog supplements and how they can benefit your dogs.
A study on the benefits of dietary supplements on the physical fitness of German Shepherd dogs during a drug detection training course found that dog nutritional supplements could improve physical fitness by modulating energy metabolism, oxidative processes, and perceived fatigue. The researchers fed GSDs a daily dietary supplement containing branched-chain and limiting amino acids, carnitine, vitamins, and octacosanol. They found that supplementation accelerated heart rate recovery and a reduction in muscle damage and improvement of energy metabolism after strenuous activities suggesting nutritional supplements can improve the fitness of working dogs.2
In 2018, our Cincinnati-based veterinary hospital took part in a six-week, 100 dog trial to record the benefits of unlabeled plant-based omega fatty-acid (omega 3 and 6) supplements. The results were highly positive. Out of the 100 dogs, 85% showed joint improvements, 90% better skin and coat, 80% gait, and 78% increased activity level.3
Several other studies support omega-3 fatty acids for dogs with osteoarthritis. Researchers perceived improvement in their dogs' arthritic symptoms when they were treated with fatty acids for various dermatologic problems.4
Even a vitamin E study in dogs with osteoarthritis suggests that higher doses of vitamin E may reduce inflammatory markers and histological expression and improve signs of pain. Glucosamine and chondroitin supplements were also tested and showed that they might help rebuild cartilage and improve scores for pain, weight-bearing, and severity of the condition.5,6
Vitamin C has also been shown to protect and repair brain cells, says By Ashley Gallagher, DVM at PedMD.7
Finn Dog Supplements benefits depend on the product you buy, but here is a list of how it can help your dog.
Supplement daily diet
Calming aid
Essential vitamins
Joint and muscle health
Skin and coat support
Digestive health
Allergies
Wellness
Immune health
Better nutritition
Natural supplements (no additives or chemicals)
For pups of all ages
Support the environment, a better planet and animal welfare
Can be used as treats
And much more! (we explain the benefits in more detial below)
It's important to know the science behind dog supplementation and always consult with your vet before giving anything.
Finn Dog Supplements Sourcing & Manufacturing
Finn Dog Supplements's manufacturing facility, Fin Wellness LC, is located in New York.
Finn manufactures soft chews in a cGMP (Current Good Manufacturing Practice) facility, regulated by the FDA. CGMPs provide systems that assure proper design, monitoring, and control of manufacturing processes and facilities.
Its products are certified by the National Animal Supplement Council-certified facility (NASC), meaning Finn supplements go through NASC's rigorous safety, quality, and control standards before hitting the market.
They make their supplements through cold-press extrusion to retain their maximum potency for your pet. Supplements come in a BPA-free plastic-free tin canister that can be recycled for life.
Every batch of their soft chews is lab-tested before it leaves the facility. Plus, every batch is assigned a unique code that tracks the ingredient supplier, manufacturing shift, testing, and processing.

Finn Dog Supplements Ingredients
Finn's products are designed with extra care and use only scientifically backed, thoroughly vetted ingredients to help you provide proactive care for your pet.
Their soft chews are just as beneficial and delicious as they are nutritious, thanks to the natural ingredients they use in their formulas.
Vet recommended and dog approved
Canine nutritionist formulated
No added fillers like corn, soy, wheat
No artificial flavors
Real flavor
No artificial ingredients or fillers
No cellulose powder, silicon dioxide, maltodextrin, corn, soy, or wheat.
Finn ingredients vary by product. We'll cover them in more detail in the next section, including their benefits.
Finn Dog Supplements Products
Our team decided to try the six products of each category of Finn dog supplements to provide you with an insight review and help you determine which products are the best fit for your dog.
Each jar comes with 90 chews.
Finn Calming Aid Review
Organic herbs provide natural mood support and help calm your pup. Passionflower organic maintains levels of mood-enhancing neurotransmitters in your pup during times of stress. While L-Tryptophan is a necessary amino acid for handling stress to loud noises. Chamomile releases chemicals that balance stress levels and maintain normal blood pressure.
It's like a chill pill for your pup that comes in a whisker-licking bacon, cheese and beef liver flavor your dog will love!
According to Finn, this supplement can help manage:
Hyperactive behavior
Fear and nervousness
Stress
May help with agression
Finn Multivitamin Review
One single chew comes packed with the following: Probiotic Blend: 500CFU; Glucosamine HCL: 250mg; MSM: 100mg; Chondroitin: 75mg; EPA (Omega-3): 30mg; DHA (Omega-3): 20mg; CoQ10: 10mg; Vitamin C: 10mg; Vitamin B12: 5mg; Thiamine (Vitamin B1): 2mg; Riboflavin (Vitamin B2): 1.25mg; Pyridoxine (Vitamin B6): 1.25mg; Biotin: 5mcg.
The probiotic blend aids in digestion, nutrient absorption, and immune function for your pup. While Glucosamine, Chondroitin, and MSM, joints are cushioned, tissues are healthy, bones are strong, and preserved flexibility. Vitamin B-complex and CoQ10 support critical bodily processes such as immune response, brain health, energy levels, and cardiovascular health. Lastly, the Omega-3 fatty acids EPA and DHA protect your dog's skin and even help support healthy eye function.
It has delicious bacon, cheese and beef liver flavor.

According to Finn, this supplement can help manage:
Hip and joint
Sking and coat
Digestive aid
Heart health
Immune support
Finn Hip & Joint Review
If Fido is currently experiencing joint pain, these chews can help alleviate minor pain by supporting healthy cartilage, mediating inflammatory responses, and increasing flexibility.
Its natural beef liver, bacon, and cheese flavors will delight your dog. Use it to maintain your dog's long-term joint health to live a healthy, active life well into his senior years. This supplement is suitable for pups of all ages!
According to Finn, this supplement can help manage:
Healthy mobility
Connective tissue support
Strong bones
Comfort and flexiblity
Finn Skin & Coat
This chewy treat is not only great for your dog, but it will also keep your rugs and furniture clean, as this chewy treat will also prevent excess shedding. It comes in yummy bacon, cheese and beef liver flavor.
According to Finn, this supplement can help manage:
Healthy skin
Shiny coat

Shedding support

Celullar health
Finn Probiotics Review
Fiber-rich pumpkin helps regulate your dog's digestive system, soothe GI tract inflammation, and improve stools.
Read our dog probiotics guide to learn more about this type of supplement.
According to Finn, this supplement can help manage:
Digestive health

Healthy poops
Immune support
Happy tummy
Finn Allergy & Itch
According to Finn, this supplement can help manage:
Support seasonal allergies

Enhances immune health
Hleahty inflammatory repsponse
Happy digestion
Finn Dog Supplement Dosage
Below is the suggested daily intake for pups, from small to extra large dogs. Dosages are based on each dog's weight.
How Much Does Finn Dog Supplements Cost?
Each can of the supplement costs $28. If you buy two packs, you will save $7 plus free shipping.
Subscribing for regular deliveries reduces the cost per can by 20%, bringing it down to $22.40.
Subscription frequency may vary based on your pup's weight and dosage.
Pros & Cons
Key Features
Here are noteworthy aspects of Finn Dog Supplement's pet products and practices.
A key feature that makes Finn unique is that they combine trusted research with modern nutrition to create a standout supplement in today's confusing market. They use scientifically-backed (Registered and certified with the National Animal Supplements Council NASC) and thoroughly vetted ingredients to help you proactively care for your pet.
They offer virtual vet support to help you find the best supplement for your dog
Finn's brand ethos revolves around giving back. Donations and free supplements are given to local animal shelters like Foster Dogs NYC so that their dogs stay healthy inside and out.
All their products are packed in 100% recycled steel cans that can be easily reused and recycled again and again.
Tins are made with 100% recycled steel, are BPA-free (chews inside are safe and secure) and can be recycled in perpetuity.
Cardboard packages can also be recycled to further minimize their environmental footprint
Works hard to find the best manufacturing partners, source the highest quality ingredients, and partner with suppliers who live up to our standards of testing, safety, and quality
A vet-endorsed dietary supplement. It' backed by Dr. Kerri Nelson, DVM, PGRS-C, Dr. Farren Billand, DVM and Dr. Laura Robison, DVM

Finn Dog Supplements Coupon Code
Are you looking for a Finn Dog Supplement discount code?
Here is the best deal we could find. Just use this link to get started!
Chapter 2
Our dog's experience and review of Finn Dog Supplements
Finn Dog Supplements Reviews
Here is our unbiased, hands-on experience with Finn Dog Supplements.
Our canine team of reviewers and research team tested out Finn pet supplements. Below you will find a detailed description of our results and experience.
Dog Reviewer
Finn Ordering & Delivery
It's was easy to order and get out supplements delivered.
They have a user-friendly website that provides detailed information about their supplements, making it easy to pick your product.
Once you know what you want, just add it to your cart and enter your shipping and payment information. We completed this process in just a few minutes.
After placing our order, we got an order confirmation follow-up email. When our product shipped out, they emailed us the tracking information and estimated delivery date. Our delivery box reached us in 4 days after ordering.
Finn Unboxing
Finn Supplement box has an attractive design and the thins have a premium look and feel. We could tell the product was high quality without even opening the box. The color and design of the container were beautiful.
Our Finn Dog Supplement Experience
Testimonial Experience
I was so excited when Rex, my 5-year Poodle, tried Finn Dog Supplements. According to the label and multiple parent reviews, it was supposed to help dogs with anxiety and nervousness. I wasn't sure if it would work, but I had to try something. Rexy has always been a little skittish, especially since we got him as a puppy. He never liked loud noises or being in new environments. Even though he's grown up now, his anxiety hasn't gone away.

I had high hopes for the Finn Dog Supplements, and thankfully, they seemed to work! After taking them for a few weeks, Rex was noticeably more calm and relaxed. He didn't seem scared of new things and even tolerated some loud noises without getting too anxious. What surprised me the most was taking him outside and watching him be okay with strangers approaching us. He is usually a reserved pup and timid, but Finn's calming chews make him more mellow than he usually is with strange dogs and people.

I was so excited to try these because I had spent a few hundred dollars on other calming products with minor success. Previous supplements I gave our dog had worked, but I had to stop taking them because they upset our dog's stomach. I'm glad to report that so far no side effects from using Finn except for a little loose stool at the beginning, but I think that's normal from trying new food. My dog seems fine and definitely recommends this brand. – Rex Owner
Week 1 – 4 Progress
We are currently following our pup's progress and will update this section soon.*
Customer Service
Finn Dog Supplements has moderate to good customer service options.
We tested it by anonymously reaching out to Finn's customer service team through email with some genal inquiries about their products. Overall, we received helpful and timely responses. We feel that the an that we got was satisfactory. You can reach them at [email protected] for any questions you may have.
Unfortunately, they don't offer a live chat or phone number to contact them directly like other competitors.
One thing we liked and is unique about Finn is their virtual vet help tool. It's a fantastic tool any customer can use to help them determine which supplement to purchase.
They are also active on Instagram. You can directly message them to ask questions or customer service.
Chapter 3
Tips, FAQs and more.
Customer Reviews
See what real Finn customers are saying.
Finn Dog Supplements Positive Review
"This is the first time we tried FINN probiotic chewable for our 14-year-old dog. She had just finished vet-prescribed probiotic & other meds. after a serious stomach virus. Finn was recommended by my sister, who is a regular customer. They are so much better (& cheaper) than the vet's powder probiotic. Also, there are very few ingredients in FINN products, I noticed. Our dog likes them and is not having any stomach or digestive problems." – Verified Buyer.
"My vet recommended supplementing my aging boxers with probiotics and joint supplements. After months of fumbling with the powder packets she recommended, I decided to try these. I am pleased so far! I have never seen them react so positively to a treat, let alone a supplement, as they do to these. They are very active dogs, but as they get a little older, I want to pay more attention to protecting their joints as they age. The chews are tasty and gobbled right up by them – and they are very picky about their treats. Would definitely rebuy it." – Verified Buyer.
Negative Reviews
"[Even before they were taken out of the box, the smell of these knocked me off my feet. At first, my dog was curious about them and tried to eat one. However, he no longer eats them. Even after I covered them in peanut butter, he wouldn't eat them. Those vitamins are awful.]." – Verified buyer
"[Based on the reviews I read, I was hoping they would work, but unfortunately, my Rockie didn't respond. I'm looking for something else]." – Verified buyer
"[My dog lost her hair because of this. She lost a lot of hair around her chest and sides. Due to her allergy to beef liver, she cannot consume this product. When she took it, I didn't notice that much difference so that I will be searching for a different brand altogether.]." – Verified buyer
Frequently Asked Questions
Before buying Finn Dog Supplements, you may have questions. Below are some frequently asked questions about their services.
Finn Dog Supplements Alternatives
If you are looking for a well-rounded pet supplement that can help your dog deal with anxiety, joint pain, allergies, and other conditions, you should give Finn a try.
All of the ingredients in the supplements are natural and have been shown to improve dogs' health. The company also has a money-back guarantee so that you can try the products without any risk.
Be sure to get your vet's approval before giving any supplementation to your dog.
---
Sources & References: [1] Press Hook, [2] PLOS, [3] Natrixone, [4] IVC Journal, [5] PubMed: Glu/CS, [6] PubMed: Vitamin E [7] PetMD
Like It? Subscribe & Share!