500+ Best Unique Dog Tattoo Ideas (Memorial, Outline, Portrait & More)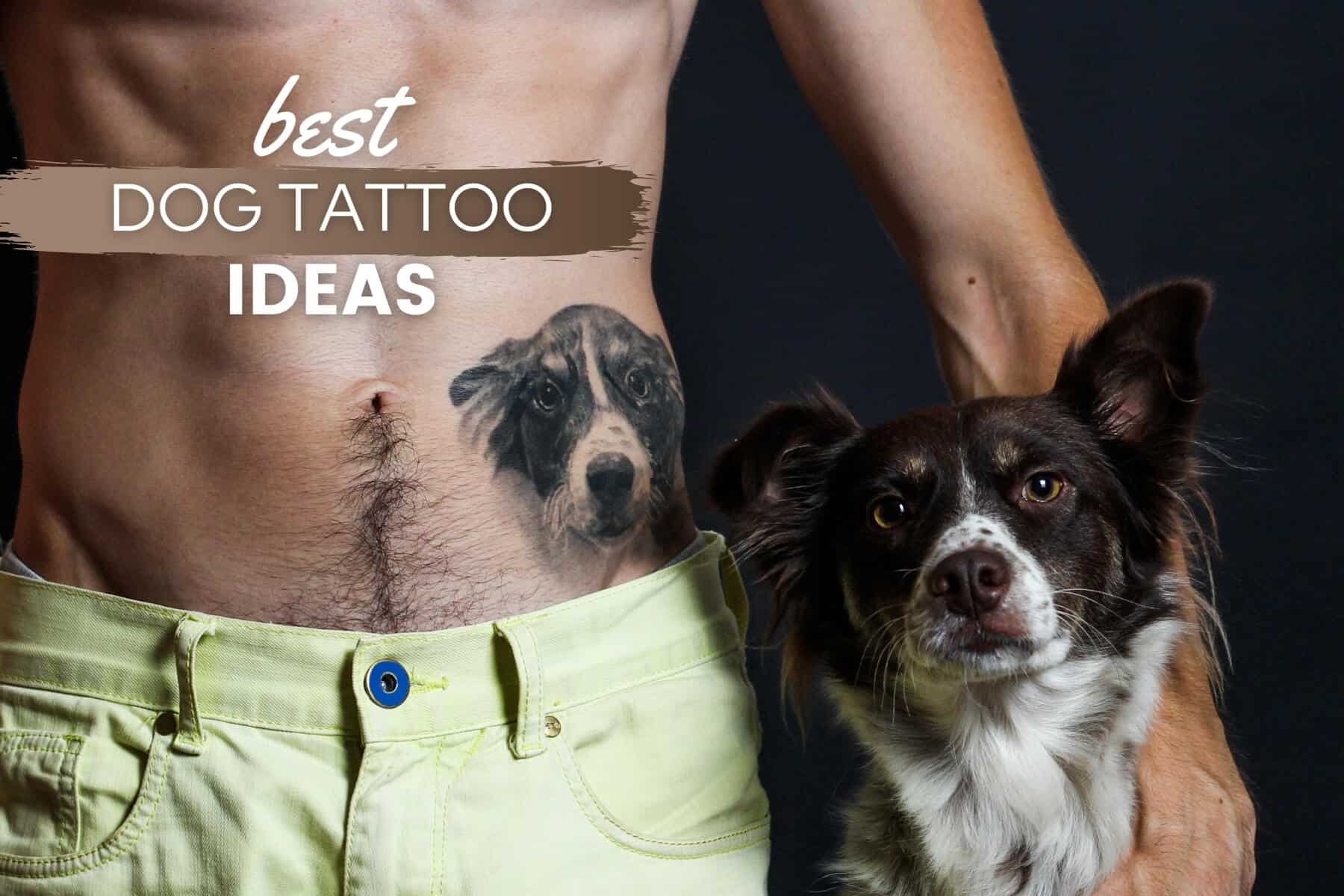 Canine Bible's dog tattoo guide provides an extensive overview of everything you need to know before getting a dog tattoo and over 500 unique dog tattoo ideas for inspiration.
Whether you're looking for a dog memorial tattoo to honor your beloved friend, a dog portrait tattoo, a cute dog tattoo outline, or a small dog tattoo idea, we bring you a curated list of the best tattoos for dog lovers.
Before jumping into the actual dog tattoo images, there are important things you should learn before getting canine-inspired ink. Let's dive right in!
Should I Get A Dog Tattoo?
Getting a tattoo of your dog is a big deal, at least to most pet owners. It's not a decision to take lightly. You should only get a dog tattoo after careful consideration. You need to analyze the short and long-term consequences.
What To Consider Before Getting A Dog Tattoo
Here is a rundown on ten primary considerations you should have in mind and accept before you get your paw-some dog tattoo idea inked on your skin:
For instance, know that during pregnancy in the future, weight gain (or loss) may alter the way your dog tattoo looks on your body as the skin stretches when this happens.
Remember that tattooing involves needles pricking your skin, sometimes for up to several hours. The time you will have to tolerate this varies depending on the size and design of your dog tattoo.
How Much A Dog Tattoo Will Cost?
According to Fash's tattoo pricing research, prices can range anywhere from $50 to $250 for a small dog tattoo like a paw print or cute dog tattoo outline. For a medium-sized tattoo like a dog portrait tattoo, expect to pay around $150 and $450. For large-sized dog tattoos (i.e., dog tattoo sleeve or full-back), prepare to pay anything from $500 to $4000 or more.
If you hire a tattoo artist, you can expect to pay $120 to $150 per hour.
These amounts are only averages and should only be used as a guide. Contact your local tattoo shop to get exact prices. Most tattoo shops require a deposit.
Factors Affecting Your Dog Tattoo Cost
Here is a list of the factors that affect the cost of getting a dog tattoo.
Picking The Right Dog Tattoo Design
So, how do you come up with a dog tattoo idea (design) that you won't hate in a few years?
You are probably thinking: "I would never hate anything related to my dog," but believe us, the number of tragic pet tribute tattoos is real. Just google it. A dog tattoo will be there for the rest of your life, so finding the right design and artist is of utmost importance.
Choosing The Right Dog Tattoo Design
Picking a dog tattoo design can be difficult, but these next few tips will ensure you are 100% sold on your dog tattoo idea and design.
Picking The Right Dog Tattoo Artist
To help you out a little bit, we've come up with a list of tips on how to pick the right dog tattoo artist so your dog tattoo idea comes out the way you desired.
Picking The Right Tattoo Shop
It's essential to do your research on the tattoo shop.
Things to look out for include cleanliness, customer service, and online reviews, including Google. Scan their social media channels and website if they have one. Learn how they handle their equipment and sanitation procedures, such as sterilization machines and disposable gloves. Check if they are using needles from sealed containers and that the pigment trays are new.
Find a reputable shop/artist with a license if your state requires one. While you may be eager to get your dog tattoo idea inked on you, if you notice the dog tattoo shop of your choice doesn't meet the minimum requirements, it's time to look elsewhere. Your health is the most important factor in your research.
Getting A Dog Tattoo
Here is what you need to know and do before and after getting a dog tattoo.
Pre-Tattoo Day
Make sure your skin is in great shape. Avoid getting sunburned on the area of your skin where your doggie tattoo will live. Don't drink the day before. Alcohol thins your blood, which leads to excessive bleeding during the tattoo session. Avoid aspirin, ibuprofen, and Tylenol, as they all can thin your blood. If you have skin allergies, check with your doctor.
Tattoo Day
If you are not feeling well on the day of your tattoo, it's best to reschedule your appointment. Follow your regular eating schedule and grooming procedures before you leave. Avoid cologne usage, and it's not necessary to shave the part of your body that's getting tattooed; your artist will take care of that. If you are anxious about that day, have a friend go with you.
Post-Tattoo Day
Taking care of your new dog tattoo after you leave the shop. Healing may take 2 to 6 weeks but varies from person to person. Your artist should provide you with clear, written aftercare instructions. However, according to WebMD, only seven states in the U.S. mandate shops do this. If you experience a persistent burning sensation, pus, warm and tender skin, or continued swelling several days after you get your tattoo, go to the doctor immediately.
Best Dog Tattoo Ideas (By Category)
We've compiled the best dog tattoo ideas from all over the internet so you can get inspiration from the best dog tattoos for dog lovers.
Dog Memorial Tattoos
Take a look at some of the most beautiful pet memorial tattoos. Use these dog tattoo ideas to create something truly special to show how much you loved your little friend and honor their memory.

Getting dog tattoos in memory of your beloved furry friend can sometimes help you bring closure.
Cherish the moments and memories you lived with your furry friend with a dog memorial dog tattoo.
Bonus dog memorial tattoo ideas!
Dog Devotion Tattoos
These dog tattoo ideas are an actual works of art and the perfect way to show your love and devotion to your furry friend.
Have you found your favorite dog devotion tattoo yet? If not, keep scrolling because we have some more ideas for you!
Here are some more devotion dog tattoo ideas!
Dog Outline Tattoos
Outline the love for your pup with these top-notch dog outline tattoo ideas!
Outline dog tattoo designs are created by drawing just the outer edges of whatever idea you'd like without any ink filling it in
Dog Portrait Tattoos
Honor your fur-ever friend with a dog portrait tattoo. Here are some of the best ideas out there.
 Dog portrait tattoos are primarily rendered in a realistic style. 
More dog portrait tattoo ideas if you haven't found the one you like just yet.
Small Dog Tattoos
If you love the minimalistic style, these examples of small dog tattoos might be your next tattoo idea.
Small dog tattoos might be tiny, but the meaning behind them is enormous! These dog tattoo ideas might be perfect for those dog parents who don't like big dog tattoos!
Cool Dog Tattoos
Want a dog tattoo that is stylish, original, and that no one else has? Explore these cool man's best friend dog tattoo designs and canine ink ideas to come up with one for your one.
These cool dog tattoo ideas balance a meaningful message and original artwork.
Dog Paw Tattoos
Paw print tattoos are a paw-some way to carry the memory of your furry friend everywhere you go. Check out the best paw tattoo ideas.
 If you need something to spark your next dog tattoo idea, these fabulous designs are something. to consider
Tattoo For Dog Lovers
Contemplate these amazing dog tattoos for dog lovers and get inspiration for your dog tattoo.
If you want to show off your love of a special dog or dogs in general, these incredible dog tattoos will do the trick.