Can Dogs Eat Beef Jerky? Is It Dangerous or Safe?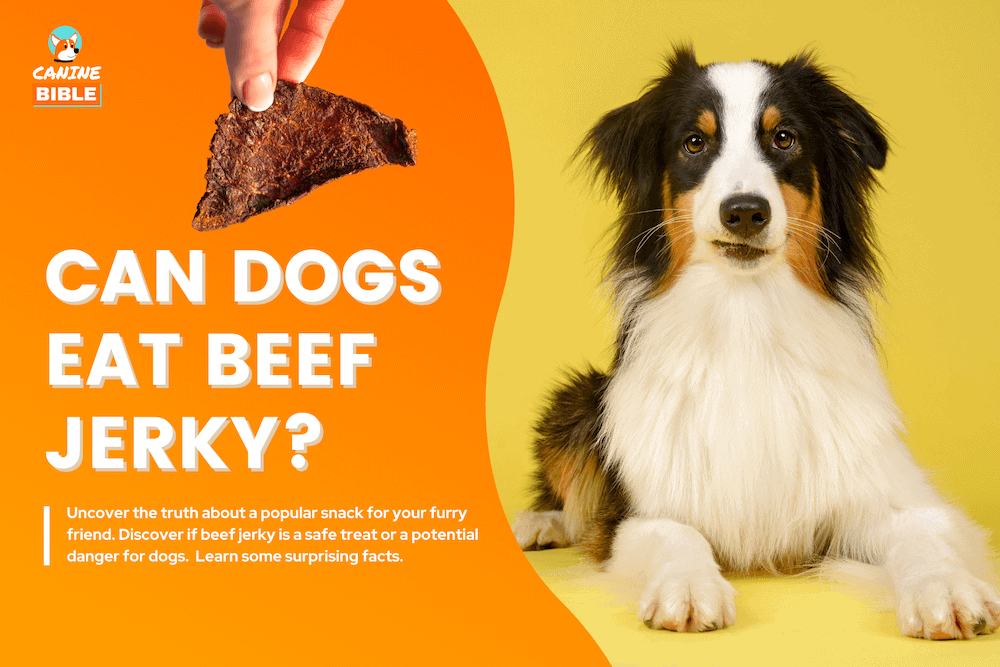 Canine Bible is reader-supported. We receive affiliate commissions via some of our links. This doesn't affect rankings. Learn more.
Can dogs eat beef jerky? It depends. Not all beef jerky treats are created equal. There are many different types of beef jerky treats for dogs, so you need to be mindful of which one you feed to dogs.
Generally, dogs can safely enjoy beef jerky treats made from a single ingredient containing appropriate sodium levels and no spices or preservatives. However, several important risks and common beef jerky ingredients could harm your dog's health.
This article clearly shows what ingredients to look for and which to avoid. We also analyze the different types of beef jerky for dogs to help you pick the healthiest and safest of them. Let's dive right in!
What Is Beef Jerky for Dogs?
Beef jerky for dogs is made similar to human beef jerky but is formulated specifically for our canine companions. It contains pure, high-quality protein without high concentrations of sodium or potentially toxic ingredients like an onion.
Beef jerky is produced through dehydration, which removes moisture from the meat and has a concentrated form. This process compresses one pound of beef into just four ounces of jerky.[1]
As the moisture content is removed, beef jerky can be kept without refrigeration and stored for long periods without spoiling, making it an easy shelf storage option compared to many other canine treats.
Types of Beef Jerky
Is Beef Jerky Good For Dogs?
Generally, beef jerky, made specifically for dogs, is a healthy and nutritious snack that is extremely high in protein (34-74%) and low in carbs. It's also high in many vitamins and minerals, including zinc, iron, vitamin B12, phosphorus, and folate. Plus, it has a long shelf life and is portable, making it a great on-the-go option.
Beef jerky also has a healthier nutritional ingredient composition than many traditional dog treats. Due to the low heat applied during the dehydrating process, beef is never exposed to as high a temperature as other treats, meaning it retains more nutrients and suffers less nutrient loss. The taste and flavor of the beef are also preserved, making it palatable.
Some beef jerky dog manufacturers even use USDA-approved free-range beef, so you don't have to worry about the quality.
Even if it's made for dogs, it's good practice always to check the label to ensure your dog's safety.
Can Dogs Eat Beef Jerky Made for Humans?
Thinking about feeding your pup human beef jerky treats? Think again! While homemade jerky and dog-specific jerky treats can all be good options for your dog, feeding your dog human-intended jerky treats is not recommended.
Beef jerky for human consumption may have ingredients not suitable for dogs. Here are some of those potentially harmful ingredients:
Is Beef Jerky Safe For Dogs? Ingredient Breakdown
Here is a breakdown of the ingredient composition of beef to help you understand whether this food is nutritious. We also explain each component to help you determine if it's safe and healthy.
The following information is for 1oz (28.35 g) of conventional beef jerky.
| Nutrient Profile Beef Jerky | Amount |
| --- | --- |
| Protein | 9.41 g |
| Fat | 7.26 g |
| Energy | 488 kJ |
| Sodium | 505 mg |
| Fibre | 0.51 g |
| Carbs | 3.12 g |
| Vitamin B12 | 0.281 µg |
| Zinc | 2.3 mg |
| Folate | 38 µg |
| Copper | 0.064 mg |
| Phosphorus | 115 mg |
| Selenium | 3.03 µg |
| Iron | 1.54 mg |
| Thiamine | 0.044 mg |
| Choline | 30.9 mg |
| Potassium | 169 mg |
| Niacin | 0.49 mg |
| Riboflavin | 0.04 mg |
| Magnesium | 14.5 mg |
Source: USDA[6]
Can Dogs Eat Beef Jerky?
Are dogs allowed to eat beef jerky? Is beef jerky healthy for dogs?
After a rigorous nutrient analysis, we advise only feeding beef jerky explicitly made for canine consumption. Full Moon Beef Jerky Tenders and Blue Buffalo Nudges Jerky Cuts are some of our favorite beef jerky treats for dogs.
Beef jerky is a protein-packed and delicious snack that is low-fat and calorie dense, making it ideal for dogs who want to maintain a healthy weight and muscle growth and recovery.
These treats are a source of essential minerals, including iron, magnesium, and zinc. Iron is necessary for healthy red blood cells, magnesium plays a role in enzyme function and nerve-muscle signaling, and zinc contributes to growth, immune system health, and wound healing.
Though beef jerky is a healthy snack, dogs should consume it in moderation. Treats should make up no more than 10% of your pet's daily calorie requirement.
Benefits of Beef Jerky For Dogs
Here are some of the benefits of feeding beef jerky to your dog.
Is Beef Jerky Bad For Dogs?
Dog-friendly beef jerky treats or homemade are not bad for dogs as long as the ingredients meet the safety standards for dog consumption. Of course, anything in excess is bad.
On the other hand, beef jerky brands for human consumption are bad for dogs because it typically consists of harmful ingredients such as excessive salt, garlic, onion, peppers, spicy flavors, xylitol, and other preservatives and additives.
Be cautious of dog beef jerky brands. Since 2007, FDA has received reports of illnesses in pets associated with the consumption of jerky pet treats. These illnesses include gastrointestinal upset, kidney failure, liver diseases and death in dogs.[10]
However, the FDA has warned that certain beef jerky brands can be hazardous to our canine companions. So, it's essential to thoroughly research the brand and select those derived from trusted sources, as some brands, specifically from China, have been linked with cases of poisoning and death in dogs.[11]
Not only is it essential to take into account the brand you're purchasing, but also its ingredients. Double-check that all the ingredients used are safe for them. Many store-bought products contain spices like cayenne pepper and paprika along with onion powder or garlic, which aren't suitable for canine consumption – their stomachs can't handle spicy foods as well as humans.
Similarly, protein-rich foods like beef jerky dog treats should be avoided in dogs with liver or kidney disease, and if your dog has any underlying health issue, always speak to your vet before changing their diet. Dogs allergic to beef should avoid these treats.
Possible Side Effects and Risks of Beef Jerky in Dogs
Human-grade beef jerky contains substances that can be extremely harmful to dogs. Let's examine the potential adverse effects and dangers that human-made beef jerky may pose to our canine friends.
Are Dogs Allergic To Beef Jerky?
There's also a chance your dog could be allergic or sensitive to beef jerky. We suggest you do a dog food allergy test before giving your dog beef jerky to help you determine if your pup is sensitive or intolerant to this food — or any other foods. If not, you should be fine to give dogs beef jerky in moderation.
Can Puppies Eat Beef Jerky?
Puppies generally have more sensitive digestive systems than adult dogs and may be more prone to an upset stomach after eating rich or high-fat foods. Some puppies may tolerate small pieces of beef jerky, mainly when used as high-reward training treats.
It's worth remembering that puppies need fewer calories than larger dogs and higher protein content to aid growth and development. They must have a well-balanced diet, so treats such as hot dogs should only be fed in small quantities.
How Much Beef Jerky Can Your Dog Eat?
Feeding beef jerky to dogs depends on their size.
| Dog Szie | Peices (Per Day) |
| --- | --- |
| 5 – 15 lbs | 1/2 – 1 |
| 15 – 30 lbs | 1 – 2 |
| 30 – 50 lbs | 2 – 3 |
| 50 – 75 lbs | 3 – 5 |
Remember that 200 mg is the maximum daily intake of sodium for dogs. Check the sodium levels of each piece to be safe.
What Should I Do If My Dog Ate Beef Jerky Made For Humans?
One or two beef jerky bites shouldn't be too much of a cause for concern. Just prevent your dog from eating it regularly. However, if your dog overate beef jerky or is showing symptoms of an adverse reaction, provide plenty of cool and fresh water to your pup to stay hydrated and counteract salt overload in the beef jerky. Be vigilant for signs of sodium poisoning.
However, if you suspect that the beef jerky contains spices, garlic, onion, or xylitol – or if the symptoms of hypernatremia prevail for more than 24 hours, do not wait; contact your vet immediately.
Can't reach your vet? Contact the Pet Poison Helpline at 1-855-764-7661 or chat with a veterinary professional via our online veterinarian chat (24 hours a day, 7 days a week)
Frequently Asked Questions About Beef Jerky & Dogs
Here are the answers to some of the most commonly asked questions about dogs and beef jerky.
Can Dogs Eat Beef Jerky? — Conclusion
Beef jerky can be a tasty treat for dogs as long as it is plain and contains no extra seasonings, preservatives, or other hazardous ingredients. Remember that too much sodium and fat from beef jerky can lead to health issues like pancreatitis, stomach upsets, or obesity; therefore, it is essential to carefully monitor the amount of beef jerky given to your pup.
When in doubt, consult your veterinarian regarding safe treats for your pet. They will help you navigate the best option for your furry friend's health.
It is important to note that beef jerky should not be a substitute for your pup's regular diet; it should only be used as an occasional treat. Therefore, feed them appropriately and always practice responsible pet ownership!
Like It? Subscribe & Share!
Canine Bible authorship represents the unified voice of our entire editorial team rather than a single author. Each article, blog post, and review published under the Canine Bible name undergoes a rigorous review process, involving all team members to guarantee accuracy and up-to-date in accordance with the latest veterinarian research. This collaborative effort is an integral part of our editorial process and aligns with our four pillars of content creation. This approach ensures our content is backed by expert knowledge and factual information, offering our readers reliable, actionable, and trustworthy content.