11 Best Dog Boat Ramps 2022: Pontoons, Ladders, Docks & More (Reviews)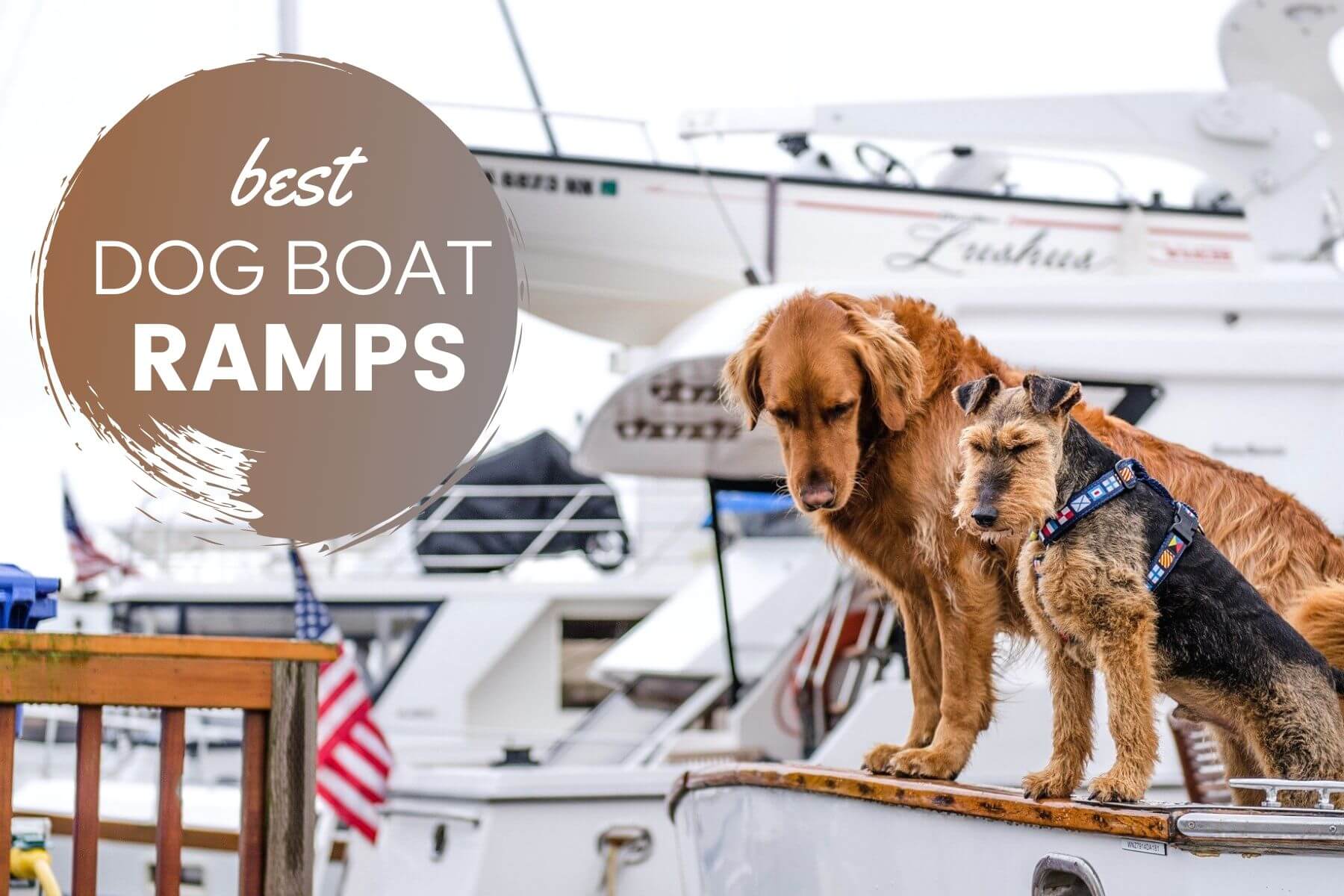 This is a complete guide to finding the best dog boat ramps.
When boating or swimming around the dock, getting in and out of the water can be both difficult and dangerous for our dogs.
Some dogs love to just jump in the water, but what if your dog can't jump due to a condition like arthritis, anxiety, or merely fear? What if your dog needs to escape the water and can't reach the surface when you are distracted or away?
Whatever the reasons might be, these platforms simulate a shoreline and work by providing easy access and exit to the water.
Learn everything about boat ramps for dogs including, our top picks by category. Let's dive right in!
Best Dog Boat Ramps (Our Top Picks At A Glance)
Here are just three of our top picks for the best dog boat ramps by category.
You can click here to see the full review for all our best picks here, but we encourage you to keep reading so you can make a more informed decision before getting a dog boat ramp.
Chapter 1
Learn all about dog boat ramps
What Is A Dog Boat Ramp?
A dog boat ramp is a floating platform that allows dogs to get in and out of the water onto a boat platform, dock, or swimming pool deck without assistance.
Boat dog ramps simulate the shoreline, ensuring your dog is safe from potential injuries by falling into the pool or the water. For dog owners, it's a stress-free way of lifting their dogs out of the water manually.
How to Pick the Right Boat Ramps for Dogs
Here are the top features and characteristics to look for when selecting a dog boat ramp for your dog.
1. Waterproof finish. A must-have feature for dog boat ramps is waterproof. This feature will prevent corrosion and rusting. Look for ABS plastic or aluminum-made dog bat ramps.
2. Non-Slip, high traction and stable surface. The dog ramp must have a non-slip surface to prevent injuries. Your dog will usually be soaking wet when it gets out of the water, so make sure the ramp provides high traction and a stable surface for a good grip.
3. Safety features (Smooth edges, side railings and more). Some dog boat ramps come with side railings to prevent the dogs from falling off the side while walking on the ramps. Be sure all edges are smooth to avoid injury as the dog walks in and out of the water. You can always add sand down some rough surfaces or add edge-protecting pads.
4. Easy install, portability and transportation. Choose a dog boat ramp that is portable and has a versatile design that makes it easy to set up, use, and pack up to be moved easily from one place to another. Most dog boat ramps can be attached and removed from any surface (i.e., boat, decks, pools, yachts, etc.).
5. Dog size. Opt for dog boat ramps that are appropriate for your dog's size.
Conversely, if you don't need portability, get a fixed ramp that requires a one-time installation.
Pro Tip: A dog lamp will not come off the surface, nor will it cause any damage to your dog's legs or body.
Top Reasons For Using Dog Boat Ramps & Stairs
Why does my dog need a dog boat ramp or stair? Here are some of the most common reasons and benefits.
Avoid injuries: Although some dogs can climb back into boats, dogs are not ergonomically built to climb onto a boat or deck. Severe injuries to hips and joints could occur over time.

Mobility and other issues: Dog boat ramps are great for dogs that love the water but have mobility issues, are afraid of jumping, have anxiety problems, arthritis, or are of advanced age.

Save your back: Get your dog out of the water safely and quickly without risking injuring your back. You'll save yourself some bumps and bruises.

Heavy dogs: Some dog breeds are too big to lift out of the water. If you've ever tried to lift a heavy, wet dog out of the water onto a dock or boat, you know how difficult it can be.

Easy access to the boat: Your dog will be able to enjoy swimming time a lot more while you have the peace of mind that Fido re-turn to the boat safely and on its own.
Chapter 2
The best dog boat ramps reviewed
Best Dog Boat Ramps Reviews
We chose the best dog boat ramps for each category based, price, customer reviews, performance, materials and more.
Whether you need a dog ramp for a pontoon boat, a floating dog boat ramp, or a dog boat ladder, our experts have reviewed the top brands of dog ramps for water use for every need.
Note: Be sure to compare the size of the boat ramp with the area where it will be installed so you know it will fit once you get it.
Best Dog Boat Ramp (Dog Boat Boarding Ramp)
It's made from high-quality materials, and it has a soft non-slip rubberized walking surface for superior traction. It's made from advanced composite plastic construction, so it will not rust or corrode and can be cleaned with soap and water.
When using this ramp for your pool or boat, you may need to add points of attachment, depending on the resting surface of your boat.
Note: If you plan to use this off-shore, we recommend adding a flotation foam cushion underneath the ramp or sides for additional support and stability. This will ensure the ramp supports your dog's weight more efficiently when he steps on it. Attach the foam to the water-receiving end of the ramp.
Alternatively, consider the other boat ramp for dogs in the water below.
Best Dog Boat Ramp For Pontoon Boat
You will find a high-traction grit coat surface for additional safety. And, it comes with self-drilling/self-tapping mounting screws for easy installation.
It measures 6′ long x 24″ wide; weighs 52 lbs, making it ideal for all dog sizes, even giant-sized dog breeds.
This ramp is an excellent addition to your pontoon boat gear if you are always loading and unloading heavy stuff. It can also be used on other types of boats.
You can try Extreme Max's pontoon dog boat ramp if you want a slightly cheaper option.
Pontoon Boat Ladder For Dogs
It mounts to the boat swim platform or side gate. It's made from a non-corrosive material, so you don't have to worry about rust.
Pulling dogs onto the boat can result in scratches, harm to the owner, or even damage your boat. With the Pet Loader H2O, your dog will no longer have to struggle to reboard your boat from the water and risk injuries.
This pet boat ladder easily supports dogs from 60 to 150 pounds. All hardware is Stainless Steel and is powder-coated aluminum with USA-made Marine-grade rubber welded onto it with traction ribs for your pets' comfort.
For storage, it can be flipped up and easily detached when not in use.
Your doggie will love this dog ladder next time you go on your pontoon boat adventure.
Best Dog Boat Ramps For Docks
Other features include an anti-slip decking and removable handrail and can be folded up when not in use.
Because every mounting location is different, mounting hardware is not included. It does come with four 1/2″ mounting holes on the top and two on the side.
If you are in the market for a dog ramp for boat docks, this high-quality dog dock ramp for boats is perfect.
Paws Aboard Doggy Boat Ladder (Best Dog Boat Ladder Ramp)
It's portable, lightweight, durable and it can easily be attached and removed from any boat ladder with 3 or more steps and up to 14″ wide.
This ladder for dogs to get on boats conveniently floats next to the watercraft when the boat ladder is needed for human use.
It fits almost all boat ladders and it folds in half for easy storage. It measures 64″ x 17″ x 4″ inches, weighs 12 pounds, and it comes in yellow to help Fido spot it more easily while in the water.
Best Boat Platform For Dogs (Great Day Load-A-Pup)
It's made from quality materials that don't allow corrosion or rust. It's light-weight (7 lbs) with gripping ridges to excellent traction when your dog tries to climb back into the boat after a swim. It comes with a generous 14″ by 20″ platform that can easily be folded for compact storage—no more bending and tugging your wet furry friend out of the water.
The off-white, powder-coat finish complements the factory finish color of any boat and ensures years of dependable service. It's also available in green. This brand takes the spot for the best boat swim platform for dogs.
You can also opt for a dog ladder/ramp platform like this one.
Best Floating Dog Boat Ramp
Perfect for all swimming environments including off the boat, the dock, or in the pool. You can secure your pup plank anywhere you go, thanks to its built-in D-Rings & two 8-foot tie-ropes.
You can pick from two sizes, medium (34.5 x 24.5 x 3 inches) and extra-large (48 x 32 x 5 inches). It's built for pets up to 100 pounds. Also, it's incredibly light at 13 pounds making it super portable.
It comes with a pump, carry bag, and repair kit.
Best Dog Boat Ramps For Yachts
This ramp measures 39/72″ x 17″ x 4″ with a high-traction surface and side rails to keep your furry friend from slipping or falling in the water.
It's also a good option for most types of boats.
Dog Ladders For Fishing Boats
Features a "space-frame" design that minimizes the force and effects of surrounding water currents. It's sturdy but engineered for lightweight and suitable for dogs of all sizes.
Your dog can now swim and come back to your boat as he pleases, making your fishing experience much more enjoyable for both.
Designed to mount over the gunwale or transom lip of Jon boats.
Dog Boat Ramp Hunting
It features tree grabber teeth, clamps for boats, webbing straps for added traction, and draining dura mesh floor.
Using the gunnel clamps as gear hooks in the timber is another benefit. The two-stage step system allows your dog to reach the platform even in deeper water where he may not be able to get the bottom on his own.
Drifter Marine Dog Boat Boarding Ladder (Easiest Set Up)
We consider this dog water ramp great for small or medium breeds. If you don't want to go through the hassle of installing a more sophisticated dog boat ramp, this is your choice.
It has adjustable ladder hooks that slip seamlessly over almost all boat walls. Simply sit the hook over the wall of your boat and voila! Your dog can now start using this ramp!
Other Dog Water Ramps Mentions
Beavertail Dog Ladder Review
It provides better support than a mesh surface as it is made from aluminum and stainless steel. It's easy to use and but it acts as a ladder more than a ramp.
It measures 24 x 13 x 8 inches and weighs 9.9 pounds. This ladder can be attached to most boats.
Another option is the Beavertail Dog Ramp that fits both the Stealth 1200 and the Stealth 2000.
Best Dog Boat Ramp For Traction
A unique feature is a "pressure-activated gripping" system, which means the more pressure Fido puts on the mat, the stronger the grip achieved.
Overall this is a solid ramp, specially built to provide sure-footing. It measures 71 x 19.5 x 4 inches and weighs 27 pounds.
Best Dog Ramp For Pools
This dog pool ramp is a great safety device while you're away from the pool. It will not damage your vinyl liners.
Chapter 3
Learn in-depth, key information about dog boat ramps
Dog Boat Ramps Maintenance
Here are some guidelines to give your dog boat ramp the proper maintenance it needs to remain clean and in tip-top shape.
These cleaning tips include:
Wash every month or sooner depending on how dirty it looks
Check for debris stuck on the front and back of the ramp
Use a high-pressure hose to rinse it off
Use a pet-friendly detergent or soap and scrub all sides
Rinse again and make sure there is no residue left
For tricky spots, you may have to manually wipe off any detergent or soap
Let is dry
Keep away from pet and children when not using
Train Your Dog To Use a Dog Boat Ramp
How do I train a dog to use dog boat ramps? Here is a step-by-step guide.
Step1: Arm yourself with your clicker and a bag of his favorite treats
Step 2: Let the boat ramp sit in the room so your pup gets used to its presence. Once he is familiar with this new object, proceed to the next step.
Step 3: Start with your dog on the leash on the same side they will be on to use the ramp.
Step 4: Walk over to the bottom of the ramp and start walking next to the ramp. If your dog starts walking up the ramp, reward the behavior. Repeat this daily for about 5 to 10 times.
Step 5: If your dog is afraid of the ramp or seems hesitant, never force him onto the ramp. Simple, position his favorite treat just out of reach along the ramp. This will encourage Fido to take a step on the ramp. Reward only when they step on the ramp, even if it's just one single step.
Step 5: Once Fido is more comfortable with the ram, raise the bar. Lure him until he takes a second step. Keep increasing the number of steps before rewarding.
Step 6: By now, your dog will be able to walk across the ramp on its own when instructed. Once in the water, he will know what to do instinctively.
DIY Dog Boat Ramp
Watch this video on how to make a homemade dog boat ladder or ramp for your boat.
DIY Dog Ramp For Boat Dock
Here is another genius way to build a ramp for your dock.
Dog Boating Tips & Best Practices
Make sure your dog wears a life jacket in and out of the boat to keep him safe. A doggie lifejacket can keep your dog afloat if they fall off the boat and make it easier for you to get them back on board if they do fall off. Ensure you have a dog boat ramp and a dock boat ramp installed to create an even safer environment that assists your dog in entering and exiting your boat at any time.
Supervise your dog at all times while onboard or in the water. And last but not least, review local and state water regulations for any rules concerning pets on boats.
Frequently Asked Questions
Are Dog Boat Ramps or Stairs Better?
A dog boat ramp is typically a better choice for senior dogs and dogs with mobility issues who have difficulty going upstairs. A dog ramp or dog stairs will protect a small dog's joints by at least reducing the number of times he leaps each day.
How Do You Get A Dog On A Boat Out of Water?
Using a dog boat ramp is the easiest way to get a dog on a boat out of the water.
How To Install A Dog Boat Ramp?
Installing the product depends on the manufacturer's instructions. Be sure to ask for the manual when buying a dog ramp. However, generally, there are three primary ways of installing dog boat ramps. The first way is by peeling off the stick on the ramp and attaching it to the dock ramp on the boat. Using ropes is the second option. The ramp can be attached to the ramp of the boat using ropes. Lastly, the ramp on a boat can also be permanently fixed.
Boat Ramps & Dogs
We hope this post helped you find the best dog boat ramp for your needs.
Having one of these ramps will make your next boating adventure much more enjoyable, especially for dogs with arthritis or those scared of boats.
A dog boat ramp, ladder, or platform is an effective solution to keep the fur kids safe in the water. Plus, you will never have to go through the cumbersome process of lifting your big wet dog onto the boat again.
---
Like It? Subscribe & Share!