Best Pet Insurance For Bulldogs: Cost, Quotes & FAQs
Canine Bible is reader-supported. We receive affiliate commissions via some of our links. This doesn't affect rankings. Learn more.
This is the most comprehensive guide to finding the best pet insurance for Bulldogs.
If you have a bulldog, the chances are that healthcare costs will be higher than the average dog owner. Bulldogs tend to have more health issues and can develop chronic conditions that require ongoing care. While they're certainly a lovable breed, Bulldogs come with their own set of health risks, which can lead to steep vet bills for owners. Today you will learn breed-specific reasons why Bulldogs should have pet insurance, health issues predisposition, accident probability, and other critical research data that make pet insurance a worthwhile investment. Finding a policy that covers all your dog's medical needs and expenses is also essential.
If you're feeling overwhelmed by all the choices, we have narrowed your options with reviews of three top pet insurance companies offering the best coverage for adult and puppy Bulldogs. Let's get started!
The Best Pet Insurance For Bulldogs
Here are Canine Bible's top picks for the best pet insurance for Bulldogs.
You can click this link to go to the reviews, but we encourage you to keep reading to make a more educated decision about getting pet insurance for your Bulldog.
What Is Pet Bulldog Insurance?
Getting pet insurance for your Bulldog is equivalent to getting health insurance for yourself. Pet Insurance is designed to reimburse dog owners for unexpected veterinary expenses and related fees, giving you peace of mind and protecting your savings.
Pet insurance acts as a financial buffer by footing the bill for pet injuries, emergency vet visits, chronic health conditions, and more.
How Much Does Pet Insurance Cost For Bulldogs?
Bulldog's dog insurance prices will be based on your pet's pre-existing health conditions, gender, age, location, and other factors.
Keep in mind rising vet costs due to technological advances and an increasing number of claims in your location, which can increase your monthly payment. For instance, if your Bulldog is quoted at $45 per month today, that price is subject to change.
We compared quotes for plans for Bulldogs with three popular pet insurance providers to help you find the best fit for you in terms of monthly premiums and coverage. We chose three Bulldogs at different stages in their life.
Check out our Pet Insurance Comparison table for Bulldogs below.
Pet Insurance Quotes For Bulldogs
Company
Deductible
Reimbursement
Annual Reimbursement Limit
Monthly Price
Location
Gender
Breed
Age
Healthy Paws
$500
70%
Unlimited
$166.97
California
(zip Code: 90011)
Male
Bulldog
5 years
Lemonade
$500
70%
$100,000
$71.42
California
(zip Code: 90011)
Male
Bulldog
5 years
Spot Pet Insurance
$500
70%
Unlimited
$114.53
California
(zip Code: 90011)
Male
Bulldog
5 years
Healthy Paws
$500
70%
Unlimited
$86.74
Iowa
(zip code:50613)
Female
Bulldog
1 year
Lemonade
$500
70%
$100,000
$24.69
Iowa
(zip code:50613)
Female
Bulldog
1 year
Spot Pet Insurance
$500
70%
Unlimited
$68.81
Iowa
(zip code:50613)
Female
Bulldog
1 year
Healthy Paws
$500
70%
Unlimited
$91.62
New Jersey
(Zip Code: 07303)
Female
Bulldog
3 months
Lemonade
$500
70%
$100,000
$39.92
New Jersey
(Zip Code: 07303)
Female
Bulldog
3 months
Spot Pet Insurance
$500
70%
Unlimited
$86.45
New Jersey
(Zip Code: 07303)
Female
Bulldog
3 months
How Much Can You Expect to Pay For Bulldog Canine Insurance?
If you get Pet Insurance for your Bulldog, you can expect to pay between $24 to $166 per month. Depending on where you live, what deductible, and the reimbursement percentage you choose, you may spend more or less.
NOTE: The quotes we ran were for dogs with no pre-existing conditions. All quotes are from November 2022
Is Pet insurance For Bulldogs Worth it?
And the million-dollar question: is pet insurance worth the cost?
Insuring your Bulldog is a big decision. Based on our experience and research, getting dog insurance is worth it.
What if your dog catches a serious disease or gets injured? This could end up costing you thousands at the vet. But if you have pet insurance, you will be reimbursed between 70%- 90%, depending on your chosen plan. This security will put you in a position where you won't have to decline medical care that could save your dog's life. Not entirely convinced it's worth it?
Here are three main reasons you should consider getting pet insurance for your Bulldog.
1. Avoid Deciding Between Your Wallet & Your Bulldog
USA Today reports that many dog owners have made the terrible decision to euthanize their pups because they didn't have the money to pay for surgery or treatment.[1]
Pet insurance allows you to seek medical care for your sick or injured Bulldog without worrying about hurting your finances.
On average, the most common dog treatments cost $252.75, while a more severe and common condition in Bulldogs, like hip dysplasia, can cost between $3,000 – $7,000 to diagnose and treat.[2]
2. Pet Insurance For Bulldog Accidents
According to a survey conducted by the American Pet Products Association, nearly 70% of households in the U.S. own a pet, and it's estimated that 1 in 3 will need emergency veterinary treatment every year. So, how does that translate to Bulldog numbers?
A recent survey found that roughly 90 million dogs live in the United States.[3] So, unfortunately, 33% (1 in 3) of Bulldogs may need emergency care this year. This could lead to massive vet bills. In fact, the average cost of unexpected veterinary care for dogs is between $250 to $8,000, says Healthy Paws in a recent report.[4] Sadly, only 61 percent of Americans cannot cover a $1,000 emergency.[5]
A good pet insurance plan will cover most of the vet costs as most pet insurance policies reimburse up to 80% (some go up to 90%) of total vet expenses after deductibles.
3. Common Health Issues For Bulldogs
Don't think you need Pet Insurance for your Bulldog? You may rethink your position after learning about their health problem predisposition, how likely they are affected by certain issues, and how much money you would need to spend to get treatment for those issues.
Unfortunately, according to new research published in the Journal of Canine Genetics and Epidemiology, the English Bulldog (EB) is one of the world's unhealthiest dog breeds primarily due to inbreeding for extremes brachycephaly, chondrodysplasia, skin folding and child-like appearance.[6]
Unfortunately, bulldogs bred for specific physical traits put their well-being at risk. They're also genetically predisposed to several diseases, as you will see below.
Research conducted by the Royal Veterinary College's (RVC) VetCompass program has called attention to the breed's rather dismal health problems, mainly due to aesthetic-based breeding trends. According to the team's compiled clinical data for 1621 Bulldogs, the most prevalent diseases in this breed include ear infections (12.7%), skin infections (8.8%) and obesity (8.7%). Bulldogs also experience skin fold dermatitis in large numbers (7.8% of Bulldogs), cherry eye (6.8%), and entropion (3.6%).[7]
A Bulldog's unusual build contributes to high hip and elbow dysplasia cases in the breed, two degenerative joint diseases that cause pain and lameness. According to the Orthopedic Foundation for Animals, English Bulldogs are the most commonly afflicted with both conditions, with 71% being dysplastic.[8] A breed-wide propensity for obesity further exacerbates these joint issues. Sadly, Bulldogs are predisposed to become obese.[9] 
As a flat-faced breed, Bulldogs often suffer from Brachycephalic Obstructed Airway Syndrome (BOAS), a collection of upper airway issues resulting in the potential for severe breathing problems, exercise intolerance, difficulty eating, gastrointestinal disorders, sleep disturbances and other issues. The symptoms of Brachycephalic Airway Syndrome worsen with obesity. A Bulldog's shortened muzzle also makes him susceptible to heatstroke because he can't cool himself efficiently through panting.[10] BOAS is no small matter, as it directly reduces the average lifespan of affected breeds. Research shows that the average lifespan of brachycephalic dogs is three years shorter than other breeds of similar size.[11]
Naturally, we love our Bulldogs' wrinkles, but this endearing physical trait can become a harmful nuisance. Bacteria that accumulate in excess skin folds can cause infections, and excess skin over a Bulldog's face and eyes can cause eye problems. Wrinkles that become irritated may contribute to Keratoconjunctivitis sicca (KCS), or dry eye, which often leads to infections and ulcers.[12]
Research states Bulldog's extra wrinkles can cause irritating skin-to-skin contact, accounting for several skin disorders such as pyoderma and skin fold dermatitis.6 Dermatitis can manifest as reddened hot spots on the skin, hair loss, or a bad smell. Abundant skin creases also contribute to cases of "screw tail," a condition that may require surgery to correct.[13]
Eye problems commonly plague Bulldogs as well. According to The International Animal Welfare Science Society, the breed's shortened muzzle and shallow eye sockets put them at risk of brachycephalic ocular disease, a disorder that results in lesions on the eyelid, cornea, and surrounding tissue. Bulldogs can suffer from entropion (inward folding of the eyelid), nasal fold trichiasis (irritation of the cornea caused by excess skin folds on the nose), and disordered tear production.[14]
Other issues to be aware of include temperature regulation (overheating), food allergies, thyroid and heart disease and cancer.
The following table shows the most common health conditions Bulldogs are likely to develop.
We also include the level of risk (susceptibility to each health condition) and how much you are expected to pay.
| Condition | Risk | Cost to Diagnose & Treat | |
| --- | --- | --- | --- |
| Brachycephalic Syndrome | High | $250-3,000 | |
| Keratoconjunctivitis Sicca (KCS) | Medium | $50 per month | |
| Ventricular Septal Defect (VSD) | High | $3,000-10,000 | |
| Hip Dysplasia (HD) | High | $3,500-7,000 per hip | |
| Interalized Tail | High | $1,000 | |
| Stenotic Nares (narrowed nostrils) | High | $200-1,000 | |
| Elongated Soft Palate | High | $500-1,500 | |
| Urethral Prolapse | Medium | $300-1,600 | |
| Entropion | Low | $500-2,000 | |
| Cherry Eye | Low | $300-800 | |
| Elbow Dysplasia (ED) | Low | $1,500-4,000 | |
| Patellar Luxation | Low | $1,500-3,000 per affected knee | |
| Distichiasis | Low | $1,500-2,000 | |
Data Source:
Other Reasons To Get Dog Insurance For Your Bulldog
Pro Tip: If you know your dog breed is prone to develop certain health issues, we highly recommend getting a pet insurance policy when your dog is still healthy. If your dog does develop chronic conditions down the road, you're guaranteed reimbursement for these issues throughout your dog's life.
Pet Insurance for your Bulldog can spare you financial trouble. Chronic health conditions, emergencies, and vet visits can rack up costs throughout your Bulldog's life.
Best Pet Insurance For Bulldogs
Here are Canine Bible's top picks for the best pet insurance for Bulldogs.
We've reviewed each company based on specific breed needs, customer reviews, affordability, and other factors to help you choose the right company and coverage for your Bulldog.
Best Overall — Healthy Paws

We named Healthy Paws our best overall pet insurance for your Bulldog for its comprehensive coverage, pricing, availability, and customer service. There are no caps on payouts when you file a claim under a Healthy Paws insurance plan. A Healthy Paws insurance plan may cover accidents, illnesses, cancer, emergency care, genetic conditions, and alternative care.
They have competitive premium prices. We ran a quote for a healthy Bulldog at a $500 deductible with 70% coverage. Depending on your location, pet's age, and other factors, you can expect to pay between $86 and $166.
With Healthy Paws, you can start protecting your Bulldog at eight weeks old. You can protect them from anything like a pesky bee sting to parvo.
Once you pay your deductible, there is no limit on the amount your policy can reimburse you. It also has fewer coverage exclusions compared to many competitors. Healthy Paws states that they pay 99% of claims in two days.
Best Value — Lemonade Pet Insurance
Lemonade offers excellent pet insurance coverage for your Bulldog at the most affordable price. While your monthly premium cost will vary by location, pet's age, gender, and other factors, Lemonade premiums usually start at just $10 a month, the lowest in the industry.
To estimate your monthly premium, we ran a few quotes for a healthy Bulldog at a $500 deductible and 70%, 80%, and 90% coverage. Based on our research, you can expect to pay between $24 and $71.
We love that Lemonade is tech-forward, making it easy to manage your policy and file claims through an app. Their plans cover accidents and illnesses, including injuries, poisonings, broken bones, sprains, infections, general sicknesses, cancer, heart disease, hip dysplasia, hernias, skin conditions and more.
They also offer several add-ons to help pet owners pay for exam fees, physical therapy, and preventive care costs.
Most Customizable Plans — Spot Insurance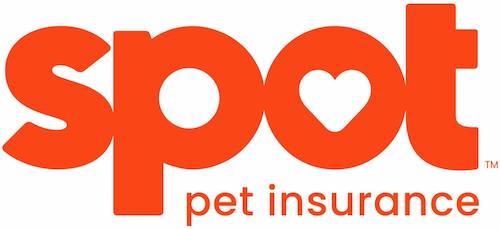 Spot Pet Insurance is ideal for Bulldogs dog owners who want a variety of ways to customize their policy. Spot offers seven annual limit options, three reimbursement levels, and five annual deductibles. They offer the lowest deductible in the industry ($100), meaning that when your Bulldog gets sick, you pay less upfront before your plan starts paying. With so many customization options, this company it's our top pick for finding a plan for meeting your specific financial needs and those of your pet.
Spot's policies also cover some items, such as exam fees and microchipping, that many other pet insurance providers don't offer. They also have one of the cheapest plans for accident-only coverage, making it perfect for pet owners who only need minimal coverage.
If you sign up with Spot Pet Insurance, based on our research, you can expect to pay between $68 and $114, but prices may vary depending on your location, your Bulldog's age, and other factors.
Spot covers you when your Bulldog gets hurt unexpectedly from tooth extractions to torn ligaments. They can also cover Brachycephalic Syndrome treatment, which Bulldogs are prone to, as long as they were diagnosed after coverage.
Great For Pre-Existing Conditions
If your Bulldog suffers from a curable pre-existing condition Embrace Pet Insurance is your best choice! Most pet insurance companies do not cover pre-existing conditions, but Embrace distinguishes between curable and incurable pre-existing conditions. They can cover curable conditions after 12 months of symptoms and are treatment-free.
Bulldog Average Vet Bill Cost (Healthy Vet Visits vs Emergencies)
Are you wondering how much you would have to pay out of pocket for regular vet visits and emergencies? Here is a breakdown of the average price for both.
If you don't have insurance, you will likely pay similar amounts for either visit.
Medical care for dogs isn't cheap. According to the American Kennel Club, pet owners can expect to shell out between $700 and $1,500 annually for routine wellness checkups, vaccines, dental care, and lab tests.[15] This figure doesn't even consider unexpected emergencies, which could land you a hefty vet bill.
Pet Insurance For Your Bulldog Puppy
Should you get pet insurance for your Bulldog puppy?
Here are the top reasons you should consider Bulldog puppy insurance.
Types of Pet Insurance Coverage
What does pet insurance cover? It depends on your plan. There are two main types of pet insurance plans.
You can sign up for 1 or 2 (or both), but this will mostly depend on your Bulldog's needs and finances. Most pet insurance companies nowadays offer a single plan that includes accidents and illness.
In addition to that, pet insurance providers also offer wellness plans, also known as "routine" or "preventative." care plans. It covers most routine vet visits, such as vaccinations. A wellness plan is not pet insurance.
The Most Common Items Covered Per Type of Pet Insurance
| Accident Coverage | Illness Coverage | Wellness Coverage |
| --- | --- | --- |
| Broken bones | Obesity | Flea, tick and worm treatments |
| Torn ligaments | UTIs | Rabies |
| Bite wounds | Cancer | Microchip |
| Poisoning | Hypothyroidism | De-worming |
| Injuries | Digestive Issues | teeth cleaning |
| Emergencies | IVDD | Routine testing |
| Eye Injuries | Vomiting and diarrhea | Annual exams |
| Snake Bite | Arthritis | Spay and neuter |
| Toxin food ingestion | Parasites | Urinalysis (ERD) |
Not all pet insurance companies offer wellness plans. ii. Coverage items will depend and vary depending on the company and plan you choose.
What Does Pet Insurance Not Cover?
Pet insurance doesn't cover it all!
When buying Pet Insurance for your Bulldog, you'll need to carefully review the different plans to see what isn't covered.
Most pet insurance policies exclude the following:
This exclusion will vary depending on your pet insurance company and plan.
Tip: Please always read your policy! Request the complete list of exclusions before getting pet insurance. This will ensure your Bulldog is fully covered by the plan you pick and help you avoid surprises down the road.
How Do I Pick The Right Dog Insurance For My Bulldog?
Here are eight tips to help you choose the best pet insurance policy for your Bulldog.
Should I Get Bulldog Pet Insurance?
Ultimately, your Bulldog's health is in your hands. To ensure his safety while protecting your wallet, investing in pet insurance is something we recommend to every dog parent.
For a relatively low monthly premium, you'll enjoy the peace of mind that comes with knowing your Bulldog can receive the veterinary care he deserves. In an emergency, you'll be happy to have a policy in place. Investing in pet insurance is one way to manage some of your Bulldog's potential health issues—without breaking the bank when one or multiple of these issues occur in your pet.
Our final bit of advice is that if you decide to get pet insurance, read the policy carefully and ensure you understand the terms and conditions before purchasing. Everyone's circumstances are different, so choosing the best coverage for your Bulldog's needs is essential.
Like It? Subscribe & Share!
Canine Bible authorship represents the unified voice of our entire editorial team and our in-house veterinarians rather than a single author. Each article, blog post, and review published under the Canine Bible name undergoes a rigorous review process, involving all team members to guarantee accuracy and up-to-date in accordance with the latest veterinarian research. This collaborative effort is an integral part of our editorial process and aligns with our four pillars of content creation. This approach ensures our content is backed by expert knowledge and factual information, offering our readers reliable, actionable, and trustworthy content.