The 10 Best KONG Dog Toys 2023 – Reviews & Top Picks
Canine Bible is reader-supported. We receive affiliate commissions via some of our links. This doesn't affect rankings. Learn more.
This is the most comprehensive KONG dog toys review.
We've reviewed quite a few tough toys, but most brands can compete with the level of durability, fun, and interactivity KONG products provide. There is a reason Kong has been considered the gold standard of dog toys for decades.
We are repeat purchasers of many Kong products and threw them to the our dogs for testing.
Today, we review their most popular toys, treats, and other products. We also give expert tips on how to use them, Kong recipes, and everything you need to know to get the most out of your KONG. Let's dive right in!
Top Kong Dog Toys
Here is a quick gland at the most popular Kong dog toys, treats and more Kong products.
You can click here to jump to the reviews but we encourage your to keep reading so you can make a more informed decision about your next Kong product.
Chapter 1
Kong company overview
What Are Kong Dog Toys?
Kong company has been a leading manufacturer of fun, interactive, and extremely durable toys for more than four decades.
If you don't know Kong by name, you definitely recognize them by the classic little red, snowman-shaped rubber toy featuring a hollow cavity that allows owners to stuff all sorts of treats inside and that dogs love.
Kong is not just a toy but a multipurpose toy that can serve various purposes for your dog. Kong toys provide intellectual and emotional enrichment, stress relief, and crate training aid. They also chew toys, fetch toys, food bowls, and so much more.
While some dogs may prefer Kong's more classic dog toys, Kong also offers more out-of-the-box toys that might be a better fit for your pooch. We show them all to you below!
---
Kong Dog Toys Benefits
So, what are the benefits of Kong toys? Unlike most dog toys in the market, Kong toys can help eliminate certain unfavorable dog behaviors and provide mental stimulating exercises.
Kong pet products are designed to satisfy a dog's instincts while providing a fun and interactive playtime experience that builds the bond between pet and parent.
These are some of the key benefits of Kong toys.
Chewing. KONG toys are made from durable rubber in various formulas and provide dogs an appropriate way to fulfill chewing instincts to help eliminate destructive chewing habits.
Teething. When puppies' 28 baby teeth start to appear, it can be painful. KONG Puppy rubber toys are designed for growing teeth and jaws. These toys help promote the entry of growing teeth while establishing healthy chewing habits and alleviating teething pain.
Separation Anxiety. Leaving a treat-stuffed Kong toy can help your anxious dog develop a positive association between being left alone. A stuffed Kong toy provides a challenge and maintains dogs occupied while you are gone.

You can freeze a Kong so that getting all the food out takes even more time

.
Boredom. Boredom in dogs often leads to behavioral problems. Kong dog toys are built to create a healthy, long-lasting challenge and playtime, so your dog never gets bored. A stuffed Kong mentally stimulates dogs and keeps their minds sharp.
Digging & Barking. Kong allows for productive never-the-same play. This allows dogs to direct their energy toward something positive (i.e., working for the food inside the toy), which allows them to expend excess energy diminishing bad behaviors.
Crate Training. Kong toys help create a positive association with the crate. Place a stuffed KONG toy with your dog's favorite treat in the back of the crate, leaving the door open. As your dog chews the toy, he or she will feel more comfortable and create a positive association. Repeat until your dog seems happy in the crate on their own.
Weight Management. Kong toys can double as pet feeders. Not only will it slow down their eating, but it provides a satisfying mental and physical challenge. Plus, the erratic bounces from these toys will keep your dog engaged in healthy physical activity.
"Food-enhanced toys, like the Kong, provide excellent environmental enrichment, keeping a dog's mind active and stimulated while promoting a more balanced and less anxious temperament. They are particularly useful in case of anxiety that manifests when the owner is away and cannot interact with the dog". – Dr. Carlo Siracusa, DVM & associate professor of Clinical Animal Behavior & Welfare at The University of Pennsylvania School of Veterinary Medicine.
---
How to Choose The Right Kong Toy
Kong toys are built for different dog chewing capabilities and ages.
The two most important factors in picking the right Kong toy include rubber material and size.
Picking The Right Kong Rubber Type
These are Kong's 4 different rubber formulas to cater to the different needs.
KONG Puppy for puppies (Pink & Blue)
KONG Senior for gentle chewers and seniors (Purple)
KONG Classic for average chewers (Red)
KONG Extreme for power chewers (Black)
You will pick the rubber type that best aligns with your dog's chewing needs.
Kong Toy Size Chart
Kong recommends picking the size of your toy based on your pet's weight or breed.
Use either Kong sizing chart guide below to help you pick the perfect toy size based on your dog's weight or breed. Be sure to select the best size for their jaws.
Pro Tip: Kong recommends always sizing up for safety and the most enjoyable experience.
Kong size chart by weight
| XS | S | M | L | XL | XXL |
| --- | --- | --- | --- | --- | --- |
| Up to 5 lbs (2 kg) | Up to 20 lbs (9 kg) | 15-35 lbs (7-16 kg) | 30-65 lbs (13-30 kg) | 60-90 lbs (27-41 kg) | 85+ lbs (38+ kg) |
Kong size chart by breed:
---
Pros & Cons: Why Do Dogs & Dog Owners Love Kong Toys?
Kong toys are a hit for one several reasons that's hard to just name one. Below are the top reasons Kong toys are loved so much.
There isn't much for your dog or you won't like!
---
Kong Dog Toys Coupon & Discounts
The only Kong dog toy discount coupon we found is on their heavy chewer box. Just use the link to get the best deal possible.
Below you will find the best Kong dog toys on sale.
---
Chapter 2
All Kong dog toys reviewed
Kong Dog Toys Review
So, what is the best Kong dog toy?
Based on our research, our dogs' experience with these toys, prices, customer reviews, and other factors, we've rounded up some of Kong's best-selling and most popular Kong toys.
While the classic KONG has been a longtime favorite of dog owners, the Kong company has branched out with several other dog toy options.
Let's jump right into the best KONG dog toys!
Kong Classic Dog Toy
The Kong Classic Dog Toy is the gold standard of dog toys and put the company on the map after launching it in the late 1970s. This rubber toy incentives healthy play and your dog's physical and mental development, emotions, and behavior.
You can take playtime and the benefits of this toy by stuffing it with tempting bits of kibble, peanut butter, or small treats for added fun and brain games. You can even go as far as freezing the stuffed toy for a more challenging and longer playtime.
This toy can help solve several dog behavior problems and needs (i.e., chewing, separation anxiety, teething, boredom, and more!). Kong's natural red rubber formula is ultra-durable. It has an erratic bounce ideal for most dogs that like to chew while also having fun.
Sizes

Kong Classic X-Small
Kong Classic Small

Kong Classic X-Large
Kong Classic XX-Large
---
Kong Extreme
The Kong Extreme dog toy is specifically designed for power chewers thanks to KONG black rubber formula.
All Kong products have a reputation for being durable, but if you have an aggressive chewer at home, pick the Kong Extreme over the classic Kong chew toy. It has all the features from the classic, but heavy-duty rubber is thicker and nearly indestructible. It's also perfect for stuffing with KONG Stuff'N Easy Treat Paste and Snacks for longer-lasting play.
Sizes:
Kong Extreme Small

Kong Extreme Medium
Kong Extreme Large
Kong Extreme X-Large
Kong Extreme XX-Large
---
Kong Puppy
The Kong toy for puppies has all the Classic and Extreme Kong toys' features, but this version is made specifically to meet the needs of a puppy's 28-baby growing teeth.
This Kong puppy chew toy helps teach appropriate chewing behavior in puppies, and it's great to provide early crate training. What to fill a Kong puppy toy with? Be sure to use puppy kibble, a dash of peanut butter, kong puppy treats, or your preferred puppy food source.
The natural rubber formula is the most gentle within the KONG rubber toy line. Kong puppy toys come in light blue or pink.
Kong Puppy Binkie and the Kong Puppy Teething Sticks are also awesome Kong puppy toy options.
Sizes:
Kong Puppy X-Small
Kong Puppy Small
Kong Puppy Medium
Kong Puppy Large
---
Kong Senior
Kong Senior dog toy is specially formulated with KONG rubber for senior dogs. Its texture and design are customized for an aging dog's chewing and play needs.
The unique, natural KONG Senior rubber formula is gentle on senior dogs' aging teeth and gums. It comes in three sizes (S, M & L). This toy provides a comfortable chewing outlet while offering enrichment and satisfying an older dog's instinctual need to play. You can stuff it with a bunch of goodies for increased stimulation and encourage play.
Sizes:
Kong Senior Small
Kong Senior Medium
Kong Senior Large
---
Other Popular Kong Toys
Meet Kong's portfolio of other popular dog products. Some dogs even report they love these dog toys better than the classic Kong toys.
Kong Balls
The Kong Ball is the best bouncing and most durable ball on the market.
It's made from KONG Classic durable rubber that's safe on the teeth and gums of your dog. The perfect toy for the dog that loves to fetch and chew. Kong toy balls are durable, bouncy, and puncture-resistant rubber, delivering tons of healthy, fun, and interactive play. Perfect for games of fetch or chew sessions.
Aside from the Classic version, Kong dog toy balls also come in the Extreme Ball for power chewers version and the Puppy Ball for puppies.
Sizes:
Kong Ball Small
Kong Ball Medium/Large
---
Kong Wobbler
The Kong Wobbler is an action-packed food-dispensing toy that provides mental stimulation and a lot of action.
It's designed to start to wobble, spin or roll as soon as your dog nudges it with his paws or nose. Once this happens, it dispenses food and treats as it moves. The unpredictable wobbling movements spark dogs' curiosity and engagement over time by stimulating instincts and keeping even the most seasoned dogs challenged.
It unscrews for easy filling and cleaning, and the color is attractive to dogs. Most dog parents use the Kong Wobbler as an alternative to a dog bowl to help slow and extend mealtime and carry out weight management plans.
Kong's Wobbler for dogs makes them work for their food and provides hours of fun and even slows down the fast eaters. It's appropriate for any size dog and is dishwasher safe.
Sizes:
Kong Wobbler Small
Kong Wobbler Medium
Kong Wobbler Large
---
Kong Wubba
The KONG Wubba is a great option for those dogs who love interactive tug of war games.
Wubba's long floppy tails are over two feet long and made with a reinforced nylon cover that can stand up to fetch and tug sessions from even with the most powerful chewers. We are sure your dog will love to chase Wubba and shake the flapping tails back and forth. Wubba's tails are ideal for your dog's shaking and tugging instincts, as well as games of fetch.
This toss and tug toy is great for interactive or solo play and has a squeaker for added stimulation.
Sizes
Kong Wubba Small
Kong Wubba Medium
Kong Wubba Large
Kong Wubba X-Large
Other great Wubba toy options include Kong Wubba Wet, Kong Wubba Friends, Kong Tugga Wubba, Kong Wubba Comet, Kong Wubba Weaves, Kong Wubba puppy, and Kong Wubba ballistic friends.
---
Kong Genius Mike
Kong Genius Mike dog toy is a treat-dispensing toy designed to stimulate your dog's curiosity and hold his attention.
Genius Mike is named in honor of Michelangelo, and it's great for helping to combat boredom and separation anxiety. Multiple openings can be filled with kibble, treats, or spreadable snacks like peanut butter.
Genius toys are great for puppies and adult dogs alike. For an added challenge, the toy is designed to interlock with Genius Leo and other Genious toys. Available in assorted colors that ship at random.
Sizes
Kong Genius Mike Small
Kong Genius Mike Large
---
Kong Bone
The KONG Bone, or Goodie Bone is perfect for engaging dogs in chew sessions.
It's made from durable natural red KONG Rubber, bone-shaped for chewing satisfaction. It features the patented Goodie Grippers that turn this toy into a fun treat-dispensing toy that can be stuffed with your dog's favorite treats or kibble, providing an interactive game that keeps your energetic puppy entertained while enhancing his intellectual development. You can also stuff it with KONG Snacks and entice it with a bit of KONG Easy Treat.
This bone's soft rubber material is great for soothing gums, so your dog can chew away as he pleases. If you have a heavy chewer, the Kong Goodie Bone Extreme is the best option.
Kong's Corestrength Bones are also worth checking out.
Sizes:
Kong Goodie Bone Small
Kong Goodie Bone Medium
Kong Goodie Bone Large
---
Kong Frisbee (Flyer)
Looking for the best dog Frisbee?
KONG Frisbee, Classic Flyer is the best soft rubber disc on the market made for fetching. Made with durable Kong classic red rubber, the Flyer won't hurt your dog's teeth during fun games of fetch and catch. It's safer the most dog Frisbees out there.
The aerodynamics of this toy is amazing and will make your dog work to catch it. The material delivers a dynamic rebound just in case your dog misses the initial toss. Kong's Flyer takes your fetch game to the next level and delivers tons of healthy activity.
For puppies, we suggest you get the Puppy Flyer and the Extreme Flyer for tough chewers.
Sizes:
Kong Flyer Small
Kong Flyer Large
---
Kong Cozie
The KONG Cozie dog toy collection comes in a variety of soft and luxuriously cuddly plush toys great for snuggle time comfort.
The KONG Cozies are made with an extra layer of material for added strength and everlasting fun. They are perfect for a game of fetch or as a comfort toy for your furry friend.
Cozies come in more than 10 amazingly cute Cozie characters for your dog. Among the most popular are Kong Cozie Marvin Moose, Kong Cozie Alligator, Kong Cozie Monkey, Kong Cozie Ultra, Kong Cozie Elephant, Kong Cozie Rinho, among others.
Kong Cozie dog toys are sure to delight during snuggle and playtime. We know your dog will love you for it. View the whole collection and pick your favorite here.
---
Kong Wild Knots
Kong Wild Knots dog toys are some of our favorite ones. They are soft and cuddly on the outside with a durable and strong internal knotted rope skeleton that satisfies dogs' natural instincts.
Dogs love the knotted skeleton, and the reinforced plush body provides extra durability. You can find several Wild Know characters, but Kong Wild Knots bears are sure to be a hit with dogs and their pet parents.
Another good feature is that there is less stuffing for less mess and they squeak to entice play.
We are sure these toys will become your pup's favorite shaker and tug dog toy. Check out the Wild Knot family of dog toys here.
---
Kong Squeaker Tennis Balls
Kong has a big collection of dog tennis products.
The Kong SqueakAir Ball is among the most popular Kong tennis balls. It combines a classic tennis ball and a squeaker toy to create the perfect fetch toy.
Kong squeaker tennis ball will not wear down your dog's teeth, unlike traditional tennis balls. It's made with special non-abrasive felt.
Sizes:
Kong Squeaker Tennis Ball X-Small
Kong Squeaker Tennis Ball Small
Kong Squeaker Tennis Ball Medium
Kong Squeaker Tennis Ball Large
Kong Squeaker Tennis Ball X-Large
---
Monthly Kong Box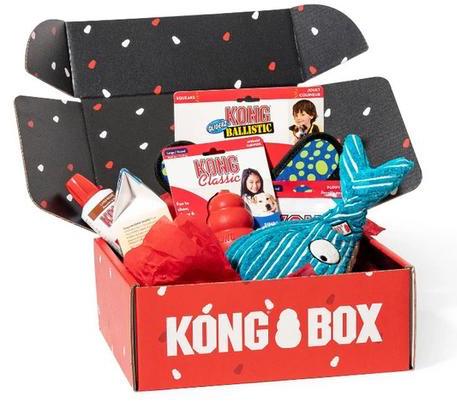 Did you know Kong offers a monthly box subscription service?
They do and it's a fantastic way to get the best of the best from Kong.
The Kong Box is made to save you money by going with a box rather than purchasing each item individually. It's also filled with indestructible Kong dog toys for aggressive chewers, treats, and much more.
Simply sign up and start receiving a monthly box of Kong goodies. Each box will come with 3 Kong toys and 3 Kong treats (your first box includes the Kong Classic). They also include an easy-to-make recipe and personality/training tips.
Your box's items are personalized based on your dog's size, age, and behavioral and health issues (chewing, boredom, separation anxiety, weight management, etc.).
Price:

Month-to-month: $39.95/month (cancel anytime, no fee)
Six months: $34.95/month (cancel early with a $19.95 cancellation fee)
12 months: $29.95/month (cancel early with a $24.95 cancellation fee)
---
Kong Treats (Stuffing Treats)
If you are looking for Kong stuffing ideas, Kong offers various Kong stuffing treats you can use with their toys or to have around the house. Here are the most popular ones you should try!
Kong Easy Treat Peanut Butter
KONG Peanut Butter Easy Treat is a delicious treat that delights all types of dogs while providing an easy, no-mess solution for pet parents. Also available in the liver, pepperoni, and other flavors.
Kong Ziggies
KONG Ziggies are a healthy treat made with a savory chicken flavor. Great for stuffing into KONG toys for extended play. Ziggies are highly digestible and freshen your dog's breath.
Kong Bites
Kong snacks are all-natural treats ideal for bite-sized, treatable moments. They come in many flavors. Ideally sized for packing in pockets, pouches, and stuffing in Kong toys.
All Kong treats are made in the USA with no artificial colors, flavors, or grain.
Other Kong stuffing treats include
---
Kong Collars, Leashes & Harnesses
Kong is not about toys anymore but they also other high quality and durable dog products. Here are some popular options.
Kong Dog Collar
Want a stylish collar, and that will not break? The KONG Comfort Neoprene Padded Dog Collar provides your dog with a collar that offers an optimal comfort and undeniable durability.
This Kong collar for dogs is fully adjustable and is padded with neoprene for optimal comfort when worn. It's extra wide for better control when walking Fido. It features a strong, durable hardware metal D-ring clip and plastic buckles for added ease of adjustability. It's machine-washable and easy to take off and put on.
Sizes:
Kong Dog Collar Medium

Kong Dog Collar Large
Kong Dog Collar X-Large
---
Kong Dog Harness
Kong Comfort Padded Reflective Chest Plate Dog Harness is a great alternative if you prefer a harness to a traditional dog collar.
The Kong Harness slips on and off easily and is fully adjustable for a comfortable fit. It also features a convenient zippered pocket, perfect for carrying waste bags or for other storage needs.
It has a bright, solid color that is easy to see during the daytime. Additionally, it has a neoprene padded reflective chest plate to keep your dog safe and comfortable when walking at night. The lead has 2 double D ring clips for added durability, stability, and adjustment. KONG's stylish reflective pocket dog harness will keep Fido safe and more comfortable on walks.
Sizes:
Kong Dog Harness Small
Kong Dog Harness Medium
Kong Dog Harness Large
Kong Dog Harness X-Large
---
Kong Retractable Leash
Kong Retractable Dog Leash has one of the best-rugged designs that's built to last.
We like that it can withstand the strength of the toughest pullers and with the soft-grip handle. It features an intuitive brake system and lock buttons to help you control your pup. It has a comfortable grip, so it's easy on your hand even during long walks, plus it aids with better control.
The extra-wide, flat belt retracts up to 16 feet (5 meters) long and is reflective. One size that will support dogs that weigh up to 150 lbs (70kg). It also comes with a 2-year warranty and is available in 6 colors.
Like all KONG products, you can depend on this retractable leash for durability and strength walk after walk.
Sizes:
Kong Retractable Dog Leash X-Small
Kong Retractable Dog Leash Small
Kong Retractable Dog Leash Medium
Kong Retractable Dog Leash Large
Kong Retractable Dog Leash X-Large
---
Kong Cloud Collar
The KONG Cloud Collar is an inflatable that comfortably helps support dogs with injuries, rashes, or post-surgery. It prevents dogs from licking and biting themselves during recovery from injuries or surgery.
Designed to allow full visibility and comfort, the Kong collar doesn't interfere with a dog's ability to eat and drink. It has a soft, comfy texture, but it's sturdy enough that it doesn't tear easily. Made from scratch and bite-resistant materials that are machine-washable. It comes with a strong hook and loop securing strap.
The cloud collar is probably the best alternative to E–collars (or the cone of shame). We love it because it is a less stressful way to help keep dogs safe while they heal.
You may also want to check out the Kong EZ Clear Collar, Kong Cushion Collar, or Kong Ez Soft Collar for similar uses.
Sizes:
Kong Cloud Collar X-Small
Kong Cloud Collar Small
Kong Cloud Collar Medium
Kong Cloud Collar Large
Kong Cloud Collar X-Large
---
Kong Dog Bed
You are probably surprised as we were when we found out that Kong makes beds. But are they any good?
Kong beds for dogs are designed with strength, durability, and comfort in mind. Just like many kong products, the kong Bed is constructed of reinforced ripstop, water-resistant fabric; providing the ultimate durability.
The bed features plush cushioning and durable fabrics that will make your canine friend fall into a deep and blissful slumber. It's perfect for crates too. Its size provides plenty of space and support for your pet.
KONG Pet Bed is made of durable polyester that is ultra-tough making it chew resistant. Plus, it has bolstered sidewalls that provide extra support. The Kong dog bed lounger can be machine washed with cold water and a gentle cycle. A Kong dog bed cover may also come in handy.
---
Kong Crate
Want a great that's durable as kong toys? The KONG Space Saving Double Door Crate extra wide access door is strong enough to secure even the most determined dog.
It features sturdy lashing hooks for structural support, and easy-glide channel track door, heavy-duty gauge wires for maximum strength and stability, and safety stops release to lower the doors, protecting paws and feet safely.
This Kong crate for dogs is perfect for crate training, containment crate, or as a relaxing sanctuary for your canine friend where he can enjoy a little downtime.
With its durable and secure features, the unique design makes this the perfect crate for almost any location in your home. Additionally, you can get a kong crate mat for maximum comfort.
---
Chapter 3
Kong dog toys tips, FAQs & more
How To Use Kong Dog Toys
Here are the most popular, smart, and fun ways to use Kong toys.
Stuffing – Stuff it with your dog's favorite food or treat and let him go to town.
Medication hack – A great way to disguise your dog's medication when mixed into a KONG stuffing recipe.
Hide & Seek – Stuff the Kong with your dog's next meal. He will have a great time looking for it.
KONGcicle – Put a dab of peanut butter at the bottom of the KONG to seal the small hole. Then proceed to stuff the KONG with kibble, banana, treats, or anything else your dogs like. Freeze it overnight and feed it the next day.
Dental KONG – Grab a dog toothpaste, dog oral gel, and slather one side of the KONG with it. As your dog chews and licks, the oral treatments will help clean their teeth.
Koñgata – Tied a KONG to a tether-ball pole, or craft your own with a long metal pipe. Make sure the Kong is suspended in the air high enough so your dog can reach it. Stuff it with your dog's favorite treat and let him work to get the treats out of the kong.
Peanut butter classic – Slather the inside with dog-safe peanut butter is a home favorite.
---
Kong Recipes
Wondering what to stuff kong with?
Here are some of our favorite Kong dog toy stuffing recipes to delight your pup's palate while he has a good time playing.
Candy Corn
Ingredients
1 cup pumpkin
1 cup plain yogurt
1 Tbsp maple syrup
1 Tsp Cinnamon
1 cup mashed banana
KONG Classic
Directions
Spoon small amount of banana into silicone mold tray.
Mix cinnamon with pumpkin and spoon a small amount into silicone mold tray.
Mix maple syrup with yogurt and fill the remainder of the silicone mold tray.
Freeze for 1-2 hours. Stuff KONG with candy corn treats!
*Tip: Freeze each layer for about 20 minutes to prevent the layers from mixing.
Oatmeal Cookie Dough
This recipe for kong dog toys is one of our favorite ones!
Ingredients
1 cup rolled oats
1 cup applesauce
1 chopped up banana
KONG Classic
KONG Peanut Butter Spread
Directions
Mix all ingredients together in a bowl.
Split the mixture between KONGs and freeze for a greater challenge.
Recipes From: Kong
---
How To Stuff A Kong
Kong toys are perfect for stuffing with treats and/or kibble to keep dogs busy and motivated to play. Remember only to use safe food for your dog to eat (in healthy amounts) into their KONG.
Here is the proper way to stuff a kong for your dog!
Pro Tip: Make sure to top off the Kong with Easy Treat or Peanut Butter, so your yummy ingredients do not fall out. For a more challenging play, freeze Kong for 4-6 hours before giving it to your dog.
---
How to Clean A Kong
Watch this short video by KONG to learn tips, tricks, and insights for cleaning your KONG toys so your dog can get back to playing!
---
Kong Dog Toys Warranty
Do kong dog toys have a warranty? Yes!
If for any reason you're not satisfied with a KONG product purchased from an authorized seller, Kong will provide you with a Manufacturers Coupon for a product replacement or refund. You must submit your Guarantee request within 60 days of the date of purchase. It only covers toys and treats.
You will need:
A copy of proof of purchase
Retailer name
Date purchased
The product purchased is clear and visible.
You may be required to mail your KONG product back to them
A Guarantee Request will not be approved without proof of purchase. And you are responsible for costs incurred in shipping. The KONG Satisfaction Guarantee is only available in the United States KONG. You can claim your guarantee here.
---
Where to Buy Kong Dog Toys
Where can I buy kong dog toys?
You can find Kong dog toys at most local pet stores. However, most of these stores only carry the Classic Kong toys and not all the other Kong dog toys we've reviewed in this article.
---
Kong Toys FAQs
Where are Kong dog toys manufactured?
KONG Company is based in Golden, Colorado, and makes most of its dog toys in the United States. However, only three Kong toys (the Air KONG tennis balls, KONG Plush, and KONG Wubba) are manufactured in China and imported. In an interview with ConsumerAffairs, their marketing director, Chuck Costello, clarified that all three of these toys undergo rigorous product testing.
Are Kong dog toys dishwasher safe?
Yes, only KONG's rubber toys are dishwasher safe and can be washed with the rest of your dishes. You can still use normal dishwasher detergent while washing Kong rubber toys sys the company.
Who owns Kong dog toys?
Kong, was developed by president and CEO Joe Markham.
---
Other Dog Toys To Consider
Kong toys have certainly won the hearts of millions of dogs and dog parents because of how good KONG toys are at meeting the chewing needs of nearly every dog, all while providing a lot of fun times for our pets.
Their diverse product line and so many different ways to play make Kong one of the best dog toys ever to be made! We've tried out and reviewed dozens of dog toys, and you can't go wrong with a Kong toy!
If you have a powerful chewer at home, we definitely recommend checking out our article on the best heavy chewer dog toy boxes that can satisfy even the most demanding jaws.